1. Top 10 NBA Things To Watch On MLK Day

By Ethan Sherwood Strauss
ESPN TrueHoop
Archive
The defending champs try to quell Kobe, Chicago tries to squeeze a grizzly bear, a spurned Ricky Rubio seeks revenge, and Kendrick Perkins returns to Boston. There are worse ways to spend the holiday. Here's the top 10 things to watch on Monday's marathon day and night of action.
1. Will Kobe go for 40 again?
This is an exciting topic for Lakers fans: Kobe Bryant is putting together a scoring streak like it's 2005. After taking his tendons to Germany, Bryant's now flying like he's got talons for toes. He brings his run of four consecutive 40-point games to a stout Dallas defense.
2. Will Kobe's point pursuit hurt his team?
This is a touchy topic for Lakers fans: Kobe is treating teammates like it's 2005. He's launching 25 times per game, the most he's shot since the days of Kwame Brown knuckling rebounds out of bounds. This is an imperfect roster, but the frontcourt is stacked. Will Kobe pass to Andrew Bynum and Pau Gasol with his streak on the line?
3. Is Dallas back?
We forget about the defending champs sometimes, partially because they looked so awful in those first few games. They have since markedly improved, winning all of their last five. The Mavs' recent activity can be attributed to more than rigor mortis. It has been strangely spurred by the defensive prowess of Delonte West, Rodrigue Beaubois, and (gasp!) Vince Carter.
4. Will Chicago hold another team to less than 70?
Speaking of defensive prowess, Chicago allowed Toronto only 64 points on Saturday. The upcoming Grizzlies are an offensively bereft unit without Zach Randolph or Darrell Arthur. Are we about to see another college football score? Either way, expect Derrick Rose to make points out of a blurry contortion -- this applies to every game.
5. Ricky Rubio against the Kings
Rubio goes against a Sacramento, a notional team that passed on his passing. Rubio wanted Northern California but the Kings wanted Tyreke Evans. This could be Ricky's Revenge, it could also be reminder of just how gifted Tyreke is. The game could also be a reminder that DeMarcus Cousins often squints when enraged -- this applies to every game.
6. Kyrie vs. Kemba
Two exciting rookie point guards spar in Charlotte. Kemba Walker got his first start on Saturday, notching 23 points and five assists against Golden State. Such games are the norm for crafty Kyrie Irving, whose slick change-of-pace drives have earned him a 21 player efficiency rating. Also, look for Tristan Thompson to dunk so violently the rim bleeds.
7. Kyle Lowry against the Wizards
It's been a tough offseason for the Rockets, what with David Stern's veto and their inability to sign a free agent star. But the Rockets made a great move in trading a merely decent Kyle Lowry for an incandescently talented Kyle Lowry. Lowry 2.0 is second to only Chris Paul in point guard PER, and he still plays a vicious brand of defense. Watch and learn, John Wall.
7. OKC vs. Boston
Old gives way to young, as is life. OKC can look far down the horizon, while Boston has more memories than future prospects. Kendrick Perkins has a special place in those memories, he connects the past to the future. Can the struggling Celtics reclaim some glory against an old friend? Can these old Celtics be anything like those old Celtics?
8. Will Philly fill the building?
Can we get some love for the best team in basketball? As preposterous as that might sound, the 76ers do have the best point differential of any team by a good margin. Speaking of preposterousness, Philly also has the second-worst attendance league-wide. A Milwaukee arrival should not draw, but people should be coming out for an improved Spencer Hawes.
9. Dwight vs. the Knicks
Gusty trade winds swirl around Dwight Howard, but they can't disrupt so massive a force. The last time Dwight played, he did it to the tune of 45 points, 23 rebounds. With a torrid Ryan Anderson stretching the floor like melting elastic, D'Antoni faces the team he was born to coach as his current squad sputters.
10. Lob City vs. the Defenseless Nets
Until quite recently, the Clippers boasted basketball's most efficient offense. They are still near the top, they are still formidable. They are also about to host the NBA's most inefficient defense. Expect loping lobs from Paul, expect bludgeoning dunks from Blake Griffin and DeAndre Jordan. Nets players should wear helmets as a safety precaution.
Ethan Sherwood Strauss' work appears regularly on HoopSpeak and Warriorsworld
Dimes past: Jan. 1 | 2 | 3 | 4 | 5 | 6-7 | 8 | 9 | 10 | 11 | 12 | 13-14
2. Odom Considered Taking Year Off
By Marc Stein
ESPN.com
Odom
As his Martin Luther King Day reunion with the Los Angeles Lakers approaches, Lamar Odom has revealed that he was "real close" to walking away from the game for a season -- or perhaps longer -- well before his December trade to the Dallas Mavericks.
Left reeling by the July murder of his 24-year-old cousin and a fatal car accident days later that killed a teen pedestrian after the car he was riding in as a passenger collided with a motorcycle, Odom told ESPN.com that he had to be convinced by wife Khloe Kardashian to scrap his plans for a hiatus.
"Real close," Odom said when asked Saturday how close he came to asking the Lakers for a season-long sabbatical.
"My wife talked me out of it.
"Cause I was asking myself: 'Was I mentally prepared to play? If I didn't play well, was I mentally prepared to help the team?' I had thought, 'Maybe I need a year.' Because of the lockout, I thought, 'Maybe somebody's sending me a sign that I needed this time off.'
"[But] when I told some of my friends and my family that I was thinking about steppin' back for a minute, I think the reaction from the closest people to me kind of gave me the energy to get back at it."
Odom returns to L.A. for Monday night's Mavericks-at-Lakers showdown in the worst on-court funk of his career. After totaling nine points and seven rebounds in Saturday's 99-60 rout of the Sacramento Kings, Odom is averaging just 6.6 points and 4.8 boards in a career-low 19.8 minutes per game.
3. Melo Looks For Good Times To Roll
By Ian Begley
ESPN New York.com
Anthony
GREENBURGH, N.Y. -- Injured forward Carmelo Anthony is worried about his New York Knicks.
"We're not playing with a high level of confidence right now," Anthony said on Sunday. "I think we need to get back to that and get back to having fun."
Anthony is questionable for Monday's game against the Orlando Magic due to a right ankle injury. He missed Saturday's 104-92 loss to the Oklahoma City Thunder.
With Anthony sidelined, the Knicks (6-6) have struggled on both ends of the floor -- but particularly on offense.
Perceived to be a high-scoring club coming in to the season, they rank 18th in points per game (94.0) and 25th in assists (18.3). Coach Mike D'Antoni said they are suffering from a lack of cohesion, with spacing between Amare Stoudemire and Tyson Chandler affecting Stoudemire's play at the offensive end.
Stoudemire enters play on Monday with an 18.7 points per game average; he is shooting just 41 percent from the field. Stoudemire scored 25.3 points per game on 50 percent shooting in his first season in New York.
"I think we're trying to find a relationship between [Stoudemire] and Tyson, trying to free up some room," D'Antoni said on Sunday. "I'm not worried about his game other than we need to get it straight as soon as we can. But that's [the same for] everybody."
SUNDAY'S BEST
Millsap
Paul Millsap, Jazz: The sixth-year pro from Louisiana Tech scored 16 of his 26 points in the fourth quarter to lead the Utah Jazz to a 106-96 road win in Denver. Millsap also had 12 rebounds for the Jazz, who face home tests against the Clippers and Mavs next.
---
SUNDAY'S WORST
Frye
Channing Frye, Suns: After turning in four solid outings for the Phoenix Suns, Channing Frye cooked up a dud. He missed all seven shots en route to a scoreless night in a loss to the San Antonio. It was his first point-free night since April 4.
---
QUOTE OF THE NIGHT
"I would probably blame [the loss] on our NBA cool. We thought we were cool after kicking Miami's butt and we got embarrassed. The NBA game does that quite frequently. If you think you're better than you are or you think you're cooler than you are and you don't think you've got to put in the hard work to win games, you get embarrassed -- and we got embarrassed."
-- Nuggets coach George Karl, after his team's loss to Utah.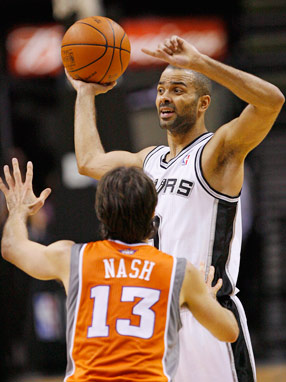 Soobum Im-US PRESSWIRE
Spurs guard Tony Parker directed his team to a 9-0 record at home with a 102-91 win over the Suns and Steve Nash.
7.

Return Of Perk To Boston
By Peter May
Special to ESPNBoston.com
Perkins
This was going to be a column about Kendrick Perkins' return to Boston, his first game in TD Garden since Feb. 16, 2011, when he was wearing the home whites. It looked like the obvious story, the role-playing center on a championship-level team returning to the place where it all began.
But given the state of his former team, that would be what one calls burying the lead.
Perkins is doing just fine, thank you, as is his team, the Oklahoma City Thunder, who defeated the New York Knicks on Saturday night to improve to 11-2. Perk is putting up pretty much the same kind of numbers he did when he was starting for the Celtics. In 13 games, all starts, he's averaging 5.7 points and six rebounds. One change: He's averaging 2.6 fouls per game, the fewest since he became a de facto starter in 2005.
His former team? Not doing so well, so we'll cut to the chase. After getting rolled by the Pacers on Saturday night, the second loss to Indy in eight days, the Celtics are 4-7 and have matched the longest losing streak in the new Big Three era by dropping four in a row. (They also lost four straight in 2008-09.) And with the athletic, dynamic Thunder on tap for Monday night, no one will be shocked if the streak reaches five.

The Spurs defeated the Suns, 102-91, at AT&T Center, improving their home record to 9-0. With an 0-4 mark on the road, San Antonio has gone 13 games into the 2011-2012 season without a home loss or a road win. That matches the longest such streaks to start any of the past 28 seasons. Since 1984-1985, the only other teams to go undefeated at home and winless on the road over their first 13 games were the Nets in 1985 and again in 1995.