1. Dare LeBron To Shoot? This Might Hurt A Bit

By Brian Windhorst
ESPN.com
Archive
MIAMI -- The traditional game-ending wave between opposing coaching staffs is usually an emotionless courtesy, a blip in every NBA game's routine. Win or loss, blowout or nail-biter, it looks about the same every night because no one understands the grind more than the men in suits.
But there was some extra nonverbal communication Tuesday night when the Miami Heat and San Antonio Spurs coaches departed the court. The Heat coaches gave a shrug, and Spurs coach Gregg Popovich gave a frowning smirk (because most of Popovich's expressions come within a frown).
This was not a game won with tactical moves, lineup machinations or grease-board work in timeouts. It was a game won with talent and anomaly, the Heat having as magical a 24 minutes as you'll probably see in the league. The looks going between the benches were the understanding of these uncontrollable and often unforeseen moments every season. The Heat coaches were not fully taking credit for what had taken place, and Popovich was showing some respect for the unpredictable nature of the game.
There was no other way to explain the second half of the Heat's 120-98 victory, which snapped their three-game losing streak and sent the Spurs to 0-5 on the road. No other way -- other than to say sometimes players, even whole teams, just get hot.
The Heat made 68 percent of their shots in that second half and, more outrageously, 12 of 15 3-pointers. Mike Miller, who hadn't made a 3 since June because he'd been out all season after surgery to fix a hernia, went 6-of-6 on them. LeBron James, who had made exactly three 3-pointers the entire season, made three in a row during a third quarter that saw the Heat go on a 24-2 run.
After hitting his second straight 3-pointer in a flurry that gave the Heat the lead for good and forced Popovich to call one of the three timeouts he tried in the third quarter, James stared over to the Spurs' bench and bobbed his head with a measure of defiance.
It was not a response to trash talk. No one had given him a cheap shot. It was James flexing because the Spurs were encouraging him to shoot and he was horsewhipping them with the strategy. Even as James recognized the prudence of it.
"A lot of teams are going to dare me to shoot and take away my drive," James said afterward when the adrenaline had cleared his system. "Coaches always say about me, 'If he's making outside shots, we can live with it.' I've got to continue to work on it, continue to take those shots when they're there."
That is correct; Popovich has been playing James this way for years. He ran a clinic on him during the 2007 Finals, inviting James to shoot jumpers while packing the paint for that entire Spurs four-game sweep over the Cleveland Cavaliers. That week humbled James so much that he spent the next three months practicing his shooting in an attempt to counteract the blueprint Popovich had humbled him with.
He came back improved and won the scoring title the next season. He's gotten better since then, too, but it's still not his strength, and that is why playing him this way is still on the top line of Popovich's, and so many other coaches', game plan.
This season, even as James has been shooting nearly 60 percent from the field, he's been just average on those outside jumpers. Coming into the game, Hoopdata.com reports, he was shooting just 39 percent on shots 10 to 15 feet away and 42 percent on shots from 16 to 23 feet. James has been great on offense this season because he's been avoiding what Popovich tried to get him to do and gotten himself as close as possible to the rim.
During the first half, the Spurs battered James when he came near the rim, determined to challenge those shots he'd been fattening his stats on against the rest of the league. James drew four shooting fouls in the first quarter alone yet started the game 1-of-7 shooting, the Spurs doing what the Spurs have always done to James. With Dwyane Wade out with an ankle sprain and James struggling, that style helped the Spurs to a 14-point halftime lead.
In the second half, the strategy collapsed because James captured one of those fleeting yet fantastic zones, splashing shots in over rookie Kawhi Leonard and whomever else Popovich tried. By then, season and career percentages were useless, as James also hit three jumpers from 15 to 18 feet in addition to the 3s.
For a few feverish minutes, James had fans at the game on their feet and Twitter blazing. He had found the perfect rhythm, arc and spin. He scored 17 points for the quarter and, even though he didn't score in the fourth, still had 33 for the game with 10 assists.
"In the second half, I thought they got really physical and I felt we folded," Popovich said. "Cuts, passing, boards, it didn't matter. Their physicality put us in a ditch. LeBron James sealed it."
Popovich was right, the Heat were way more physical and aggressive on defense. The Spurs, who had scored on the interior with ease in the first half as they piled up 30 points in the paint, started getting shoved around and it led to missed shots and turnovers. In the second half, San Antonio had more turnovers (12) than those valuable points in the paint (8).
The veteran coach might have blamed the loss on those factors. The audience might have bestowed hero status on Miller, even though five of his 3-pointers came in the fourth quarter when the game was decided after James' streak. But this was just James doing an MVP act, bailing the Heat out of a losing streak that sure looked like it was going to get extended.
"The defense worked for us in the first half; we were sticking with it," Tim Duncan said. "Every once and a while, someone's going to get in the zone, make the shots and change the game."


NBA Writer Brian Windhorst
• On Twitter @WindhorstESPN | On ESPN.com
• Follow ESPN's NBA coverage on Twitter | On Facebook | On Google+
Dimes past: Jan. 1 | 2 | 3 | 4 | 5 | 6-7 | 8 | 9 | 10 | 11 | 12 | 13-14 | 15 | 16
2. Getting In The Game Suits Watson
By Nick Friedell
ESPNChicago.com
Watson
CHICAGO -- C.J. Watson readily admits that his left elbow, which he dislocated just more than two weeks ago, still hurts. But the Chicago Bulls veteran point guard is sick of watching the action.
"I'm tired of sitting on the bench," he said after pouring in 23 points in Tuesday night's 118-97 win over the Phoenix Suns. "I don't have any more suits, so I've got to get on the court someday."
After playing well in place of the injured Derrick Rose on Monday afternoon against the Memphis Grizzlies, Watson followed it up by starting on Tuesday, playing 33 minutes with an elbow that is clearly still bothering him.
"[Coach Tom Thibodeau] asked me before shootaround how many minutes I thought I could play," Watson said. "And I told him, 'I don't know. Just play me as much as you can.'"
Thibodeau obviously took that instruction to heart, leaving Watson in for the bulk of the game. Watson was able to create his own shot and find the open look for his teammates, a fact that each one of them went out of his way to point out.
"He was awesome. He was great. C.J. did a great job," Bulls guard Richard Hamilton said. "He got guys in the spots they needed to be. He ran our offense, and when he was open, he took the shot."
3. Daily Dime Live Rewind
Relive and note all the chatter, memes and Photoshops of Tuesday's Daily Dime Live.
TUESDAY'S BEST
James
LeBron James, Heat: Call off the bloodhounds. We found him. Yup, this is the guy Chicago and Boston fans recall stomping their hopes to bits. This is the guy who could hit any shot from any distance. And he just outscored the Spurs 17-10 in the third quarter en route to 33 points and 10 assists.
---
TUESDAY'S WORST
Jackson
Stephen Jackson, Bucks: Not a lot of action from Jackson, nor much from foul-plagued Andrew Bogut. Jax managed only two points and missed all six of his field goal attempts in a 105-95 home loss to the Nuggets.
---
QUOTE OF THE NIGHT
"We should be embarrassed."
-- Spurs coach Gregg Popovich, after his team saw a 17-point lead turn into the wrong end of a 22-point rout.
---
TWEET OF THE NIGHT
Heat start 2nd half 7-9 shooting, Spurs 2-9. Just another night in the NBA.

— Brian Windhorst (@WindhorstESPN) January 18, 2012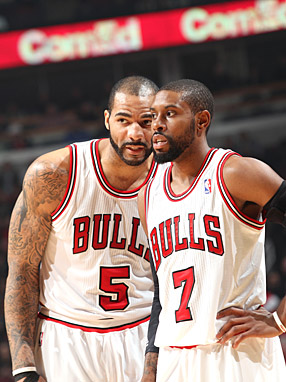 Ray Amati/NBAE via Getty Images
Carlos Boozer had 31 points and C.J. Watson had 23 in a 118-97 win over Phoenix. It was the Bulls' second straight win playing without Derrick Rose, who has an injured toe.
By Andy Kamenetzky
ESPNLosAngeles.com
Bynum
Trade rumors continue to swirl around Orlando Magic center Dwight Howard, with the Los Angeles Lakers reportedly among the four teams on the All-Star center's wish list. Laker center Andrew Bynum, arguably the second-best center in the NBA, has long been linked to Howard in a theoretical deal.
With the two slated to play in Orlando this Friday, the natural inclination will be to compare the big men. But don't ask Bynum to add his two cents.
"I don't make any comparisons," insisted Bynum at the Lakers practice facility in El Segundo on Tuesday. "The guy is definitely more proven ... so for myself, I always look up to him and want to be able to get the ball and do the things he does with it. I think I learn a lot from watching him play, the way he rim-runs, and gets low and things like that. It's a fun game."
Not to mention a challenging one.
"It's tough," admitted Bynum. "You don't want to get embarrassed, so you have to bring your A-game."
By ESPN Stats & Information

Led by Mike Miller's six 3-pointers, the Heat had their best shooting performance in a game since LeBron James joined the team. Miami's effective field goal percentage, which takes into account the value added by a 3-pointer, was 68.4 Tuesday against the Spurs, its highest in a game the past two seasons and the highest by any team this season.
Highest Effective FG% Heat, Past 2 Seasons
Date
EFG
Opponent
Tuesday
68.4<<
Spurs
March 12, 2011
66.7
Grizzlies
Nov. 10, 2010
65.8
Wolves
March 30, 2011
64.8
Wizards
>>Highest by any team in game this season