1. London Calling: Who Will Represent U.S.?

By Marc Stein
ESPN.com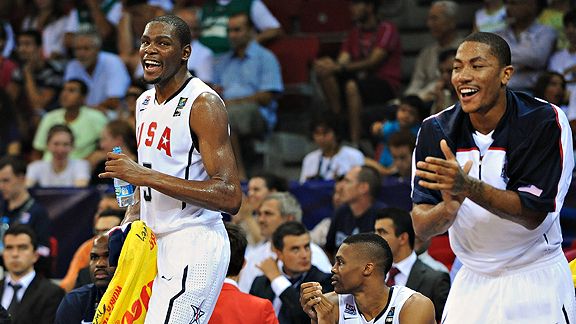 Garrett W. Ellwood/NBAE/Getty ImagesKevin Durant and Derrick Rose give Team USA two cornerstones worth cheering about.
The term they like to use in USA Basketball circles is blended. The word they probably should be going with is blender.
Because …
Paring down a roster of 20 worthy finalists to just 12 for the London Olympics in July is bound to grind up Jerry Colangelo and Mike Krzyzewski as much as any of the actual games they play in the East End.
No joke.
The roster recipe USAB's elders have in mind for the summer calls for mixing -- blending! -- a healthy slice of talent from the 2008 Olympic squad with the brightest gems from the 2010 team that won the FIBA World Championship in Turkey. The problem that generates precisely zero sympathy from the rest of the world basketball community is that there are literally too many options now that Colangelo has successfully constructed a program over the past six-plus years that every able-bodied American star wants to be a part of, as evidenced by the fact that the USAB chairman came into 2012 with a publicly stated plan to announce 18 finalists for 12 available spots by the middle of the month ... and wound up naming 20 players as finalists Monday.
"We have an awful lot of players who want to play," Colangelo said, "much more than a roster would allow us to.
"To say that it's difficult to come up with a list, whatever the list might be -- 15, 20 or 30 players -- players are left off that one might say should have been considered. Trust me: They have all been considered."
Krzyzewski, meanwhile, is already calling it "the most talented of the three teams that I've had the opportunity to coach," seeing no need to wait until the end of a six-month process that began this week to eliminate eight names. He's getting no argument, either, from Colangelo, who is required to turn in a list of USAB's 12 Olympians, with six injury alternates, to the U.S. Olympic Committee by June 18, well before Krzyzewski's first scheduled practice of training camp in Las Vegas on July 6.
"We take nothing for granted," Colangelo said, "and we are looking forward to it."
As do we. So let's start the process right here, right now, with ESPN.com's forecast of how the ultimate blending will look and some first-stab answers for all the usual questions every Team USA gets: Will it have enough size? Will it have enough shooting? Will injuries in this compressed season, like Kobe Bryant's mangled wrist, force Krzyzewski's hand when it's time for final cuts?
THE LONDON LOCKS
On this scorecard? Assuming no further catastrophic injuries during the rest of the NBA's dangerously compacted 2011-12 schedule, there are nine sure things.
And they are: Chris Paul, Derrick Rose and Deron Williams at point guard; Kobe Bryant and Dwyane Wade at shooting guard; Carmelo Anthony, Kevin Durant and LeBron James at forward; Dwight Howard at center.
Some Team USA observers would list 10 locks, but I've moved Chris Bosh into the next grouping, even after hearing Krzyzewski rave (see Box 6) about the defensive presence that Bosh delivered in Beijing at the last Olympics.
My reasoning: One source clued into USA Basketball's thinking told me this week that Blake Griffin is closer to lock status than Bosh. The source insisted: "Griffin is in."
And yet another keen observer of Team USA matters insists that LaMarcus Aldridge, because his shooting ability, will end up appealing to the coaches even more than Blake.
So Bosh drops down a tier because, well, it's easier that way.


---
THE NEXT-IN-LINERS
Kevin Love joins Bosh and Griffin in this group. But you know what?
It probably doesn't matter how you label them, because the likelihood is that all three are going.
Colangelo and Krzyzewski know they're going to need frontcourt depth in this tournament, given the switch from the international trapezoid to the NBA lane as well as the size that Spain in particular possesses thanks to the Gasol brothers and Serge Ibaka. This particular trio, in support of Howard, would give Coach K every conceivable kind of big man: Bosh as the international vet with a good face-up game who has grown quite accustomed to, uh, blending in with big names at his day job; Love as the rebound machine who has legit 3-point range; Griffin as the superfreak athlete who figures to be a cornerstone of the 2016 team and thus would benefit greatly from being drafted into the program ASAP.
And let's be honest: Griffin would have been right there with Durant, Rose and Love on the 2010 world championship team that conquered Turkey if not for the knee injury that cost him his entire rookie season.
---
THE EXTRA LENGTH
If all of the dozen stars above are healthy come June, Coach K's roster might already be set. Yet there are two players who stand out with the best shot to force an audible that results in a surprise cut or two.
Aldridge and Tyson Chandler.
We repeat: The appeal of Aldridge, as with Love, is his mobility and ability to stretch the floor, which always matters in the international game. Chandler, meanwhile, is the only other true center in the 20-man pool and makes sense for several reasons, not only because of what he'd provide positionally and as a master of capitalizing on international rules when it comes to snatching the ball off the rim ... but because he'd be so vocal and positive as a 12th man. Which is very valuable, too, because chemistry is huge on a star-filled squad like this.
So mark these guys down as two more reminders that whittling this group down to 12 is going to be excruciating.


---
THE LONG SHOTS
How excruciating? There are six more players who haven't even been mentioned yet: Chauncey Billups, Rudy Gay, Eric Gordon, Andre Iguodala, Lamar Odom and Russell Westbrook.
And two of them especially -- Billups and Westbrook -- will be hard for Coach K to resist. Billups, a la Chandler, is a valued chemistry guy who has the respect of so many peers just like Jason Kidd did in 2008. Westbrook's athleticism and havoc-wreaking potential on D will make him equally tough to omit.
Of course, Westbrook (along with Gay, Gordon and Iguodala) will have down-the-road opportunities, as will two pretty interesting characters who didn't even make the list of 20 finalists: Rajon Rondo and Andrew Bynum.
The same, sadly, cannot be said for Billups and Odom. And the raves both won in Istanbul for their leadership (Chauncey) and adaptability (remember LO playing center next to Durant?) would make it especially painful for Colangelo and Krzyzewski to exclude them.
One of the few safe assumptions on all this is that long playoff runs and the toll they take will presumably make some of these decisions for the USAB brass.
Not that the deepest team on the planet can get away with a single complaint about the short turnaround from the end of the NBA season in June to the start of Olympic training camp right after the July 4th holiday.
"First off I hope I make the Olympic team," Durant said recently, humorously humble as ever. "But if I do make it, I won't worry about that, man. I think I do a good job of taking care of my body. So if I'm there, hopefully I can push through it and make it a good season and a good summer."
Dimes past: Jan. 1 | 2 | 3 | 4 | 5 | 6-7 | 8 | 9 | 10 | 11 | 12 | 13-14 | 15 | 16 | 17 | 18 | 19


ESPN.com senior writer Marc Stein
• On Twitter @ESPNSteinLine | On TrueHoop | On ESPN.com | On email
• Follow ESPN's NBA coverage on Twitter | On Facebook | On Google+
2. Western Conference

The Jazz have made it known that point guard Devin Harris is available via trade, according to front-office sources.
Of all the pieces Utah acquired from New Jersey at the 2011 trade deadline for face of the franchise Deron Williams, none of those assets has declined in value like Harris, who made the Eastern Conference All-Star team in his first season in New Jersey but now averages just 8.1 points and 4.6 assists for the Jazz while shooting 35 percent from the field. He has struggled so badly that there's a rising clamor in the SLC for Earl Watson to replace Harris as Utah's starter.
Harris didn't help matters in Thursday night's TNT-televised showdown with his old friends from Dallas, lowlighting an 0-for-7 shooting performance with a badly wide airball from 3 in the heart of crunch time. But you can safely assume that Utah won't struggle to find a taker before the March 15 trade deadline, given that Harris only turns 29 next month and has a very movable contract with only next season remaining at $8.5 million.
The Lakers would surely have interest, desperately needing an injection of speed in their backcourt, but the $8.9 million trade exception L.A. created by dealing Lamar Odom to Dallas isn't big enough to accommodate Harris' current $9.5 million salary.
---
Some numbers of note in the West this week:
5: Oklahoma City new contract recipient Russell Westbrook is one of just five players in NBA history to record at least 4,000 points, 1,500 assists and 1,000 rebounds in their first three NBA seasons. The others: Chris Paul, LeBron James, Penny Hardaway and Oscar Robertson.
14: Before its breakthrough road win Wednesday night in Orlando, San Antonio was the first team since the fall of 1983 --when Larry O'Brien was still NBA commissioner -- to be unbeaten at home (9-0) and winless on the road (0-5) through 14 games. Two teams actually started their seasons that way in 1983-84: Atlanta and the then-San Diego Clippers.
30.1: The Kings rallied past Indiana on Wednesday night for a 92-88 home win despite shooting just 30.1 percent from the field. The last time anyone shot that poorly and won anyway was Oct. 29, 2003, when Denver shot 29.2 percent and still claimed an 80-72 victory over the Spurs. Sacramento is just the fifth team since 1985-86 to win a regular-season game despite shooting 30.1 percent or worse.
4: Derek Fisher had made only four 3-pointers this season before his buzzer-beating dagger that beat the Mavericks on Monday night. Fisher is shooting 20.8 percent from 3-point range this season.
37: With 26 points and 11 assists in Wednesday night's win at New York, Phoenix's Steve Nash became the oldest player in NBA history (37 years and 345 days old) with at least 25 points and 10 assists in a game, according to the Elias Sports Bureau. The previous record-holder was Nash's good buddy Jason Kidd, who achieved the feat on his 37th birthday in March 2010.
---
It was undeniably refreshing, in this era of superstars forcing their way to major-market teams, to see lil' Oklahoma City secure a five-year, $80 million extension this week with Russell Westbrook. That willingness to stay in OKC for the long term, in addition to Westbrook's many athletic gifts, was one of the key factors that made the Thunder so eager to keep hold of him no matter how many questions persist about how well the shoot-first point guard fits as Kevin Durant's co-star. The Thunder, though, can't be done for this season. Named NBA Coach of the Year as recently as 2010, Scotty Brooks is in the final year of his contract. Doesn't he need a contract extension, sooner rather than later, to be able to manage the mercurial Westbrook with the requisite authority and freedom? OKC also has to figure out how to extend James Harden and Serge Ibaka when the time comes in the wake of the $160-plus million they've invested in Durant and Westbrook on top of Kendrick Perkins' extension last season. ...
In conjunction with Monday's Martin Luther King Jr. holiday, ESPN Stats & Info distributed this timely note about coaching diversity in the NBA and how much further ahead this league is than the other top team sports in North America. There are 14 African-American coaches in the 30-team NBA, including eight from the West: Mike Brown of the L.A. Lakers, Utah's Tyrone Corbin, Phoenix's Alvin Gentry, Memphis' Lionel Hollins, Golden State's Mark Jackson, Portland's Nate McMillan, Sacramento's Keith Smart and New Orleans' Monty Williams and alongside Toronto's Dwane Casey, Atlanta's Larry Drew, New Jersey's Avery Johnson, Boston's Doc Rivers, Cleveland's Byron Scott and Charlotte's Paul Silas. There are only seven African-American coaches or managers combined in the NFL (Romeo Crennel, Leslie Frazier, Marvin Lewis, Lovie Smith and Mike Tomlin), NHL and Major League Baseball (Dusty Baker and Ron Washington) after the recent firings of Jim Caldwell (Indianapolis Colts), Hue Jackson (Oakland Raiders) and Raheem Morris (Tampa Bay Buccaneers). ... The only semblance of a race in All-Star voting, in either conference, can be found at West forward, with No. 3 vote-getter Dirk Nowitzki (354,434) trailing Blake Griffin (619,913) by 265,479 votes in the latest returns. It's a runaway pretty much everywhere else on the ballot, with Kevin Durant, Kobe Bryant, Chris Paul and Andrew Bynum locks to start for the West and LeBron James, Carmelo Anthony, Derrick Rose, Dwyane Wade and Dwight Howard basically sealed as East starters.
3. No-Trade Corner
With the NBA trade deadline just shy of two months away -- and with Danny Ainge openly acknowledging that he's even willing to part with Celtics lifer Paul Pierce if it enables Boston to really start rebuilding -- this is a good time to remind you that only two players in the NBA have full no-trade clauses.
That would be the Lakers' Kobe Bryant and the Mavericks' Dirk Nowitzki.
We've covered this ground before, but since we could probably all use a refresher course: Only players with at least eight years of service time and four seasons with the same team are eligible for no-trade clauses. And even then, players can negotiate a no-trade clause only when they are free agents in pursuit of an all-new contract and not as part of mere contract extensions, because the rule allowing no-trade clauses is specific to contracts "entered into," meaning new contracts, not extensions.
So you can understand why so few players have no-trade clauses, since the overwhelming majority of stars sign their first big-money deals well before their eighth season and often sign extensions to those big deals that don't allow for a change of terms.
Pro basketball's no-trade rules just differ hugely from Major League Baseball's, where no-trade clauses or partial no-trade clauses are routinely built into player contracts and where the famed 10-and-5 rule automatically enables veterans with 10 years of service time and five with the player's current team to block trades. In the NBA, Kobe Bryant had to become an unrestricted free agent in the summer of 2004 to put himself in position to land a no-trade clause, signing a $136 million megadeal with the Lakers after his eighth season in Hollywood. Nowitzki went a similar route in the summer of 2010, opting out his contract to become an unrestricted free agent for the first time and then re-signing with Dallas for four years and $80 million.
However …
It must be noted, as we always point out around this time, that there is a small group of players who, for this season (and this season alone), can stop their team from trading them. They are known as the One-Year Birds -- players who were just signed to a new one-year deal with the same team they played for last season -- as well as the restricted free agents who signed an offer sheet with a new team during the offseason that their previous employer matched.
So if any of their respective teams try to move a One-Year Bird before this season's March 15 trade deadline, they'll need permission from the player. The Clippers' DeAndre Jordan and the Bucks' Luc Mbah a Moute, meanwhile, cannot be traded without their permission until December 2012, which will mark one calendar year from the time their offer sheets (tendered by Golden State and Denver, respectively) were matched by L.A. and Milwaukee.
Read on, then, for the full 2011-12 list of players who can't be traded without their consent.
Team
Player
Type
Veto Power Expires
Atlanta Hawks
Jason Collins
1YB
Sunday, July 01, 2012
Boston Celtics
Sasha Pavlovic
1YB
Sunday, July 01, 2012
Chicago Bulls
Brian Scalabrine
1YB
Sunday, July 01, 2012
Cleveland Cavaliers
Anthony Parker
1YB
Sunday, July 01, 2012
Dallas Mavericks
Brian Cardinal
1YB
Sunday, July 01, 2012
Dallas Mavericks
Dirk Nowitzki
Full
Only When Contract Expires
Indiana Pacers
Jeff Foster
1YB
Sunday, July 01, 2012
L.A. Clippers
DeAndre Jordan
OS Match
Wednesday, Dec. 12, 2012
L.A. Lakers
Kobe Bryant
Full
Only When Contract Expires
Memphis Grizzlies
Hamed Haddadi
1YB
Sunday, July 01, 2012
Miami Heat
Juwan Howard
1YB
Sunday, July 01, 2012
Milwaukee Bucks
Luc Mbah a Moute
OS Match
Thursday, Dec. 13, 2012
New Jersey Nets
Kris Humphries
1YB
Sunday, July 01, 2012
New Orleans Hornets
Marco Belinelli
1YB
Sunday, July 01, 2012
New Orleans Hornets
Carl Landry
1YB
Sunday, July 01, 2012
New York Knicks
Jared Jeffries
1YB
Sunday, July 01, 2012
Philadelphia 76ers
Tony Battie
1YB
Sunday, July 01, 2012
Philadelphia 76ers
Spencer Hawes
1YB
Sunday, July 01, 2012
Phoenix Suns
Grant Hill
1YB
Sunday, July 01, 2012
Portland Trail Blazers
Greg Oden
1YB
Sunday, July 01, 2012
Washington Wizards
Maurice Evans
1YB
Sunday, July 01, 2012
Washington Wizards
Nick Young
1YB
Sunday, July 01, 2012
1YB = One-Year Bird; OS Match = Offer Sheet Matched
P.S. -- Pierce was eligible for a no-trade clause in his latest contract with the Celtics, just like Nowitzki, but Boston held firm in withholding one as part of a four-year deal worth in excess of $60 million bestowed on the 34-year-old in July 2010.
Fredette
Five questions with Kings rookie Jimmer Fredette:
Q: Can you walk us through the first month of your pro career and what the transition has been like?
A: It's a lot different, obviously. The talent level and the schedule and all the things you have to do on and off the floor … there's a lot that goes into it. I feel like I'm adjusting pretty well, trying to get more comfortable every single game. I haven't been shooting the ball great yet this season [33.3 percent], so I've got to get out there and be more consistent and try to be aggressive.
Q: You've seen a lot already in your short time in Sacramento with all the attention on (DeMarcus) Cousins and Paul Westphal getting fired after seven games. How much faster is all that breaking you in?
A: It just comes at you so fast that there's not much you can do about it. You just go out there and try to play your best. Especially with a shortened training camp and then having a coaching change, we've had no training camp with [new Kings coach Keith Smart], so it's kind of learning everything on the fly. I can't say that I'm fully [adjusted] but I think I'm doing a lot better.
Q: Speaking strictly for yourself, what were your goals for this first season?
A: I just wanted to fit into the system of the team and be able to be an impact player every time I go in. That's what I've been trying to do. Some nights I won't shoot the ball well, but I can bring more to the table than just that.
Q: I know you've been compared a lot to Mark Price, but what current NBA shooters have you studied for things you can try to incorporate into your own game?
A: When I was at BYU, I really watched Deron Williams a lot. I want to be able to play like he does, not just how he can shoot the ball but also put it on the floor and get to the basket and pass the ball. We're a similar size; I want to try to be that type of player in the NBA.
Q: I know your coaches and some of your teammates are urging you to shoot more. Will we see you start taking them up on those invitations?
A: I think so, I think so. I'm trying to get better, trying to get my teammates involved as well as be scoring [more]. But it's a fine line. You have to be able to figure out how to do that at this level. But it's definitely fun, starting a new challenge. It's definitely a challenge, but it's something I try to thrive on.

You probably won't hear his name much between now and the end of April, when the Hawks hope he can make a late-season return from a torn labrum after surgery this week, but there has been some interesting Al Horford talk in circulation unrelated to on-court matters.
As in: File away Horford's name as a likely down-the-road top contender to succeed the Lakers' Derek Fisher as president of the players' union.
The stately Fisher was elected president of the players' union in 2006 and had a more visible and prominent role during the five-month lockout than any of his predecessors has ever taken on. Although he had to weather criticism over his perceived closeness to NBA commissioner David Stern, Fisher generally earned strong reviews for his contributions to ultimately getting a deal done to save the season, which is why he'll presumably be asked by his peers to carry on as president in the short term.
But when Fisher has had enough -- he has two years left on a four-year term after re-election in 2009 -- word is that Horford will draw strong consideration as his successor.
---
Some numbers of note in the East this week:
7.6: Not much is going right for the Knicks these days, but Carmelo Anthony leads the league in fourth-quarter scoring with an average of 7.6 points, just ahead of Kobe Bryant's 6.9-point average in fourth quarters.
0: The Hawks recently won two straight games without a single point from starting center Jason Collins. That hasn't happened for Atlanta since April 8-9, 1991, when Jon Koncak was its scoreless starter in the middle.
36: Dwight Howard is up to 36 career games with at least 20 points and 20 rebounds. (Orlando is 26-10 in those games.) Since Howard's rookie season, 2004-05, no one else has more 20/20s than Kevin Love's 13.
34: Howard enters the weekend with a league-leading 34 dunks, two ahead of the Clippers' Blake Griffin.
15: The Nets have had a lower field goal percentage than their opponents in all 15 of their games so far. That's the longest such streak since the Clippers were out-shot in each of their first 16 games -- all losses -- in 1994-95 ... and I was there for all 16 in my first full season as the Clippers' beat writer for the Los Angeles Daily News.
---
Say this much for Dwight Howard in what the world assumes will be his final season in Orlando: He ain't mailing anything in. Howard went into Friday's showdown with the Lakers averaging 20.1 points and 15.6 rebounds. If he maintains that pace, Dwight with join Minnesota's Kevin Love (20.2 ppg and 15.2 rpg last season) as the only two players since Moses Malone in 1982-83 to average 20 and 15 for an entire season. ...
No team in the league has more current salary-cap space for the rest of the 2011-12 season than Indiana's $14.3 million. But with minimum team payrolls this season set by the league at $46,435,000 and the Pacers currently at $43,776,036, they'll either have to add $2,661,964 in salary before season's end through signings or trades or pay that difference to their players, through the union, after June 30. ... NBA front-office sources continue to say that Indiana native Eric Gordon is the Pacers' dream trade target, but Indy has yet to make serious progress in trade discussions with Gordon's new team (New Orleans), much like it struggled to get very far with his old team (L.A. Clippers). If the Pacers ever do make a legit run at Gordon, one presumes that they'd have to be willing to part with Danny Granger to bring Gordon back to Hoosierland, which figures to be more palatable than it sounds thanks to the presence of the promising Paul George.
Krzyzewski
"The international game is a little bit different … so versatility on defense is essential. Like in the 2008 Olympics, [Chris] Bosh did an amazing job at the center position. However, things change. The lane has changed. I think that's the most important thing to consider. There's no longer the trapezoid; it's the NBA lane. So there may be more low-post play than there has been in the past for international competition."
Team USA coach Mike Krzyzewski, sharing some of the factors involved in deciding how many centers and power forwards to take the Summer Olympics in London in addition to his one lock big man: Orlando's Dwight Howard.
There are six bigs besides Howard on the roster of 20 finalists that must be pared down to 12 by June 18: Bosh, 2010 FIBA World Championship holdovers Tyson Chandler, Kevin Love and Lamar Odom and newcomers LaMarcus Aldridge and Blake Griffin. Chances are there won't be room for more than two or three of them, given how things look in Box 1.
Yet there's likewise no chance, as Coach K acknowledges, that the Americans can get by in this tournament with Odom masquerading as a center for long stretches next to Durant like they did in Turkey at the Worlds. They know they need more length and mobility this time.
Said Team USA chairman Jerry Colangelo: "I think the ability to have more versatility [with] big men on the 20-man roster gives us the opportunity to be more selective, if you will, when we get down to the final 12. And, again, we will be watching a lot of things during the course of this year and strategizing about what we need in the way of matchups and not only us matching up against our major opposition, but vice versa."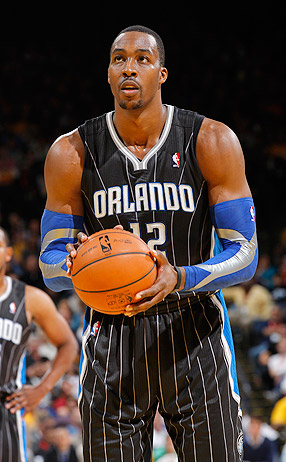 Rocky Widner/NBAE via Getty Images
Dwight Howard's 39 free-throw attempts against the Warriors established a new regular-season NBA record, eclipsing Wilt Chamberlain's 34 free throws for the Philadelphia Warriors against St. Louis on Feb. 22, 1962. See Box 8 for more.
More than a week has passed and we're still trying to recover from the Hack-A-Dwight spectacle we were all subjected to last Thursday night in Oakland, where Mark Jackson's Golden State Warriors sent Dwight Howard to the free throw line 39 times in Orlando's eventual 117-109 victory on TNT.
Dwight converted on only 21 of those trips to the stripe, but you already knew that. A more fascinating sidebar to the story that you probably haven't seen yet: Did you know that there were 54 players in the league as of Thursday morning, all averaging at least 10 points per game, with fewer than 39 free throw attempts for the entire season so far?
You could look it up.
Some of the notables on that list include:
| PLAYER | FTA | GAMES |
| --- | --- | --- |
| Ray Allen | 34 | 12 |
| Andray Blatche | 26 | 11 |
| Carlos Boozer | 33 | 16 |
| Elton Brand | 30 | 14 |
| Caron Butler | 37 | 12 |
| Marcin Gortat | 29 | 14 |
| Al Harrington | 34 | 15 |
| Jrue Holiday | 27 | 14 |
| Al Horford | 30 | 11 |
| Al Jefferson | 33 | 12 |
| Richard Jefferson | 21 | 15 |
| Chris Kaman | 16 | 14 |
| Chris Paul | 24 | 9 |
| Steve Nash | 24 | 13 |
| Luis Scola | 30 | 14 |
| Jason Terry | 22 | 15 |
| Hedo Turkoglu | 21 | 13 |
| David West | 37 | 13 |
| Thaddeus Young | 26 | 14 |
P.S. -- Only two Magic players have more than 39 free throw attempts in Orlando's first 14 games: J.J. Redick with 46 and Ryan Anderson with 43.
Marc Stein joins the "SportsCenter" crew to break down Russell Westbrook's five-year, $80 million extension in Oklahoma City, which makes Westbrook just the second player from the 2008 NBA draft class to have his contract extended, along with Chicago's Derrick Rose.