1. What The Scouts Are Saying

By Marc Stein
ESPN.com
Archive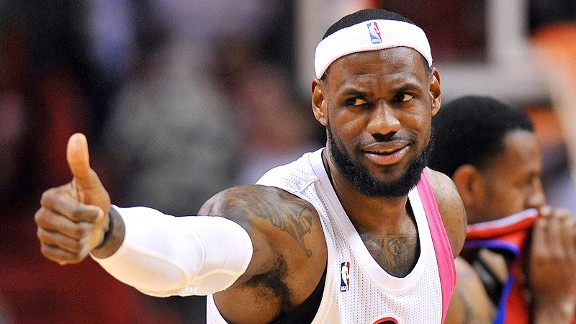 Steve Mitchell/US PresswireMoving into the post with newfound purpose has LeBron James' approval rating on the rise.
What happens when you cram 66 games into 123 days?
Besides numerous injuries and basketball that isn't the smoothest?
What happens is we reach the quarter mark of the compacted schedule in the space of a month, with the overwhelming majority of teams on course to pass the 20-game marker by the end of the weekend.
So maybe more than ever at this stage, with still so much for teams to learn about themselves in this scramble of a season where practice time is scarce and health woes are rampant, help is needed from the NBA's heartiest travelers to try to make sense of what we're seeing.
The calls thus went out this week to five advance scouts who make their livings as courtside spectators at three to four games per week to survey them about some of the league's leading developments so far. They've been granted anonymity to speak freely here on the following topics:
Eastern Conference scout on differences in LeBron's game since last year
James
"LeBron is working out of the post not just more ... it's a lot more. The most I've ever seen [from him]. I think, in the end, it's what they needed because [Chris] Bosh doesn't really want to go down there and it keeps LeBron from jacking up those 3-pointers. That's not his focus anymore.
"In terms of his demeanor and personality, I don't think things have changed much. When things are going bad, he's still looking at other guys or looking at the bench. But he's going down there and he's still attacking and getting out and running, too. And Bosh has really stepped it up since [Dwyane] Wade's been out.
"The Heat still have flaws, but they can be the best team by far if they're running on all cylinders. With Shane Battier and (even) Eddy Curry, they're a little deeper with quality players. It seems like they have a better feeling about themselves."


---
Western Conference scout on where Oklahoma City has improved

"The biggest thing that stands out for me is their defense. I was totally impressed, especially with [Russell] Westbrook. In the past, without trying to be cruel, I've seen him defend more with his athleticism than his brain. He was just using his instincts. But it seemed like defensively OKC really knew what was coming last time I saw them. I don't think they've paid as much attention to the scouting report in the past, but that urgency was there [from Westbrook].
"I still don't like a lot of what he does offensively. I know we're all looking at these guys with a magnifying glass, but I did see some frustration. Westbrook wanted the ball at the end of the game. [Kevin] Durant wanted the ball at the end of the game. But the guy I noticed the most was Westbrook. His defensive awareness is the biggest improvement I see.
"I just don't know if they execute down the stretch like a [Gregg] Popovich does with the Spurs or like how Dallas did last year in the playoffs. Are they going to get the ball to the go-to guy at the right time? I'm still not ready to say they'll win the West. I don't know if they're ready to beat teams that are more disciplined, more mature."


---
Eastern Conference scout on his favorite rookie
Irving
"As a fan, I'd pay to watch [Ricky] Rubio. I'm not going to pay to watch Kyrie [Irving] just like I'm not going to pay to watch D-Will [Deron Williams]. But if I had to coach one of them, I'd pick both those guys over Rubio.
"Don't get me wrong: Rubio is good. He's exciting. But he's in the right system because [Rick] Adelman lets guys make reads and be intuitive. Rubio is so smart and mature that he can handle that. But I still worry that he's going to be like a major league pitcher and that [teams] will start to figure him out after they've seen him once.
"Until he's more confident knocking down outside shots, then Kyrie is clearly ahead of him, because Kyrie is a better defender and a better outside shooter. He's not as in tune running his team as Rubio, but he can shoot, he can drive, he can defend. He values the ball and he's going to get a better feel as he gets older."


---
Western Conference scout on whether the Knicks are "fixable"

"The reality is they have a terrible mix of players. Amare and Melo are two of the most 'hold the ball' guys in the league, so their ball movement is atrocious. Everybody saw it going into this -- everybody but [Knicks chairman] James Dolan -- but the dynamic of their point guard situation has made it so much worse.
"If Baron Davis can play like he's capable, he can help them. But can he still show that to be a consistent event? Otherwise they better get Steve Nash in the summer because they don't have a quality point guard anywhere else. So the only way they can win is when Stoudemire or Melo -- or both -- shoots lights out.
"I don't think it's all [Mike] D'Antoni's fault because he has to work with the roster that he's given. I don't think Donnie Walsh would have done that trade [with Denver to get Anthony], either. But it is a mess to watch."


---
Western Conference scout on the Lakers' offensive struggles

"They're definitely a work in progress. They used to be hard to scout and that would pay dividends, but Phil Jackson was a very unique coach and he did it his way. They're running conventional NBA stuff now instead of the triangle and they run the danger of being predictable and scoutable for the first time in a long time.
"But they went through the same thing after Phil left [in 2004] and Rudy [Tomjanovich] took over. That resulted in a lot of isolations and Kobe got a lot more touches like he's getting now. That's totally a function of what plays they're calling. Brown is calling all the plays and he's calling Kobe's number four, five, six times in a row. So Kobe is getting lots of touches, but then they do get stuck with a lot of isolation basketball where there's too much heat on [Bryant].
"The problem for Mike Brown is that there's a sense of urgency to perform right now ... but there's no time for practices. Phil could lay back and be patient through the process because he had so much success. I've been impressed with their pick-and-roll defense and how aggressive they've been defensively, but they're evolving offensively. Maybe [Rick] Adelman could have done it faster, but Mike is the opposite of Phil. He's following a guy who can't be copied and he's always been very traditional.
"I also think they need more help, more youth and energy on the perimeter. The other thing is that they used to be the longest team in the league, but without [Lamar] Odom it's a different ballgame. That allowed them to focus a lot of concentration on offense, because Phil knew they were so long that defense would almost take care of itself. It's a little different dynamic without Odom."


---
Eastern Conference scout on Dwight's Magic and other East contenders

"I think they're still pretty good. They've still got enough weapons around Dwight [Howard] to cause problems. Hedo [Turkoglu] is playing at a better level than he has lately. And Ryan Anderson is better at the 4 spot than Rashard Lewis was because he shoots it just as well but he's a little bit bigger. He's a better offensive rebounder and more adept at guarding 4s.
"And you've still got to game plan for Dwight as much as you did before. I don't see any drop-off because of all the trade stuff. But I'd have to put [Orlando] in the same category with Philly and Indiana. They're in the second tier. Miami and Chicago are the two best teams in the East and there's a definite separation there.
"At the end of the day, it's going to be the health that decides everything. Guys are dropping like flies and there will be more. The games are just coming too fast, too quick. There's no recovery time. You're either on a plane or you're at a game. I know how hard that is for us as scouts, so it's no surprise that guys are breaking down."


---
Western Conference scout on the East's most dangerous dark horse

"Indiana.
"I think they can be a fourth seed and cause problems. They're built a little differently. This is a Noah's Ark team: They've got two of everything and there's no drop-off. In a short season, that kind of depth helps you.
"They've purposely kept it pretty simple on offense to focus on defense and I think that's very smart in the short season. They do the simple things well. What's missing is what they've been missing for a long time -- finding a guy who can close games out. But it's a good story for the league."


---
Eastern Conference scout on the ragged state of play

"You hate to make excuses or write games off, but sometimes you get to your seat and it's pretty clear that this is the fifth game in seven nights for the team you're scouting and they just don't have it. You root for close games. I've seen a couple 40-point blowouts and you just feel useless sitting there.
"Coaches are cutting back their playbooks. Execution is spotty and I don't know if it's going to get better by playoff time because everybody's going to be so dang tired. It's not a very good product right now.
"What everybody kind of forgets is that we lost more than exhibition games and camp time and a bunch of practices. Everybody's team nowadays gets together after Labor Day to start playing together, working out together, being in town together. That's when guys start to really get in shape. So you take that away and six preseason games and what did you expect?"


Dimes past: Jan. 10 | 11 | 12 | 13-14 | 15 | 16 | 17 | 18 | 19 | 20-21 | 22 | 23 | 24 | 25 | 26


ESPN.com senior writer Marc Stein
• On Twitter @ESPNSteinLine | On TrueHoop | On ESPN.com | On email
• Follow ESPN's NBA coverage on Twitter | On Facebook | On Google+
2. Western Conference

How close were the league-owned Hornets and Eric Gordon to finalizing a contract extension before Wednesday's midnight deadline?
According to sources close to the talks, Gordon wanted a four-year deal worth no less than $55 million -- $5 million to 7 million shy of the projected four-year max -- while the Hornets' offer topped out at around $50 million.
Gordon has played in only two games this season because of an ongoing knee problem but undeniably ranks as the most prized asset New Orleans acquired in the December deal that sent face of the franchise Chris Paul to the Los Angeles Clippers. He'll be a restricted free agent in July, meaning that the Hornets' new owners -- assuming that the NBA finally finds a buyer by then as it hopes -- will have the right to match the inevitable interest in the Indiana native from the Pacers and other teams.
---
Some numbers of note in the West this week:
92: Only our friends at the Elias Sports Bureau could inform us that the Nuggets' 92 points in the paint Wednesday night in Sacramento, representing 75.4 percent of Denver's output for the evening in a 122-93 laugher, accounted for the highest percentage of any team's offense since the Lakers scored 76.6 percent of their points in the paint (82 of 107) in a rout of the Clippers on Nov. 15, 1996. The previous high this season for points in the paint for any team was Memphis' 72 points in an earlier meeting with the Kings.
3: The freshly extended Kevin Love is averaging 25.3 points and 13.7 rebounds this season. There have been only four players to average 24 and 13 over the past 20 seasons: Kevin Garnett (2003-04), Shaquille O'Neal (1999-2000 and 1993-94) and Hakeem Olajuwon (1992-93).
10: Tim Duncan's game-winning bucket in New Orleans on Monday night with 1.4 seconds to play was the 10th basket of his career that either tied the game or gave his team the lead with five seconds or less remaining in the fourth quarter or overtime. Duncan is 10-for-37 lifetime from the field in those situations.
22: How unlikely was the 22-point outburst from Darko Milicic on the night Kevin Love beat the Clippers with a buzzer-beating triple? Milicic went scoreless in his previous three games. Love's 3-pointer was the season's second game winner at the buzzer, following Kevin Durant's game-winning 3 to beat Dallas on Dec. 29.
12: If the Lakers don't crack triple digits Saturday in Milwaukee, they'll set a new franchise record for the longest run of games without scoring 100 points. They've been held under 100 in 12 straight games, which is tied for the franchise high since the shot clock was installed in 1954-55.
---
By declining the options this week on four lottery picks from the 2009 draft -- No. 2 Hasheem Thabeet, No. 6 Jonny Flynn, No. 8 Jordan Hill and No. 11 Terrence Williams -- Houston reduced its 2012-13 payroll by nearly $18 million: $17,577,291 to be exact. The Rockets drafted none of the four, who become unrestricted free agents in July, acquiring all of them in separate trades with Memphis (Thabeet), Minnesota (Flynn), New York (Hill) and New Jersey (Williams). ... The Grizzlies and Thunder on F riday were granted Disabled Player Exceptions to spend on replacements for players lost for the season to injury: Darrell Arthur and Eric Maynor. Both exceptions expire March 12; Arthur's is valued at $1,013,560 and Maynor's is $758,348. The exceptions can be used to sign one player or claim a player on waivers without exceeding the respective assignment amounts of $1,113,560 in Arthur's case and $858,340 in Maynor's. Disabled Player Exceptions cannot be applied to trades except when the player is in the final year of his contract.
3. Marc's Quote

Adelman
"I was hoping for 10 years and didn't get it."
Wolves coach Rick Adelman, trying to lighten the mood Wednesday night with a joke about his own contract status in a pregame chat with reporters, insisting that Kevin Love will quickly get past any disappointment stemming from the Wolves' refusal to offer him the same five-year, $80 million contract extension that Love's buddy Russell Westbrook got from the Oklahoma City Thunder.
The fact is that Love has publicly acknowledged that he wanted the five-year max he was eligible for -- not for the extra money as much as for the statement it would have made to be tabbed as Minnesota's "designated player" -- but Adelman has already begun coaching his star forward on how to handle it.
"I don't see [disappointment]," Adelman said, with Love justifying that claim immediately by ringing up 31 points and 10 boards in an impressive 105-90 road rout of the Dallas Mavericks not long after formally signing his new deal, giving Love six 30-and-10 games this season.
"I think he understands," Adelman continued. "You don't want to be someone who signs a contract and immediately starts complaining. I think he sees this opportunity is flexible for him.
"I think he's fine. I'm hoping he's going to relax a little bit and [so he can re-focus on becoming] a more complete player. He doesn't need to worry about this anymore. He has some security."
Agreed. It's really the Wolves who need to worry, after they compromised following their refusal to do a five-year deal by granting Love an opt-out clause after Year 3 of an eventual four-year, $60-plus million extension. Love can thus become an unrestricted free agent in the summer of 2015, which puts the onus on Minnesota to make significant progress in fairly short order ... and which has already prompted Love's brother, Collin, to tweet that the Wolves must only want to "rent" Kevin for the next three seasons.
The Wolves, for their part, certainly feel justified for not wanting to burn their "designated player" tag less than two months into the league's new collective bargaining agreement. Especially since Minnesota can offer Love another two-year extension in January 2015 or re-sign him that summer as a free agent if Love indeed exercises his player option as expected.
But the decision, no matter how much flexibility it gives the Wolves, leaves the unmistakable impression that Love wasn't offered the five-year max because he's not David Kahn's "guy." That would obviously be Ricky Rubio, whereas Love is the only player still left on the roster Kahn inherited when he took over as Wolves president of basketball operations weeks before drafting Rubio with the fifth overall pick in 2009.
The way Love has slimmed down and stepped up his game after a breakout season in 2010-11 -- when he became the first player since Moses Malone in 1982-83 to average 20 and 15 for an entire campaign -- sounds pretty "designated player" worthy to us. That sentiment only gets stronger when you remember that Adelman realistically wouldn't be coaching the Wolves if not for a relationship with Love that dates back to the All-Star forward's high school days in Oregon.
Don't be surprised, furthermore, if Rubio doesn't even ask for "designated player" status when he's eligible for it heading into the 2014-15 season. I've been led to believe he'd prefer the same flexibility Love got anyway, with the opportunity to become an unrestricted free agent three seasons into a four-year arrangement.
"I hope that Ricky gets to the point that we're talking about that," Adelman said of the Spanish point guard playing consistently well enough to earn the "designated player" status that only one player on a team's books can possess. "That would be a nice thing."
"My concern was that Kevin was the first chip here," Adelman added. "He's shown what he can do, [but] I just try to stay away from the future. You don't know what can happen in three or four years with a player."
4. Film Session
In the latest edition of NBA 411, Marc Stein joins host Prim Siripipat to go behind the curtain on the thought process involved in putting together ESPN.com's "human" NBA Power Rankings every Monday. ESPN.com colleague John Hollinger and several other staff members (Jeff Caplan, Nick Friedell, Mike Wallace and Royce Young) then weigh in with their own takes on the latest rankings.
Lee
Five questions with Warriors forward David Lee:
Q: The season's been under way for a month but it's still hard to get used to some of these low scores from the Bay Area. We're not used to seeing that from the Warriors, but you're just doing what the coach wants, right?
A: All we've worked on from Day 1 has been defense and getting stops. Mark Jackson's main theme since the shortened training camp began was just, over the past couple years, whether it was me in New York or Monta [Ellis] and Steph [Curry] here in Golden State or our team last year being the prime example … what we've done in the past hasn't worked. And that's trying to outscore people.
You can outscore teams a lot of times when you're at home, but when you hit that road and you're in a different environment and your shots aren't falling, you have to have something to fall back on. And for us that's got to be defense. We've been pretty good at it for three quarters and we haven't played good fourth-quarter defense this season, but let's hope that [Wednesday night's win over Portland] was a way to start turning that around, because we definitely took care of business down the stretch.
Q: What did you think this team was capable of coming into the season?
A: To be honest with you, I think we have a chance to be a playoff team. We're now working from behind the eight ball a little bit [at 6-11], but it's still early enough that if we play the way we're capable of playing and close out games, we can be right there. Making the playoffs was my goal coming into the season. I don't think we're a top three or four team in the West, but I think we're a team that can make the playoffs. A lot of it is going to come down to which teams can stay injury-free in the shortened season with all of these games coming as quickly as they are.
Q: How much does all the talk about Steph and Monta and whether they can play together seep into the locker room?
A: I think it's something that everyone's aware of. My view on it is that we've got two very, very good players in Monta and Steph. Those are two guys that are passionate about the game, two guys that have a lot of skill and two guys that are hard workers. That's up to ownership how that's going to shake out. At this point I don't think it's fair to be saying, "Which one should we keep?" I think that's just going to shake out how it's going to. I'm happy they're both on our team. They're both great players.
Q: What about the fact that your new owner [Joe Lacob] is obviously very aggressive and known for wanting to make big, splashy moves? How much unease does that cause among the players who are there right now?
A: All I can do is speak for myself on that one. And I've been through enough of that in New York where about every third day the whole entire roster gets traded [in the media], so I'm used to it. On the other hand it's something I like. I like the fact that ownership is aggressive and that they're a group that wants to have a topflight organization and wants to have a winning culture and is willing to go after the big guys. That's something that's very important for us to know after a lot of years of no playoffs and losing. So we respect that.
We know, after the lockout especially, that this is a business. Any player that thought otherwise, during the lockout we all learned that this is a business and that we are pieces that are going to be traded and moved around to win games. That's just the way it is. The quicker you realize that is the better off you'll be.
Q: Since this is your second season in the Bay Area, can we call you a West Coast guy now?
A: The biggest adjustment was "Monday Night Football" coming on at four o'clock in the afternoon. Not needing the winter coat every time I go outside … I'm happy with 60 degrees.

The official word from the Milwaukee Bucks is that Andrew Bogut is out for eight to 12 weeks with a fractured left ankle after landing on Samuel Dalembert's foot in the lane Wednesday night in Houston.
Do the math and, realistically, Bogut's season is in jeopardy.
The earliest that the luckless Bogut can get back on the floor with the Bucks, based on that timetable, is early-to-mid April. The regular season ends April 26.
Via Twitter on Thursday night, Bogut acknowledged that "keyboard heroes" have been far less kind than calling him "luckless." The 7-foot Aussie will be stamped as fragile now, if he wasn't already, even though this injury was freakish bad luck heaped upon the damage caused by his catastrophic fall from the rim late in the 2009-10 season that was even worse luck.
Bogut's game is still feeling the after-effects from that 2010 fall, when he tried to soften an inevitably bad landing with his right arm on his way down from the rim -- after contact with Amare Stoudemire -- and wound up absorbing significant trauma to his elbow, hand and wrist. How that episode or his Houston misfortune makes Bogut injury-prone, I'm not quite sure. Injury-cursed is more like it.
The only consensus here, sadly, is that big men in the East are stepping into a lot of injury misfortune these days. Bogut joins Atlanta's Al Horford (torn labrum), New Jersey's Brook Lopez (broken foot) and Toronto's Andrea Bargnani (recurring calf trouble) on the list of long-term casualties.
---
Some numbers of note in the East this week:
1: Chicago's Derrick Rose is the only Eastern Conference resident of the five members from the NBA draft class of 2008 to receive contract extensions this week before Wednesday's midnight deadline. The others were Oklahoma City's Russell Westbrook, Minnesota's Kevin Love and the Denver duo of Danilo Gallinari and Kosta Koufos, matching the mere five extensions awarded last season to draftees from the class of 2007.
2: Small consolation for the Hawks after getting routed on the road Wednesday night by the Spurs, but there is one more team that, like Atlanta, hasn't won at San Antonio since the 1997-98 season. That would be Golden State.
5: When Carmelo Anthony failed to make a single field goal in New York's 33-point win Tuesday in Charlotte, it marked just the fifth time since the ABA-NBA merger in 1976-77 that a player from a team that won by 33 or more went 0-for-7 (or worse) from the floor. The others: Minnesota's Troy Hudson (0-for-7) in 2004-05, then-Sacramento King Gerald Wallace (0-for-9) in 2001-02, Seattle's Scott Meents (0-for-7) in 1990-91 and Portland's Johnny Davis (0-for-9) in 1976-77.
19: When he grabbed 19 rebounds in 28 minutes off the bench Wednesday night against Houston, Milwaukee's Ersan Ilyasova became the first Buck to pull in 19 or more boards in a game in under 30 minutes since Alton Lister's 20 rebounds in 29 minutes against Indiana on April 14, 1984.
2: New York and Charlotte are the only two teams in the East that haven't won a game in Cleveland since LeBron James left for Miami.
18: New Jersey's 45.1 percent shooting from the floor in Wednesday's surprise win at Philadelphia halted a run in which the Nets had been outshot from the field by the opposition in 18 consecutive games to start the season. Only two other streaks since the advent of the shot clock in 1954-55 lasted longer, with the San Diego Clippers posting a lower field goal percentage than the opposition in the first 27 games of the 1982-83 season and the Dallas Mavericks enduring a similar fate during the first 21 games in 1993-94.
---
In a recent interview with the Spanish newspaper Marca, Raptors point guard Jose Calderon didn't deny that he'd "like to have the opportunity to compete for something."
That doesn't mean he's poised to ask for a trade -- "I don't think so, that's not me, that's not my personality," Calderon said -- but the 30-year-old left the undeniable sense that he wouldn't oppose a move away from the rebuilding Raps if the opportunity materializes.
You can safely assume, meanwhile, that the Raps feel the same way. Sources with knowledge of Toronto's thinking say that the team is not just going to give Calderon away, especially when he's back to supplying a typically efficient 10.6 points and 8.7 assists nightly, but I'm told that the Raps are indeed open to moving him.
You'll recall that they already did agree to trade him to Charlotte in the summer of 2010 in a Tyson Chandler deal that the Bobcats ultimately backed out of. Now? Sources say that the Raps, if not outright shopping Calderon, have let it be known they're willing to listen, since he's no longer regarded as their long-term answer at the point.
That's because shedding Calderon's nearly $11 million salary for next season would be another step in the reset that began with Bryan Colangelo's drafting of Jonas Valanciunas in June and the hiring of the defensive-minded Dwane Casey as the new coach. It's an open secret north of the border that the Raptors, as much as they've loved Bargnani's increased production and honest attempts to try harder on D under Casey, won't be heartbroken if their 2011-12 record nets another prime pick in the next draft.
The biggest obstacle to a Calderon deal between now and the March 15 trading deadline is that the Raps would surely want a point guard in return, which would appear to rule out teams looking for point guards -- like the Lakers and Knicks -- unless a third or fourth team joins in. Another option for Toronto, if shedding Calderon's salary is needed for cap space this summer, is merely releasing him via the amnesty clause in the NBA's new labor agreement since the Raps didn't use it before this season.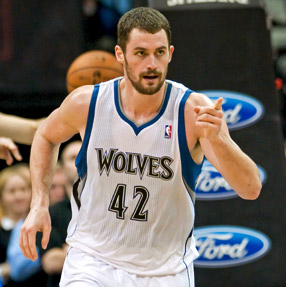 Greg Smith-US PRESSWIRE
Kevin Love's quest for a contract extension before Wednesday's deadline was a saga, but that's only one chapter. The clock is ticking for the Wolves now that Love can become an unrestricted free agent in the summer of 2015. (See Box 3.)
8.

(Deservedly) To The Rafters
Long before he arrived at ESPN as an analyst, Bruce Bowen and I attended Cal State Fullerton for two years together.
So I might not be the best source of unbiased commentary about a defensive specialist who, for all he undeniably contributed to three championship runs in San Antonio, got tagged as "dirty" over the years by a list of luminaries that includes Ray Allen, Vince Carter and Amare Stoudemire.
But Bowen's status as the classic You Hate Him Unless He's On Your Team guy doesn't mean he's unworthy of the honor bestowed on him this week by the Spurs, who announced that his No. 12 will be retired on March 21. Ditto for the fact that Bowen retired in 2009 with a career scoring average of 6.1 points per game.
Don't forget that Bowen made the NBA's All-Defensive Team eight times in his nine seasons in San Antonio, including five straight selections to the first team between 2004 and '08. Only four other perimeter defenders in league history have a streak as long as Bowen's: Scottie Pippen (who made 10 straight All-Defensive Teams from 1991 to 2000), Bobby Jones (nine straight from 1977 to '85), John Havlicek (eight straight from 1969 to '76) and Michael Cooper (eight straight from 1981 to '88).
As Spurs coach Gregg Popovich went on to explain earlier this week, Bowen stands as a prime example of what Team Duncan wants from its role players, having turned himself into a deadly 3-point marksman to supplement all the D through sheer desire and dedication ... when I can assure you he possessed nothing resembling reliable NBA 3-point range back in college.
"Bruce Bowen was the premier perimeter defender in the NBA for close to a decade," Pop says. "His success is proof that hard work and determination do, in fact, pay off. Statistics are meaningless when talking about his importance to this franchise. The simple fact is the Spurs don't win championships in 2003, 2005 and 2007 without Bruce Bowen."
The following, with an assist from my man Ryan Feldman in ESPN Stats & Information, is an assemblage of the top 10 players with scoring averages as modest as Bowen's whose jerseys were retired anyway because of their overall contribution to their respective franchises:
| NAME | TEAM | PPG |
| --- | --- | --- |
| Mark Eaton | Utah | 6.0 |
| Dennis Rodman | Detroit | 7.3 |
| K.C. Jones | Boston | 7.4 |
| Brad Davis | Dallas | 8.2 |
| Larry Steele | Portland | 8.2 |
| Avery Johnson | San Antonio | 8.4 |
| Bob Gross | Portland | 8.9 |
| Johnny Moore | San Antonio | 9.4 |
| Dave Twardzik | Portland | 9.5 |
| Satch Sanders | Boston | 9.6 |
PS -- Denver's Byron Beck (4.7 ppg), Indiana's Mel Daniels (3.5 ppg) and New Jersey's Bill Melchionni (4.4 ppg) were not included here because their low NBA scoring averages in parentheses don't account for the fact that each of them primarily played in the ABA.
PPS -- Here's a link to a franchise-by-franchise list of every jersey retired in the NBA. Bowen will be the seventh Spur to be so honored, joining James Silas (No. 13), George Gervin (No. 44), Johnny Moore (No. 00), David Robinson (No. 50), Sean Elliott (No. 32) and Avery Johnson (No. 6).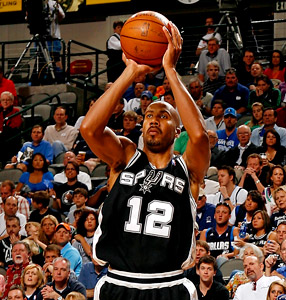 NBAE/Getty Images
Most players get their jersey retired for scoring a lot of buckets. Bruce Bowen is getting honored by San Antonio for denying them. (See Box 8.)