1. Reserve Judgment: Stein's All-Star Benches

By Marc Stein
ESPN.com
Archive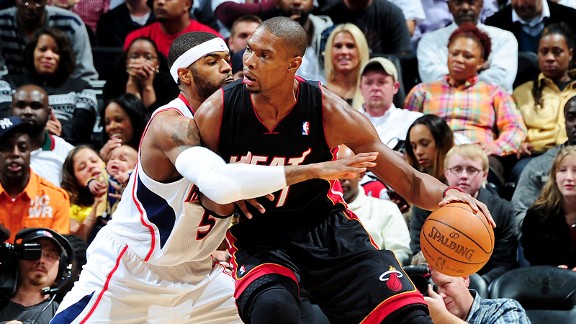 Scott Cunningham/NBAE via Getty ImagesCould we be looking at two Eastern Conference All-Star reserves in Josh Smith and Chris Bosh?
It will be recorded as one of the biggest differences between the lockout-shortened season of 1999 and the lockout-shortened season of 2011-12.
There wasn't enough time for a midseason classic in the 50-game scramble of '99. All-Star Weekend was canceled.
A lucky 13 years later? When TNT's Ernie Johnson announced the East and West starters to the nation Thursday night for the All-Star Game to be staged in Orlando on Feb. 26, none of the league's 30 teams had yet played its 25th game.
It's way early, in other words, for us to be feuding over All-Star nominations, but it's also too late to protest. As ragged as things were in a harried January -- with teams averaging 94.2 points per game in the NBA's lowest scoring month since a reading of 94.1 ppg in March 2004 -- coaches have received their annual email outlining the guidelines for choosing seven reserves in their respective conferences.
2012 ALL-STAR INDEX
Ready for the 2012 All-Star Weekend in Orlando? We've got you covered here.
All-Star Index »
And their ballots, without voting for any of their own players, are due back to the league next week so the reserves can be announced Thursday night.
Each ballot must include two forwards, two guards, one center and two wild-card selections, with those picks ranked from one to seven to give each vote a point value for tiebreaking purposes. The coaches, though, are also invited to ignore the listings on the actual All-Star ballot if they feel a player can play multiple positions, allowing them to be creative with how they fill their seven slots as opposed to, say, forcing the selection of a backup center who might not have unquestioned All-Star credentials.
The starters in the West, as announced Thursday night, are Kevin Durant and Blake Griffin at forward, Andrew Bynum at center and Chris Paul and Kobe Bryant at guard. The East's starters are LeBron James and Carmelo Anthony at forward, Dwight Howard at center and Dwyane Wade and Derrick Rose at guard.
Using the instructions outlined above, here's how ESPN.com's benches would look:
Eastern Conference reserves
Forwards: Josh Smith (Atlanta), Luol Deng (Chicago)

I swear: It's not the lefty thing with Smith. It's the combination of his all-around game and visions of how good he'd be flying around in an All-Star setting that made me want to take Josh over Joe Johnson as the Hawk to reward for Atlanta's ability (so far) to withstand the loss of All-Star center Al Horford.
And I offer up Deng with a wince, but only because he might not be able to accept his nomination thanks to the wrist injury that's held him out of Chicago's past seven games. Toronto's Andrea Bargnani (plagued by his own injury woes) was a legit candidate here for the first time, but Deng -- playing stifling perimeter D and quietly helping Derrick Rose keep the Bulls' offense moving better than ever -- was playing certifiable All-Star ball before he got hurt. I could see the East coaches voting him in and letting David Stern figure out who from the snubees should replace him.
I could also see Deng back on the floor as soon as this weekend to clinch his selection.


---
Center: Chris Bosh (Miami)
Indiana's Roy Hibbert and even young Greg Monroe, playing for the woebegone Pistons, have done some nice things in the first third of the shortened season, but I'm not prepared to go for either one as Dwight Howard's backup just yet. Amare Stoudemire, meanwhile, would have been a natural for this slot if he were playing up to his usual standards, but Thursday's 34 points and 11 boards against Chicago represent the first glimpse of old Amare for weeks. (It was just the sixth 30-point game for Amare as a Knick playing alongside Carmelo Anthony.)
So I'm asking Bosh to go to Orlando masquerading as a 5, taking advantage of the loophole that the league extends to the coaches by encouraging them not to force-feed a traditional center into this spot if they want to get more marquee names on the roster.
I've done that before and do it again here without apology. That option is especially handy this season, with Horford and Milwaukee's Andrew Bogut -- two presumed All-Star contenders -- potentially out for the season thanks to their respective labrum and ankle injuries.
Bosh, meanwhile, has fittingly been doing whatever's asked on a nightly basis, giving Miami what it needs as a third wheel when Dwyane Wade's healthy or stepping his game up suitably when Wade's been out to rank No. 14 in the league in scoring while shooting a tidy 52.1 percent from the floor. Had Bosh been voted in as an East starter at forward over Melo, I don't think you'd have heard too much chirping in protest.


---
Guards: Paul Pierce (Boston), Deron Williams (New Jersey)

Although Rajon Rondo is clearly Boston's best player nowadays, given how smoothly he runs the Celts' show and disrupts so many others, Rondo's recent injury woes (missing eight of Boston's 21 games with a wrist problem) could not be ignored. Ditto for the fact that Pierce's resurgence this month is really what got the Celts' season going with Rondo out. Dare I say one Celtic will be plenty for everyone in Orlando, after the East coaches put four on the 2011 East squad, but it's Pierce over Rondo here this time (and maybe for the last time).
D-Will, meanwhile, has gradually shaken loose from his inexplicably slow start to play closer to the level we all expected after he made the virtually unprecedented-for-stars decision to stay sharp during the lockout by playing in Europe. And it's easier than it'll ever be to dismiss the Nets' 8-15 record as a strike against him because (A) picking All-Stars so early based on such a small amount of in-game evidence, as we've been saying, is tricky by definition and (B) only seven teams in the East had winning records as of Friday morning.


---
Wild cards: Brandon Jennings (Milwaukee), Roy Hibbert (Indiana)

Philly fans will undoubtedly scream (or worse) when they don't see one of their guys on my list after a 16-6 start, but the charm of what the starless Sixers are achieving as an ensemble cast is somewhat lost if we try to wedge Andre Iguodala or Lou Williams in now when neither is really playing on an All-Star level.
It's far, far tougher to omit Kyrie Irving from this squad, given the offensive load he has quickly shouldered in dazzling Cleveland with its first taste of post-LeBron hope, but I can't deny that I still subscribe to the thinking that rookies have to be otherworldly to earn top-12 status in their conference. For more than 20 games, too.
So …
It's Jennings -- whether or not you love lefties as much as yours truly -- who snags one of the last two spots for keeping the Bucks in .500 range without Andrew Bogut by delivering his most potent mix yet of backcourt explosion and efficiency. And we ended up finding room for Hibbert anyway (over the long-suffering Danny Granger for the last spot) because Hibbert's trusty PER of 20.96 comfortably trumps Granger's 38.9 percent shooting from the field and makes him the more sensible rep for the 15-6 Pacers.
East snubs: Ray Allen (Boston), Andrea Bargnani (Toronto), Danny Granger (Indiana), Andre Iguodala (Philadelphia), Kyrie Irving (Cleveland), Joe Johnson (Atlanta), Rajon Rondo (Boston) and Amare Stoudemire (New York).
The Line's 1-7 East Order: 1. Bosh, 2. Pierce, 3. D-Will, 4. Smith, 5. Deng, 6. Jennings, 7. Hibbert.


---
Western Conference reserves
Forwards: Kevin Love (Minnesota) and LaMarcus Aldridge (Portland)
It gets no easier than typing (or scribbling) Love's name here. He's averaging nearly 25 points and 14 boards for the flirting-with-.500 Wolves and would not be out of place as a starter over Blake Griffin if the fans had voted that way. When it comes to picking All-Star reserves in 2012, Love puts the 'L' in l-o-c-k.
Aldridge, meanwhile, surely figured he'd have to settle for a wild-card slot at best when the season began, knowing that this is usually where Dirk Nowitzki parks. But Nowitzki's slowest start since his rookie season and the leaguewide spike in Aldridge's street cred -- as evidenced by his recent nomination to the list of 20 finalists for Team USA's Olympic adventure in London in the summer -- makes his selection (with a PER reading approaching 24) almost as inevitable as Love's.
Which is good news for those of you who enjoy the city of Portland. Who knows how angry the locals would be -- and what they might do -- if LMA is snubbed again like last February?


---
Center: Marc Gasol (Memphis)

Two Lakers in the starting lineup -- and one Gasol on the West roster -- are enough for me.
Translation: Marc Gasol is getting our nod to play behind Andrew Bynum over brother Pau.
The younger of the Gasol Bros. is not only living up to his new mega contract but also producing career-best numbers despite the absence of Zach Randolph, even though everyone came into the season thinking that what made the Grizzlies truly dynamic in last spring's first-round upset of mighty San Antonio was the ability of their two big men, Z-Bo and Gasol, to play off each other. So to do what he's doing without Randolph -- averaging nearly 15 points and 11 rebounds with 2.3 blocks per game -- adds up to a stronger All-Star case than Pau's for the first time.
Going as a center figured to be Pau's best shot of making it to All-Star Weekend in the drenched-in-4s West, but no one out there is pushing for three Lakers to get All-Star invites with Kobe and Co. at a mortal 13-9.


---
Guards: Russell Westbrook (Oklahoma City) and Steve Nash (Phoenix)
The unflattering reviews of Westbrook's quarterback play from early in the season are gradually starting to fade. Like a lot of us, I'd still prefer to see Kevin Durant playing alongside a more pass-minded point guard, but Westbrook is inching away from his defiant approach and is back to being OKC's best player some nights. Which means his second straight selection to the West All-Stars is just a formality.
As for Nash, things are never really easy anymore playing for what's left of the Suns. But on a starting-over team that bears little resemblance to the high-octane outfit he QB'd from 2004-05 through the 2009-10 season, Nash is somehow still regularly playing textbook ball through the pain at age 37 and averaging 15.2 points and a shade under 10 assists on a team where he and Marcin Gortat are the only consistent scoring options.
You could certainly presume that Nash -- who turns 38 on Tuesday -- wouldn't mind having some time off during All-Star Weekend to recharge after dealing with the usual aches and ailments he deals with. But then it hits you that a weekend on the All-Star stage might be as good as it gets for Nash all season. So he needs to be there.


---
Wild cards: Tony Parker (San Antonio), Paul Millsap (Utah)
The dilemmas presented by the array of quality ballers in the hunt for the last two spots are almost too dizzying to list.
You could leave Nowitzki home in the midst of his worst production since he was 20 … but then the defending champs would have no All-Star representative.
You could decide that Danilo Gallinari doesn't hit the boards enough or that Nene's production isn't quite All-Star-caliber … but then the team with the second-best record in the conference (15-7) wouldn't have an All-Star rep, either.
You could reward Tony Parker for his steady play in the wake of Manu Ginobili's latest injury setback … but then that would leave Tim Duncan with virtually no hope of making his 14th consecutive All-Star appearance.
And you could spend a lot of time arguing with yourself about whether to back Paul Millsap or Al Jefferson as the most deserving All-Star from the upstarts in Utah … but then eventually you'll realize that there's a real possibility that neither one of them makes it.
In the end? I'm quite sure that the coaches will look past Nowitzki's 23-game nightmare and select him out of respect to both Nowitzki's résumé and the fact that his Mavs are the reigning champs, no matter how much he might enjoy the extra rest. I likewise wouldn't be surprised if same thing happens with Duncan, even though Timmy's not even playing 30 minutes per game.
My choices, though, are Parker and Millsap, with the shut-out Nuggets justifiably peeved but getting the exact same treatment from me as the Sixers. Denver really is the Philly of the West, riding too many key contributors in its ensemble cast to single out one even for a weekend.


West snubs: Tim Duncan (San Antonio), Monta Ellis (Golden State), Pau Gasol (Los Angeles Lakers), Danilo Gallinari (Denver), Rudy Gay (Memphis), James Harden (Oklahoma City), Al Jefferson (Utah), David Lee (Golden State), Kevin Martin (Houston) and Dirk Nowitzki (Dallas).
The Line's 1-7 West Order: 1. Love, 2. M. Gasol, 3. Westbrook, 4. Nash, 5. Aldridge, 6., Parker, 7. Millsap.


Dimes past: Jan. 19 | 20-21 | 22 | 23 | 24 | 25 | 26 | 27-28 | 29 | 30 | 31 | Feb. 1 | 2


ESPN.com senior writer Marc Stein
• On Twitter @ESPNSteinLine | On TrueHoop | On ESPN.com | On email
• Follow ESPN's NBA coverage on Twitter | On Facebook | On Google+
2. Western Conference

The Nuggets are said to be fuming that the league's new labor agreement wouldn't allow them to sign-and-trade Kenyon Martin to his new team -- thereby positioning Martin to make a little more money in the deal and score an asset for Denver in the process -- but the Clippers' offer of $2.5 million for the rest of the season trumped all other suitors because of the role they can offer with it.
Word is that Martin prefers to play in the West because the proliferation of quality power forwards throughout the conference should translate to more playing time. That's especially true with the Clippers, who desperately need another big man to join Blake Griffin, DeAndre Jordan and Reggie Evans.
Miami ranked as the most attractive situation in the East for the 34-year-old, but the Heat could only offer him a prorated contract at the veteran minimum.
Sources close to the situation say that the Clippers initially wanted to make a run at shooting guard J.R. Smith as well but conceded that frontcourt depth is the bigger priority and have focused on Martin. It's the opposite approach to that taken by the Knicks, who also had interest in both ex-Nuggets but have a greater need for Smith's perimeter shooting than Martin's defensive know-how and are thus focused on trying to land Smith when he returns from China in the next month.
---
Some numbers of note in the West this week:
3: You know by now that we're always looking for any excuse to bring up the Buffalo Braves, so it should come as no surprise that we'd be passing along the Elias Sports Bureau note about how the Clippers' home date with Oklahoma City earlier this week marked just the third time since the franchise left Buffalo that the Clips were part of a game pitting teams in sole possession of first place in their respective divisions against each other this late in the season. The two previous such occurrences for the Clips, since the Braves did so while leading the Atlantic Division in January 1975, came on back-to-back days in 2005-06, when the Clippers defeated the Suns on Dec. 10 and lost to the Pistons on Dec. 11.
29: The Lob City Clippers, entering Wednesday's play, had completed a league-leading 29 alley-oops, four ahead of No. 2 New York and six more than No. 3 Miami.
6: The Clippers' Blake Griffin, no matter how you graded his posterization of Kendrick Perkins, is one of just six players in the league averaging at least 20 points per game (21.4 ppg to be exact) and shooting better than 50 percent from the field (.535). The others are Miami's LeBron James, Oklahoma City's Kevin Durant, Miami's Chris Bosh and Orlando's Dwight Howard.
21: Minnesota's Ricky Rubio needed only 21 games in the NBA to record 10 double-figure assist games. The only other players in league history to do so that fast were Damon Stoudamire (19 games with Toronto in 1995-96) and Phil Ford (21 games with the Kansas City Kings in 1978).
6: Kobe Bryant on Sunday became the all-time leader in field goals made in Lakers history, passing Kareem Abdul-Jabbar during a win at Minnesota, where the franchise was anchored for its first 12 seasons. Bryant thus became the sixth player to hold that distinction for the Lakers, following George Mikan, Vern Mikkelsen, Elgin Baylor, Jerry West and Abdul-Jabbar. The only other active players to hold their team's career record for field goals made, besides Bryant, are San Antonio's Tim Duncan, Dallas' Dirk Nowitzki and Miami's Dwyane Wade.
---
The Lakers are indeed on the long list of teams interested in Cavs point guard Ramon Sessions, but sources say that Cleveland would expect at least one first-round draft pick from L.A. in exchange. Although the Lakers have their own first-round pick and Dallas' first-rounder in 2012, it's believed that L.A. prefers to hold off on using either of those picks or its $8.9 million trade exception (created by the deal that sent Lamar Odom to the Mavs) until Dwight Howard's situation plays out in Orlando. Meaning that the Lakers don't want to burn one (or more) of their limited trade assets and then find out that Orlando is suddenly ready to deal Dwight before the March 15 trading deadline ... The Grizzlies, sources say, were weighing the merits of calling up Greg Ostertag out of the D-League as a spot-minute addition to their tag team filling in for the injured Zach Randolph when the 38-year-old decided to end his comeback Jan. 19 because of unshakeable knee soreness.
3. Centers Of Attrition
The limbo that the Orlando Magic are locked into with Dwight Howard is far more draining, in a lot of ways, than it was with Shaquille O'Neal during the 1995-96 season.
Reason No. 1 for that: Media coverage is far more suffocating now than it was back then, meaning that reminders of the Magic's predicament with Howard -- trade him before the March 15 or risk losing him in the summer without compensation a la Shaq -- never really go away.
Another reason: Knowing that they'll ultimately have to try to replace Dwight, whose arrival in 2004 was a blessing beyond words less than 10 years after Shaq's departure, has to make sleep scarce at night.
Yet even if the messy end is near with Dwight in Orlando, either by trade during the next six weeks or via free agency in July, there will be at least one chapter in this increasingly sad saga that the Magic will have to look back on with fondness: Dwight's steely durability.
Four centers were taken No. 1 overall in the NBA draft in the 2000s. Only Dwight, of that quartet, has been able to avoid serious long-term health woes.
Persistent foot troubles forced Yao Ming to retire at age 30. Greg Oden has managed to play only 82 games in his first five pro seasons because of traumatic breakdowns in both of his knees and was forced to undergo yet another arthroscopic procedure Friday "to remove debris from his right knee." And Milwaukee's luckless Andrew Bogut recently suffered a fractured ankle when he landed on the foot of Houston's Samuel Dalembert in the lane, shelving him again while he was still trying to rebound fully from the after-effects of that infamous 2010 fall from the rim where he tried to soften an inevitably bad landing with his right arm and wound up absorbing significant trauma to his elbow, hand and wrist.
Howard, meanwhile, has missed only seven games since the Magic drafted him in 2004.
Seven.
Which is one of the biggest reasons it'll be so hard for the Magic to see him walk.
Centers Drafted Number 1 Overall, 21st Century, Entering Friday's Play
Total Games Missed
Full Seasons Missed
Averaged Games
Missed Per Season
2007 -- Greg Oden
269
2
53.8
2005 -- Andrew Bogut
105
0
15.0
2004 -- Dwight Howard
7
0
0.9
2002 -- Yao Ming
252
1
28.0
Carter
Five questions with Mavs forward Vince Carter:
Q: Blake Griffin's dunk over Kendrick Perkins has everyone scrambling to try to figure out where it ranks all time and naturally your dunk over Frederic Weis at the Olympics is a big part of that discussion. What goes through your mind when you see footage of that dunk now?
A: I hope I can explain this the right way. It was a moment that I'm very proud of. But people always ask me: "What's your favorite dunk?" And it's hard for me to say. I do them for other people to enjoy them. But I will say that dunk [over Weis] was an out-of-body experience. That's not something I set out to do. If you would have asked me, even when I was jumping my highest, I would never, ever in my life have said that I would have jumped over somebody. People are still talking about a dunk that was 10, 11, 12 years ago. So that's a great feeling. It's something that can never be duplicated. I tried it [later] and couldn't really accomplish it again.
Q: OK. Take yourself out of the equation …
A: I always do.
Q: I'm sure you saw that Blake's dunk had NBA TV showing footage of about 20 all-time classic dunks. What are your three or five favorite dunks by other dunkers when you watch those?
A: There's so many great ones. I didn't see them all that they showed -- and we were talking about this earlier in the locker room -- but when I watched them I did say to myself, 'I can think of some that were better.' Here's one: Ricky Davis over Steve Nash. You remember that one? Steve tried to take the charge and Ricky just jumped over him. But there's so many.
You have [Shawn Kemp's] Lister Blister, you have Tom Chambers over Mark Jackson, all of Dr. J's dunks, Tracy's dunk [Tracy McGrady] over Shawn Bradley. What about Kobe over Dwight Howard when he was a rookie? Or Kobe on, I think, Jahidi White in Washington in a preseason game? There's so many. I hate that I can't remember them all.
Q: How 'bout grading Blake's dunk for us? Some folks out there would say it wasn't even a dunk and that he threw it in.
A: It's still a dunk. It was a dunk for sure. You still have to be high enough [to throw the ball in the basket] and a lot of people can't do that, either.
The way I look at Blake's dunk is that it was completed with a high degree of difficulty, for the simple fact of the body control [involved] and the person than hit him. No disrespect to [teammate] Brandan Wright, but if Brandan Wright hits Blake, he still goes up and finishes. That was Kendrick Perkins that hit Blake and he was still able to get his body under control.
Q: When guys are younger, they're always doing everything they can to stop people from labeling them as a "dunker." But how much will it matter to you, say, 10 years from now to hear people include you in the best dunker ever discussion?
A: It's going to get talked about -- that's just the way it is because of the [2000] dunk contest and what was done in the Olympics. And I'm OK with that. I just want people to remember that I had the ability to do a few other things. But also that I was able to get fans out of their seats … whether they were cheering for the home team or not. I feel like when you dunk a ball [on the road] and you look at the replay and the fans are out of their seats and the other bench reacts, that's when you know you've got something.

The Wizards have been working hard to move disappointing forward Andray Blatche, but a calf injury expected to sideline the favorite target of D.C. boobirds for three to five weeks won't make it any easier.
Sources close to the situation say that the Wizards had been trying to engage Charlotte on a Blatche-for-Tyrus Thomas swap.
The Wizards would naturally prefer Boris Diaw and his expiring contract -- with the bonus of knowing that Diaw's passing eye could only give the wild Wiz a much-needed boost to their basketball IQ -- but the ever-thrifty Bobcats aren't about to take on the remaining three years (worth nearly $23 million) on Blatche's contract if Thomas' similarly hefty deal isn't headed the other way.
---
Some numbers of note in the East this week:
24: LeBron James' run of 24 consecutive games with at least 15 points, five rebounds and five assists is the fourth-longest such streak in NBA history. Oscar Robertson, not surprisingly, has the only three streaks that have lasted longer: 29 games (November 1964-January 1965), 26 games (January-February 1963) and 25 (November-December 1963).
2: When Philly scored a 74-69 victory Monday night over sagging Orlando, it marked the second time already this season that a team has won despite scoring fewer than 75 points. The Lakers pulled off the same trick Jan. 16 with a 73-70 win over Dallas, after just one such win for any team -- San Antonio's 72-65 triumph at Portland on April 6, 2008 -- over the previous five seasons.
84.5: Philly allowed a league-low 84.5 points per game in January. That's the lowest one-month total for any team in the league, according to Elias, since Detroit allowed just 83.4 points per game in February 2006.
5: In Tuesday's loss to Boston, Cleveland's Anderson Varejao became the fifth player this season to post a 20-point, 20-rebound game, joining Dwight Howard, LaMarcus Aldridge, Andrew Bynum and Kevin Love.
27: It happened slightly more than a week ago but it's still worth mentioning, because Boston's rally from 27 points down Jan. 29 in Orlando was the biggest comeback in the NBA since Sacramento somehow dug out of a 35-point hole on Dec. 21, 2009, to beat Chicago. How unlikely was the Celtics' resurrection? In between those two extremes, teams that led by at least 27 points in any game had gone 282-0.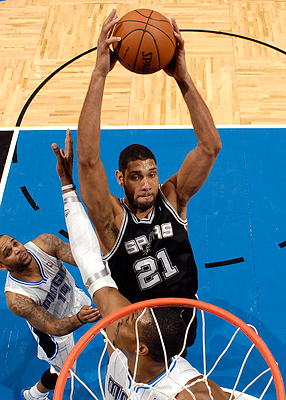 Fernando Medina/US Presswire
Tim Duncan has topped 15 points only nine times in San Antonio's first 23 games, but the 35-year-old little patience for questions about how long he intends to keep playing. (See Box 7.)
Duncan
"Until I'm done."
San Antonio's Tim Duncan, forcefully swatting away a question about how much longer he intends to play.
Duncan has never loved postgame media briefings, but he finds that topic particularly annoying these days. He's not about to expend energy in February providing updates on his future when just getting through this lockout-shortened season is demanding enough.
It's a topic that's surely going to keep coming up, with Duncan's 36th birthday looming on April 25 and modest averages of 13.7 points and 7.5 rebounds in 27.2 minutes per game in the final year of his contract. Yet it's clear that Duncan isn't going chime in until he has to, preferring to focus on a schedule he finds to be far more of a grind than the lockout-shortened season in 1999 that ended with the first of Duncan's four championships.
That's not because he finds 66 games in 123 days to be so much more withering than 50 games in 90 regular-season days in '99. Duncan arrived at that conclusion purely because of his age.
"This does not feel like '99," Duncan said. "In '99, I was a deer. I would just run all day. This is a couple years after that."
Duncan's most expansive comments on the subject, offered to the San Antonio Express-News at the start of training camp, would appear to be promising if you're rooting for TD to play on. "I haven't gotten to that bridge yet," Duncan said in December. "I don't even see that bridge yet. When I get there, I'll cross it."
And longtime teammate Manu Ginobili, for what it's worth, told the paper that "I really don't believe it's going to be [Duncan's] last season."
I hope not. I'll be crushed when he stops playing. I'll even miss the short interview answers. I've had the privilege of covering most of Duncan's playoff career from fairly close proximity and thus struggle to imagine life in the wild, wild Western Conference without him, even if it's been four years since San Antonio's last title, which is the longest stretch of Duncan's 14-year career without a ring.
There are still nights, after all, when vintage Timmy reappears, making this the umpteenth season in a row that know-it-alls like me are too gunshy to write the Spurs off as contenders ... provided that Ginobili makes a full recovery from the broken hand that sidelined him just five games in. Wednesday was one of those nights -- albeit just the third time all season that Duncan was San Antonio's top scorer -- as he rumbled for 25 points in a home win over red-hot Houston.
Have to be honest. I never anticipated having the opportunity to use a "39 Special" headline twice in the space of three weeks.
But it fits even better this time than the first time we used it -- triggered by Dwight Howard's 39 free throws at Golden State on Jan. 12 -- because Juwan Howard turns 39 on Tuesday.
That milestone will take the NBA's total of 39-year-olds to three. So here's a list, in Juwan's honor, of the league's five oldest players … who could more politely be described as the Nearly 40 All-Stars:
NAME
POS
AGE
Kurt Thomas, POR
F
39-122
Grant Hill, PHX
F
39-121
Juwan Howard, MIA
F/C
38-361
Jason Kidd, DAL
G
38-317
Steve Nash, PHX
G
37-361
* - (Years/Days as of Friday, Feb. 3)
PS -- Tuesday also happens to be Nash's birthday, which will put him alongside Kidd in the NBA's 38 Special club.
Orlando's summons of Ish Smith from the L.A. D-Fenders was the 18th call-up from the D-League already this season.
And you're likely to see call-ups at a faster rate starting Monday, when NBA teams are allowed to start handing out 10-day contracts.
Next Friday, furthermore, is the date when non-guaranteed contracts become guaranteed for the rest of the season, meaning that teams looking to release players to save some salary must do so by Tuesday at 6 p.m. to ensure that the player in question clears waivers.
It's a deadline that, entering the weekend, was looming for a whopping 48 players after Milwaukee's release of Darlington Hobson, which equates to more than 10 percent of the workforce in a league with nearly 440 players. If they're still on their current rosters when Tuesday night's six-game slate tops off, their contract dollars are locked in for the rest of the season.
The 48 players in question are:
| Player | Salary |
| --- | --- |
| Ivan Johnson, ATL | $473,604 |
| Jannero Pargo, ATL | $1,223,166 |
| Jerry Stackhouse, ATL | $1,352,181 |
| Greg Stiemsma, BOS | $762,165 |
| Cory Higgins, CHA | $473,604 |
| John Lucas, CHI | $915,852 |
| Brian Scalabrine, CHI | $1,352,181 |
| Alonzo Gee, CLE | $854,389 |
| Samardo Samuels, CLE | $762,195 |
| Mychel Thompson, CLE | $473,604 |
| Sean Williams, DAL | $885,120 |
| DeMarre Carroll, DEN | $854,389 |
| Julyan Stone, DEN | $473,604 |
| Vernon Macklin, DET | $473,604 |
| Walker Russell, DET | $374,300 |
| Damien Wilkins, DET | $1,146,337 |
| Earl Barron, GSW | $897,008 |
| Dominic McGuire, GSW | $915,852 |
| Chris Wright, GSW | $473,604 |
| Jeff Adrien, HOU | $762,195 |
| Solomon Jones, LAC | $792,377 |
| Derrick Caracter, LAL | $762,195 |
| Devin Ebanks, LAL | $762,195 |
| Andrew Goudelock, LAL | $473,604 |
| Josh Davis, MEM | $885,120 |
| Eddy Curry, MIA | $1,352,181 |
| Mickell Gladness, MIA | $473,604 |
| Terrel Harris, MIA | $473,604 |
| Keith Bogans, NJ | $848,325 |
| Sundiata Gaines, NJ | $854,389 |
| Squeaky Johnson, NOR | $473,604 |
| DaJuan Summers, NOR | $854,389 |
| Jerome Jordan, NYK | $473,604 |
| Jeremy Lin, NYK | $762,195 |
| Steve Novak, NYK | $992,680 |
| DeAndre Liggins, ORL | $473,604 |
| Ish Smith, ORL | $522,472 |
| Ryan Reid, OKC | $475,000 |
| Lavoy Allen, PHI | $473,604 |
| Francisco Elson, PHI | $897,646 |
| Chris Johnson, POR | $762,195 |
| DeJuan Blair, SAS | $986,000 |
| Danny Green, SAS | $854,389 |
| Gary Neal, SAS | $762,195 |
| Malcolm Thomas, SAS | $408,674 |
| Jeremy Evans, UTH | $762,195 |
| Jamaal Tinsley, UTH | $1,229,255 |
| Hamady Ndiaye, WAS | $762,195 |