1. How Good Are Thunder? They Might Top This
By John Hollinger
ESPN.com
OKLAHOMA CITY -- How good were Kevin Durant and Russell Westbrook in Oklahoma City's 124-118 overtime thriller over Denver?
Here's how good:
• So good that Durant set a career high with 51 points, and needed only 28 shots to do it. Included in the onslaught were five points in the final 30 seconds of regulation to send the game to an extra session, capped by a drive for a game-tying dunk with 4.4 seconds to go.
• So good that Westbrook had 40 points of his own as the secondary option.
• So good it was the first time teammates each scored 40 points in a game since Michael Jordan and Scottie Pippen did it on Feb. 18, 1996.
• So good that it reduced a triple-double by teammate Serge Ibaka to a mere footnote. It was the first time in NBA history that a team had a 50-point game, a 40-point game and a triple-double from three different players. Amazingly, Ibaka didn't get his triple-double by assisting the scorers, but by swatting away 11 Denver shots to go with 15 points and 14 boards.
• So good that they had two points from their teammates in the final 12:40 of basketball, and yet went from down seven to winning by six by scoring 34 of the final 36 Thunder points.
• And yes, so good that it bumped Jeremy What's-His-Name from the front page.
The two stars' scoring exploits were enough to overcome a litany of sins, as a short-handed Denver team relentlessly ran the ball down their throats and finished with a whopping 72 points in the paint.
Denver withstood the absence of starting forwards Nene Hilario and Danilo Gallinari and backup guard Rudy Fernandez by engaging in a game one rarely sees employed against the Thunder -- ramping up the tempo even beyond Oklahoma City's preferred level.
The Thunder play the league's fourth-fastest pace, but the Nuggets are No. 1 in that category and showed why Sunday. On the sideline, Oklahoma City coach Scott Brooks spent much of the second quarter imploring his team to run back on defense as the Nuggets kept pushing the ball, even on makes -- at one point earning two consecutive layups after Thunder baskets.
The result was an epic battle -- by regular-season standards, at least, and certainly by the standards of this regular season. The scoring totals of Durant and Westbrook were just the cherry on top -- this was a thrilling contest throughout, featuring huge runs (20-0 for the Thunder, 29-7 for Denver) and few miscues for a game played such at breathtaking speed. Putting it in perhaps the league's best game environment only made it better.
Both Durant and Westbrook were in rare form, with each getting nothing but net on virtually ever jumper. The book on Westbrook is to give him the jumper and take away the drive; if he makes 11 jump shots, as he did Sunday, I'm not sure how to defend that. Moreover, he combined his usual fury with composed decision-making -- nine dimes and only two turnovers -- and amazingly, did it after spraining his ankle Friday against Golden State.
Durant, meanwhile, actually did most of his damage around the basket with his increasingly confident off-the-dribble game. But he also made his first five 3-point tries before a miss late in overtime, including a late-clock hoist in the first quarter that started him rolling.
Yet that shouldn't overshadow Ibaka, who erased countless defensive mistakes with 11 blocks, most of the basket-saving, at-the-rim variety. Top honors goes to a flying tap-away of a Corey Brewer drive early in the fourth quarter -- on yet another after-made-basket transition by the Nuggets -- that snuffed a sure layup and got the Oklahoma City crowd revved up another notch. But some prefer block No. 10 ... which came with a pronounced, Mutombo-esque finger-wag as he strutted down the court.
By the end, Ibaka was cleaning up so thoroughly that by overtime the coaches told Durant to crowd Denver's Arron Afflalo (whose season-high 27 points could not have been relegated any further into the background) and basically force him to have a path to the basket … and Ibaka.
Add it all up and it was another notch in the belt of memories that the Durant-Westbrook-Ibaka-Harden quartet is building up in this city, and it's scary to ponder that they're barely getting started -- none is older than 23.
Nights like this leave you wondering what they might do to top it … and thinking that at some point, they probably will.


ESPN Insider John Hollinger
• Twitter @johnhollinger | ESPN.com | TrueHoop | E-mail | Hollinger's stats
• Follow ESPN's NBA coverage on Twitter | On Facebook
2. Around The Association
Mr. Smith Goes To New York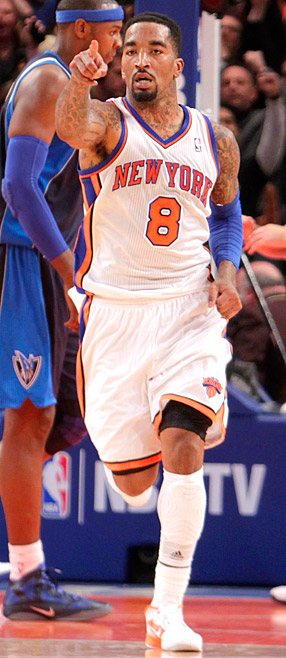 AP Photo/Seth Wenig
J.R. Smith signed with the Knicks on Friday and was starring at MSG on Sunday. Without practicing with his new team, the import from China scored 15 points in the Knicks' victory over Dallas.
Durant
Kevin Durant, Thunder: His career-best 51 points was the top performance in the NBA this season. He drove for a dunk to tie the game with 4.4 seconds left in regulation. Sealed the performance with a kiss for his mom courtside.

Charlotte Bobcats' season of infamy: If the Bobcats' were a boxer, they'd be the type of fighter who gets hit and "stays hit." Charlotte got hit early, fell behind 16-2 to start the game en route to a 35-point loss to the Pacers.
Serge Ibaka had more blocks (11) than 18 of the 19 other teams that played today.

—Chris Palmer (@ESPNChrisPalmer) February 19, 2012
"I was talking to them before the game and they were saying they had an answer for Lin. I guess they were dead wrong on their scouting report."
-- Knicks center Tyson Chandler, who played for the Mavs last season, on talking to his former team about covering Jeremy Lin.
8. Heating Up In Miami
MVP: LeBron James had 25 points, 11 rebounds and eight assists to barely edge the sizzling Dwyane Wade, who had 27 points on 13-of-23 shooting, for the honor. Wade has scored 20 or more points in 10 straight games and the Heat have won nine of them.
That was ... politically correct: President Bill Clinton attended the game and sat next to Heat owner Micky Arison courtside. During the third quarter he was presented a Heat jersey, No. 42, with his name on it.
LVP: Hedo Turkoglu scored just one point and had no rebounds in 25 minutes, part of an overall weak Magic offensive effort.

-- Brian Windhorst, ESPN.com
9. Irving Plays The Hero
Defining Moment: Leading by one in the closing seconds, Tyreke Evans reached in and fouled rookie Kyrie Irving with four-tenths of a second remaining. Irving hit both free throws, giving the Cavs a 93-92 victory.
MVP: Isaiah Thomas, the last pick in the 2011 NBA draft, got his second start of his young career on Sunday night. Opposite him? Kyrie Irving, the first pick in the 2011 NBA draft. Thomas lit up Irving, barely missing a triple-double while finishing with 23 points, 11 assists and eight rebounds.
That was … incredible: With 2.9 seconds remaining in the fourth, second-year big man Cousins rolled to the rim, hit the lay-in and gave the Kings a one-point lead on the road.

10. Rubio's Ruby
Defining Moment: When Kevin Love spotted up to take a 16-footer with 9:44 left on Sunday night, he was just 2-for-15 from the floor and hadn't hit a field goal since the first period. But after his humble beginning, he closed the game 5-for-8 for 12 points, including the winning foul shots.
MVP: While Kevin Love was the story, Ricky Rubio was just stupendous -- setting a career high in scoring with 22 to go along six boards, five dimes, and (approximately) 15 "wowzers" moments. And from the We Can Build on This department: If the Rickster can nudge the arrow from "awful shooter" to "mediocre shooter," CP3's going to have to start watching his Best Point Guard Alive belt.
That was … really fun: Good luck finding two teams who are more purely pleasurable to watch than the Sixers and Wolves. While Sunday's wasn't a particularly clean game -- the 18 total turnovers understate the choppiness -- the multiple lead changes and late heroics from Kevin Love ensured that this one lived up to billing.