1. Big Night Shows The 'Magic' In LeBron
By Brian Windhorst
ESPN.com
PORTLAND, Ore. -- LeBron James' Most Valuable Player campaign is going to be weighed down somewhat by past and politics, and there's no getting around it. His statistics are compelling enough, but his performance Thursday night against the Portland Trail Blazers was the sort of masterpiece that just cannot be ignored when judging his place.
The Miami Heat won their ninth straight by at least 12 points, and it was the seventh time in the stretch they did it on the road, this time dumping the Blazers 107-93 at the Rose Garden. James had 38 points on just 22 shots, making it five seasons in a row he's put up at least 30 in his visit to Portland.
The points, however, were the least impressive part. With Chris Bosh away for the first of two games following the death of his grandmother, the Heat deployed James in a way they'd only experimented with a little over the past season and a half.
James started at center defensively and power forward offensively, guarding Marcus Camby from the opening tip. As the game went along, he kept switching his defensive assignment as the Heat changed lineups around him. From Camby to Jamal Crawford to Wesley Matthews to Gerald Wallace to LaMarcus Aldridge to Raymond Felton to Nicolas Batum and even 7-foot-1 Joel Przybilla. James guarded them all and created problems for them, too.
When it was over, he had 11 rebounds, six assists, five steals, a block and no turnovers. Add in the points, and it was a statistical line that's never before been seen since records for such things started being tracked in 1977.
"I went to him at shootaround today and told him we need a Magic Johnson type of night," Heat coach Erik Spoelstra said.
"He eases a lot of my anxiety and a lot of our team's anxiety. I don't know if there's another player in the league that can handle that mentally. Physically, I don't think there's many players that can play point guard through center. The tougher challenge is when you start playing guys at different positions on different sides of the court. He was able to settle into his game, and that settled us."
The Heat, who didn't show a hint of rust after a week off and not having Bosh for the first time all season, are undeniably playing remarkable ball at the moment. They got major contributions from elsewhere, including a 33-point, 10-assist effort from Dwyane Wade that probably was unfairly overshadowed. Udonis Haslem also had 11 points and 14 rebounds in picking up some Bosh slack.
But it was hard to get past the sort of game James put together. There's not an official tally on this, but if you count this as a game started at center, James now has started at every position in his career. Usually slotted at small forward, James was a point guard as a rookie, got voted into the All-Star Game as a shooting guard in his second season and made his first start at power forward back in 2008.
There are few players who can claim to be his peer on that list, with Johnson being one of the few.
"I just planned on guarding everybody, and I pretty much did that," said James, whose five steals came against five different Blazers players. "I just took the challenge."
Dimes past: Feb. 21 | 22 | 23 | 28 | 29


NBA Writer Brian Windhorst
• On Twitter @WindhorstESPN | On ESPN.com
• Follow ESPN's NBA coverage on Twitter | On Facebook | On Google+
2. Around The Association
3. Thursday's Best
Durant
Kevin Durant, Thunder: Durant's 38 points weren't as efficient as LeBron's, but they came with more forceful punctuation. Four days after winning All-Star Game MVP in Orlando, KD scored 18 in the fourth to erase a 14-point deficit in his return to town.
4. Tweet Of The Night
Ralph Lawler for the first time ever (maybe) said, "BingoNo!" on an in-and-out from Bobby Simmons.

— Arash Markazi (@ArashMarkazi) March 2, 2012
5. Quote Of The Night
"Kobe knew there was no ill intent on my part. We have a pretty good relationship; it is just one of those things. Maybe he put it to rest, maybe he didn't. [Sunday's] game is going to be competitive no matter what."
-- Dwyane Wade, following Kobe's lead after questions were raised regarding the intent of Wade's hard foul on Bryant in Sunday's All-Star Game, which left the Lakers guard with a broken nose and plenty of new aches. Read more »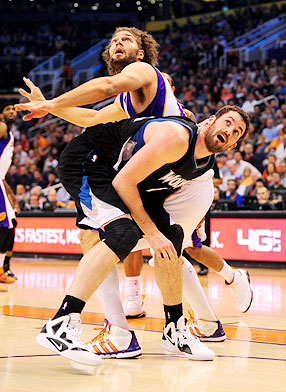 Mark J. Rebilas/US Presswire
Kevin Love contributed 23 points and 10 boards, but Robin Lopez and the Suns easily dispatched the windless Wolves in Minny's third game of a back-to-back-to-back, 104-95. (See Box 2.)
8. Stat Check
By Elias Sports Bureau

The Thunder outscored the Magic 35-21 in the fourth quarter to post a 105-102 victory at Orlando, one night after staging a fourth-quarter rally to defeat the 76ers at Philadelphia. It was only the third time this season an NBA team won road games in which it trailed in the fourth quarter on consecutive days, and Oklahoma City has accounted for two of those mini sweeps. The Thunder rallied for late wins at Portland and Golden State last month (Feb. 6-7). The only other team to do that this season was Denver, with victories at Washington and New York in January.