1. Fifty Years Ago, One Hundred Set The Bar

By Marc Stein
ESPN.com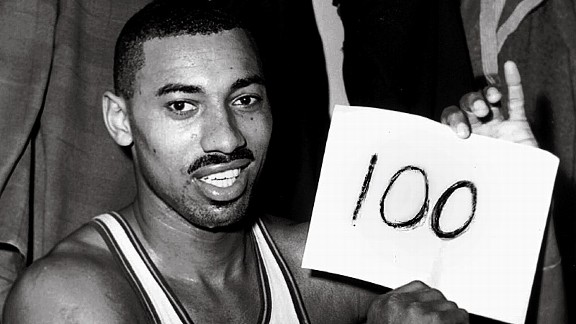 AP Photo/Paul VathisWilt Chamberlain in the dressing room in Hershey, Pa., after he scored 100 points.
Fifty years later, so much remains in dispute about what's right there in black and white in the gaudiest box score line in the history of the NBA.
Exactly 50 years since Wilt Chamberlain laid an unfathomable 100 points on the New York Knicks on a Friday night in tiny Hershey, Pa., no one can seem to agree on whether Wilt's final basket came via dunk or layup.
No one can say for sure where the game ball went, either.
Fifty years removed from a magic show that came more than four decades too soon for Flip cams and video phones, 21st-century know-it-alls can't wait to tell you how Kobe Bryant's 81 points against Toronto in 2006 were actually gaudier that the untelevised, unfilmed, completely unrecorded damage Wilt inflicted at the Hershey Sports Arena on March 2, 1962.
So let's do the best we can.
On the 50th anniversary of Chamberlain's historic journey into triple digits -- with the Philadelphia 76ers hosting the Golden State Warriors later Friday and NBA TV ready to roll out its new "Wilt 100" documentary narrated by Bill Russell an hour before tipoff -- let's set the mood with an eyewitness account of what happened on the night that has come to define Chamberlain's harder-to-believe 1961-62 season stats.
In '61-62, you'll recall, Chamberlain averaged 50.4 points and 25.7 rebounds per game.
Averaged.
Al Attles certainly remembers. Now 75 and serving as a Warriors executive, he was one of Chamberlain's Philly Warriors teammates that night. In a recent visit with ESPN.com, Attles shared his 50-year-old recollections from what was just the Warriors' third game that season in their training camp home of Hershey … one that drew a mere 4,124 fans and virtually no media coverage from even the print or photo realms.
Here's Attles on:
The achievement itself
"There's two things that I always talk about when I talk about that game. One is that we won the game. So many people I've talked to over the years say, 'You played in the game where the guy scored 100 points and you lost the game.' We won the game, so that's a fact. It bothers me -- it shouldn't, but it does -- that a lot of people want to put a losing tag on it and say Wilt scored 100 points and they lost the game. We didn't lose the game.
"The other thing is that Wilt tried to come out of the ballgame before he got 100 points. A lot of people thought he was being selfish or trying to rub it in. No. He wasn't trying to do that. He tried to come out, but [then-Warriors coach] Frank McGuire would not take him out. He had driven up from New York [that day], and he was tired. He tried to come out because the game was won, but Frank wouldn't listen. But the thing I'm happiest about is that he didn't score another point after 100. One hundred points sounds a lot better to me than 102 or 104 or whatever it is."
Wilt driving to the game all the way from New York City
"We went [as a team] from Philadelphia to Hershey on a bus, but Wilt rode up from New York with Johnny Green and Willie Naulls [of the Knicks]. Wilt tells the story that, on the way back, he had to sit in the backseat pretending to be asleep because Willie and Johnny were really giving him a hard time. They were saying things like they were going to put him out on the freeway or something. Pretty heavy stuff.
"But he actually told me [before tipoff] that he was going to have a hot game, because when he got to Hershey he went to one of those arcades. You have to remember that a lot of times we didn't have a hotel to go to before a game [on short trips] to take a rest like they do now so [teams] could save a little money. So we would just go straight to the arena. But first he went to one of those arcades to play a rifle game. And he said he was so hot shooting that gun that he knew he was going to have a hot game. Now, he didn't tell me he'd score 100 points, but he thought that was one of the reasons."
Why Wilt was allowed to live in New York during the season and drive to a game separately from the rest of his teammates
"Think about what you just said. There were a lot of things allowed back then that aren't allowed now. How about playing 18 games in 21 days? A lot of things went on back then that wouldn't be allowed today, but you have to understand that the league was in a different place. He followed all the rules he was supposed to follow. They knew that he would get to the game on time. You have to understand that we're talking 1962. There was a lot of that going on back then. For instance, I lived in Newark. If I wanted to go home during the season, I could.
"There's so many things that Wilt never did that people thought he did. He was the star of the team, but he still adhered to all the rules everybody else adhered to. It was kind of a loose business back then. He didn't get on the bus to Philadelphia from Hershey because he came from New York. He was the owner of Small's Paradise -- that's mainly why he lived in Harlem during the season [to run his nightclub] -- but he never missed a practice.
"Newark was 96 miles from Philadelphia, so he had to go another 10 miles to get to New York City. But think about this: After every practice, Wilt drove back to New York. And after every game, Wilt drove back to New York. So he's going up and down that turnpike basically every day, because you didn't have a lot of days off back then.
"But when you tell people that, usually the first thing they'll say is that you're saying that because he's a friend of yours. That upsets me, because it means you're telling me that I can't be objective about a friend, which I can. I only played in Philadelphia for two years, but I don't ever remember Wilt missing a practice. Now sometimes he wanted to be a guard in practice, but he never missed one."
The historic basket to get him to triple digits
"I don't remember the exact number, but what happened was, [PA announcer] Dave Zinkoff started calling out every point [after] every basket. I don't know exactly at what point he started, but Zink was such a great announcer with such a distinctive voice, you can still hear it in your head today. 'Thaaaaat's 82.'"
"But for the longest time -- and I was there -- I had visions of how he scored the 100th point, and I was wrong. I thought he had three offensive rebounds and finally put it in. It wasn't 'til later on that I found out that Joe Ruklick actually passed the ball to him and then he scored the 100th point. But that will happen to you as you get older. You'll see."
The farcical nature of the fourth quarter
"We were obviously trying to get [the ball] to him, and of course the Knicks were trying everything to stop him from getting to 100. The Knicks started holding the ball and fouling other players [besides Wilt], so Frank McGuire tried to counteract that by having us foul back to get the ball back. Wilt's teammates were egging him on to get the 100 and the fans wanted him to get to 100, but the Knickerbockers weren't too thrilled about it. So I can't deny that it turned into a foulfest, but there were fouls on both sides of the ledger.
"Opinions are like a nose -- everyone has one. So I'm sure there are a lot of people you could talk to who have an opinion on that night and were not really thrilled with what happened that night. There's always going to be people knocking [Chamberlain], but you're talking about someone who elevated this game of basketball."
Chamberlain's postgame mood
"He was very disappointed in the locker room. Teammates were going crazy, but he had a mad look on his face. So I asked him, 'Big Fella, what's the matter? He had just gotten the stat sheet in his hand, and he used to sweat profusely. Water was coming down just like he was in a rain shower. Wilt was looking at the stat sheet and he said, 'I never thought I would take 63 shots in a game.' So I said, 'But you made 36.'"
Chamberlain's 28-for-32 showing at the free throw line and the role that the famously forgiving rims at Hershey Arena played in making history
"Evidently you've talked to somebody about that arena. Because we used to say that those rims were like sewers. As long as you got it up on the rim, there was a great chance that it was going in. But you can make any judgment you want. Both teams had to play with those rims, and both teams had to play in that arena. Unless you denigrate it for everybody, you don't denigrate it for him. He just had an incredible night. [Going] 28-for-32 was obviously what got him over the hump, but I feel badly when people try to poke holes in it. Both teams had to play in that gym."
The tragic lack of television footage from the game
"The problem was that they didn't have overhead lights in that arena. Now if that game had been in Convention Hall [in Philadelphia], they would have been able to film it. That picture with Wilt holding up the piece of paper [famed Philadelphia statistician] Harvey Pollack gave him with 100 on it, that's the only thing left that shows what happened.
"I feel badly that for whatever reason people want to knock him. We're talking about a feat that, unless they change the scoring even more dramatically [than adding a 3-point shot], I have a hard time seeing how anybody will ever score 100 points.
"I still talk to Wilt's sister quite a bit. And what I tell Barbara is, those of us who were there that night or even just played with Wilt, we have a story to tell. And it's very, very important to tell that story. First of all, it's important because, as everyone knows, there's no clear film of the game. A number of books have been written, but the thing about books, I've read books from people who were not there that came up with things that just didn't happen.
"But the main reason it's important is to keep his legacy alive. Not just the 100-point game, but his entire body of work. It's just human nature, but as time goes on, people tend to denigrate things that happened a long time ago. 'He scored 100 points, but who'd he play against?' You still hear things like that. People for some reason felt he had an advantage physically over everyone else, so then he should have done all these things. I don't buy that theory."
What happened to the game ball
"For a long time, I was thought to have the ball. [Various reporters] used to crucify me because they thought I had it. I don't have the basketball. And I don't really know what happened to the ball.
"I have a basketball that Wilt gave me, but it's not the 100-point ball. He gave me a ball and signed it and had a plaque made with it. And what it says is: 'To Al … who did all the right things at the wrong time.' And what he really meant was that I didn't miss a shot that night [going 8-for-8 from the field], but no one remembers. It's great to be the second-leading scorer … you think you're doing OK until you see that the guy who was No. 1 had 100 points.
"But when I showed people that ball, they saw the commissioner's name on the ball is Walter Kennedy. The commissioner [when Wilt scored 100 points] was actually Maurice Podoloff. We all signed the ball on the [team] bus, because we were told the ball was going to be sent to the Hall of Fame. But I don't know what happened after that."
Whether anyone will ever duplicate Wilt's feat or get any closer than Kobe's 81 points
"We're talking about something that has never been done before or since. For something like that to happen, lots of things have to fall into place. I just don't think that it can happen again.
"Today's coaches would make it almost impossible. The organized double-teams you see today didn't happen back then. The only team going back to when I was playing that would kind of have double teams would be Boston. For instance, they'd put [Jim] Loscutoff in back of Wilt and [Bill] Russell in front. But it wasn't organized.
"Then you have to talk about the skills Wilt had. I don't know if we'll ever see another guy who has the skills of Wilt playing that close to the basket. If there are 10 things that basketball players are supposed to do, maybe some guys could do seven well or eight well, but Wilt was the only guy I ever knew who could do nine out of 10 well … everything but shoot free throws. I know you've got the 3-point shot now, but I don't know who would physically be able to do it the way he did it.
"So I would be very surprised if it ever happened again. That's the beauty of it."


ESPN.com senior writer Marc Stein
• On Twitter @ESPNSteinLine | On TrueHoop | On ESPN.com | On email
• Follow ESPN's NBA coverage on Twitter | On Facebook | On Google+
2. Wilt's World
To further commemorate the 50th anniversary of Wilt Chamberlain's 100-point game, we go inside the numbers with assists from our man Peter Newmann from ESPN Stats & Information and the Elias Sports Bureau:
WILT'S QUARTER-BY-QUARTER BOX SCORE: PHILADELPHIA WARRIORS 169, NEW YORK KNICKS 147
| Qtr. | Pts | FGM-FGA | FTM-FTA | Rebs |
| --- | --- | --- | --- | --- |
| First | 23 | 7-14 | 9-9 | 10 |
| Second | 18 | 7-12 | 4-5 | 4 |
| Third | 28 | 10-16 | 8-8 | 6 |
| Fourth | 31 | 12-21 | 7-10 | 5 |
| TOTALS | 100 | 36-63 | 28-32 | 25 |
MOST POINTS IN A SINGLE GAME NBA HISTORY
| Name | Points | Date | Opponent |
| --- | --- | --- | --- |
| Wilt Chamberlain | 100 | 3/2/62 | vs. NY |
| Kobe Bryant | 81 | 1/22/06 | vs. TOR |
| Wilt Chamberlain | 78 | 12/8/61 | vs. LAL (3OT) |
| David Thompson | 73 | 4/9/78 | at DET |
| Wilt Chamberlain | 73 | 11/16/62 | at NY |
| Wilt Chamberlain | 73 | 1/13/62 | vs. CHI |
WILT'S SINGLE-GAME SCORING CAREER TOTALS
| Games | Total |
| --- | --- |
| 271 | 40+ points |
| 118 | 50+ points |
| 32 | 60+ points |
| 6 | 70+ points |
| 1 | 80+ points |
| 1 | 90+ points |
| 1 | 100+ points |
Rare Single-Game Accomplishments By Individual Player, Four Major North American Team Sports
| League | Accomplishment | Approximate Frequency | Accomplished By |
| --- | --- | --- | --- |
| MLB | 20 K's in 9 innings | 4 in 179,000 games (1 in 45,000) | Roger Clemens (2), Kerry Wood, Randy Johnson |
| NHL | 7 goals in game | 1 in 48,000 games | Joe Malone |
| NHL | 10 points in game | 1 in 48,000 games | Darryl Sittler |
| NFL | 4 TDs in quarter | 1 in 48,000 games | Don Hutson |
| NBA | 100 points in game | 1 in 51,000 games | Wilt Chamberlain |
A HANDFUL OF ICONIC NUMBERS IN SPORTS HISTORY
| No. | Achievement |
| --- | --- |
| 100 | Wilt Chamberlain's record-setting point total in 1962 |
| 11 | Bill Russell's 11 titles in 13 seasons as a player |
| 10 | John Wooden's total of NCAA coaching titles |
| 92 | Wayne Gretzky's goal total in the 1981-82 season |
| 18 | Jack Nicklaus' total of major professional golf titles |
| 56 | Joe DiMaggio's hitting streak |
| .406 | Ted Williams' batting average in 1941 |
| 511 | Cy Young's career win total |
| 7 | Nolan Ryan's total of no-hitters |
| 5,714 | Nolan Ryan's strikeout total |
| 200 | Richard Petty's career total of NASCAR wins |
| 16 | Roger Federer's career Grand Slam titles |
3. Eastern Conference

Keep an eye on Atlanta Hawks guard Kirk Hinrich.
If the Lakers can't make a splashy move for the elite point guard they crave -- a long shot at best at this point -- and can't swing a deal for top fallback choice Ramon Sessions, taking Hinrich and his $8.1 million salary into their $8.9 million Lamar Odom trade exception is a natural move to give L.A. some semblance of an upgrade in the backcourt going into the postseason.
The Hawks, as always, want to reduce payroll and would gladly take a future draft pick back for Hinrich, who's no longer part of their plans. The Lakers, though, are rather skittish themselves about adding payroll these days, which is why they gave Odom away to the rival Mavericks in the first place and could actually prevent them from doing anything.
L.A. would naturally want Atlanta to take back some salary in a Hinrich deal, but there's zero chance of that happening. So if the Lakers ultimately prove willing to use their trade exception on the likes of Hinrich or Toronto's Leandro Barbosa (who makes $7.6 million) -- and thus fortify a roster that, to quote Professor Hollinger, currently drops off from the top three to the rest like Niagra Falls -- they'll have to be willing to deal with the tax consequences.
---
Sources say that the Lakers are also among the teams that have inquired about Raptors guard Jose Calderon, but Calderon's $9.8 million salary is too big to fit into the Odom exception. And Toronto isn't willing to take any salary back for either Calderon or Barbosa to work a trade otherwise. ... Free agents to watch: James Posey, Eddie House and Michael Finley. None of them have played regular-season games in the NBA this season, so all three would be playoff-eligible even if they sign with a team after March 23. Hard to believe Posey, released in December by the Pacers via the amnesty clause, hasn't been picked up. And Finley was recently summoned for auditions by the Clippers and Suns as he continues to search for one more NBA opportunity at 38. ... Maybe it's not a Wilt-sized anniversary, but few websites (especially in the heart of trade-deadline season) mean more to NBA executives, coaches and players than Spain-based HoopsHype.com, which on Monday celebrates 10 years of operation. ... Looking for your Dwight Howard fix? Worth a read even if you've already read it once: My man Chris Broussard's comprehensive roundup of trade-deadline buzz on our Insider page.

To have any shot at creating the requisite salary-cap space needed to make realistic offers in free agency this summer to both Deron Williams and Dwight Howard, Dallas will eventually have to trade the player who ranks as its most consistent performer so far this season: Shawn Marion.
SI.com's Zach Lowe expertly detailed the Mavs' financial picture for the summer of 2012 earlier this week, but there's one important footnote to add to the discussion: Sources close to the situation insist that the Mavericks are not currently shopping Marion and don't intend to start making Dwight-and-Deron moves until after this season plays out.
In a West that's so wide-open, Dallas is still a contender to get back to the Finals even after it elected not to re-sign Tyson Chandler and J.J. Barea so it could pursue the likes of Williams and Howard come July. It won't be easy without Chandler and Barea, who'll be missed most in the postseason, but the Mavs have played well enough defensively as a unit without Chandler -- with the ever-versatile Matrix serving as the point man for the Dallas D -- to keep themselves high on the list of teams with the best shot to prevent the conference favorites in Oklahoma City from getting out of the West.
If the Mavs traded Marion before the March 15 deadline, they'd essentially be forfeiting the rest of this season ... with no guarantee that they'll even land Williams. So while it's something of a risk to keep him now -- especially because more than one potential suitor has told me that Marion's play this season and throughout last season's playoff run does have them intrigued -- one source went so far this week as to proclaim that there's "no chance" Marion is moved this month.
The Mavs clearly believe that they'll have enough time to do whatever they need to do to pursue D-Will and Dwight, which includes releasing Brendan Haywood through the amnesty clause and essentially giving away Rodrigue Beaubois, in June or even July.
---
You can't like their chances here given J.J. Hickson's season-long struggles, but sources say that the Kings are shopping Hickson hard before the March 15 trade deadline, hoping to salvage something from the last trade consummated before last summer's lockout.
In that swap with Cleveland last June 30, Sacramento surrendered both Omri Casspi and a protected first-round pick for Hickson. But Hickson's game has regressed with the Kings, prompting them to see whether they can find a new home for him.
And if they can't? The Kings will naturally hope that the justifiable euphoria surrounding this week's long-awaited arena deal, which at last ensures that the franchise will stay in Sacramento after years of support from some of the league's loudest and most loyal fans, is all anyone keeps talking about.
---
March 23 has replaced March 1 as a key date for playoff eligibility in this late-starting, lockout-shortened season.
Which is to say that any player who has played in the NBA this season must be released by March 23 if he wants to be playoff-eligible with another team.
So ...
If the league-owned Hornets can't find a workable Chris Kaman trade before the March 15 deadline, Kaman would have about a week to secure a buyout and thus be able to sign with another team.
Miami, Boston, Dallas, Houston and Golden State would all have serious interest if Kaman actually becomes available as a free agent -- as surely would other teams -- but sources say that the Hornets have been telling teams that Kaman will not get a buyout if New Orleans can't find a trade for him.
You expect them to tell teams that, of course, in hopes of keeping alive the prospects of a trade before the deadline. In this case, though, it wouldn't appear to be an idle threat, since David Stern still essentially ranks as the Hornets' owner and would have to be the one who approves a buyout.
And it's hard to imagine that the Hornets' new owners will be in place by March 23, even if the long-awaited sale of the franchise is as close as Stern has suggested.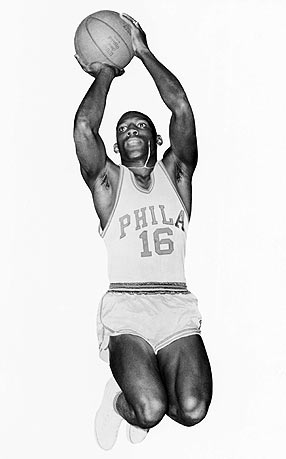 NBA Photos/NBAE via Getty Images
Al Attles combined with Wilt Chamberlain to score 117 points in a game 50 years ago. (See Box 1.)
Allen
Five questions with Celtics guard Ray Allen:
Q: How much does the trade deadline weigh on you knowing that teams are interested in you and knowing that the Celtics are always talked about as a team that might shake things up?
A: That's none of my concern. That's nothing I worry about.
Q: You can block it out that easily? Is that just because you played for a long time now [16 seasons] and just know how to deal with the speculation?
A: Anything can happen to anybody on this roster at any given time, but you can't worry about that. If the team was thinking of trading you, you would never know [in advance].
Q: So even someone like you who's contributed to a championship, former All-Star, veteran ... you don't go to management for updates or to get clarifications on your future?
A: I can't control what the GMs do or what they don't do. You can't control what another team may do. There's so many unknowns, so I try not to worry about it. The trade deadline is something that's just part of the business.
Q: How pleased were you with the way you shot the ball coming out of the lockout?
A: My goal is to shoot 100 percent if I could. So there's never a point where you ever think, "I'm doing a great job." I never sit back and say, "Wow, I'm great." Or, "Things are awesome." Because there's always room for improvement.
Q: Have you given much thought to how much longer you want to keep playing?
A: No. I think those things just determine themselves. Circumstances might dictate to you. Or your body tells you. It's hard to try to [plan] that. You just go with the flow.
Gasol
"There's some downside. But there's an upside, too."
Lakers forward Pau Gasol, on being snubbed for last week's All-Star Game.
The downside for Pau was clear. When the Western Conference coaches declined to invite him to Orlando, halting Gasol's streak of three straight All-Star appearances, it denied him the opportunity to be right there on the bench with Marc Gasol for his younger brother's All-Star debut.
"It would have been great," Pau said. "I would have loved it. But him being there is already great and special for me and our family. Now that the two brothers have made it. The only two Spaniards that have ever made it to the All-Star Game. So I didn't make it this time. So be it."
Gasol had a clear path to arrive at that position, too. After Kobe Bryant's unsuccessful public plea to management for clarification on Gasol's tenuous future with the Lakers -- claiming that "it's hard for [Gasol] to kind of invest himself completely ... when he's hearing trade talk every other day" -- Gasol quickly realized that the Orlando omission would spare him from an exhausting weekend round of media inquisitions into his mental state leading up to the March 15 trade deadline.
Gasol did acknowledge to ESPN.com that he has received a level of clarification about his status from Lakers general manager Mitch Kupchak since Bryant's speech ... but wouldn't describe it as any stronger than "some" indication of L.A.'s plans for him. Sources say that the Houston Rockets remain adamant that they won't surrender Kyle Lowry for Gasol, no matter how much they like the big man, but it's likewise still true that L.A. lusts for an elite point guard to pair with Bryant and has made it known around the league that it's willing to surrender Gasol to get one.
"There's no guarantees still," Gasol said. "The Lakers' [recent public] statement said it pretty clearly. There's no guarantees."
Asked how much he's looking forward to March 16, Gasol said: "When that day comes along and nothing happens, I know for sure I'll have the security that I will be here at least for this season. After that? Who knows? Obviously it'll be an important day in order just to put everything behind me for another month or two or three."
Which is to say that Gasol is well aware he'll be subjected to renewed speculation about being shopped even if he's still a Laker two weeks from now. After his near-trade to Houston in the collapsed three-team deal from December that nearly brought Chris Paul to the Lakers, it's inevitable that he'll be at the heart of every significant Lakers trade rumor from here.
Say this for him, though. Amid all the tension in Lakerland that Bryant was trying to short-circuit with his public show of support for his teammate, Gasol averaged 18 points and 12.2 boards in February.
Nash
How many times have you heard that the Suns will definitely not deal Steve Nash before the March 15 trade deadline?
Better question: Why have they taken that stance?
Answer: Because Suns owner Robert Sarver, according to sources close to the situation, continues to hold out hope that he can persuade Nash to re-sign this summer for at least two seasons.
It remains to be seen how willing Nash is to stay after two seasons of steady decline on Sarver's watch since the Suns' Cinderella trip to the 2010 Western Conference finals. The New York Knicks' interest in pursuing Nash as a free agent in the summer is well-documented ... and sources with knowledge of the Dallas Mavericks' thinking say that the defending champs will definitely try to reunite Nash and Dirk Nowitzki in free agency in July if top targets Dwight Howard and Deron Williams elude them. The Toronto Raptors' interest in bringing Captain Canada back home is also well-established.
Sarver, though, is apparently determined to try to persuade Nash to retire in the desert. The thinking there, sources say, is that the Suns believe they'd have a better core going forward with a re-upped Nash, center Marcin Gortat, cap space and a top pick in the well-regarded 2012 draft than with the sort of assets they could bring back now in a deadline deal for a 38-year-old point guard who, even as he continues to play at an All-Star level, is just a few months from free agency.
The risk there, of course, is that keeping Nash beyond the trade deadline exposes the Suns to the same risks Orlando faces if it hangs on to Howard, creating the very real possibility that Nash could leave Phoenix without compensation. In that scenario, though, it's believed that Sarver would prefer to announce to the world afterward that the Suns tried everything they could to keep Nash but ultimately couldn't stop him from signing elsewhere -- and then start to try to rebuild with the resultant cap space -- as opposed to settling for a so-so trade in the next two weeks.
There are a couple of voices out there on the NBA grapevine cautioning that the Suns are listening to Nash pitches more than they're letting on, but the overwhelming majority of insiders surveyed by ESPN.com in recent days continue to insist that Nash is going nowhere.
Read the rest of this TrueHoop entry here »
10.

Quarter (Of A) Century
When Wilt Chamberlain had his 100-point eruption 50 years ago Friday, it included two 25-point quarters.
Only eight active players know the feeling of scoring 25 points in a quarter in a regular-season game.
They are:
| Player | Date | Qtr | Points |
| --- | --- | --- | --- |
| B. Jennings | 11/14/09 | 3 | 29 |
| D. Nowitzki | 11/03/09 | 4 | 29 |
| Will Bynum | 4/05/09 | 4 | 26 |
| C. Anthony | 12/10/08 | 3 | 33 |
| J.R. Smith | 3/24/08 | 4 | 25 |
| Kobe Bryant | 11/30/06 | 3 | 30 |
| M. Redd | 11/11/06 | 4 | 25 |
| Kobe Bryant | 1/22/06 | 3 | 27* |
| Kobe Bryant | 1/22/06 | 4 | 28* |
| Kobe Bryant | 12/20/05 | 3 | 30 |
| T. McGrady | 3/09/03 | 2 | 25 |
| M. Redd | 2/20/02 | 4 | 26 |
*Bryant had two such quarters during his 81-point game