1. With Dwight, Magic Show They Can Hang
By Michael Wallace
ESPN.com
ORLANDO -- The Miami Heat players and coaches wanted no part of the storyline, that they would be headed to the Amway Center on Tuesday night for perhaps Dwight Howard's final home game amid all the speculation surrounding Thursday's trade deadline.
Now, the Heat might be actually pulling for the Magic to deal Howard not only out of the Southeast Division, but also the Eastern Conference as well. The Magic once again set aside the distractions regarding Howard's future and hung another loss on one of the conference's top teams with a 104-98 victory against the Heat.
The Magic (28-15) have solidified themselves as a legitimate threat to both the East-leading Chicago Bulls and the Heat. Orlando began its current three-game winning streak with a victory in Chicago last week. The Magic also defeated the Indiana Pacers before knocking off the Heat.
At a time when so much focus has been on dismantling the team in order to get assets in return for Howard, Orlando has responded by putting together one of its most solid runs of the season. How lethal were the Magic on Tuesday? They absorbed a 20-0 Heat run midway through the game, and still had enough left down the stretch to pull away.
Howard had 24 points and 25 rebounds, and Orlando also got a statement game from Jameer Nelson, who scored 20 of his team-high 25 points in the second half and overtime.
"We're playing some good basketball right now [and] we just have to keep it up," Howard said of the Magic, who are 2-1 against the Heat and have split two games with the Bulls. "I like the way our team is gelling. We haven't allowed anything to get between us; the locker room is great. When we step on the court, we're together."
But staying together beyond Thursday's 3 p.m. ET trade deadline could be another challenge altogether.
Nelson, who arrived in the first round of the 2004 NBA draft along with Howard, sidestepped the question when asked after Tuesday's game if he believed it was his teammate's final home game in Orlando.
"It just says a lot about his professionalism," Nelson said. "We're professionals. Our job is to go out there and play basketball, and that's why we're all here."


NBA Writer Michael Wallace
• On Twitter @WallaceNBA_ESPN | On ESPN.com
• Follow ESPN's NBA coverage on Twitter | On Facebook | On Google+
Dimes past: Feb. 28 | 29 | March 1 | 2-3 | 4 | 5 | 6 | 7 | 8 | 9-10 | 11 | 12
2. Around The Association
3. Tuesday's Best
Howard
Dwight Howard: The self-proclaimed Superman showed why keeping him around isn't such an awful option for the Magic, scoring 24 points and pulling down 25 rebounds to help Orlando overcome a 14-point deficit and beat the Heat in overtime.
4. Tuesday's Worst

Portland Trail Blazers: Remember when the Blazers looked like a dark-horse contender early on in 2011-12? That was a fun week or so. Now Portland is struggling to stay afloat in the crowded West playoff race. Scoring only 75 points in Indiana for their 15th road loss of the season probably won't help their cause.
5. Tweet Of The Night
Should be clear by now Dwight wants to finish season in ORL so he can opt out in July and head straight to Brooklyn w/out Nets being gutted

— Marc Stein (@ESPNSteinLine) March 14, 2012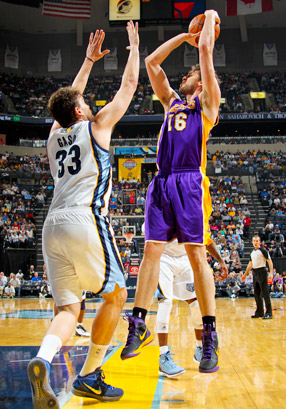 Joe Murphy/NBAE/Getty Images
Marc Gasol tries to close in on a jumper from big brother Pau in the Lakers' 116-11 overtime win against the Grizzlies. Marc had mixed results: Pau was held to 14 points, but Andrew Bynum, his primary target, had 37 points and 14 rebounds.
6. Quote Of The Night
"We've been talking, like I said, for a while. I told them I want to finish this season out and give our team, give our fans some hope for the future. But I feel they have to roll the dice. It might be tough, but I feel we've got a great opportunity. But they've got to roll it."
-- Professional flip-flopper Dwight Howard, with his latest stance on the Magic two days before the trade deadline.
8. Warriors Get Bogut For Ellis
By Elias Sports Bureau

The Rockets won in Oklahoma City on Tuesday after trailing by 11 points with 2:21 left in the fourth quarter. Houston is the first team to win on the road after trailing by 11 or more points with fewer than three minutes to play since 2000, when Phoenix had a win like that in Denver./p>
MVP: Jerryd Bayless dominated his matchup with rookie of the year frontrunner Kyrie Irving, posting 20 points and seven assists. On the defensive end, he helped hold Irving to just 14 points on 5-for-17 shooting.
X factor: Leandro Barbosa reminded us he can still score in bunches. In a flurry of 3-pointers and drives to the basket, he put up 12 points in a 33-point second quarter that put the Raptors in front for the remainder of the contest.
That was … confounding: At a pre-trade-deadline crossroads, just one game outside of the Eastern Conference's final playoff spot, the Cavaliers delivered a languid performance, in stark contrast to the Raptors, who were electric for 48 minutes.