1. Was This Howard's Last Hurrah For Orlando?
By Timothy Varner
TrueHoop Network
SAN ANTONIO -- Stan Van Gundy and Tony Parker have something in common. They can both change directions quickly.
The Orlando coach opened his pregame set with a series of praises about the Spurs. Van Gundy called Parker "the best cutting point guard in the league" and claimed embarrassment over how much better Gregg Popovich-coached teams execute in comparison to the rest of the league. But no one in the Magic locker room will remember that. And no one outside the locker room will care.
The Spurs beat the Magic on Wednesday night. But if San Antonio's 122-111 victory is remembered for anything, it will be remembered as a parenthetical between news interviews.
Van Gundy's pregame praise of the Spurs didn't last long. He tried to set the mood with chalk talk, but it went the inescapable direction of Dwight Howard's on again, off again dalliance with his future in Orlando. When faced with a series of questions about Howard, Van Gundy broke hard the other direction.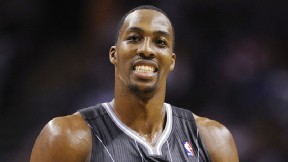 AP Photo/Bahram Mark SobhaniLots of things are in-between these days for D12.
"I don't even want to talk about it. It's so tiresome," he said.
"I've been dealing with this for three months. There is nothing fresh about it. I'm tired of it. Talk to somebody else."
And while the night did not meet Van Gundy's "freshness" requirements, it was rich with irony.
The Magic were playing in San Antonio, after all. While Orlando might be on the cusp of starting over, the Spurs just keep moving along as one of the league's best teams. Unlike Orlando, San Antonio is never mired in the kind of media circus that seems to follow the Magic from game to game. The Spurs' modus operandi is to quietly work with players behind the scenes -- and they tend to extend the contracts of their best players long before they become the objects of public spectacle.
Tim Duncan is as quiet as Howard is loud.
This is the other irony, of course. Howard has a gift for drawing attention to himself while complaining about getting too much attention. He gives every impression of a man who wants it both ways.
After the game, Howard eschewed a quick "no comment," and instead delayed his interview until most of his teammates had showered, dressed and cleared the locker room. He put up a little woe-is-me, didn't-I-answer-this-last-night resistance, but, after giving that a turn, he returned to the language of veiled ultimatums and coded ambiguity.
"I've done my job," he said after the game. "And despite everything, I'm still the same person. So if you want to scrutinize me for taking care of Dwight, that's fine."
It wasn't an interview that lent itself to relief or clarity or even intelligibility.
"They took a chance on me at [age]18. ... I gave them everything I had for years. ... Take a chance again.
"They took a chance on me at 18, when everybody else said, 'No, don't do it!'
"They looked stupid at first, but look now. It's the same situation."
From this vantage point, it didn't seem that anyone in the locker room understood whether it was the same situation or, for that matter, what situation Howard has in mind. Howard's recent time in Orlando is accentuated by confused sentiments and the dizzy swirl of conflicting visions. Judging by tonight, Howard's time aboard his strange tilt-a-whirl of uncertainty will continue 'round for at least another day.
Timothy Varner's work appears on 48 Minutes of Hell, TrueHoop's San Antonio Spurs blog.
Dimes past: Feb. 28 | 29 | March 1 | 2-3 | 4 | 5 | 6 | 7 | 8 | 9-10 | 11 | 12 | 13
2. Around The Association
3. Wednesday's Best
Lucas
John Lucas III, Bulls: With Derrick Rose on the shelf, JL3 was huge. He made nine of 12 shots, scoring 24 points in 27 minutes in the Bulls' 106-102 win over Chicago's main East rival, the Heat.
4. Wednesday's Worst
Biedrins
Andris Biedrins, Warriors: With Ekpe Udoh dealt to the Bucks, this was Biedrins' time to shine back in the starting lineup. Sixteen scoreless minutes in a 105-103 loss to the visiting Celtics. Oh, for the promising big man of the "We Believe" days.
5. Tweet Of The Night
Glad to get a win! A huge thank you to coach dantoni for everything he did for the team and me!! Truly a class act who will be missed!

— Jeremy Lin (@JLin7) March 14, 2012
6. Quote Of The Night
"We haven't had fun like that in a long time, and tonight it was a good way to come out and get this W."
-- Carmelo Anthony, who had 16 points and seven assists in a 121-79 win over Portland.
8. KG Finishes Warriors
MVP: Battling exhaustion down the stretch, Kevin Garnett (24 points, 7 rebounds, 5 assists) hit a bailout jumper with 5.1 seconds left to give Boston the win.
X factor: A depleted Warriors team nearly stole this one with an unbelievable 60 points in the paint, the result of some atrocious Boston perimeter defense.
Defining moment: After taking apart the Boston defense for two easy layups in the last 61 seconds of the fourth quarter, Nate Robinson shot a 3-ball on Golden State's final possession ... and missed badly.
9. Frye Rises For Suns
MVP: Suns forward Channing Frye scored a season-high 26 points and hit 5-of-10 from deep as Paul Millsap struggled to chase him around and off the 3-point line.
Defining moment: Jared Dudley scored 11 straight for the Suns -- including three 3-pointers -- in the meat of the third quarter, when Phoenix opened a double-digit lead it would retain for the win.
That was ... old-school. With Jazz guard Devin Harris in foul trouble and backup Earl Watson injuring his ankle, Jamaal Tinsley played 23 minutes and closed the game for Jazz coach Tyrone Corbin, finishing with eight assists.
10. Clips Find Range
MVP: Mo Williams: 9-for-18 and 3-for-5 from 3-point range for 25 points. He hit contested jumpers, open 3s, a few layups -- whenever the Clippers needed him on offense, he was there.
X factor: Three-point shooting. The Clippers made 10 of their 20 3s on the night, rarely leaving a defensive error by the Hawks unpunished. On the other hand, the Hawks shot 8-of-25 from range, forcing 3s and missing open looks alike.
That was ... unexpected: Eric Bledsoe has struggled in most of his limited minutes coming off knee surgery this season, but he was killer against the Hawks tonight. Fourteen points on eight shots to go with four steals and two blocks.
Gerald Green On Roll
MVP: Gerald Green. Without Deron Williams, the Nets turned to Green to carry them offensively in the second half, and he delivered, dropping 20 points on jumpers and layups galore to maintain the lead. Kris Humphries is a close runner-up with a career-high 21 rebounds, but Green's offensive explosion (26 points overall) gives him the slight edge.
That was ... potentially an end: Wednesday's game was lost amid the report that Dwight Howard will not waive his ETO, effectively becoming a free agent if he's not traded by 3 p.m. ET Thursday. This might be the last time we see this Nets roster.
X factor: Defense. The Raptors gave up open space for drives and spot-ups all game, allowing Humphries to play an effective inside-outside game. Conversely, many of Toronto's field goals came off contested runners and jumpers, and it didn't get much going to the rim all game.
Indy Rockers
MVP: Led by George Hill (17) and Tyler Hansbrough (14), Indy's reserves outscored Philly's dynamic bench 47-20. A.J. Price, Dahntay Jones and Lou Amundson all made key contributions to earn a collective MVP.
X factor: The Pacers' starting frontcourt. David West, Danny Granger and Roy Hibbert combined to score 52 points on 61 percent shooting, serving as the rock upon which the bench built this victory.
That was ... a relief: The Pacers have signature wins on the road over the Lakers, Bulls and Mavs this season, but had lost eight straight against teams with winning records. Needed this for their sanity.