1. Bulls Blooming Into More Than Rose's Team
By Danny Nowell
TrueHoop Network
You wouldn't need to look hard to find excuses for the Chicago Bulls right now. Playing their fourth straight game without Derrick Rose (groin) and sporting a league-low 10 losses, the Bulls more than anyone have earned the right to mail in a few games during the morass of this season's schedule. And yet, if their 85-59 razing of the Orlando Magic is any indication, Chicago is taking every opportunity to learn how to run without limping in the absence of their injured star.
The knock on Chicago -- to the extent that there is one -- has been that they're a one-trick pony, a hungry unit with ferocious defensive zeal but little to distinguish them among contenders outside of Rose's occasional brilliance. Against Orlando, the Bulls proved they've outgrown that criticism with crisp cuts, precise passing and a few unexpected contributions. While only three players finished with double-digit points, it was impossible not to get the sense that the Bulls are moving as a fluid machine even without Rose, and that this may spell doom for other contending teams.
[+] Enlarge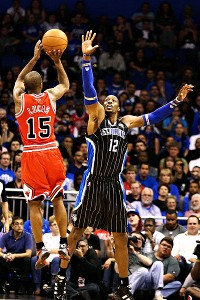 Douglas Jones/US PresswireJohn Lucas III sparked the Bulls again with 20 points in 21 minutes against the Magic.
What's more, the Bulls may be discovering a source of energy and scoring that nobody saw coming at the start of the season. John Lucas III piled up 20 points on 4-for-7 shooting from beyond the 3-point arc, suggesting that perhaps his explosion against the Miami Heat a few days ago was more harbinger than outlier. While nobody is sure whether Lucas can consistently duplicate these performances, Chicago has identified a clear candidate for the role of the combustible change-of-pace scorer for the postseason.
If the Bulls can keep finding ways to keep their blistering pace as Rose recuperates, the benefits will extend far beyond the obvious seeding advantages. With the playoffs looming, the Bulls are developing confidence that they're more than a few high screen-and-rolls, that they can succeed even without the transcendent abilities of their ball-dominating phenom. In short, the Bulls will be adding Rose to a team of players who have learned to believe in their own ability to win.
Look at the Bulls' opponent, and it's easy to see how important this belief is. While Dwight Howard was occasionally excellent Monday night, he got precious little help from his teammates, and as each in a procession of lackadaisical passes found its way into a defender's hands, you could see the confidence ooze out of the Magic's players.
The irony here is that Howard is supposed to be the superstar who relies on a system, while Rose is ostensibly the savior of an otherwise anemic unit. On Monday, though, the Bulls were the team with a strong foundation around their superstar, and they went so far as to trounce a playoff team without said star. In doing so, they gave themselves a deep well of confidence to draw from, and put the rest of the league on notice.
Danny Nowell covers the Magic for Magic Basketball, part of the TrueHoop Network. Follow him on Twitter, @dmnowell.
Dimes past: Feb. 29 | March 1 | 2-3 | 4 | 5 | 6 | 7 | 8 | 9-10 | 11 | 12 | 13 | 14 | 15 | 18
3. Monday's Best

Nowitzki
Dirk Nowitzki, Mavs: Too good. Dirk was unstoppable early and often, finishing with 33 points (on 12-for-19 shooting), 11 rebounds and six assists ... in only 31 minutes. Yowza.
4. Monday's Worst

Orlando Magic: The Bulls' defense is pretty good, but the Magic made it look better than the '86 Bears. In the loss, Orlando shot 35.3 percent from the floor and scored only 59 points -- the second time this season they've been held to less than 60 -- which set a Chicago team record.
6. Crashing A Retirement Party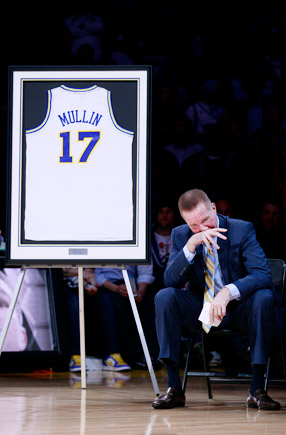 AP Photo/Jeff Chiu
Chris Mulln's No. 17 was retired in Oakland to big applause, but the crowd wasn't as kind to Warriors owner Joe Lacob and Rick Barry, who were met with defeaning boos (for being Joe Lacob and trying to protect him, respectively) during the halftime ceremony.
8. Quote Of The Night
I don't know what our plans are but I don't see it as a bad fit it if happens. What we have we're comfortable with, but he could fit anyone's team because of his leadership and his commitment to winning.
-- LeBron James, on whether Derek Fisher would be a good fit with the Miami Heat.
By Elias Sports Bureau

Tristan Thompson had 27 points and 12 rebounds and fellow rookie Kyrie Irving chipped in with 26 points and five rebounds to lead the Cleveland Cavaliers to a 105-100 victory over the New Jersey Nets on Monday night. Over the past 25 seasons, only one other pair of rookie teammates both registered at least 25 points and five rebounds in a regulation game. On April 16, 2008, Seattle rookies Kevin Durant (42 points and 13 rebounds) and Jeff Green (27 points and 10 rebounds) both did it in a win over Golden State.