5.

One-On-One ... To Five
Jackson
Five questions with Spurs guard/forward Stephen Jackson:
Q: This [return to the Spurs] is something you've wanted for a long time, isn't it?
A:I never should have left. I used to hit Tim [Duncan] every summer and tell him, "Man, get me back there, get me back there." I'm just glad it happened at this point. To be back with the team that really opened up my career for me, it feels good. It feels great. In any job you have, it always feels good to feel wanted.
Q: So what really happened in Milwaukee?
A: I just think it was a tough situation. I was used to winning and I kind of felt like I was in a situation where losing was accepted. And that's not me. It's something I could never do, so I think that's why me and coach [Scott Skiles] clashed ... we're losing and I feel like I should be playing more and I'm not playing. I didn't go to college, but it felt like a college atmosphere and that wasn't me. There was a lot of negative stuff going on there and I didn't want to feed into it. And that's why I felt I needed to leave.
Q: Did you have any idea that your dream trade was in the works?
A: The best part about being in Milwaukee was [Bucks general manager] John Hammond. Great guy, stand-up guy. He told me all the situations, all the teams that were calling, so nothing was blind. He told me that San Antonio had called, but the situation wasn't good for [the Bucks] because they didn't want to bring Richard Jefferson back. But then he told me when he traded me to Golden State [in the Andrew Bogut deal] that there was a good chance I'm going to get where I wanted to go.
He didn't say San Antonio specifically, but that's what happened. I made my connection flight from Milwaukee to Minnesota and I was sitting in the airport waiting to connect to go to San Francisco and I got a call from Pop [Spurs coach Gregg Popovich].
I was almost in tears.
Q: So why did you leave San Antonio after the championship in 2003?
A: I felt that I deserved more for the way I played in the Finals, money-wise, but I knew it was a situation where Tony and Manu were going to be here. So I knew there was a possibility that we'd have to part ways. I was just looking for the best move for my career at the time.
I wish I would have stayed because I would have more championships, but who knows how that would have turned out? I had to find myself as a player and make a name for myself and I think that was the best move at the time.
I think I've grown [since 2003]. I've grown as a player. I've learned how to deal with a lot and I've been through a lot. What they were trying to teach me when I was young, I think I learned on my own. And it's good to come back here knowing I've grown.
Q: Nine years later ... is Pop mellower? As intense as ever? How would you describe him?
A: He's the same to me. He's the same. He loves his guys, he supports his guys, but at the same time he wants you to do your job, which is give 110 percent.
I think everybody's the same. Tim's the same, Manu's the same, Tony's the same. Everybody's the same. The organization is still one of the best in the league. Family-oriented organization. The only thing that's changed is time.
Bonus sixth question ...
Q: You know people are going to wonder how much you have left. And you know I'm going to ask: Can you still make love to pressure?
A: Make love to pressure! I'm waitin' on the pressure. You know I'm waitin' on it. You already know.
Bryant
"Because everything feels great."
Lakers star Kobe Bryant, bristling when asked this week why the minutes load he's shouldering this season doesn't concern him heading into the playoffs.
In his 16th season, Kobe is the league leader in total minutes played: 1,816. No other player in league history has ever led the league in that category later than his 12th NBA season, when Allen Iverson did so with the Denver Nuggets in 2007-08.
Don't forget, furthermore, that the London Olympics loom for the 33-year-old this summer. But Bryant scoffs at the notion that he's grinding himself down toward inevitable doom, insisting that the Orthokine therapy he received last summer in Germany has made a huge, lasting difference in his longstanding knee and ankle woes.
Bryant averaged just 33.9 minutes per game last season, which accounted for the lowest figure of his career outside of his first two seasons in the NBA as a teenager. He's averaging 38.6 minutes per game this season, second only to Minnesota's Kevin Love (39.5).
The Lakers, though, weren't exactly known for playing at a breakneck pace before last week's arrival of Ramon Sessions, which lessened the punishment Bryant's body endures. And Kobe is convinced that the game will get even less taxing when he plays next to Sessions now.
Caution is always advised when drawing conclusions from just a handful of regular-season games. That's especially true amid the 66-game chaos of this lockout-compacted schedule.
This, though, is Kobe.
He's bidding to become just the fifth player in history (see chart below) to average at least 28 points per game at 33 or older.
And he's obviously going to say what he thinks. Always.
"I've been extremely impressed," Bryant said of Sessions so far. "He takes a lot of pressure off of me. I can be a legitimate 2-guard now. Know what I mean? He can play-make for others. Before, I had to score and play-make for others as well. I don't have to do that. I can be on the receiving end of those plays.
"We just let him handle the ball. You saw me off the ball a lot, more than probably you've ever seen me. And, as a result, my night [Wednesday in Dallas] was a lot easier. I really didn't have to work."
As for the relationship with his last point guard, Bryant says one thing won't change even though fellow 1996 draftee Derek Fisher has signed with West-leading Oklahoma City: "We continue to talk on pretty much a daily basis."
28.0 PPG AVERAGE, AGE 33 OR OLDER
Season
Player
PPG
AGE
1992-93
Dominique Wilkins (Hawks)
29.9
33
1996-97
Michael Jordan (Bulls)
29.6
34
1997-98
Michael Jordan (Bulls)
28.7
35
1986-87
Alex English (Nuggets)
28.6
33
1990-91
Bernard King (Bullets)
28.4
34
>>Kobe Bryant, at 33, is currently averaging 28.7 ppg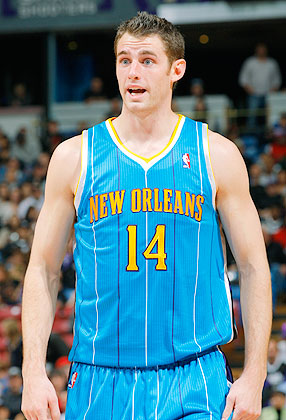 Rocky Widner/NBAE via Getty Images
Hornets big man Jason Smith was having a good game for New Orleans before he steamrolled Blake Griffin. Will Clips fans ever bring themselves to forgive him? (See Box 4.)
8.

Trade Deadline Summary
After all the doom and gloom out there, all those theories laid out at the top of the most recent Weekend Dime that none of us wanted to believe, our skepticism was rewarded.
After Dwight Howard committed to one more season in Orlando and the league's trade bottleneck finally cleared up ... whoosh.
Nine deals on deadline day. Nine trades last Thursday involving 23 different players.
It's a flurry that really started with the stunning Andrew Bogut-for-Monta Ellis swap on deadline eve and stretched the league's streak to 10 successive seasons with at least three deals on deadline day.
Two handy breakdowns of all the action follow:
Deals consummated March 15
Before 3 p.m. ET deadline
WASHINGTON acquires Nene from DENVER as well as Brian Cook and a 2015 second-round draft pick (via NEW ORLEANS) from L.A. CLIPPERS, sends Nick Young to L.A. CLIPPERS while DENVER receives JaVale McGee and Ronny Turiaf.
SAN ANTONIO acquires Stephen Jackson from GOLDEN STATE for Richard Jefferson, T.J. Ford's contract and a future first-round draft pick (top-14 protected in 2012-14; fully unprotected in 2015).
L.A. LAKERS acquire Jordan Hill from HOUSTON for Derek Fisher and a 2012 first round-draft pick (top-20 protected from 2012 to '17; fully unprotected in 2018 via DALLAS).
HOUSTON acquires Marcus Camby from PORTLAND for Jonny Flynn, Hasheem Thabeet and a 2012 conditional second-round draft pick.
CLEVELAND acquires Luke Walton, Jason Kapono and a 2012 first-round draft pick (top-14 protected) from LAKERS for Ramon Sessions and Christian Eyenga.
TORONTO acquires a 2012 second-round draft pick and cash considerations from INDIANA for Leandro Barbosa.
PHILADELPHIA acquires Sam Young from MEMPHIS for the draft rights to Ricky Sanchez.
PORTLAND acquires Mehmet Okur, Shawne Williams and a 2012 first-round draft pick (top-three protected in 2012, top-two protected in 2013, top-one protected in 2014 and fully unprotected in 2015) from NEW JERSEY for Gerald Wallace.
GOLDEN STATE acquires a 2012 conditional second-round draft pick from ATLANTA for $1 million.
Deadline Day Activity, By Season
Date
Trades
Players
Mar. 15, 2012*
9
23
Feb. 24, 2011
8
23
Feb. 18, 2010
8
27
Feb. 19, 2009
6
18
Feb. 21, 2008
5
24
Feb. 22, 2007
3
4
Feb. 23, 2006
5
17
Feb. 24, 2005
10
29
Feb. 19, 2004
4
14
Feb. 20, 2003
3
10
Feb. 21, 2002
2
9
Feb. 22, 2001
4
22
Feb. 24, 2000
1
1
Mar. 11, 1999*
5
18
Feb. 19, 1998
4
13
Feb. 20, 1997
6
15
Feb. 22, 1996
6
19
Feb. 23, 1995
1
2
Feb. 24, 1994
4
8
Feb. 25, 1993
2
3
Feb. 20, 1992
1
2
Feb. 20, 1991
1
2
Feb. 22, 1990
5
7
Feb. 23, 1989
2
5
Feb. 25, 1988
3
9
Feb. 15, 1987
1
1
*Denotes lockout-shortened season
10.

Worthy Gamble For Nuggets

I get the vibe that I'm in the minority here, but I really like the Nuggets' gamble.
JaVale McGee is too young, long and athletic to be written off as widely as he's been dissed ... and moving Nene created long-term flexibility that gives the Nuggets so many more options when it comes to building their post-Melo squad. (Such as packaging several of the solid players they've stockpiled in a future trade for a star who's willing to marry himself to Denver more than Carmelo Anthony was.)
In the present, though, Denver simply didn't like the way the nearly $70 millionNene expenditure was working out and moved decisively to change course and try something different. That'll almost always get you a hat-tip from me.
To read the entire 5-on-5 piece, click here.