1. Moment Of Truth For Melo In New York
By Israel Gutierrez
ESPN.com
NEW YORK -- The grimace as he limped off the court with a tweaked groin muscle wouldn't suggest Carmelo Anthony had just entered a comfort zone.
He did, though.
His team's injury report is extensive and significant, and it includes Jeremy Lin, Jared Jeffries and, most notably, Amare Stoudemire, who's out for the dreaded "indefinite" period while he deals with a bulging disk in his lower back.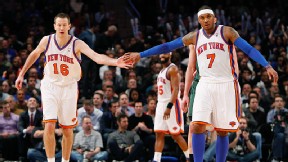 Debby Wong/US PresswireSteve Novak, left, and Carmelo Anthony will need to give the Knicks an extra hand in the days ahead.
Yet because of it, Anthony gets to return to a place where he's most familiar.
What Carmelo displayed in scoring 28 points and grabbing 12 rebounds in the Knicks' semi-critical 89-80 home win against the Bucks on Monday night was what we've seen from him his entire career.
He was spinning in the post. He was working the baseline. He was pulling up from 15 feet. He was running hard on the break. He was himself, not that slumping, frustrated, lost version of Anthony we've seen over the past several weeks.
And if the Knicks want to hold on to that more comfortable 2½ game lead over the Bucks for the final playoff spot, Anthony has to stay in that familiar residence.
And not to suggest he enjoys his primary scoring partner being hampered with a serious injury, but Anthony doesn't mind one bit living in this happy place for a long while if his team needs it.
"It's a fun situation to be in ... It requires me to step up my game a little bit more," Anthony said after extended postgame treatment on his strained groin.
"I love moments like this."
It was easy to recognize that from the start of Monday's game, with the Knicks' offense going through Carmelo time and time again, mostly in the post, but always in spots he's known since he was a rookie.
It wasn't just that he had his best scoring game since exploding for 35 in a loss to these same Bucks on Jan. 20.
It was also that the Knicks went to their money man time and time again. It was that he controlled the offense, and with it, the tempo of the game. It was that he took 12 free throws and made them all.
And it was that he did it all with his teammates struggling badly from the field, and knowing the entire time this game's outcome would be decided by him.
"He relishes that moment," said Tyson Chandler, whose typical defensive effort helped keep the Bucks to 36.5 percent shooting. "Melo has always been, if not the best, one of the best scorers in the league.
"He's been getting a lot of flak for what's been going on this year, but I think he's having a heck of a year, myself."
There's more than a bit of irony that, after hearing for weeks he'd have to "fit in" with Lin once he cracked the lineup and flourished under former coach Mike D'Antoni, the Knicks' season could very well come down to Anthony returning to his score-first tendency.
As much as Chandler believes that Carmelo has had a "heck of a year," the truth is it has been the worst offensive season of his career. Making him the definitive first option in an offense suited more to his strengths might finally allow Anthony the chance to get that 20-point scoring average closer to his career average of 24.5.
Monday's 28 points came despite starting the game and playing many of his minutes at power forward. They came despite the fact the Bucks could've completely ignored Anthony's teammates and still fared well (the Knicks shot a sad 35.1 percent from the floor). And it's no coincidence they came at a time his Knicks needed them most.
"The greats love the pressure, and they get down on themselves when they feel like they're not playing up to expectations," Chandler said.
The Knicks won't always turn the ball over 23 times, like they did Monday (though they do have an unfathomable 67 turnovers over their last three games). They won't always launch 31 3-pointers and only hit seven, the way it played out against the Bucks.
So they might not need Anthony to be great every single game.
But it's safe to say the Knicks need him more now than they ever have in his tenure with the Knicks.
"The test is there," Anthony said. "It's right in front of our eyes."
Actually, for Anthony, it's in the mirror.
Israel Gutierrez, a former Miami Herald columnist, is a staff writer for ESPN.com.
Dimes past: March 8 | 9-10 | 11 | 12 | 13 | 14 | 15 | 18 | 19 | 20 | 21 | 22 | 23-24 | 25
2. Around The Association
3. Monday's Best
Pierce
Paul Pierce, Celtics: Thanks to the Truth, Boston is now tied for first in the Atlantic. Pierce dropped in 36 points, sinking 15 of 18 free throws to go along with 10 rebounds and four assists in a 102-95 win in Charlotte.
4. Monday's Worst
Bargnani
Andrea Bargnani, Raptors: It's one thing to shoot 3-for-11 as your team's most formidable offensive weapon. But when there's no big effort to stop the NBA's leading 3-point man, Ryan Anderson, then the eight 3-pointers he drops on you and your Raps is deserved.
5. Quote Of The Night
"We're fine. We're not even going to remember this a month from now, two months from now. We'll be playing our best basketball."
-- Heat forward Chris Bosh, after a 105-90 loss in Indiana.
MVP: Jordan Crawford (21 points on 9-of-16 shooting) shot well on a night nobody else did, and he opportunistically collected five assists and three steals.
X factor: Brandon Knight. The Pistons had little energy, but Knight willed the them back into the game -- no more so than when he flew over Detroit's bench and into a cooler with three minutes left.
Defining moment: Rodney Stuckey hit a 3-pointer with 55 seconds left that finally gave the Pistons a one-point lead after a long comeback, then outdid himself by nailing a game-winning jumper in the final seconds.
7. Tweet Of The Night
Monty Williams' presence on the sidelines can be described as statuesque. Can't imagine he bargained for this.

— Kevin Arnovitz @kevinarnovitz March 26, 2012
By Elias Sports Bureau

DeMarcus Cousins scored 38 points and grabbed 14 rebounds in the Kings' overtime loss to the Rockets. Cousins is the fourth Kings player with that many points and rebounds in a game since the franchise relocated to Sacramento in 1985. The other Sacramento Kings to do it were Wayman Tisdale on December 8, 1989 (40 points, 14 rebounds), Chris Webber, who did it four times in the 2000-01 season, and Brad Miller on February 2, 2005 (38 points, 17 rebounds).
MVP: Some lazy team defense from the Raptors contributed to Ryan Anderson's big night from behind the 3-point line. Anderson set a new career-high with eight 3-pointers made in a game.
LVP: Andrea Bargnani was the main reason that Anderson was able to punish the Raptors' defense on the perimeter. Bargnani was unable and sometimes unwilling to account for Anderson. That hurt Toronto defensively.
X-Factor: Turnovers have been a big issue for the Magic over the last several weeks. Not so much against the Raptors. With a renewed emphasis on taking care of the ball, the Magic committed just nine turnovers.
9. Tireless Jazz
MVP: Al Jefferson and Paul Millsap. Both players attacked the lanes with fury, using his feathery touch and knack for getting to the rim to score over and around everyone. The two combined for 43 points on 19-for-28 shooting, with 21 rebounds and six assists. Both were so effective tonight, it's impossible to choose one.
That was... sloppy: In the first 12 minutes, the Nets and Jazz combined for 12 field goals and 12 turnovers. The game didn't get significantly better from there.
LVP: Kris Humphries. Humphries had to check the Jazz's big men, which is undoubtedly a difficult assignment. But Humphries didn't make a field goal and got torched defensively play after play. Every Nets big man is culpable in this one, but none more than Humphries.