1. Time Not On Lakers' Side In Race To Finish
By Ethan Sherwood Strauss
TrueHoop Network.
OAKLAND, Calif. -- The rain was falling harder than gravity usually throws it, which is why the Lakers were late coming into Oracle Arena. If there was flooding, perhaps Mike Brown's crew could have stolen the sandbag-sized packs used to ice Andrew Bynum's legs, as his knees were capped by giant frozen extensions in pregame.
A chaotic beginning for a team still adjusting to new personnel. When asked about why the second-place Spurs rest their starters while the Lakers keep giving theirs major minutes, Brown cited San Antonio's continuity, adding: "I rest 'em in practice, but it's harder for me and for us to do it in games because right now, we're in search mode. They're cruising."
This Lakers' 104-101 victory seemed more like swerving and swearing than Gregg Popovich cruise control. There was not much to celebrate, considering that the win came against a Golden State team that had every reason to lose. The Warriors will only get their first-round pick if it's a top-seven selection, and the team has lost three starters via trade and injury. And yet, in a building flush with purple, Los Angeles had difficulty fending off a Dominic McGuire-led squad.
Suddenly, the Lakers appear to be lagging behind the Spurs, an odd circumstance considering how Los Angeles has made three NBA Finals trips since the last San Antonio championship in 2007. But the Spurs know themselves and therefore own time in a way the Lakers do not. Brown must feverishly experiment as the hourglass loses sand, as playoff imminence grows by the day. And some experiments are better received than others. Bynum found unintentional rest for his heavy knees when he heaved a third-quarter 3-pointer. Brown was not happy, Bynum was benched. He returned briefly in the fourth, but was again forced to sit.
In the locker room, Bynum was defiant, saying, "I took one (3), I'mma take some more." The lumbering center also expressed a wish to "expand my game."
The locker room differed on the necessity of such wing-spreading from Bynum. Pau Gasol did not approve, saying, "That's not his game. Hopefully it's one bad game. It's out of the way," and repeating a need to get the team "on the same page."
Metta World Peace had a sanguine reaction: "I thought it was a good shot. 'Cause he can shoot. I seen him hit 3s in practice. I put my hands up, thought it was going in!"
Kobe Bryant had a nuanced opinion, empathizing with Bynum's need to test "the limits of his game." He explained dynamics within the coaching staff and how those apply to the young Lakers center: "(The coaches) have a lot of youth. They're not used to dealing with players of Drew's ambition, at this stage of his career."
When I asked Kobe if he'd feel differently if Bynum hoisted from deep during a playoff game, Bryant smiled, and crisply replied, "No."
If the Lakers are limited, it is because they lack time to grasp what their limits are.
Ethan Sherwood Strauss covers the NBA for HoopSpeak, part of the TrueHoop Network. Follow him on Twitter.
Dimes past: March 11 | 12 | 13 | 14 | 15 | 18 | 19 | 20 | 21 | 22 | 23-24 | 25 | 26
2. Around The Association
3. Tuesday's Best
Ellis
Monta Ellis, Bucks: Lock your mopeds up, folks -- Monta is on the prowl. For the first time in his new digs, the newest Buck lit up the scoreboard like he used to do by the Bay, scoring 33 points on 15-for-24 shooting and adding eight assists in a 108-101 win over the Hawks.
4. Tuesday's Worst
Bynum
Andrew Bynum, Lakers: Or should this go to Mike Brown? Either way, Bynum's night will be remembered more for what he did on the bench (lounging back with his leg stretched out while the Lakers struggled to fend off the Warriors) than he did on the court (11 points, five rebounds) after playing only five minutes and 17 seconds of the second half in L.A.'s 104-101 win.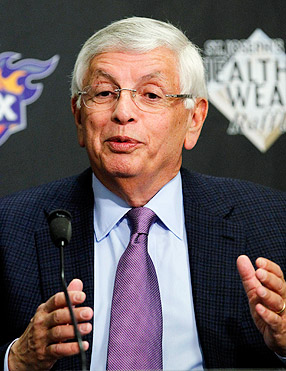 Joe Murphy/NBAE/Getty Images
David Stern stopped by the Spurs-Suns game in Phoenix and expressed his surprise over how good the NBA has been this season.
Read more »
6. Quote Of The Night
"I just sat where he (Brown) put me."
"I just wanted to go in a different direction."
-- Andrew Bynum and Mike Brown, respectively, on why Bynum played just over five minutes in the second half.
8. Tweet Of The Night
Artest on Bynum's three: "I thought it was a good shot"

— Ethan Strauss (@SherwoodStrauss) March 28, 2012
By Elias Sports Bureau
Bryant
Kobe Bryant scored 30 points in the Lakers' 104-101 win over the Warriors, raising his career point total to 29,283 -- all, of course, for the Lakers. That eclipsed the number of points that Michael Jordan scored for the Bulls (29,277). Bryant's total now ranks second in NBA history in points scored for one team, trailing only Karl Malone, who scored 36,374 points for the Jazz. That's one of the career scoring records that was never held by either Wilt Chamberlain or Kareem Abdul-Jabbar; the holders of the mark immediately prior to Malone were Jordan, John Havlicek, and Jerry West.
Bryant has scored at least 20 points in each of his last 25 games against the Warriors. That's tied for the longest current streak of 20-point games by any player against any NBA team: LeBron James has scored 20-plus in each of his last 25 games against Boston. And it's the longest streak for any Lakers player against any team since Jerry West had 44 consecutive games of 20-plus points against the Knicks from 1963 to 1969.