1. Just How Good Are Bulls Without Rose?
By John Hollinger
ESPN.com
ATLANTA -- The Chicago Bulls couldn't possibly win a championship without Derrick Rose … could they?
On its face the notion seems preposterous; the reigning MVP was most of Chicago's offense a season ago and remains the Bulls' primary crunch-time standby. Yet watching a Rose-less Bulls team methodically tearing another hapless opponent to shreds has to at least make you wonder.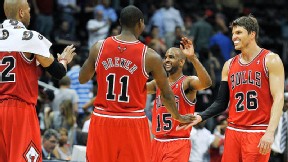 Paul Abell/US PresswireEven without D-Rose, these Bulls are formidable.
While Rose rehabs a groin injury, the supporting cast bashed the Atlanta Hawks 98-77 with a combination of precision offensive execution and determined, maniacal defense. Luol Deng -- a guy who shot 26 percent on 3-pointers in his first three seasons but has worked to become a great shooter -- led the way with five triples and shut down Joe Johnson defensively, but he had plenty of help. The bench dominated, led by John Lucas' "III-point" binge (10 points and five assists), and the Bulls' deep frontcourt hammered another opponent on the boards (13-8 in offensive boards, 45-36 overall for the league's leading rebounding team).
Chicago is now 12-5 in the 17 games Rose has missed, and while the Bulls have had a few stinkers in his absence, including double-digit home loses to Denver and Portland, they also beat Miami, held Orlando to 59 points and just handed Atlanta its worst defeat of the season (well, tied for it) in the Hawks' own building … exacting payback for what was arguably Chicago's own worst game this season, a 109-94 defeat here in January.
Don't get me wrong; they're clearly better off with Rose than without him. A record of 12-5 is nice and all, but they're a dominating 29-6 when Rose plays. Chicago defends about as well with or without him, as it showed again Wednesday, but against tough defenses the Bulls miss him on the offensive end. Offensively, they've averaged 6.5 points per 100 possessions more with Rose on the court, according to NBA.com's advanced stats tool. That deficiency wasn't visible Wednesday night with the 3s falling, but it has been in several games.
Which brings us to the more salient point: If the Bulls are this good without Rose, imagine how they'll be once he returns. Wednesday's tour de force lends further support to the growing impression that Chicago, not Miami, is the team to beat in this season's playoffs.
With Rose, that is. But results like this one also provide a second level of encouragement for the postseason: If Rose happens to have a setback along the way, Chicago fans can at least take solace in the team's barely skipping a beat without him. A title in his absence is still unlikely, but we can no longer say it's impossible.
Statistical support for this story from NBA.com.
Dimes past: March 13 | 14 | 15 | 18 | 19 | 20 | 21 | 22 | 23-24 | 25 | 26 | 27
2. Around The Association
3. Wednesday's Best
Love
Kevin Love, Wolves: There's a lot to like about Love when he drops 40 points and 19 rebounds in an 88-83 win over the Bobcats. MVP talk? "In some ways it's warranted, but we need to win a lot more games in order to be anywhere close to that," Love said.
4. Wednesday's Worst
Granger
Danny Granger, Pacers: The last time Granger faced the Nets, he feasted his way to 32 points in a 93-88 win on Feb. 16. This time around, Granger had more fouls (six) than points (five) in a 100-84 loss in Newark, N.J.
5. Generations Of Big Men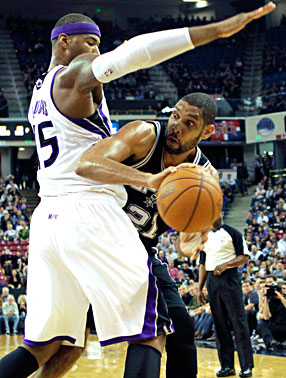 Rich Pedroncelli/AP
Spurs forward Tim Duncan battles Kings center DeMarcus Cousins during San Antonio's 117-112 win. The Spurs have won six in a row.
6. Quote Of The Night
"I'm motivated. I hear y'all calling me old. I hear y'all calling me … older. Weathered. I'm motivated, it don't take much to motivate me, man,"
-- Kevin Garnett, after a win over Utah. He had a lot to say.
8. Tweet Of The Night
Too many people undervalue what they are and overvalue what they are not. "http://hoopshype.com/twitter/players.html#ixzz1qTlGaU3y"

— DeJuan Blair @DeJuan45 March 28, 2012
By Elias Sports Bureau
Paul
Chris Paul and Steve Nash each had 15 assists in the Los Angeles Clippers' win over the Phoenix Suns on Wednesday. It was the first non-overtime game in which players on both teams had 15 or more assists since Apr. 14, 2008, when Ramon Sessions had 24 assists and Chris Duhon had 15 in a game between the Milwaukee Bucks and Chicago Bulls.
Paul scored 15 points Wednesday, but Nash scored only one. Over the past 25 seasons, the only other player who had a game of 15-plus assists but no more than one point is John Stockton, who did it twice (once in 1989-90 and again in 1999-2000).
MVP: Tayshaun Prince. Prince had a turn-back-the-clock night in Cleveland, and went off for 29 points and eight rebounds while hitting all four of his 3-pointers and not turning the ball over once. Very strong game for a guy who has stuck it out in Detroit while the once-proud team has crumbled.
LVP: Luke Walton. Eleven minutes on the court, and the only stats he recorded were two turnovers and two personal fouls. That's impressively bad.
X factor: Cleveland's offense, or lack thereof. Kyrie Irving seems to be struggling with the rookie wall, Tristan Thompson seems to be struggling at catching and dunking, and nobody else on the team can make a shot. Greg Monroe and Detroit's defense deserves some credit, but the Cavaliers offense was absolutely terrible.
MVP: Kevin Love. He has 40 points, 19 rebounds, 4 assists. Kevin somehow stepped up his production even more with several teammates missing Wednesday night's contest due to injury. Twenty-six second-half points sealed Charlotte's fate.
X factor: Besides the Bobcats not having Kevin Love? Rebounding and 3-point shooting. The Wolves outrebounded Charlotte 50-38 and outshot them from deep 38 percent to 23 percent. But that probably could have something to do with not having Love on their team.
Turning point: Charlotte kept things unexpectedly competitive for much of this game. The Wolves held a narrow 68-65 lead to open the final quarter before Love buried back-to-back 3s to stretch the lead to nine. The Bobcats couldn't muster another run and the game was all but over.
10. Bold Play Of The Night