1. Heat Pump Up The Volume, Rout Mavs
By Michael Wallace
ESPN.com
MIAMI -- About 90 minutes before Thursday's home game against the Dallas Mavericks, LeBron James walked over to the stereo system in the Miami Heat's locker room, inserted his music device and pumped up the volume loud enough to send vibrations through a nearby dry-erase board.
There was Wu-Tang Clan's "Bring The Pain."
Then came Jay-Z's "Reservoir Dogs."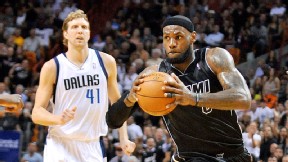 Steve Mitchell/US PresswireLeBron James and the Heat: back on the beat.
By the time a compilation of DMX's greatest hits blasted through the speakers, James had pounded and paced himself into a sweat-lathered, rhythmic routine that more resembled a boxer preparing for a big fight than a basketball player anxiously hoping to lead his team onto the court and out of a slump.
The music selection created a generational quandary among those milling around in the locker room before the Heat's 106-85 victory over the Mavericks. Some of James' teammates were bobbing their heads in sync with the 1990s hip-hop. Meanwhile, some older team staffers were shaking their heads in confusion, trying to sort through some of the rough language and violent themes of the songs.
Both sides agreed on one thing: This typically doesn't happen in the Heat's pregame sanctuary.
"I had to take it back," James would say after the game. "That's just the way I'm feeling sometimes."
What the Heat took back in taking apart the Mavericks in a matchup of teams from last season's NBA Finals was a piece of their identity that had been missing in recent days, perhaps even weeks. Miami had entered Thursday's game coming off their worst consecutive losses of the season, a pair of setbacks against Oklahoma City and Indiana by a combined 31 points.
James had been battered and bruised from elbow, neck and finger injuries. Miami's point guards had been pathetic for several weeks. Chris Bosh had reverted to his unproductive and mostly detached ways. Dwyane Wade was trying to overcompensate by playing hero-ball.
It led to an uninspiring stretch of play for the Heat, who had gone just 8-6 since the All-Star break and had split their previous four games before the defending champion Mavericks arrived in town.
What James did early Thursday night was shake the Heat out of a comfort zone. But it was a process that started the previous day on Wednesday when coach Erik Spoelstra pushed the team through what was described as a grueling training-camp practice that usually requires players to wear mouthpieces and protective padding.
After playing a punchless brand of basketball in recent days, the Heat arrived ready for a battle. Miami responded by shutting down Dallas in the fourth quarter and cruising to its 15th consecutive home win, one that helped the Heat re-establish some of its balance and, well, rhythm.
"We took a few steps forward after taking a few steps back last week," James said after he finished with 19 points, nine rebounds, five assists and two steals to start to emerge from his first lengthy slump as a member of the Heat. "We had a hard practice (Wednesday) and a pretty extensive shootaround (Thursday). There wasn't much that needed to be said. We just had to go and play and take care of business. To come back home, we worked our habits. The best thing about it was that we worked our habits and just didn't take another step backward, which was good to see."
Before the game, Spoelstra challenged his team to talk less about fixing their recent issues and to instead use Thursday's game to show that they were committed to get back on track. What the coach got was a performance that addressed, at least temporarily, some pressing concerns.
After watching his team get outworked on the glass by a total of 46 boards over the past eight games, Spoelstra witnessed the Heat pummel the Mavericks for a 44-29 advantage on the boards. And after seeing that up-tempo offense he installed in training camp essentially grind to a halt in recent outings because of turnovers and sporadic play, Spoelstra got to see a familiar free-flowing style from Miami.
The 106 points were the most by the Heat since a March 6 win against New Jersey, and the eight points they gave up on turnovers were their fewest since they allowed only four in a March 1 win at Portland in the first game after the All-Star break.
The 21-point margin of victory on Thursday was also reminiscent of the results Miami had last month, when they pieced together a stretch of nine consecutive victories by double-digit margins.
"It was a good team response -- a collective response," Spoelstra said before issuing another challenge to his team late Thursday night. "I think it's fitting. (But) what now? What's next?"
Spoelstra then rattled off a list of excuses his players could make heading into Friday's game at Toronto. He mentioned that it was the second game of a back-to-back set, that it was on the road, that the team probably wouldn't arrive until after 4 a.m. for a game that tips at 7 p.m.
It was a plea for his team to avoid settling back into any bad habits.
"We're looking to turn a corner," Bosh said. "Hopefully, this will give us a little bit of momentum. We have to do it one game at a time. As long as we keep elevating our play day by day, we'll be in the right spot come April."
Wade said the team didn't overreact to its poor play over the weekend, but also didn't take for granted that they could simply will their way out of the doldrums from Oklahoma City and Indiana.
"We understand that it was only two losses," Wade said. "We were losing while not playing our style of basketball. We can take it if we're losing and we're playing the game the Miami Heat is accustomed to playing. But this was getting back to what we're accustomed to on the floor. We did that tonight."
In other words, it was all about rediscovering their flow, regaining their rhythm.
James did his part to get the locker room jumping before the game.
By the time it was over, everyone else was in tune, too.


NBA Writer Michael Wallace
• On Twitter @WallaceNBA_ESPN | On ESPN.com
• Follow ESPN's NBA coverage on Twitter | On Facebook | On Google+
Dimes past: March 13 | 14 | 15 | 18 | 19 | 20 | 21 | 22 | 23-24 | 25 | 26 | 27 | 28
2. Around The Association
MVP: Russell Westbrook was fantastic with 36 points, including 27 in the second half, and six assists to carry the Thunder to the win. His work off the dribble and in the open court dominated the Lakers as they simply couldn't contain his combination of speed and strength.
X factor: Derek Fisher's seven points on 3-for-5 shooting doesn't look like much, but it was absolutely key for the Thunder. When Fisher entered the game, his team was flailing but his shot-making and aggressiveness stopped the bleeding and got them back into it.
Defining moment: At the end of the third quarter, Westbrook nailed a buzzer-beating 3-pointer that pushed the Thunder lead to 10. He grabbed all the momentum and deflated the home crowd all in one shot and defiantly posed at halfcourt to soak it in. Just a great play from the player of the night.
MVP: LeBron James fought through an assortment of recent injuries to bounce back with a well-rounded performance that included 19 points, nine rebounds, five assists and two steals in 37 minutes. He was back to his efficient ways, going 8-of-16 from the field after shooting just 40 percent the previous five games.
X factor: The Heat's bench, led by Udonis Haslem, provided the initial boost during a second quarter in which Miami outscored Dallas 36-24. Not only did Haslem add 16 points off the bench, he also applied the second-half defense that limited Dirk Nowitzki to just 1-of-9 shooting in the second half after he made eight of his first 10 shots.
LVP: Jason Terry was an absolute Heat killer who hit so many big shots in support of Nowitzki in the Finals last season. But the former NBA Sixth Man of the Year was harmless Thursday night, missing nine of his 10 shots and finishing with just three points in 31 minutes.
-- Michael Wallace, ESPN.com
MVP: LaMarcus Aldridge. He was the only bona fide NBA scoring threat on the floor for either team and played like it, dropping 25 points on 18 shots to go with 12 boards and five assists. Honorable mention to the Hornets' Marco Belinelli, who hit seven 3-pointers on his way to 27 points.
X factor: Luke Babbitt. A career-high for the man who was killing the Hornets' zone by raining in 3-pointers, sinking his first four from deep as he scored 16 points. This was his best scoring night since a 2010 game against Wichita State.
That was & fun: This was a meaningless game on a slow night in the Association. Neither team should have cared -- and New Orleans only played eight guys -- but they both went all out. Nearly everyone who played had effective stretches, even they came during what felt like a pickup game at times. Still, it was a good pickup game.
3. Thursday's Best
Westbrook
Russell Westbrook, Thunder: Goes for 36 points, six assists and just one turnover in the 102-93 win on the Lakers' home court. His buzzer-beating 3-pointer at the end of the third quarter was a Laker deflater.
4. Thursday's Worst
Terry
Jason Terry, Mavs: After all his hot shooting against the Heat in the NBA Finals, he was due for a little cold streak. Jet went 1-for-10 en route to three points in 31 minutes of action in a loss to the Heat.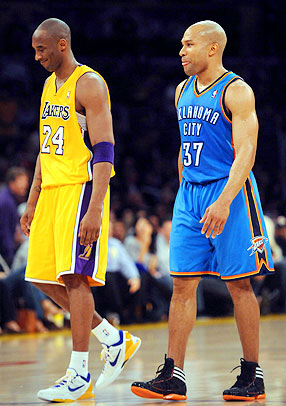 Rich Pedroncelli/AP
They once hoisted the Larry O'Brien trophy, but now Kobe Bryant and Derek Fisher find themselves on opposite sides again.
6. Quote Of The Night
"I'm not coming back to the Suns if there isn't improvement."
-- Suns guard Steve Nash, on possibly leaving Phoenix. Will Miami call?
8. Tweet Of The Night
Stats update: Bynum 0-for-0 on 3-pointers tonight.

"https://twitter.com/#!/FalseHoop/status/185596071525879809"

— FalseHoop @FalseHoop March 29, 2012
By Elias Sports Bureau
Granger
Danny Granger passed the 9,000-point mark for his NBA career as he scored a game-high 25 points for the Pacers in their 93-89 win over the Wizards. Granger, who has spent his entire career with Indiana, is the sixth player to score at least 9,000 points in the NBA for the Pacers. The others are Reggie Miller, Rik Smits, Jermaine O'Neal, Vern Fleming and Chuck Person. Granger has scored 25 or more points in a game 127 times; only Reggie Miller (286) has done that more often in Indiana's NBA history.
MVP: Hard to find one for the winning Pacers, as nobody really excelled for the whole game, but Danny Granger's 25 points and seven rebounds was the best the home team had to offer.
X factor: After allowing Washington to post an offensive rebounding percentage of over 38 percent through three quarters, Indiana grabbed 9 of the 11 boards off their defensive glass in the fourth.
That was ... disturbing for the Pacers. They struggled mightily in both games of a back-to-back against teams with that are a combined 46 games under .500. Hardly playoff-ready.