1. With Rondo Dealing, Is Anything Possible?
By Brian Windhorst
ESPN.com
BOSTON -- The official ledger will imply that the Miami Heat vanquished the Boston Celtics by a 4-1 count in last year's playoffs, the final nails coming from LeBron James in a furious Game 5 performance that literally brought him to his knees with emotion.
The hypotheticals, though, could go on for years. What would've happened if Rajon Rondo had not landed awkwardly after a tussle with Dwyane Wade and dislocated his elbow late in Game 3, essentially crippling him for the rest of the series?
Perhaps the Heat would still have won. Perhaps Rondo, who guided that Game 3 victory before his right arm jackknifed the wrong direction, was just getting started. Maybe a couple times in hypothetical Games 4 through 7 Rondo could've looked something like Sunday, when he tore through the Heat's weaknesses for another fabulous game in Boston's 91-72 win.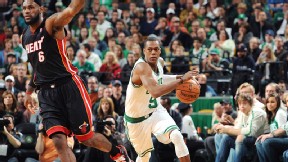 Brian Babineau/NBAE/Getty ImagesThe Heat didn't have to deal with a healthy Rondo for a full playoff series.
Sure, it's revisionist history but it's also a legitimate discussion.
Also legitimate discussions raised in the wake of this one: (1) Maybe the Celtics, kept together at the trade deadline after some wavering by the front office, do indeed have one more run left in them. (2) Are the Heat routinely getting blitzed by good teams on the road because they're just waiting for the playoffs and bored, inexplicable as that might be, or because even with their offseason additions they still have deep-rooted issues?
Rondo, treating Heat point guards Mario Chalmers and Norris Cole like they were chairs, was his herky-jerky best. He had 16 points, 12 rebounds and 13 assists in 37 minutes. It was his 18th career triple-double and 14 of them have come on national television.
That's one of those passive-aggressive stats that implies that Rondo doesn't play with the same intensity every night. Which was one of the core reasons the Celtics were talking trades -- OK, so they said they were just "taking" the calls -- involving Rondo for the past year. But here's a news flash: all playoff games will be on national television.
"I think my teammates put a spotlight on me more than the media," Rondo said in attempting to explain this phenomenon. "We're playing pretty good of late."
Indeed they are. The Celtics are now 15-5 since the All-Star break and have stormed past the Philadelphia 76ers for the Atlantic Division lead. That's no footnote, since it has taken them from the No. 7 seed to the No. 4 seed and opened up a more realistic scenario of making a postseason run. They've done it despite losing Jermaine O'Neal and Chris Wilcox for the season and Mickael Pietrus for an undetermined period. Also, Ray Allen has missed six games in a row with an ankle injury that just won't heal.
Boston is 5-0 since Avery Bradley replaced Allen in the starting lineup. On Sunday, it could be said that Bradley played Wade to a draw. Wade had 15 points but took 17 shots. Bradley had 13 points on 10 shots and battled Wade fiercely on defense, limiting his preferred post game.
When you factor in Kevin Garnett spiking Chris Bosh defensively (Bosh was 2-of-11 with four points) and that Paul Pierce played James even (both had 23 points and James had no assists for just the second time in 769 regular-season games) the Miami "big three" weren't so big.
Now add Rondo, who never drew James as a defender, and it's easy to total up what took place.
The Heat are a pedestrian 10-7 since the All-Star break and have been below average on the road. They've been smashed in marquee matchups in three of the past five Sundays. They got beat by the Los Angeles Lakers at Staples Center by 10, in Oklahoma City by 16 and now a 19-point beat down in Boston.
Miami has lost seven of 11 overall on the road, costing them playoff position and possibly adding more road games. Their pace of play, their greatest strength for the first half of the season, has slowed remarkably. It might've hit rock bottom Sunday. How else can it be explained that a team with three All-Stars could muster just 72 points?
Yet while Heat coach Erik Spoelstra continues to sound alarms -- "This game was unacceptable, we're not happy about it," he said -- the stars themselves continue to be somewhat matter-of-fact. Almost in unison.
"We're mentally tough, we'll figure it out," James said. "Do we have the answers right now? No."
"We'll figure it out," Wade said. "That's what a good team is supposed to do."
"We're going to figure it out," Bosh said. "We have to stay positive."
Their attitude may be buoyed by the fact that they've won 15 in a row at home and seven of the next eight games are in Miami. This week alone they get shots at Philadelphia, Oklahoma City and Memphis. Plenty of chances to get well.
The Celtics, on the other hand, have a brutal week ahead with San Antonio, Chicago, Indiana and Philadelphia on the slate. It's quite possible that when these two teams meet again in nine days in Miami the outlook will be reversed.
But that won't change the impression that Sunday left, which is that the Celtics are still dangerous and the Heat have a lot of problem-solving between them and that title they're supposed to win.


NBA Writer Brian Windhorst
• On Twitter @WindhorstESPN | On ESPN.com
• Follow ESPN's NBA coverage on Twitter | On Facebook | On Google+
Dimes past: March 18 | 19 | 20 | 21 | 22 | 23-24 | 25 | 26 | 27 | 28 | 29 | 30-31
2. Around The Association
3. Sunday's Best
Rondo
Rajon Rondo, Celtics: Posted his NBA-leading fifth triple-double of the season in a 91-72 win over the Heat. Rondo finished with 16 points, 14 assists and 11 rebounds, reaching the triple-double mark with 8 1/2 minutes to play.
4. Sunday's Worst
Bosh
Chris Bosh, Heat: He matched his season low of four points (also had four in opening win over Mavs) in the dismantling by Boston. Missed nine of his 11 shots, which is very unlike Bosh.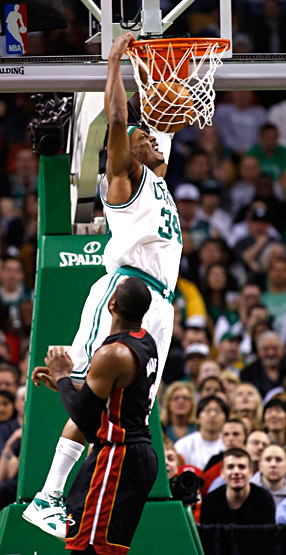 Greg M. Cooper-US PRESSWIRE
After dropping 23 points on the Miami Heat, Paul Pierce was feeling confident. "We know we can play with the best," he said. "It feels great. The crowd is behind you. You're executing. You're not turning the ball over. You're rebounding. That's the type of game we have to play."
6. Quote Of The Night
"The guy has no life. Even when he was young as an assistant, he never wanted to go out to dinner with me. He had things to do. He's boring." "
-- Thunder coach Scotty Brooks, having fun needling Bulls coach Tom Thibodeau, whom he played under when Thibodeau was an assistant in Minnesota and New York.
8. Tweet Of The Night
Last three times that LeBron has only made one free throw? L at BOS, L at OKC, L at LAL. All on national TV. "https://twitter.com/#!/tomhaberstroh/statuses/186576187257143297"

— Tom Haberstroh @tomhaberstroh April 1, 2012
9. Thunderous Applause
Defining moment: With six minutes and change left in the third quarter, Russell Westbrook lobbed a chest pass from near half-court to a streaking Kevin Durant, who had somehow snuck behind the Bulls' defense. The lanky forward caught it in stride, and threw it down for a back-breaking, rafter-rattling, league foundation-shaking, slam. Hear this, NBA: There's a new sheriff in town.
That was … scary: The Thunder have moved, quick as a Westbrook cut to the hoop, from "budding juggernaut" to juggernaut. Three times in the past week they've played games that were billed as likely NBA/Western Conference finals previews: In those matchups they've gone 3-0 with a 39-point margin.
MVP: Chicago's superstar spent Sunday in warm-up gear while the Thunder's dynamic duo penned another chapter in their (growing) legend. While Derrick Rose looked on, Durant and Westbrook combined for 53 points on 34 shots and committed a single turnover between them. The post-mortem analysis of this one could begin and end there.