1. Clippers Marching On From Trying Times
By Marc Stein
ESPN.com
DALLAS -- Pulling a black protective sleeve over his right arm as he spoke at his locker, Chris Paul wasn't prepared late Monday night to proclaim that the Los Angeles Clippers are officially cured.
No chance of that when the little assassin with the bruised right elbow won't even acknowledge that the search for a vaccine was on.
Crisis in Clipperland when CP3 hasn't even been there six months?
What crisis?
"We ain't fixed," Paul insisted, "because we were never broke."
Outsiders will obviously see it differently -- especially if you remember how bleak things looked in his New Orleans homecoming just 11 days ago -- but on the following score we can all agree: Paul, Blake Griffin and the rest of the Clippers suddenly have their December spring back. The Lob City boys oozed energy on offense, hunger on defense and actual, tangible joy at work on this brief trip to Big D, stopping long enough after a 5-0 homestand to inflict a 94-75 pounding on the defending champions and stretch their coach-saving win streak to a tidy six games.
Which suddenly makes Vinny Del Negro the first Clippers coach to win six in a row since Larry Brown in March 1992.
"We're just having fun again," Griffin said. "That's really it. Everybody is just doing their job and guys are just worrying about what they can control. When that happens, sky's the limit for this team."
No chance of us going that far on the basis of one shredding of the up-and-down Dallas Mavericks. Overreacting to any single night in this crazy season is particularly foolish, but even the Clips have to know that this wasn't an occasion for lasting conclusions. Not with Randy Foye, who arrived with a nightly average of not quite 10 points, looking like the long-awaited wing scorer of management's dreams by draining a franchise-record-tying eight 3-pointers. Nor with Dallas announcing before tipoff that a groin injury would render Jason Kidd lost for the week, which not so surprisingly rendered the Mavs' offense unwatchable in the face of some of the most tangible defensive aggression we've seen all season from the Clips' underachieving D.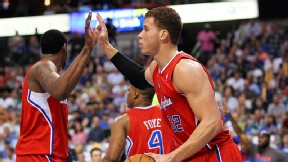 Matthew Emmons/US Presswire
Yet you can credit the Clips, if nothing else, for an impressive response to adversity. In the wake of my ESPN The Magazine colleague Chris Broussard's report that Del Negro had lost the team and with Donald Sterling's clock ticking so loudly every day with Paul only under contract through June 2013 and Griffin eligible for an extension this summer, L.A.'s fourth-quarter failure to overtake the injury-ravaged New Orleans Hornets in CP3's first-ever game as a visitor to the Crescent City could have easily sent the Clips into a deep, dark spiral. Instead? The first game of a season-defining five straight home dates was the toughest, but they dredged up the requisite spirit to beat Memphis by 16, launching the resurrection that hushed the crisis talk.
The next four teams they toppled (Hornets, Suns, Blazers and Jazz) were hardly world-beaters, true, but the Clips were in no state to scoff at any W after the drubbings they absorbed in Indiana and Oklahoma City, followed by the debacle in the shadows of the French Quarter. Clips forward Caron Butler says now that a team meeting after the New Orleans loss is what prevented the dreaded spiral.
"We should not be trying to find our identity at this point in the season," Butler said. "We should have that already. So we discussed it and we agreed that we've got to get everyone involved. Since then this team's had a totally different disposition. Guys are making the extra pass, we're sharing that ball and that's what we've got goin' right now. When we play defense and share the ball, we're a scary team. With all these weapons, it's tough to load up on Chris and Blake."
Said Griffin: "We had a mindset [after the loss to New Orleans] that this isn't it, this isn't our team, this isn't the team we're gonna be. We've done a good job. I'm proud of the way everybody's playing."
That was evident after the Dallas rout, when Griffin, Paul, DeAndre Jordan and the injured Mo Williams took turns playfully needling Foye about his fantasy night, with 22 of Foye's points coming in the second half alone. And when Foye finally missed a corner 3, Griffin was naturally there to soar above everyone in the key and hammer home a putback you'll be seeing all week.
"He shoulda made one more," Paul barked into the showers amid all the postgame giddiness, referring to Foye's eight triples. "Ain't no point in tyin' the record."
You should also know, for the record, that veteran forwards Kenyon Martin and Reggie Evans summoned me at the morning shootaround for a three-man summit to strenuously deny the idea raised in the Weekend Dime that they're in any way at odds. Both were adamant that anyone suggesting otherwise was simply looking for scapegoats after a rocky March.
More for the record: Martin has indeed been a revered teammate pretty much wherever he's played. And Evans' popularity as another first-year Clipper would appear to be cresting given how many other Clippers could be heard before and after tipoff at American Airlines Center making his Pensacola catch phrase their own: "I ain't lyin'."
So Texas was good to the Clippers again. They haven't had a win this impressive, on paper, since ringing up 120 points in a March 9 triumph at mighty San Antonio when Tony Parker was the home-team point guard in street clothes.
Yet if we've learned anything during this lockout-shortened circus of a 66-game schedule, it's that things change fast. Far faster than they do during an 82-game schedule.
Which is another reason why Paul, while making sure that valuable right elbow would be encased and warm for the flight home in advance of Wednesday night's Staples Center showdown with the Lakers, could be heard preaching caution as soon as someone with a tape recorder suggested that the Clips will sail along this smoothly right into the playoffs.
"Can't get satisfied," CP3 said. "One tough week for us and then y'all gonna be asking me, 'How you guys gonna get it back?'"


ESPN.com senior writer Marc Stein
• On Twitter @ESPNSteinLine | On TrueHoop | On ESPN.com | On email
• Follow ESPN's NBA coverage on Twitter | On Facebook | On Google+
Dimes past: March 20 | 21 | 22 | 23-24 | 25 | 26 | 27 | 28 | 29 | 30-31 | April 1
2. Around The Association
3. Monday's Best
Millsap
Paul Millsap, Jazz: It wasn't a 3-pointer, but it'll do. Millsap, who finished wtih 31 points and 11 rebounds, threw down a dunk with 1:11 left in the fourth quarter to put the Utah Jazz ahead for good in a 102-97 victory over the Portland Trail Blazers that helped Utah keep pace in a tight Western Conference playoff race.
4. Monday's Worst

Bulls backcourt: The Chicago Bulls have done an admirable job hanging on while Derrick Rose recovers, going 14-7 this season without the reigning MVP. But even with Rip Hamilton back in the lineup, the Bulls couldn't provide enough pop to fend off the Houston Rockets. Chicago dropped a second straight game for the first time since February 2011, with Hamilton and starting point guard C.J. Watson combining for just eight points on 3-for-14 shooting and eight turnovers.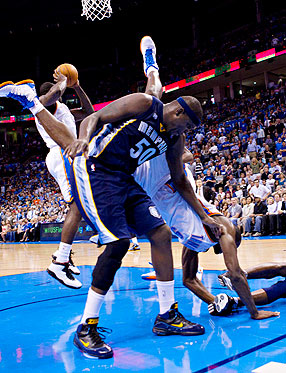 Richard Rowe/US Presswire
After trouncing the Bulls on Sunday, the Thunder were turned on their heads by the Grizzlies, as O.J. Mayo's late 3-pointer keyed a 94-88 victory.
8. Tweet Of The Night
The @Lakers coaches & players need to get on the same page.

— Earvin Magic Johnson (@MagicJohnson) April 3, 2012
By Elias Sports Bureau

The Los Angeles Clippers won by 19 in Dallas to extend their winning streak to six games. That may not sound like much, but it's the Clippers' longest winning streak since March 1992. As you may have suspected, that's by far the longest time in NBA history between winning streaks of more than five games. The previous long was 12-plus seasons, by the Denver Nuggets, between January 1991 and November/December 2003.
It's only the third time since moving to Los Angeles that the Clippers have won on the road against defending champions. The other times were in 2007 in Miami and 2001 against the Lakers.