1. Heat Use Sixers To Snap Back ... Again
By Brian Windhorst
ESPN.com
MIAMI -- The Heat have a rather one-sided relationship going with the 76ers. They seem to use their peers from Philadelphia like an old rag, wiping away their troubles and struggles so they can feel better about themselves.
It's been going like this for two years now, dating back to the Heat getting their first win in the "big three" era after a bad start. Then using the Sixers as a pivot point to start their playoff run. Now relying on them to be this season's ultimate slumpbuster.
The Heat did it again Tuesday, getting over their worst loss of the season by beating the Sixers 99-93. As an added benefit, LeBron James used the game to officially break out of the longest scoring slump he has had in seven years as he put up a season-high 41 points in the victory.
Not only that, the Heat were also afforded the opportunity to rest Dwyane Wade and still claim a victory over a quality opponent. The team said Wade had a sore knee but couldn't really say when the injury happened or the exact issue.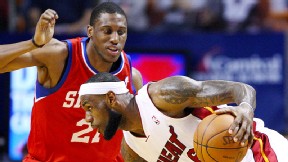 Robert Mayer/US Presswire
Coach Erik Spoelstra denied that sitting Wade -- who clearly had been battling a case of tired legs -- had anything to do with getting him ready for Wednesday's high-profile game against the Thunder. That was politically correct, but he didn't say what was clear: The Heat apparently felt they had a good chance to beat Philly even without one of their stars.
That gamble turned out to be correct.
Last season the Heat beat the Sixers seven of the eight times they played, including winning four out of five in a first-round playoff series that propelled them to an unexpected blitz to the NBA Finals. This season the Heat are a perfect 4-0 against the Sixers, with the past three wins all coming off troubling losses.
After blowing an 18-point lead and losing in Milwaukee in February, the Heat used the Sixers' own practice court for a key team meeting and won the next day by 20 points. When they played last month, the Heat were coming off losses to the Magic and Bulls but turned it around in Philadelphia, with James hitting a clutch jumper down the stretch for a little extra spice.
Tuesday the Heat were licking their wounds after their worst loss of the season, a 19-point defeat in Boston. James hadn't cracked the 30-point barrier in nine games, his longest such spell since his second season back in 2004-05.
The Sixers, putting up a good fight, were there to give the Heat another well-timed pick-me-up.
"It's interesting, everytime we've faced this team this year, they're coming off a very disappointing loss," Sixers coach Doug Collins said. "We've usually faced them in a very persnickety mood."
James was in a scoring mood. With Wade resting, James had the green light to dominate the ball and he didn't pass it up. He has performed well when Wade has been out this season, a large reason the Heat are now 9-1 when he sits, and he was in attack mode from the first quarter onward.
Then he got a break when Andre Iguodala, one of the most effective perimeter defenders in the league, was lost for the game in the third quarter after Mario Chalmers poked him in the eye. That opened the flood gates for James, who scored 15 points in the fourth to carry the Heat to their 16th straight home victory.
"We were happy to get a win against a very good playoff team," said James, who made 15 of his 25 shots. "I needed to take control a little bit more."
Yet there's more bad news for the Sixers in this "rivalry."
The loss to Boston Sunday plus the events of Tuesday night have helped the Celtics open a lead on Philadelphia for first place in the Atlantic Division There's still three weeks to play but the Heat have done their best, on purpose or not, to make sure they get to play the Sixers in the first round of the playoffs and not the Celtics. A Sixers team they've now won 11 of their last 12 games against.
"That's a really good team; if you're not on our game they can beat you," James said. "Our success against them, I don't know. We just have the blueprint."


NBA Writer Brian Windhorst
• On Twitter @WindhorstESPN | On ESPN.com
• Follow ESPN's NBA coverage on Twitter | On Facebook | On Google+
Dimes past: March 21 | 22 | 23-24 | 25 | 26 | 27 | 28 | 29 | 30-31 | April 1 | 2
2. Around The Association
3. Tuesday's Best
James
LeBron James, Heat: With Dwyane Wade out, LeBron brought the heat, scoring 41 points to lift Miami out of its funk and beat the Sixers. The scoring flurry also snapped a streak of 10 straight games in which James hadn't scored at least 30 points, his longest since 2004-05.
4. Tuesday's Worst

New York Knicks: Up 15 points heading into the final frame, the Knicks were outscored 40-17 and ended up losing by eight in Indy. "It was just unfortunate," Carmelo Anthony said. "We can't have that." Indeed.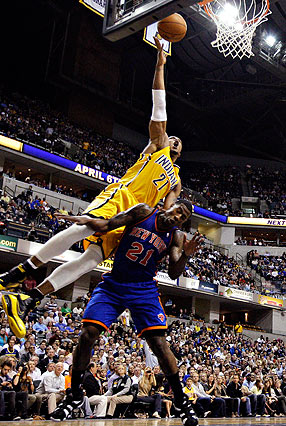 AP Photo/Michael Conroy
David West and the Pacers sprung into action in the fourth quarter in Indy, outscoring the Knicks 40-17 to topple New York, 112-104.
Read more »
6. Quote Of The Night
"I thought my eye was gone."
-- Andre Iguodala, on getting poked in the eye by Mario Chalmers in the third quarter of the Sixers' loss to the Heat in Miami.
By Elias Sports Bureau
Cousins
DeMarcus Cousins, who will not turn 22 until August, had 41 points and 12 rebounds against the Suns on Tuesday night. The last NBA player younger than Cousins to match or exceed both of those totals in one game was a then-20-year old Kevin Durant, who had 46 points and 15 rebounds on January 23, 2009, against the Clippers.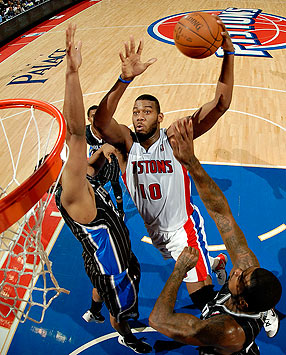 Allen Einstein/Getty Images
With Dwight Howard, Jameer Nelson and Ryan Anderson all out, the Magic couldn't slow down Greg Monroe, who finished with 22 points and 11 rebounds in a 102-95 Pistons win.