1. Things Only Get Worse For Dwight, Magic
By Zach McCann
ESPN.com
ORLANDO, Fla. -- Dwight Howard couldn't have picked a worse night to have his worst night: eight points -- six of which came in a meaningless fourth quarter -- eight rebounds and five fouls in a 96-80 loss to the New York Knicks, the only team with enough drama this season to rival the Orlando Magic.
But Howard didn't look nearly as bad as he did at Thursday morning's shootaround, when he now-infamously spoke to the media just after Stan Van Gundy had divulged Howard's private request for his coach to be fired. That moment was the tipping point of a season-long battle, with Howard repeatedly calling for his coach's job and Van Gundy struggling to bring together a team surrounded by the uncertainty of Howard's looming free agency.
Van Gundy and Howard met with Magic GM Otis Smith on Thursday afternoon to clear the air, like two teenagers in the principal's office after a fight in the cafeteria. Both the coach and superstar did far more listening than talking, with Smith making it clear that Van Gundy would coach the Magic through the end of the season.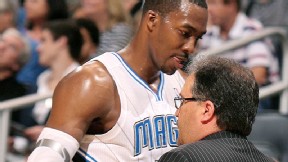 Stephen M.Dowell/Orlando Sentinel/Getty Images)
And now, after the Magic's fifth consecutive loss, it's up to the discordant coach and superstar to not only coexist, but to rally a free-falling team that finds itself sixth in the Eastern Conference standings.
"Dwight will go out and play, and I'll coach, and that's the understanding," Van Gundy said after the game.
They've been together for five years and have clashed all season long; this is nothing new. But it's all in the open now thanks to Van Gundy, and no matter how many times Howard says "I don't want to talk about it" -- like he did Thursday night -- the questions will keep on coming and the elephant will be hanging out in the locker room after every loss.
"Next question," Howard said when asked for a third time about Van Gundy after the game.
He can't dodge those same questions from his teammates, however.
It wasn't a good locker room to begin with. Now it might be beyond repair.
There are Magic players who support Van Gundy and are frustrated by Howard's desire for control of the franchise. Other players, as annoyed by Van Gundy's unrelenting style of coaching as Howard, would support a coaching change.
Before the game, the locker room was desolate. A few players walked in, saw the media, and retreated into the bowels of the Amway Center. One player walked in and exclaimed, "We're going to be on MTV soon," a reference to the "Jersey Shore"-type drama that's engulfed this team since the lockout ended in December. They're tired of hearing about it and tired of talking about it.
But Van Gundy, like the drama, isn't going anywhere. If the Magic fire Van Gundy, the season is lost -- the Magic know they're not adjusting to Brendan Malone or Patrick Ewing in April and making a deep playoff run.
So the Magic will keep Van Gundy despite the fractured coach-superstar relationship, even if it makes the Knicks -- a team that already fired its coach and dealt with talk of their superstar wanting out -- look like a symbol of stability.
"My job security isn't important," Van Gundy said. "Dwight's wants are not important right now."
The problem for the Magic is those two things, in actuality, are important.
And that might be the reason the Magic eventually not only lose their first-round playoff series, but lose Van Gundy and Howard as well.
Zach McCann is an editor and writer for Page 2. Follow him on Twitter, @ZachMcCann.
Dimes past: March 22 | 23-24 | 25 | 26 | 27 | 28 | 29 | 30-31 | April 1 | 2 | 3 | 4
2. Around The Association
3. Thursday's Best
Wall
John Wall, Wizards: The Wiz couldn't keep up with the Pistons at home, losing for the 12th time in their past 15 games, but through no fault of Wall's. The speedy point guard gashed Detroit's D for 28 points and 10 assists in the 99-94 defeat.
4. Thursday's Worst
Howard
Dwight Howard, Magic: Tough call here between Howard, the player, and Howard, the malcontent. The player had only eight points (on 50 percent shooting), eight rebounds and five turnovers in 40 minutes of the Magic's loss to the Knicks. The malcontent asked for Stan Van Gundy to be fired, according to Stan Van Gundy. Tough call.
7. Quote Of The Night
"I'm the coach right now, and I'm the coach until they decide I'm not the coach. It's 12:02 right now. If they want to fire me at 12:05, I'll go home and find something to do. I'll have a good day."
-- Stan Van Gundy, who told reporters Thursday morning that Dwight Howard has asked management for the coach's dismissal.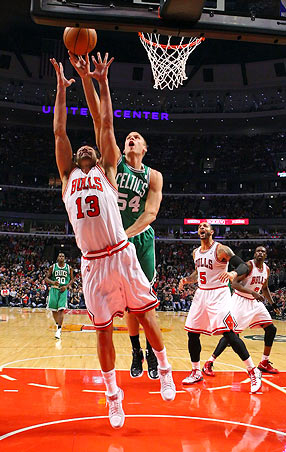 Robert Mayer-US PRESSWIRE
Derrick Rose missed his 11th straigtht game, but the Bulls snapped their two-game skid by closing out the Celtics, 93-86 in Chicago.
Read more »
By Elias Sports Bureau

The Knicks defeated the Magic, 9680, limiting Dwight Howard to eight points and eight rebounds in 37 minutes, while Tyson Chandler, his counterpart in the pivot, scored 12 points and grabbed 12 rebounds. It was only the fourth game of Howard's NBA career in which he started at the center position and played at least 30 minutes while being both outscored and outrebounded by the opposing starting center. It happened once against Denver's Marcus Camby (Nov. 15, 2006) and twice against Yao Ming (Jan. 4, 2008 and April 7, 2009).