The focus in Central Florida is understandably on Stan Van Gundy, who has somehow retained his post as Magic coach even after Thursday's surreal scenes, which saw Van Gundy reveal to a gaggle of reporters that he knows center Dwight Howard indeed wants him ousted because his bosses have told him so.
Firing Van Gundy immediately, with his relationship with Howard presumably beyond repair at this point and after he made the organization's private business so public, would figure to be Orlando's only hope of regaining the trust of its franchise player and saving its relationship with Howard.
Yet it shouldn't come as a surprise if the Magic elect to let Van Gundy finish the season, uncomfortable as it surely is for everyone in the locker room and front office now, bearing in mind how they dealt with Howard's trade demand all season. Surely you haven't forgotten that they delayed a decision until deadline day and ultimately convinced a worn-down Howard to waive his right to become a free agent for one more year at the 11th hour in the face of a rising public backlash against him.
Sources briefed on the Magic's thinking say team officials, improbable as it might seem to outsiders, believe that the team can continue to play amid this tension, since it has coped with it (albeit with varying degrees of success) all season.
The only apparent certainty, at this point, is that Van Gundy will not be back in Orlando next season. No one can envision a scenario where Van Gundy returns for 2012-13 ... or a scenario where Stan even wants to.
Something else to track here, though, is the future of general manager Otis Smith. Sources close to the situation tell ESPN.com that Howard's recently retired backup, Adonal Foyle, is held in the highest regard by Magic officials and is being groomed for a future role of front-office prominence.
But it's not immediately clear, like a lot of things happening in the Magic Kingdom these days, whether that would come at Smith's expense.
---
Some numbers of note in the East this week:
64.8: Dwight Howard's Magic entered Thursday's home date with New York having made only 64.8 percent of their free throw attempts this season, with Dwight at a lowly 48.8 percent. Over the last 50 years, only three teams sank less than 65 percent of their free throw attempts over the course of a season … and all of them employed Wilt Chamberlain. Wilt's San Francisco Warriors shot 63.8 percent from the line as a team in 1963-64 and 64.0 percent in 1964-65. His Philadelphia Warriors shot 63.5 percent from the line in 1967-68.
59.2: When LeBron James totaled 34 points and 10 assists in Wednesday's showdown victory over visiting Oklahoma City, it meant he had a hand in 58 of Miami's 98 points, good for 59.2 percent of the Heat's offense and his highest single-game reading in that category this season. LeBron's previous high was scoring or setting up 56 percent of Miami's 84 points in a March 16 win over Philly.
219: Rajon Rondo registered 219 assists in March, breaking Boston's 56-year-old record for the most assists by one player in a calendar month. Bob Cousy held the record for all those years after racking up 210 assists for the Celtics in January 1956.
9.6 Rondo, though, averaged only 9.6 points per game last month, making March the fourth successive month in which his scoring averaged decreased. He averaged 18.8 points per game in December, 13.3 ppg in January and 13.2 ppg in February. The only other players leaguewide to average at least 15 points per game in December and drop in each successive month this season are D.J. Augustin, MarShon Brooks and Luol Deng.
22: Derrick Rose has missed 22 games this season, which is tied for the second-highest total in league history for a reigning MVP. The Elias Sports Bureau reports that only Bill Walton (shelved for the entire 1978-79 season thanks to his chronic foot woes) missed more; Allen Iverson also lost 22 games to injury as the reigning MVP in 2001-02. (Michael Jordan technically missed all 50 games as the reigning MVP in the lockout-shortened 1999 season … but that's because he had just begun his second of three NBA retirements.) The Sixers went 7-15 without Iverson in 2001-02 and the Lakers went 8-12 without reigning MVP Kareem Abdul-Jabbar in 1977-78. Chicago is 15-7 without Rose this season.
---
The Bobcats will obviously have the best lottery odds to land the No. 1 pick in this June's NBA draft, but history is assured no matter who winds up with the top overall selection.
Kentucky's Anthony Davis is poised to become just the second collegian ever to be named AP Player of the Year, lead his team to the national title and be drafted No. 1 overall.
The only player to hold those three distinctions: Abdul-Jabbar, then known as Lew Alcindor, after winning the national title at UCLA and being drafted No. 1 by the Milwaukee Bucks.
6.

Next For Dwight, Van Gundy?
Who should Orlando try to keep: D12, SVG, or both?

Stein: The Magic can no longer keep Stan. It's not just an untenable coach/star relationship anymore. It's an untenable coach/management relationship, too. The Magic had better hope Dwight decides staying in Orlando for the long term is his only PR salvation out of this mess, or else they'll end up losing both. But it's "Dwight or bust!" now.
To read the entire 5-on-5 debate, click here.
7.

Brave Heart, Ivy Résumé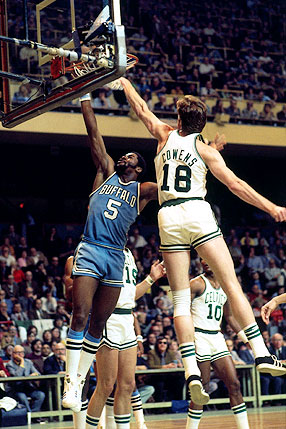 Dick Raphael/NBAE via Getty Image
If we're going to run a picture of All-Ivy League selection Jim McMillian in Marc Stein's Weekend Dime, you had to know it would be in a Buffalo Braves uniform. (See Box 2.)
Marc Stein joins host Mike Trudell on "The Popcorn Machine" podcast at Lakers.com to take an extended look at the Western Conference playoff race and assess where L.A. slots in after acquiring Ramon Sessions before the trade deadline.
Listen

Prominent ads on uniforms: Good idea or bad idea?
Marc Stein: The word I'd use is inevitable. I'm generally a purist who responds angrily to most big change in sports, but I love international soccer too much to sit here and preach about what an injustice this is, since it's been commonplace for decades in that world. It's a revenue stream that North American sports teams will inevitably find impossible to resist. Shirt sponsors will come to the NBA and all the other sports eventually, people will rail about how the sanctity of the uniform has been defiled forever … and then eventually we'll all get past it and rail about other things.
To read the entire 5-on-5 debate, click here.