While Rose Recovers, Melo Powers Knicks
By Israel Gutierrez
ESPN.com
NEW YORK -- There were elements of familiarity in Madison Square Garden on Sunday afternoon, from the raucous April crowd, to the explosive and, most importantly, well-timed scoring from Carmelo Anthony, one of the game's most reputable finishers.
"That's how the Garden's supposed to be," Anthony said.
There were some recognizable components to how the Chicago Bulls played as well.
Those, however, were more of the haunting kind. The missed free throws that not only bring back painful memories of regular-season games lost -- Chicago's first meeting with the Miami Heat this season was dropped, in part, thanks to Derrick Rose missed freebies -- but playoff games, too. And there was the inability to close out a big game despite Rose having multiple chances to do so.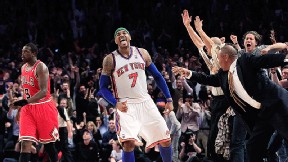 Chris Trotman/Getty Images
To be fair, of course, this was Rose's first game back after missing 12 straight with an injured groin, but in the grand scheme there couldn't be more of a contrast between these two potential first-round opponents Sunday afternoon.
The New York Knicks, who positively thieved a 100-99 win in overtime, have a superstar just getting into a timely groove. Anthony dropped a season-high 43 points, his highest scoring total in a Knicks uniform, including a pair of 3-point bombs that first extended the game in regulation, then won it for New York.
The Bulls, meanwhile, have their major player only beginning the always-awkward feeling-out process while returning from injury.
The Knicks are discovering a way to win, even against the better teams in the league, that was almost non-existent prior to Mike D'Antoni's removal -- a gritty commitment to defense that salvages even the poorest of shooting performances. New York shot 38.2 percent but managed to aggravate the Bulls thoroughly enough to win its eighth straight at home.
The Bulls are questioning themselves at the wrong time, piling uncharacteristic mental errors on top of the physical ones, all resulting in a depressed postgame locker room.
"You get what you deserve," Bulls coach Tom Thibodeau said.
Thibodeau had plenty to choose from when listing his team's mistakes, but the most frustrating were the 19 turnovers and, of course, the four missed three throws in the final 34 seconds of regulation that could have sealed the win for Chicago, which held a 91-81 lead with 3:45 remaining in the fourth.
The first two came courtesy of Luol Deng with 34 seconds left and the Bulls up by three. Tyson Chandler had a self-admitted mental slip that appeared to be quite damaging.
He fouled Deng despite their being a significant differential between the shot clock and game clock.
"I thought we were under the 24-second clock, and Luol was who I wanted to foul," Chandler said. "That's why I was aggressive on him, I didn't want it to get back to D-Rose or [Kyle] Korver, so I fouled Luol and looked up and saw it was a seven-second difference."
It was more like a 14-second difference, but it didn't matter. Deng clanged them both to keep the Knicks' hopes alive.
After a Steve Novak 3-pointer touched every part of the rim and tantalizingly bounced off the backboard before popping out, it was Rose's turn to seal the win.
He, too, missed both.
"Next time, I know I'll for sure hit one of them," Rose said.
That promise did him no good Sunday, because Anthony pulled up from 27 feet with 11 seconds left to tie the game. Rose followed with a missed step-back jumper that sent the game to overtime.
In overtime, the Bulls twice took four-point leads, only to see Anthony rise up from 3-point land again, this time down just two, and knock it down again.
This one sent the Garden into an absolute frenzy, and gave Anthony his second of possibly many signature moments in the building. The first came just a few minutes earlier.
"I didn't want to just go to the hole and just throw some crazy shot up," Anthony said. "They were playing me to drive."
Right. That's another source of aggravation for the Bulls' coach.
In both instances, Anthony had a hand in his face -- especially the game-winner, when Deng was literally centimeters away from Anthony's face upon the release.
Problem is, Thibodeau wanted him even closer. Even a contested 3 was unacceptable in his view.
"No, no, no," Thibodeau said. "You can't be giving up that shot. It's the only thing that gets you in trouble is the 3. You don't give it up. You make him drive. You make him take the 2."
The way it ended, the way the respective locker rooms felt and the fact that these two teams are currently in position to meet in the first round gave this game every bit of a playoff feel.
Of course, Rose should look more like his familiar self once those real playoffs come around (he said his groin felt fine and most of his errors, 18 missed shots and eight turnovers, were simply a matter of rust).
But at least on this Sunday, Bulls-Knicks looks like it would make for quite the entertaining series, with upset potential written all over it.
"That team played great, man," Rose said. "They were knocking down shots, didn't give up even when we took that big lead. They kept fighting.
"They're a good team. If we do play them, it'll be a fun series."
Israel Gutierrez covers the NBA for ESPN.com. Follow him on Twitter, @IzzyESPN.
Dimes past: March 23-24 | 25 | 26 | 27 | 28 | 29 | 30-31 | April 1 | 2 | 3 | 4 | 5 | 6-7
2. Around The Association