1. Another Day, Another Bear Victim
By Beckley Mason
ESPN.com
The Memphis Grizzlies continued their tear through the cream of the NBA crop, grinding down the visiting Los Angeles Clippers en route to a 94-85 win. The Grizzlies have won eight of their past 10, including victories over the Lakers, Thunder, Heat, Mavericks and now the Clippers, a possible first-round playoff matchup.
Marc Gasol was Memphis' man in the middle of everything. The Grizzlies leaned on the big Spaniard's point-center skills all night, repeatedly finding him rolling to the rim off pick-and-rolls, or hitting him in the high post, from where he is one of the great passers in the league. When he didn't finish himself, Gasol picked out teammates stationed around the perimeter and zipped pinpoint passes to cutters at the rim, racking up seven assists (to go with 18 points and eight boards) as he unraveled a threadbare Clipper defense.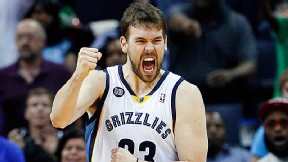 AP Photo/Lance Murphey
That Gasol had more assists than Chris Paul (who finished with just six) is a testament to how well he and the Grizzlies gummed up the Clippers' predictable pick-and-roll attack. Aside from a couple of sparkling moments, the Clippers and Paul looked dull from the outset, unwilling or unable to match the Grizzlies' activity and intensity on either end.
Even Blake Griffin, who played an efficient but understated game (19 points, 9-for-14 FGs) seemed stuck in low gear. He failed to make an impact on the boards (six rebounds) and went to the line just three times.
Certainly no one will be overjoyed to see Memphis in the playoffs, though they have yet to establish a real rhythm between their centerpieces and continue to bring Zach Randolph -- their best player in the playoffs last season -- off the bench.
But while Randolph (10 points 12 rebounds) rounds, or slims, into shape, stashing him on the second unit has created one of the most consistent attacks in the NBA. And it was Memphis' ability to keep the pressure on throughout the game that finally overwhelmed the Clippers in the second half.
The Grizzlies got 31 points from their bench, including an outstanding two-way performance from O.J. Mayo (13 points, 5 assists), while the Clippers played three fewer players and mustered only 15 points from their reserves.
With its physical, athletic style, Memphis will be a brutal matchup for anyone it faces in the playoffs. But its hiccup at the end of this game, when the Clippers came dangerously close to making things interesting in the final minute, raises doubts about its status as a contender.
Key roles still need some defining. For instance, Mike Conley needs to be the one making the decisions in crunch time. Questions remain. But over the past two weeks, the Grizzlies have come up with nearly all the answers.
Beckley Mason, the founder of HoopSpeak, covers the NBA for ESPN.com. Follow him on Twitter, @BeckleyMason.
Dimes past: March 23-24 | 25 | 26 | 27 | 28 | 29 | 30-31 | April 1 | 2 | 3 | 4 | 5 | 6-7 | 8
2. Around The Association