1. Celtics Punctuate Rise By Handling Heat
By Brian Windhorst
ESPN.com
MIAMI -- Paul Pierce, Ray Allen, Kevin Garnett and Rajon Rondo have won hundreds of games in their five seasons together, and plenty with a lot more on the line than Tuesday night.
But when their 115-107 victory over the Miami Heat was over they all came together near center court to share congratulations, lingering for just a moment and expressing just a little emotion. This wasn't exactly a defining game, but it sure was a satisfying one, and one that provided yet another reason for their confidence to grow.
Nine days earlier the Boston Celtics had smashed the Miami Heat in a one-sided affair at TD Garden, one of those games in which the home team just outclasses the visitor and both teams move on. But this one had a certain mastery to it, the culmination of the six weeks of edging closer and closer to their maximum potential, a goal that once seemed rather farfetched.
This time the Heat played well and did so on their own floor, where they have the best home record in the league. They hit the Celtics with their high-speed offense, their turnover-forcing defense with a full dose of LeBron James wizardry.
And the Celtics swatted it all away, going back to those halcyon days when they were everyone's big brother. The sort of stuff that inspired fear in their opponents and raised a 17th banner to the rafters.
"It took us a while, but as long as we're peaking at the right time," said Rajon Rondo, who had 18 points and 15 assists in a performance that was only one of his team's highlights. "I think our chemistry is growing each game, our confidence is growing each game."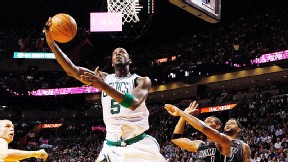 Mike Ehrmann/Getty Images
It would be hard to believe the Celtics can possibly play much better offensively than they did on this night. But then it would've been hard to believe at the All-Star break that Boston would've sailed into the Atlantic Division lead and be within striking distance of the third seed in the playoffs with nine games to go. But after eight victories in the past 10, two now over Miami, that is where the Celtics are.
Beyond the standings, though, the way they seem to be coming together has grabbed the league's attention. Already at the top of most of the defensive rankings because of their intensified focus, Tuesday the Celtics nailed 61 percent of their shots and 60 percent of their jump shots, all of it a product of ball and player movement that awed the Heat with its simplicity and execution.
The Heat found themselves going into timeouts shaking their heads. There was no lack of energy or focus this time, the flaw that has been a constant thorn in the second half of their season. For the most part, the Heat were playing really well. They just weren't good enough. Not a feeling they're used to and not a sensation they want against the Celtics, a team that they thought they'd buried after their second-round series victory last year.
"We left Boston feeling awful at our performance. I don't feel as bad tonight," said James, who had 36 points, seven rebounds and seven assists. "Not only did they make the open shots, but they made all the contested shots. They are the best jump-shooting team in the league. We tip our hat off."
It's one thing to beat a team. It's another to impress them. The Celtics have done that twice now to the Heat.
Garnett continued his individual renaissance, not only holding down Chris Bosh at the defensive end but showing off that old midrange jumper that is really indefensible when it's in rhythm. He made eight of nine jumpers from between 10 and 20 feet as part of a 24-point, nine-rebound performance.
Pierce, renewing his old rivalry with James, had 27 points but was the laggard of the group, making only half of his 16 shots. Rondo was feeling so good about his game that he was calling his own number in the second half, setting himself up for midrange jumpers that are supposed to be his downfall.
The Celtics' bench was short but stout, as Ray Allen, Greg Stiemsma and Sasha Pavlovic combined to make 9 of 14 shots. Only eight Celtics played, but all of them gave a meaningful contribution.
These sorts of numbers are not sustainable; this might go down as the Celtics' best offensive game of the season. But there are lots of reasons the Celtics shouldn't be where they are right now, from injuries to age to the shaky inconsistency that looked like it was going to be the theme of the season.
Yet here the Celtics are, the playoffs in sight and hitting a stride that some thought was in their past.
"We're not complicating the game right now," Celtics coach Doc Rivers said. "We're keeping it simple. … We played a sensational game."


NBA Writer Brian Windhorst
• On Twitter @WindhorstESPN | On ESPN.com
• Follow ESPN's NBA coverage on Twitter | On Facebook | On Google+
Dimes past: March 25 | 26 | 27 | 28 | 29 | 30-31 | April 1 | 2 | 3 | 4 | 5 | 6-7 | 8 | 9
2. Around The Association
3. Tuesday's Best
Hudson
Lester Hudson, Cavaliers: In only his seventh game with the Cavs after splitting the beginning of his season between China and the D-League, Hudson again made the most of his second 10-day contract in Cleveland. After topping 20 points in his previous two games, the former late second-rounder had his best performance yet: 25 points on 50 percent shooting, eight rebounds and six assists in a win over the Bobcats.
4. Tuesday's Worst

Dwight-less Magic: Orlando got a look at life without Dwight Howard on Tuesday, and it sure wasn't pretty. The Magic mustered only 85 points against the Wizards' 27th-ranked defense and allowed Kevin Seraphin to look like, well, Dwight Howard, as the center finished with 24 points and 13 rebounds.
7. Quote Of The Night
"If Kyle Korver blocks your shot there should be a penalty box you should go to."
-- Jeff Van Gundy, on the call for ESPN during the Bulls' 98-86 victory over the Knicks.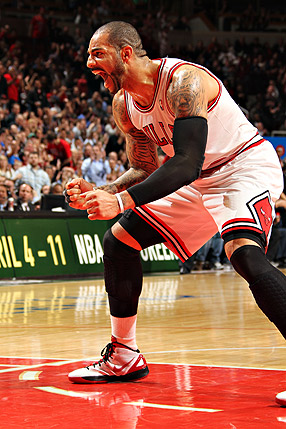 Nathaniel S. Butler/Getty Images
Without Derrick Rose this time around, Carlos Boozers and the Bulls evened the score with the Knicks after Sunday's overtime loss in New York.
By Elias Sports Bureau
James
LeBron James scored 36 points as the Miami Heat lost to the Boston Celtics. James has scored at least 20 points in each of his past 27 regular-season games against the Celtics. That's the longest current 20-point-a-game streak for any active NBA player versus one team, breaking a tie with Kobe Bryant, who has scored 20-or-more points in each of his past 26 games against the Warriors.