1. CP3's Clutch Shot Spoils Usual KD Ending
By Kevin Arnovitz
ESPN.com
OKLAHOMA CITY -- "When Kevin Durant hit that 3, we were all so mad," Chris Paul said. "I was pissed."
Can you blame him?
Paul's Los Angeles Clippers had clawed their way back from a double-digit deficit to take a precarious 3-point lead into the closing minute of the game on Wednesday night. Those delicate one-possession cushions must be cradled carefully, because wins over the Oklahoma City Thunder don't just fall in your lap. Not with Durant on his home floor dwarfing over your platoon of undersized small forwards. You've seen the highlights. You know how that script ends when Durant is the protagonist.
Yet there it was -- vintage Thunder, as Durant raced up from the right corner to collect a handoff from Russell Westbrook. Kendrick Perkins laid out one of his patented pancake screens on Paul, who crumpled to the floor as Durant found daylight at the top of the arc.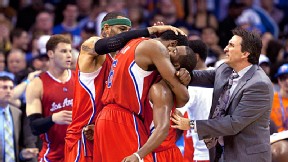 Richard Rowe/US Presswire
Paul's eyes followed Durant's shot through the air. As the ball fell through the net, you could see Paul's rage as he wagged his right arm in disgust. The Clippers' narrow lead had evaporated and the game was now tied 98-98 with 32.2 seconds remaining.
That's when Paul picked himself and his team up off the ground and went to work, with the crowd at Chesapeake Energy Arena in a frenzy.
Paul had been mired in something of a shooting slump since the beginning of the month, but after halftime, he promptly revived his game. And like so many perilous fourth quarters that preceded it, Paul assumed the role of savior again on Wednesday night, as he finished with 31 points and four assists.
Less than a minute before Durant's game-tying 3, Paul broke to freedom and slung the ball toward the hoop. When the shot clanked off the rim, Paul dove through traffic for the tip back to give the Clippers a 98-93 lead.
But it was Paul's final bucket, following the Durant 3-pointer, that provided the theatrics. Facing the Thunder's defensive ace Thabo Sefolosha at the top of the floor, Paul waived off a screen from Blake Griffin and sized up his defender.
"I did an in-and-out on [Sefolosha]," Paul said, referring to his impeccable left-to-right crossover dribble. "A lot of guys are used to me crossing over to get back to the middle, so I used the in-and-out and he went for it."
Paul went to the right of both Sefolosha and Kendrick Perkins, then faked a kickout pass to Randy Foye in the corner, before weaving past Westbrook, then finally twisting right and nearly falling out of bounds with the off-balanced shot to elude the NBA's leading shot-blocker, Serge Ibaka.
If you're scoring at home, that's one-on-four -- Paul vs. four-fifths of the Thunder's starting lineup. It's the kind of play that elicits a palm to the face by coaches, fans and teammates if orchestrated by a lesser talent. But the Clippers wouldn't want it any other way.
"That's the reason he is the best down the stretch," Griffin said. "He takes over games. For that to be our guy -- he has the ball in his hands a lot -- it just works out perfectly."
The Clippers are an imperfect team, but they've developed a certain resilience, fueled largely by Paul. Meanwhile Griffin, who has been taking grief in recent weeks from fellow ballers and crotchety fans, delivered a blue-collar performance against a defense that loaded up on him at the elbow every time he touched the ball. He scored 16 points, scrapped for 12 rebounds, dished out seven assists -- and added yet another poster to his collection, this one at the expense of Ibaka.
Leading 100-98 with 8.8 seconds remaining, the Clippers needed one final stop. To protect the arc with size, coach Vinny Del Negro inserted three big men.
The Clippers were well-prepared for the pin-down for Durant provided by Perkins, naturally. With DeAndre Jordan picking up Durant behind the arc on the switch, Durant fired up a 3-point attempt that caromed off the heel of the rim.
A strong contest by Jordan, and a signature road win for the Clippers.
"It was one of those games you just can't lose," Paul said.


NBA Writer Kevin Arnovitz
• On Twitter @kevinarnovitz | On ESPN.com
• Follow ESPN's NBA coverage on Twitter | On Facebook | On Google+
Dimes past: | April 1 | 2 | 3 | 4 | 5 | 6-7 | 8 | 9 | 10
2. Around The Association
3. Wednesday's Best
Bynum
Andrew Bynum, Lakers: On a night notable for big individual performances, Bynum's 30 rebounds in a 98-84 win over the Spurs warrants special mention. Thirty boards is the most in a single game this season.
4. Wednesday's Worst

The recently sizzling Spurs: Probably a natural letdown seeing Kobe on the sidelines, in a suit. Tim Duncan, Manu Ginobili and Tony Parker combined for 29 points in the loss to the Lakers. With Metta World Peace dropping in an efficient 26, the Lakers ruled the road in this one.
6. Tweet Of The Night
HUGE road win tonight! Strengthened our playoff spot, gutsy effort and Tyson didnt get a technical lol. Great night for KnicksNation!

— Jeremy Lin @JLin7 April 11, 2012
7. Quote Of The Night
"He's going to look like Rocky whether he wants to or not."
-- Raptors coach Dwane Casey, on Jose Calderon, who was smacked in the right eye, forcing him to the locker room for three stitches after a collision with Jrue Holiday in the third.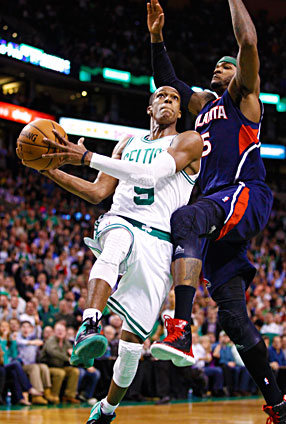 David Butler II-US PRESSWIRE
9. Bold Play Of The Night
Granger Leads Pacers
MVP: Danny Granger did his thing from all over the court on Wednesday night, taking the ball to the post for some easy baskets while hitting his jumpers whenever he got a look at them. He finished with a game-high 23 points, and his contributions in overtime sealed the game for the Pacers.
Turning point: With the Pacers up two and little more than two minutes remaining in overtime, Granger nailed a 3-pointer to put Indiana up by five, then hit an 18-footer less than a minute later to seal the game for Indiana. The Cavaliers gave the Pacers much more of a fight than they must have been expecting, but the Pacers' execution on both ends of the floor was simply too much for the Cavs in overtime.
That was … sad: Lester Hudson made a game-tying 3-pointer at the end of regulation against the Nets on Sunday, only to watch his team lose in overtime. On Wednesday, Hudson hit a game-tying floater at the end of regulation, only to watch the Cavs lose in overtime yet again. Hopefully Hudson's next clutch shot will actually lead to a Cavalier victory.
Sixers Rebound
MVP: Off the bench, Thaddeus Young provided some serious firepower, leading all scorers with 17 points and five rebounds. Even if the Sixers have looked flawed lately, they're still deep.
That was … workmanlike: Neither team seemed all that excited about playing basketball. Philly pried open a 20-point lead in the fourth and what little fight there was went out of the Raptors.
Defining moment: Jrue Holiday clocked Jose Calderon in his eye, sending him to get three more stitches in the same eye that Elton Brand injured last week. Calderon came back to the bench, the eye bloody and half-closed. Pretty much sums it up.
Smith's Strong For Hornets
MVP: Jason Smith looked like an All-Star on Wednesday night in New Orleans. The 26-year-old forward out of Colorado State lit up the Kings with 22 points on 10-for-12 shooting in just 27 minutes of action.
X factor: The Hornets got a major boost off the bench from Xavier Henry. Coming into the game, Henry was averaging just five points per game on 39 percent shooting. Against the Kings, Henry dropped 14 points while hitting 6-for-7 from the field.
That was … painful to watch: DeMarcus Cousins scored 25 points, grabbed 18 rebounds and picked up six steals Tuesday night in Dallas. Fast forward a day and the guy looked like a completely different player. Cousins got into foul trouble early and looked completely disinterested the rest of the game, finishing with seven points and four rebounds in 20 minutes for the Kings.