1. Title Contenders, Worry Warts And All

By Marc Stein
ESPN.com
Archive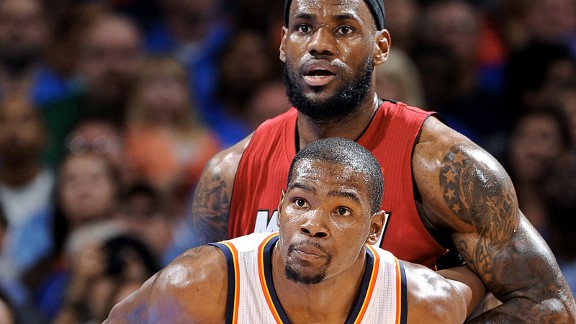 Garrett W. Ellwood/Getty ImagesEven MVP candidates Kevin Durant and LeBron James should step carefully on Friday the 13th.
Is seven enough?
Seven teams capable of winning it all?
Works for me.
Heading into the playoffs believing that nearly half the tournament field has what it takes to win a championship, as I do, makes me think we're in for the sort of surprise-filled postseason we always root for.
In order of record on this luckiest of Fridays, here are the seven teams that can get to the finish line if things break right:

The Bulls are going to win the East's regular-season crown despite Derrick Rose missing at least 23 games with a variety of ailments.
The Bulls pretty much clinched the East's No. 1 seed with a stirring victory over Miami that came with Rose back on the floor ... but also with Rose submitting what might have been the most ineffective performance of his career.
The Bulls rightfully aren't getting carried away with either achievement.
They know they can't. Until the Bulls see Rose in the playoffs, playing freely, they don't dare overblow what they've managed to do without him, no matter what this season's success says about the improvement of Rose's supporting cast.
Rose won MVP honors last season largely because he powered Chicago to 62 wins despite the combined 57 games missed by Joakim Noah and Carlos Boozer and the fact that they couldn't have won a big game if he performed the way he did Thursday night. Yet you can rest assured that coach Tom Thibodeau would be the first to co-sign on the notion that there's only one formula sure to take them beyond the Eastern Conference finals in 2012:
That's Rose playing at a high level, with no hesitation about reinjury, while getting the sort of help from those around him that never arrived during the 2011 East finals but truly saved Chicago this season.
If Rose is fully functioning by the time the playoffs start, or at least much closer than he looks now, Chicago becomes the unquestioned favorite in the East. No team plays harder or executes a game plan better. Yet as much as this might sound like a snap judgment after one of the worst nights of his young career, Rose's current state might give the Heat more hope than anything they've got going on their own.


---

Seven for seven.
Every team we're talking about here has a serious structural flaw or two.
For the Thunder, specifically, nothing is more glaring than their lack of interior scoring. OKC's tendency to be outfoxed by older, smarter teams like San Antonio that can game plan them into trouble -- as seen in the 2011 conference finals against Dallas -- is another lingering issue.
Yet those are flaws you can live with if you know you've got a highly talented team that can legitimately win the West. And coach Scotty Brooks knows he does.
It isn't just OKC's youth and athleticism that are overwhelming teams offensively these days. The Thunder are using their speed and length to get end to end faster than anyone else, controlling the passing lanes and even the paint with their improving defensive focus and otherwise coping just fine with only three recognized scorers: Kevin Durant, Russell Westbrook and James Harden.
When the season began, the Thunder had nearly as many skeptics as Miami has when it comes to doubting their ability to deliver when it matters. Now? There have been a few stumbles since the Thunder rose to the top of ESPN.com's weekly NBA Power Rankings on April 2, but you have to strain a lot harder to hear that sort of talk.


---

I admit it (again): I thought the Spurs were finally finished. Back in December, when the lockout ended, I saw little hope for the black and silver. No financial flexibility to change their team. No apparent trade assets, either, unless they wanted to move Tony Parker.
And now I'll admit, once again, that I (and countless others) couldn't have been more wrong.
Turns out that the drafting of Kawhi Leonard changed the team enough early on, because (A) Leonard fit in San Antonio's system better than any of us outsiders realized, and (B) coach Gregg Popovich and general manager R.C. Buford were wise enough to keep Parker. Embracing his new role as the Spurs' focal point, Parker has taken over as if this were his national team back in France, combining with the likes of Leonard and Gary Neal and Cleveland Cavaliers castoff Danny Green to make the Spurs dynamic again. Meanwhile, Pop has focused on slashing Duncan's minutes as Manu Ginobili has slowly worked his way back from a broken hand.
At 29, Parker is as hard to handle in pick-and-rolls as any point guard you want to name.
San Antonio likewise managed to import further reinforcements in March, despite those allegedly suspect trade chips, turning Richard Jefferson into Stephen Jackson and signing Tony's buddy Boris Diaw. The result is a d-e-e-p squad unexpectedly bidding to reclaim the West's No. 1 seed ... only this time with a healthy Ginobili.
That still might not be enough to put the Spurs back on a title track in Year 5 since their last championship in 2007. They know they not only need a full-strength Tim, Tony and Manu but also flurries of 3s when it matters to counter their lack of dependable size beyond Duncan. The Lakers and Grizzlies can (and should) punish them badly inside.
Of course, compared to the Spurs' consensus outlook at Christmas, those are great problems to have. (Also: San Antonio just quietly completed a 4-0 season sweep of the Memphis team that was supposed to dominate the Spurs down low.)


---

Amazing, isn't it? No matter how many teams you think can win the championship two months from now, I'm pretty sure we can all agree on this point: No team in the discussion is more freaked out on this Friday the 13th, suddenly soaked in self-doubt, than the Heaters.
They're 13-10 since the All-Star break. They're pretty much unable to count on anyone offensively not named LeBron James or Dwyane Wade these days, which instantly makes you wonder if the Heat would ever dare to make the very un-Riley-like decision to concede the East's No. 1 seed after what happened Thursday night in Chicago and start slicing the stars' minutes to try to steal them some needed rest.
Because, at this rate, LeBron and D-Wade are going to have to find something extra in May and June just to haul the Heat back to the point where they have the opportunity to flame out in the Finals again.
We know this group can find a playoff groove, without warning, because it did just that in the middle rounds of the 2011 playoffs against Boston and Chicago before it all spectacularly unraveled against the Mavs. So that provides at least some reassurance.
But the bulk of the recent evidence suggests that the Heat, even if no one's crazy enough to suggest that they should be outright stricken from The List, have drifted and aged to a dangerous, vulnerable place.
I've been saying for a while that casting my MVP vote for LeBron, no matter how individually spectacular he's been, just doesn't feel right when LeBron's team hasn't lived up to expectations and is poised to lose the conference race even though Derrick Rose has missed a third of the season. How valuable is that statistical brilliance when the Heat are backsliding?
Only now it seems smarter to say, after Miami lost its umpteenth big road game in the season's second half, that the MVP race should be the least of LeBron's worries right now.


---

Without Ramon Sessions, Kobe Bryant & Co. aren't in this conversation. Even with Sessions and what he's done to breathe life into the Lakers' ball movement, it's hard to look at the Lakers and look past the bench issues (and their corresponding dearth of perimeter shooting) and project them to win 16 playoff games. Or even 12.
(It's not much easier, at least for me, to shake those nagging suspicions that the veterans' frustration with the way coach Mike Brown runs things, compared to how Phil Jackson used to do it, is going to bubble up again when things start getting tight.)
However ...
One Wednesday night in April is all it took to ensure that the Lakers, for all their limitations, will be factoring into everyone's thinking from here. What they did to San Antonio -- in San Antonio, without No. 24 and riding Andrew Bynum -- made sure of that.
So dismiss L.A. at your peril. Warning signs aplenty are there -- whether it's the heavy minutes Kobe has already logged this season or the worrisome prospect of a feeling-his-oats Bynum straying further out onto his new limb after snagging those THIRTY boards in the Alamo City -- but they're still the Lakers.
Still bigger than just about anyone ... with a championship closer to boot.


---

Determined to pick at least one legit sleeper, I gave deep consideration to both Orlando (simply because the sight of Dwight Howard is something both Chicago and Miami dread) and the Los Angeles Clippers (in a nod to the way Chris Paul is closing games -- see Box 5 -- and how much trouble CP3 alone gave the Lakers in the first round last season when he was surrounded by far less help).
Ultimately, though, there's no team outside the conventional favorites with the sort of depth and size and physicality that the Griz can muster.
Doubts persist about whether they have enough shot-makers and poise under pressure -- or enough of the 2011 Zach Randolph -- to take the next step and win multiple playoff rounds after last spring's Round 1 takedown of the top-seeded Spurs. Yet I assure you that the Spurs, the Lakers and the defending champs from Dallas, if anyone still cares about them, dread the thought of running into Team Grit/Grind. Especially early.
The Grizzlies haven't replaced everything they lost when Darrell Arthur was lost in December to a season-ending Achilles injury, but the additions of Marreese Speights and, yes, Gilbert Arenas have worked out better than anyone imagined. The response that no-nonsense coach Lionel Hollins consistently gets from his team is yet another reason why Memphis will be such a tough out, even without home-court advantage.


---

Show me a team with more key players playing well. Show me a team playing more suffocating team D than Boston is at the moment. Show me a team in the East with more championship know-how. Or more last-hurrah hunger.
Right.
You can't.
The Celts might have been teetering toward extinction as recently as the All-Star break, when they were 15-17, but huge second-half spikes in performance from Rajon Rondo, Kevin Garnett and Paul Pierce -- along with the surges-from-nowhere-to-prominence for Avery Bradley and Greg Stiemsma -- have completely changed the way we look at these guys.
Just like San Antonio, Boston is ripe to be overwhelmed by size, perhaps even more so than the Spurs because the Celts' return to championship-level D doesn't change the fact that they're near the bottom of the league in rebounding. The big difference between the Celts and Spurs, though, is where they play. The Cs won't see the teams that can hurt them the most (Lakers and Grizzlies) unless they get all the way to the Finals.
Which is something that, yes, is indeed possible because of the current state of the East.
The issues that the Bulls and Heat are facing have opened the door. It also doesn't hurt that Boston boasts the East's most plugged-in point guard on top of that suffocating D and a coach in Doc Rivers who is uniquely qualified to sell Ray Allen on coming off the bench for the first time in his career to let Bradley flourish.
Are we getting carried away Bill Simmons-style? Perhaps. The Celts' collective age makes them vulnerable to be struck down by ill health at any time. Yet so many good things are happening for them right now that it really makes you ask yourself if Boston simply forgot that it's supposed to be too old and creaky for any of this.
Dimes past: April 1 | 2 | 3 | 4 | 5 | 6-7 | 8 | 9 | 10 | 11


ESPN.com senior writer Marc Stein
• On Twitter @ESPNSteinLine | On TrueHoop | On ESPN.com | On email
• Follow ESPN's NBA coverage on Twitter | On Facebook | On Google+
2. The Vegas View
As stated above: Seven teams are capable of winning the NBA championship in 2012.
On my scorecard.
The people who prognosticate for a living see it a little bit differently. Courtesy of the online bookmakers at Bovada.lv -- and strictly for recreational purposes, of course -- here's how the championship odds stack up for Bovada's top 10 teams as of Friday morning:
| | TEAM | ODDS TO WIN IT ALL |
| --- | --- | --- |
| 1. | Miami Heat | 11/5 |
| 2. | Oklahoma City Thunder | 10/3 |
| 3. | Chicago Bulls | 7/2 |
| 4. | San Antonio Spurs | 17/2 |
| 5. | Los Angeles Lakers | 15/1 |
| 6. | Boston Celtics | 16/1 |
| 7. | Los Angeles Clippers | 20/1 |
| 8. | Memphis Grizzlies | 25/1 |
| 9. | New York Knicks | 25/1 |
| 10. | Dallas Mavericks | 30/1 |
Just for comparison's sake, here's how Bovada's odds looked the last time I checked with them on March 16:
| | TEAM | ODDS TO WIN IT ALL |
| --- | --- | --- |
| 1. | Miami Heat | 3/2 |
| 2. | Oklahoma City Thunder | 4/1 |
| 3. | Chicago Bulls | 17/4 |
| 4. | Los Angeles Lakers | 12/1 |
| 5. | San Antonio Spurs | 14/1 |
| 6. | Los Angeles Clippers | 15/1 |
| 7. | Dallas Mavericks | 20/1 |
| 8. | Boston Celtics | 30/1 |
| 9. | Orlando Magic | 30/1 |
| 10. | Philadelphia 76ers | 30/1 |
3. Eastern Conference

Interesting footnote that emerged from the Lamar Odom saga earlier this week in Dallas: Sources close to the situation say that Odom would likely have landed with the New Jersey Nets had the Los Angeles Lakers' trade for Chris Paul gone through in December.
In a deal that NBA commissioner David Stern ultimately canceled, acting as the lead decision-maker for the then-league-owned Hornets, Odom was included as part of the package bound for New Orleans (along with the Rockets' Luis Scola, Kevin Martin and Goran Dragic) in exchange for Paul, with Houston poised to acquire the Lakers' Pau Gasol.
When the deal for Paul dissolved, L.A. decided to offload the unhappy Odom to the Mavericks for a future first-round pick, despite the fact that Dallas had just swept the Lakers in the second round of last spring's playoffs.
Sources say that the Hornets, had they been able to trade Paul to the Lakers instead of the Clippers, were well aware that Odom would not be taking his exile from Lakerland well and thus had a trade lined up with New Jersey that would have sent Odom to Deron Williams' Nets in exchange for a future first-round pick.
Would the New York native have come to grips with his Lakers exit faster if he had joined the Nets as opposed to the Mavs? Something we'll obviously never be able to answer.
---
Some numbers of note in the East this week:
36: When three Philadelphia reserves bettered 15 points and eight rebounds each in Tuesday's much-needed road win at New Jersey, it marked the first time in nearly 36 years that any team got that sort of production from three members off its bench. Lou Williams had 20 points and eight rebounds, while Thaddeus Young and Spencer Hawes each posted 19 points and eight boards. The last NBA team to get three such performances from its bench, according to the Elias Sports Bureau, was Seattle against San Antonio on Nov. 9, 1976: Bobby Wilkerson (17 points, nine rebounds), Dean Tolson (19 and eight) and Dennis Johnson (19 and eight).
5: Orlando's Dwight Howard recently became the Magic's all-time leader in regular-season minutes played, passing Nick Anderson's 24,922 minutes and becoming the fifth active player to hold his franchise record. The others: Kobe Bryant (Lakers), Tim Duncan (Spurs), Dirk Nowitzki (Mavericks) and Dwyane Wade (Heat).
9: Howard is up to nine 20-point, 20-rebound games this season. Over the past 25 seasons, only two players have had more such games in a single season: Atlanta's Kevin Willis with 12 in 1991-92 and Minnesota's Kevin Love with 11 last season.
4: When Carmelo Anthony delivered 32 points in the Knicks' crucial victory Wednesday at Milwaukee, it improved Melo's career scoring average at the Bradley Center to 29.6 points per game, good for fourth in the building's history for opposing players behind Michael Jordan, Allen Iverson and LeBron James.
24: Melo's decisive 3-pointer with 8.2 seconds to go Sunday not only gave the Knicks a 100-99 win over Chicago but improved his success rate to 24-for-52 from the field (46.2 percent) in game-tying or go-ahead situations in the final 15 seconds of the fourth quarter or OT over the past 10 seasons. His 24 field goals in those end-game situations are second to Kobe Bryant's 26 in that span ... although Bryant is shooting just 26-for-86 in such situations (30.2 percent).
4. TrueHoop TV: Weekend Dime Edition
In a special Weekend Dime edition of TrueHoop TV, Marc Stein joins Henry Abbott to take stock of the Mavericks and Lakers before the teams meet Sunday in an ABC on ESPN showdown at Staples Center.
5. Marc's Quote

Collins
"It's been a season of drama throughout the league, that's all I can say, and drama wears you down. ... The only team that doesn't deal with drama in the NBA is the San Antonio Spurs. They're drama-free. Every other team has drama. It just depends what level."
Sixers coach Doug Collins, submitting one of my favorite quotes of the season Saturday night before a home loss to an Orlando team drowning in drama.
And Collins would certainly know. The former TNT analyst is obviously well-versed in summing things up succinctly and, in his new gig, has certainly witnessed his share of creative tension in Philly since the All-Star break, thanks to some questionable comments by Andre Iguodala to Sports Illustrated about teammate Lou Williams' defensive shortcomings and a 9-18 slide that was finally halted this week with road wins at New Jersey and Toronto.
Led by the suffocating Iguodala on the perimeter, Philly defends with too much vigor to slip all the way out of the East's top eight ... which suggests, incidentally, that the Sixers are still responding quite well to the coach despite recent speculation to the contrary. But spending time in close proximity to this offensively challenged group makes it clear -- even if you buy the recent criticism leveled by the Professor, ESPN.com's John Hollinger, that Philly's offense is too conservative -- just how misleading its 20-9 start (fueled partly by a soft schedule) and its average point margin (still plus-4.9 ppg thanks to all those early blowouts) really are.
Forget franchise players. There isn't a player on the current roster, from an offensive standpoint, who makes you think he can even get to the border crossing of go-to guy territory. The Sixers began the season with a continuity edge over most teams after the five-month lockout and have continued to help themselves with what still ranks as the league's No. 2 defense and how they take care of the ball, but the sense here is that they'll be a team to watch in late June and July more than the playoffs. That's when management will inevitably be forced to try to overhaul things and import at least one certifiable scorer to jump-start a group that's fatally finisher-free.

The 20-man roster
named by Team USA chairman Jerry Colangelo in January is already down to 17, with training camp in Las Vegas still almost three months away.
The Clippers' Chauncey Billups suffered a season-ending Achilles tear in February to end his Olympic dream. Lamar Odom's nightmarish season in Dallas, which came to an abrupt end earlier this week, has left USA Basketball officials little choice but to rule him out of consideration for the London Olympics despite Odom's prominent role on the 2010 squad that won the FIBA World Championship in Turkey.
And now Portland's LaMarcus Aldridge is headed for hip surgery that's expected to keep him sidelined for at least two months, by which time Colangelo is scheduled to have already selected Team USA's official 12-man roster with six alternates.
Colangelo and Team USA coach Mike Krzyzewski want to have their preferred 12 chosen by early June. Sources with knowledge of Team USA's plans said this week that there have been no indications to date that replacements for Billups, Odom and Aldridge will be added to the preliminary roster, meaning that the June roster will likely only feature five alternates ... unless injuries take out more candidates between now and the end of the playoffs.
As Colangelo has previously explained, USAB decided to name 20 finalists back in January -- two more than originally expected -- in anticipation of injuries piling up during the NBA's lockout-shortened season.
Western Conference residents Russell Westbrook, Blake Griffin, Rudy Gay and free agent-to-be Eric Gordon are among the 17 remaining finalists not guaranteed a spot on the 12-man roster, along with Philadelphia's Andre Iguodala. Team USA's relative lack of size is expected to to help both Chris Bosh and Tyson Chandler land two of the 12 tickets to London.
---
Some numbers of note in the West this week:
6: Portland's LaMarcus Aldridge heads for hip surgery ranking as one of just six players this season to be shooting at least 50 percent from the floor and at least 80 percent from the line. The other five: Oklahoma City's Kevin Durant, Boston's Kevin Garnett, Utah's Paul Millsap, Nash and Miami's Dwyane Wade.
3: When Chris Paul converted on a driving layup Wednesday night in OKC to seal a huge road win for the Clippers over the Thunder, it marked the third time this season that CP3 has produced the game-winning bucket in the final 10 seconds of the fourth quarter or any overtime period. Paul is now tied with Wade for the most game-winning buckets that late this season and gave Paul eight such decisive baskets over the past four seasons, which ties him with Carmelo Anthony and Kobe Bryant for the league lead in that span.
12: San Antonio's Gregg Popovich is up to second all-time among coaches with 12 double-digit winning streaks in his career, trailing only Phil Jackson (18) while sitting one ahead of Red Auerbach and Pat Riley.
10: With 12 assists in the Nuggets' rout of Golden State on Monday night, Denver's Andre Miller moved past Maurice Cheeks into 10th place on the NBA's all-time assist list. The player to benefit most from Miller's 7,405 dimes is Carmelo Anthony, who rung up 502 career buckets off passes from Miller when they were together in Denver.
5: Andrew Bynum became just the fifth Laker to amass 30 rebounds in a single game in Wednesday's big win at San Antonio ... and Shaquille O'Neal isn't one of the other four. According to the Elias Sports Bureau, Bynum joins George Mikan, Elgin Baylor, Wilt Chamberlain (who snared at least 30 rebounds 14 times as a Laker) and Kareem Abdul-Jabbar in that exclusive club. It was the Lakers' first 30-rebound performance since Kareem had two in 1978. And only Baylor (24 years and 51 days old when he had his first of three 30-board games with the Minneapolis Lakers in 1958) was younger when he achieved the feat than Bynum is now (24 years and 168 days old).
---
The New Orleans Hornets sold for a slight profit Friday, confirming why the notion of contraction -- as raised during the lockout -- was never anything more than negotiating nonsense.
The NBA didn't spend a reported $318 million in December 2010 to buy the Hornets from a going-broke George Shinn and save the franchise from ruin to turn around and shut the team down. Not when league officials always believed that they could top that figure when they ultimately sold the Hornets, which is precisely what happened when New Orleans Saints owner Tom Benson stepped up this week to purchase the local NBA franchise for a reported $338 million.
Not unlike the sale of the Golden State Warriors in 2010, when a group fronted by Joe Lacob won the bidding after it was widely assumed that Larry Ellison would emerge as the victorious bidder, Benson has swooped in to upstage a group fronted by California businessman Raj Bhathal -- and featuring former Los Angeles Clippers coach Mike Dunleavy -- that was long regarded as the favorite to land the Hornets.
And that means Dunleavy will not be assuming control of the Hornets' basketball operations in a "CEO role," as it's been described in coaching circles, which gives current coach Monty Williams and general manager Dell Demps renewed hope that they'll be able to stay right where they are.
At 16-42 entering Friday's play after the December deal that sent Chris Paul to the Los Angeles Clippers, New Orleans is on course to have two lottery picks in June. One of those picks is an unprotected selection acquired from the Clippers in the Paul deal via the Minnesota Timberwolves, whose slide out of playoff contention without the injured Ricky Rubio has ensured that the Hornets will indeed see the trade piece NBA commissioner David Stern coveted most when, in his role as the league-owned Hornets' lead decision-maker, he canceled New Orleans' original three-team trade with Houston and the Los Angeles Lakers to send Paul to L.A.'s more glamorous franchise. Mere days after blocking the trade with the Lakers and Rockets, Stern authorized the Hornets to trade Paul for the Clippers' package of Eric Gordon, Chris Kaman, Al Farouq-Aminu and Minnesota's unprotected pick.
7.

One On One ... To Five
Richardson
Five questions with Magic swingman Jason Richardson:
Q: You've been around the block. You played on a pretty wild Warriors team [in 2007 that upset Dallas in the first round of the playoffs]. But I imagine this season has been the wildest of them all.
A: Crazier than any year that I've been a part of. That's a different crazy. This is insane crazy.
Q: Here in the locker room, how much are you guys talking about the same stuff we talk about when it comes to Dwight [Howard] and whether he'll stay or go and all that?
A: We really try to stay away from that. All we can control is what happens on the court. Management handles everything else.
Q: Dwight's teammates aren't mad or frustrated by this whole saga? What do you say to him when you talk to him?
A: We just try to be positive around [Howard]. We tell him to just stay focused, be our leader, be the guy that's the best player on our team and one of the most dominant players in the league.
I think he's played well for the most part. At times you could tell it's bothered him, but he's human. We just try to be behind him.
Q: Management seems to think you guys can keep playing through all the Dwight questions. Can you guys really put it all to one side and do something in the playoffs? It's hard for us on the outside to understand how that can happen.
A: I think we're just a lighthearted team. When we're uptight and we're thinking too much, that's not good for us. We got a lot of guys on this team that like to joke and laugh. When you see guys smiling on the court, that's when you know we're gonna win the game. I think that's the best thing about this team. We don't try to press each other too much. We just try to have fun and relax.
Q: From your vantage point, how can Stan [Van Gundy] and Dwight coexist after what Stan said last week [about knowing that Howard asked to have him fired]?
A: They've had their differences, but I think they've cleared it up. We're all just trying to get on the same page right now. We're trying to put that all behind us.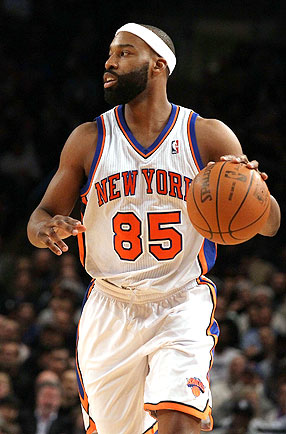 Dick Raphael/NBAE via Getty Image
There are two NBA players celebrating Friday the 13th birthdays this weekend: Orlando's Quentin Richardson (32) and the New York Knicks' Baron Davis, who turned 33 on Friday.
Rondo
It's one of the best races going as we move into the final 14 days of the regular season.
The NBA assist race.
Two-time reigning champion Steve Nash of the Phoenix Suns is averaging 11.1 dimes per game. Which leaves Nash, at age 38 and with no teammate to throw it scoring more than Marcin Gortat's 15.8 points per game, just shy of Boston's Rajon Rondo, who averages 11.4 dimes.
Rondo has seized the league lead with a remarkable run of 18 consecutive games with at least 10 assists, something that hasn't been done in the NBA since Utah's John Stockton uncorked a streak of 29 straight double-digit assist games in the 1991-92 season.
Nash
Nash, meanwhile, is headed for a major milestone this month whether or not he can reclaim the seasonal lead from Rondo, entering the weekend just 38 dimes shy of passing Oscar Robertson (9,887) for fifth place on the NBA's all-time assist list.
With an assist from the Elias Sports Bureau, here's a helpful handful of supplementary lists in honor all their dishing:
Most Career Assists, NBA History
| Rank | Name | Tot. |
| --- | --- | --- |
| 1. | John Stockton | 15,806 |
| 2. | Jason Kidd | 11,817 |
| 3. | Mark Jackson | 10,334 |
| 4. | Magic Johnson | 10,141 |
| 5. | Oscar Robertson | 9,887 |
| 6. | Steve Nash | 9,850 |
Most Games w/10+ Points, 10+ Assists,
This Season
| Rank | Name | Tot. |
| --- | --- | --- |
| 1. | Steve Nash | 26 |
| 2. | Deron Williams | 20 |
| 3. | Chris Paul | 19 |
| 4. | Rajon Rondo | 19 |
Most 20-Assist Triple-Doubles, NBA History
Player
Total
Most Recent
Rajon Rondo
4
Wed.*
Magic Johnson
4
1988-89
Oscar Robertson
3
1963-64
*10 points, 10 rebounds, 20 assists in win over Atlanta
Most 20-Assist Triple-Doubles,
Last 25 Seasons
| Name | Tot. |
| --- | --- |
| Rajon Rondo | 4 |
| Jamaal Tinsley | 1 |
| Rod Strickland | 1 |
| Fat Lever | 1 |
| Magic Johnson | 1 |
Most Triple-Doubles, Regular-Season,
Celtics History
| Name | Tot. |
| --- | --- |
| Larry Bird | 59 |
| Rajon Rondo | 13 |
| Antoine Walker | 13 |
| Paul Pierce | 5 |
Griffin
I know, I know.
You'd rather talk about his free throw woes. Or the static he gives the refs. Or the interesting stat dug up by my man Matt Moore from Hardwood Paroxsym about how, entering Wednesday night's play, Blake Griffin had missed 74 of the 112 unguarded jumpers he's hoisted this season.
There are lots of warts to discuss lately when it comes to the NBA's one-man poster factory. ESPN.com's own Justin Verrier does a fine job here of getting you caught up on all of the above and more.
So I repeat: I get it.
Yet you can also make the argument that, thanks to our natural inclination to expect more and more from such a talented man-child whose every muscle twitch is in the spotlight, we don't talk enough any more about Blake's gifts and specialties. And you can safely assume Griffin will be hearing about what he's not doing with even greater frequency and volume this summer at Team USA camp, when he's on the same floor every day with the increasingly well-rounded Kevin Love, whose game gets a little more diversified every year ... since that's a trick Griffin hasn't shown us yet.
Sometimes, though, you just have to remember to enjoy the show. Sometimes it's healthy to remind ourselves that Griffin is doing things to the rim and defenders that, Shawn Kemp aside, we've never seen from guys his size. (Isn't that right, Serge Ibaka?)
Which is why I feel compelled to pass along this fun stat that blipped onto our radar over the weekend, when Blake nearly reached double digits in dunks in a single game against his new pal DeMarcus Cousins and the Sacramento Kings.
If, like me, you'd get a kick out of knowing who has accounted for the five busiest dunk nights of the season so far ... now you know:
Most Dunks, Single Game, 2011-12
| PLAYER | DUNKS | GAME |
| --- | --- | --- |
| Blake Griffin | 8 | April 7 vs SAC |
| JaVale McGee | 7 | Mar. 21 vs DET |
| Dwight Howard | 7 | Mar. 1 vs OKC |
| Blake Griffin | 7 | Feb. 4 at WAS |
| Dwight Howard | 7 | Jan. 4 vs WIZ |