1. Road Win A Step Forward For Heat
By Brian Windhorst
ESPN.com
NEW YORK -- Erik Spoelstra could have a second career as a public relations consultant.
Last year when his Miami Heat were having some internal issues, he branded it "healthy conflict." Last Friday when he benched a handful of players against the woeful Charlotte Bobcats it was not "rest" but "maintenance."
With his team in the midst of a months-long struggle in key road games and just generally thrashing around in search of momentum as the playoffs creep closer, Spoelstra admitted his team had "a level of healthy concern." Prefaced that this healthy concern was "not a panic, not a worry."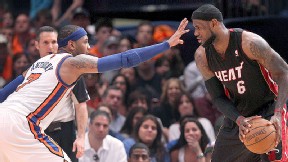 AP Photo/Seth Wenig
Call it whatever you want, the Heat were in dire need some something to feel good about. They got that Sunday with a quality road victory over the New York Knicks 93-85. The Southeast Division title came with it, although that was hardly what the Heat were thinking about after the game.
It was the first time the Heat had beaten a team with a winning record on the road since March 16, when they won in Philadelphia. Losses in Oklahoma City, Indiana, Boston and Chicago have come since then. Considering the Knicks had won their past nine games at Madison Square Garden, the argument could be made that Sunday's win, which took the Heat coming from behind in the fourth quarter, was the team's most legitimate road victory since back on Feb. 14 at Indiana.
"It came at a good time for us," said Dwyane Wade, who scored eight of his 28 points in the fourth quarter to help his team finish the game off. "We were struggling to play a complete game on the road and what better place to come in and focus than here. This team has been playing well and they can embarrass you if you don't play your game."
Beating the Knicks, who slipped behind the Philadelphia 76ers to the No. 8 seed with the loss, may not send the Heat back to title favorite position. But call it a "healthy market correction" after late-game problems undercut their chances to win in Chicago last Thursday and left the Heat openly questioning their heading.
The Knicks were ahead with eight minutes to play and Carmelo Anthony already had 39 points. J.R. Smith, who nailed four 3-pointers and had 16 points, was victimizing the Heat's famously problematic 3-point defense and posing for the crowd. Things looked like they were headed for an "unhealthy repetition" for the Heat.
But then LeBron James came into the game and was able to effectively keep Anthony in front of him without double-team help, which lessened the Knicks' 3-point risk, and the Heat got some baskets in the half court against a Knicks defense that became limited when Tyson Chandler tweaked his knee in the third quarter.
Anthony went scoreless for six minutes with James on him and ended up just 1-of-4 for three points after James began guarding him down the stretch. He still had 42 points, the most the Heat have allowed to an opponent this year, but as the Knicks' only real offensive option, the game turned once he was neutralized.
"We got some defensive stops and made a few plays, and weren't able to close it out in Chicago," said James, who had 29 points and 10 rebounds. "Tonight we were able to execute, it was a big road win for us."
Chris Bosh had his first double-double since Feb. 21, a span of 22 games, with 16 points and 14 rebounds. He had three key baskets early in the fourth quarter when the Heat were struggling to convert.
Led by that Bosh effort, the Heat, who hadn't won the rebounding battle on the road against a team with a winning record since that Valentine's Day win in Indiana, outrebounded the Knicks by 14.
"To me that's not a team that should necessarily out rebound you," grumbled Chandler, who had just five rebounds after being on a streak of seven straight double-figure rebound games.
Neither team was ready to put too much emphasis on the outcome. Anthony said: "We feel very confident against anybody right now, our confidence is sky high."
Meanwhile, Spoelstra echoed his team's not so subtle relief but was quickly back in a mode of qualifying things. In this case he didn't need fancy verbiage, he called it like it was. The Heat aren't out of the woods but they left an arena on a bus with smiles for the first time in recent memory.
"It means something about us and how we've been playing on the road as of late," Spoelstra said. "We wanted to do a better job of it and the only way you can do it is show up and collectively do it better. … It was a step forward. We won't make it more than what it is, all it is is just one step for us to work on our mental toughness."


NBA Writer Brian Windhorst
• On Twitter @WindhorstESPN | On ESPN.com
• Follow ESPN's NBA coverage on Twitter | On Facebook | On Google+
Dimes past: April 1 | 2 | 3 | 4 | 5 | 6-7 | 8 | 9 | 10 | 11 | 12-13 | 13-14
2. Around The Association
3. Sunday's Best
Anthony
Carmelo Anthony, Knicks: Big effort (42 points, nine rebounds and five assists) in the 93-85 loss to Miami. Had one of the Heat's big three faltered, Melo's magic just might have been enough to carry the Knicks.
4. Sunday's Worst

The ever-non-trustable Hawks: Ah, they didn't want that No. 3 seed anyway. Much credit to the Raps using three guys on 10-day contracts to play hungry. Not much credit to the Hawks for losing by 16 to visiting Toronto.
6. Tweet Of The Night
OMG I almost forgot...I'm at 3million followers 2day..3 is an incredible number so I'm excited as y'all can see...thank you guys for the love

—Dwyane Wade @DwyaneWade April 15, 2012
7. Quote Of The Night
"I command and ask for the ball in that situation, and to not be able to deliver for the team is an utter disappointment. "
-- Jason Terry, after miscalculating on a late layup attempts during the loss to the Lakers.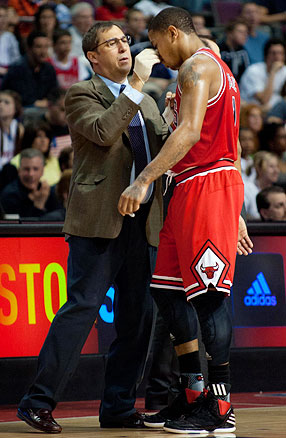 Tim Fuller-US PRESSWIRE
Bulls point guard Derrick Rose
did not take kindly to a blow
from Charlie Villanueva that drew blood. Rose exacted his revenge with a clutch 3-pointer in Chicago's 100-94 comeback win.