1. Jazz Go 3 OTs To Keep Playoff Hopes Alive
By Spencer Hall
TrueHoop Network
SALT LAKE CITY -- It's an old saying in journalism: "Whenever a player sticks a finger in the ear of an opponent, it leads." Or something like that.
Somehow, Monday's triple-overtime Dallas-Utah game had enough craziness to nearly overshadow Delonte West's giving Gordon Hayward a playground-variety "West Willie." It also made for fun times in the press room as reporters tried to get a style reference on whether it should be "Willie" or "Willy."
But the games within the game had nothing on the dramatic finishes to regulation and all three overtime periods. Dirk Nowitzki (40 points, 9 rebounds, 6 assists) and Jason Terry (27 points, 4 3-pointers) hit big shot after big shot, only to be matched by Al Jefferson (28 points, 26(!) rebounds), Devin Harris (23 points, 5 3-pointers) and Gordon Hayward (24 points, 5 assists, 4 rebounds).
The Jazz have had a flair for the dramatic this season, with 12 games decided by three points or fewer, losing half. But after dropping five heartbreakers at home, the Jazz picked a great time to put together their most resilient effort of the season. Utah now sits one-half game out of the eighth spot behind Phoenix and Houston with four games left and three at home.
After being criticized for riding his starters through nearly the entirety of a four-overtime loss last month in Atlanta, Jazz coach Ty Corbin again went the distance with one unit. Four Jazz players logged more than 53 minutes, and DeMarre Carroll put in 45, despite a root canal earlier in the day.
As for the Mavericks, the loss comes a day after losing in overtime to the Lakers. Dallas now sits in seventh place in the Western Conference, giving up ground to the suddenly strong Denver Nuggets. Despite nearly stealing a win on a wild night, the Mavs didn't seem rattled by the disappointing outcome.
Said Nowitzki, "It was a fun game to be a part of. Both teams left it all out there and competed at a high level. Big plays and big shots on both ends of the floor. The crowd was into it, so you couldn't ask for a better game. We had our chances. If we get that one rebound at the end of regulation, the game is over."
Perhaps if they give one fewer wet willy, the game is over, too.
Spencer Hall writes about the Jazz for the TrueHoop Network's Salt City Hoops.
Dimes past: April 1 | 2 | 3 | 4 | 5 | 6-7 | 8 | 9 | 10 | 11 | 12 | 13-14 | 15
2. Around The Association
3. Monday's Best
James
LeBron James, Heat: Scored the last 17 points in a 101-98 win over the Nets, impressive even if Newark's finest were a shell of a shell of the team they were, as Brian Windhorst points out.
4. Monday's Worst

The Rockets: After this loss to Denver, the Rockets tumbled to the No. 9 spot in the West, on a crash course for missing the playoffs.
6. Tweet Of The Night
And I quote from my brother "Worst Game Of Your Career" big bro has a point. Smh Tomorrow is a new day. God is on my side!

—Gary Forbes @GForbz3April 15, 2012
7. Quote Of The Night
"We were sitting good a few games ago, and now we're not sitting so good."
-- Rockets coach Kevin McHale, after watching his team lose its fourth in a row.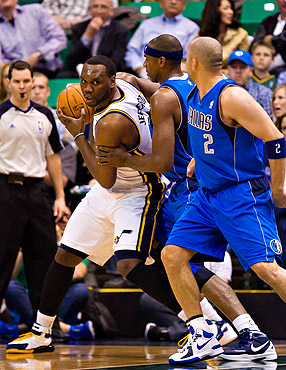 Tim Fuller-US PRESSWIRE
Al Jefferson kept the Jazz's hopes alive in the tight West playoff chase.
By Elias Sports Bureau

The Jazz defeated the Mavericks by a score of 123-121 in a triple-overtime contest Monday night. Utah has now played two games that have gone to at least triple overtime this season, losing a quadruple-overtime game March 25 in Atlanta. Over the past 50 seasons, only five other teams have played multiple games that have gone to at least three overtimes in a single season: Phoenix in 1997-98 and 2005-06, New York in 2006-07, New Jersey in 2010-11 and Atlanta in 2011-12.