1. Heat Have Become LeBron's Team
By Brian Windhorst
ESPN.com
MIAMI -- It started with the music.
LeBron James preferred a different introduction song when the Miami Heat players were announced at home. The song was changed. James wanted music to be played in the locker room, not just in headphones, before the game. Loudly. The change was permitted.
It has manifested itself in dozens of different of other ways, both blatant and subtle, recently. James has been taking over the Heat, becoming the focal point and becoming the floor leader. It may not be permanent. Few things in the game are, even if some prefer definitive and unwavering declarations. But right now the Heat are James' team.
It may never have been more clear than in the Heat's 83-72 victory over the Chicago Bulls on Thursday, a win that trimmed the Bulls' hold on the top seed in the Eastern Conference to 1½ games. These two teams may not have considered it a vital game -- the Bulls played again without Derrick Rose because of a foot injury, and the Heat played without Chris Bosh -- but it sure was an indication of where things currently stand.
James had 27 points, 11 rebounds and six assists. He led the Heat in all three categories. This is unremarkable. He has led Miami in scoring for 12 straight games now, the longest streak of any Heat player since he joined up with Dwyane Wade and Bosh in 2010. He leads the Heat in scoring, shooting, rebounding, assists and steals and is generally recognized as the team's best defender. But that sort of control of a team hasn't happened … since James did it two years ago when he was with the Cleveland Cavaliers.
[+] Enlarge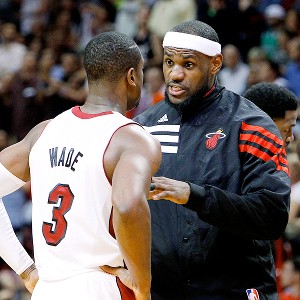 AP Photo/Wilfredo Lee
Wade had 18 points Thursday and a few key baskets in the second half that helped finish the Bulls off. But he also was clearly playing rhythm and not lead. He controlled the ball only when James was out. He was the option after James the majority of the time.
Some of this is circumstantial. Wade has missed five games over the past three weeks to rest various injuries. As a result, he's not in perfect sync right now and he looks like the time off has built up a little rust. James, who has taken over at point guard during stretch play without a true 1, is averaging 29 points a game in that same span, his most prolific tear of the season.
Seeing James command huddles, bark orders on the floor and -- as was the case against the Bulls after he recovered from a case of cramps in the fourth quarter -- even put himself back in the game, it's hard to miss the shift that has been taking place.
"D-Wade hasn't been in the lineup as much as he would like to and I've tried to pick up my leadership and my play," James said. "My teammates look to me as a leader. I want to be there for them."
The Heat are 12-1 this season when James plays and Wade doesn't. That's a crucial stat, if only because it means the Heat are still in the hunt for the league's best record even though Wade has battled several minor injuries plus a recent case of dead legs he still seems to be fighting through.
But all those extra minutes with James as the centerpiece seems to have created a new balance of power within the team. It's not something that can be quantified with numbers, but it's there for all to see. The fans see it too.
It's James who gets the automatic "M-V-P" chants now when he's at the line. It's James who gets a cheer when he rises off the bench to go to the scorer's table. Wade is still their first love, no doubt, but James has earned their attention.
"He has a remarkable ability to rise to whatever the team needs the most," coach Erik Spoelstra said.
"Right now he is really giving this team a sense of urgency, particularly after that three-week stretch when we weren't playing where we knew we were capable of. The guys have been following his lead since then. He has been more vocal and it's a good thing. We will need all of our guys, and Dwyane is a captain for a reason."
Spoelstra is right. Wade is a captain and the Heat very likely will need him. It has been proved that James cannot carry a team to a title by himself. Wade has a long résumé of those moments, and James' is spotty when it comes to the postseason.
But Spoelstra is right about something else, too. As the Heat prepare for the playoffs, it's James' lead they have been following. They are winners of their last five games and playing their best basketball since February.
"I'm just being more vocal at this point in the season," James said. "I know what is around the corner for us."


NBA Writer Brian Windhorst
• On Twitter @WindhorstESPN | On ESPN.com
• Follow ESPN's NBA coverage on Twitter | On Facebook | On Google+
Dimes past: April 1 | 2 | 3 | 4 | 5 | 6-7 | 8 | 9 | 10 | 11 | 12 | 13-14 | 15 | 16 | 17 | 18
2. Around The Association
3. Thursday's Best
West
David West, Pacers: Indy clinched home-court advantage in the first round and effectively knocked Milwaukee out of playoff contention thanks to 21 points, 14 rebounds and seven assists from West. According to Elias, he was the first Pacer to hit those marks since Jermaine O'Neal did it almost exactly six years ago.
4. Thursday's Worst

Unintentionally tanking Rockets: Aren't the Hornets supposed to be the ones tanking? After Thursday's overtime loss in N'awlins, its sixth straight, Houston will miss the playoffs by thismuch for the third year in a row.
6. Tweet Of The Night
Barkley is 100% right - people have been beating up Blake all season. His teammates never stick up for him. He gets nailed hard every game.

— Bill Simmons (@sportsguy33) April 20, 2012
7. Quote Of The Night
"It hurts (emotionally). That's the first thing -- it hurts. And then with people saying and thinking I'm quitting on my team. This is a real issue. I tried to play through it and it just made my back worse."
-- Dwight Howard, who will miss the rest of the season after he has back surgery Friday morning.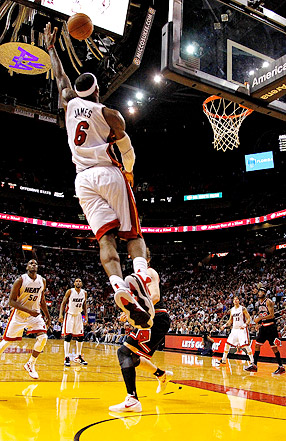 Mike Ehrmann/Getty Images
LeBron James and the Heat are now just 1½ games back of leaping the Bulls for the top spot in the East after evening the season series.
By Elias Sports Bureau
Pekovic
Nikola Pekovic scored a game-high 23 points in the Timberwolves' victory over the Pistons. It was Minnesota's ninth game this season (and fifth in a row) without Kevin Love, and the Wolves are 2-7 in those games. The Nets (1-7 without Deron Williams) are the only other NBA team that has lost as many games in which their leading point scorer (for the season) didn't play.
---

Carl Landry and Gustavo Ayon each came off the bench to grab 10 rebounds in the Hornets' 105-99 overtime win against the Rockets. The last time two Hornets substitutes reached double digits in rebounds was on April 16, 2001, when Derrick Coleman and Eddie Robinson each grabbed 10 boards in Charlotte's win over Atlanta.