1. And The Award Winners Are ...

By Marc Stein
ESPN.com
Archive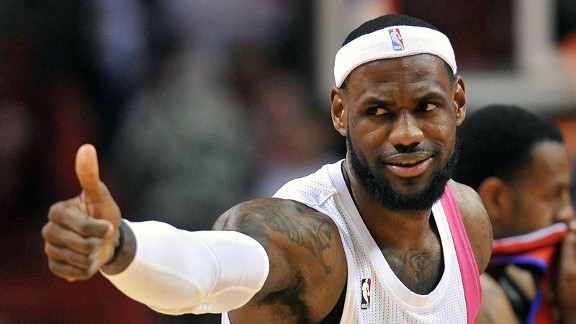 Steve Mitchell/US PresswireLeBron James, you are looking like a three-time MVP winner.
It's one of the casualties of the lockout that we all feel. Nine Weekend Dimes were lost when the start of the NBA season got shoved into December.
The 66-game schedule we wound up with certainly wasn't traditional, but at least we can sign off from our regular-season rotation of WDs in proper fashion, which can only mean the usual rundown of my year-end award choices in six categories I've been invited to vote on by the league.
I will officially send the actual ballots back to the league office closer to Friday's deadline, so as not to exclude what happens during the season's final six days from consideration. In the unlikely event that something forces a recount on any of these selections, I'll blog an update via TrueHoop. (Also coming next week: ESPN.com's All-NBA selections).
To the ballots ...
MOST VALUABLE PLAYER:
LeBron James, Miami Heat

LeBron
If you're a regular reader of the Power Rankings, or if you follow along on Twitter, you're already aware of the one hesitation I have about crowning LeBron James' statistically brilliant season with my MVP vote.
Simply put for those who haven't heard that rationale yet: Miami's failure to snag the top seed in the Eastern Conference, when MVP incumbent Derrick Rose has missed 26 games of a 66-game season in Chicago, could have been a fatal strike against LBJ's MVP case.
Reason being: All those gaudy stats, in that scenario, wouldn't have prevented LeBron's team from underachieving. His team. The thing that matters most in any season.
Harsh? Possibly. Fair? Definitely. It's simply going to be a struggle for me to bill you as the NBA player who had the best overall campaign, no matter what the stats say, if the team you're leading underperforms.
It certainly won't be all LeBron's fault if the flaw-filled Heat fall short of the East's best record, of course, but giving the standings that much weight when evaluating his MVP-worthiness is more than just. Two-time MVP Steve Nash illuminated that point for me last Friday, in a conversation in the visitors' locker room in Houston that had absolutely nothing to with LeBron, when Nash said of his scrappy Suns: "We're greater than the sum of our parts. And, as a team, that's all you can ask."
Without realizing it until he said it, Nash neatly summarized a good chunk of the rationale I've applied over nearly 20 years as an NBA awards voter: Steering your team to its presumed potential, or ideally just beyond that station, is a big part of any star's MVP claim.
It's why Nash has two Maurice Podoloff trophies and why he sneaks in at No. 5 on my 2012 ballot. He's the undisputed driving, galvanizing force on a team that boasts no 20-point scorers -- and no one who had even regularly started in the NBA outside of Nash himself and Grant Hill before they got to the Suns -- but has somehow recovered from a 14-20 record at the All-Star break to make a legit playoff run. If the Nash-led Suns crack the West's top eight, they'll be the NBA's first team since 1996-97 to make it to the postseason from a hole of six or more games under .500 at the break.
However ...
As strongly as I feel about all of the above, two major developments in the last two weeks have restored LeBron to MVP pole position and will ultimately earn him this vote barring another crazy, unforeseen landscape change between now and the time ballots are due via e-mail Friday at 3 p.m.
Development No. 1: Miami has quietly won five straight games since a loss at Chicago on April 12 dropped the Heat's post-All-Star Weekend record to 13-10 and led me to make the initial claim that Miami's failure to capitalize on all the time Derrick Rose has missed should impact LeBron's MVP candidacy. Those five straight wins, furthermore, cut Chicago's lead at the top of the conference to 1½ games entering Friday's play, giving LeBron's Heat renewed hope of digging out the regular-season conference title after all.
Development No. 2: There has to be a worthy challenger to capitalize on any potentially fatal strikes for James. But there really isn't one. With the Oklahoma City Thunder at risk for blowing the No. 1 seed in the West themselves thanks to a 6-5 malaise in April, Kevin Durant's MVP case has wobbled. The team-success card Durant needed to neutralize LeBron's numbers and hurdle into the lead might have slipped away. And if Durant can't do it, who else can?
Chris Paul is next in line thanks to a debut season in Clipperland filled with fourth-quarter brilliance and more on-court credibility than we've ever seen from the Lakers' co-tenants, but just breaking into the top three is about as far CP3 can realistically take his campaign, even after giving Angelenos their first legit NBA rivalry. San Antonio's Tony Parker is likewise a lock to appear on most ballots after taking on a bigger-than-ever role with the Spurs, but the moment appears to have passed for all the would-be challengers.
Although this will be remembered as the season that he truly began to look like a two-way player, Durant would need a monster finish now -- and some sort of heinous collapse from James with Miami suddenly reborn mathematically in its race with the Bulls -- to throw things into flux again. Even if OKC wins the West's regular-season crown, Miami has presumably made up enough ground so that the standings can no longer hurt James. Not when Bron happens to be averaging 27.1 points, 7.9 rebounds and 6.3 assists while shooting 52.9 percent from the floor.
That doesn't change the fact that his season will ultimately be judged on whether Miami wins it all ... but it does set LeBron up to join Michael Jordan (32.5 ppg, 8.0 rpg and 8.0 apg in 1988-89) on the short list of players to average 27-8-8 in a single season if he can pick up the board work slightly.
Stein's MVP Ballot
1. James
2. Durant
3. Paul
4. Parker
5. Nash
December prediction: Durant
COACH OF THE YEAR:
Gregg Popovich, San Antonio Spurs

Popovich
If Tom Thibodeau doesn't win this thing, after losing the reigning MVP to injury for a third of the season and keeping the Bulls ahead of Miami in the Eastern Conference standings going into the season's final week, I know what people will say. They're going to make the claim that the media know-nothings who vote on these awards didn't want to vote for the same guy two years in a row.
And I'll concede that there probably is a measure of truth to that for some voters.
Not here, though. Popovich edges Thibodeau for my vote purely for the way he has continued to speed up the Spurs' playing style and keep them among the elite when so many of us had finally written them off for good. Pop gets the nod here for the way his system continually gets the most out of whoever gets plugged into it, whether it's the seemingly limited Matt Bonner or the untested Kawhi Leonard or the unheralded Danny Green. Pop is the pick because, in addition to all that, he has also managed to massage the playing time so beautifully that only two Spurs average more than 24 minutes per game: Tony Parker at 32.5 mpg and Tim Duncan at a career-low 28.3.
Spurs president R.C. Buford has done an Executive of the Year-worthy job with this group by drafting a perfect-fit athlete (Leonard) and finding a way to add Stephen Jackson, Boris Diaw and Patty Mills to the mix in March -- as well as shed Richard Jefferson's contract -- with limited trade assets. Yet as one longtime Popovich rival told me: "Danny Green is the perfect example. He was almost out of the league. It's Pop who gets the best of these guys."
Which is why, whether or not San Antonio finishes with the West's top seed, Pop is about to double his far-too-humble collection of COY trophies to, uh, two. There have been the usual array of strong coaching jobs this season in addition to Thibs -- Boston's Doc Rivers, Indiana's Frank Vogel, Memphis' Lionel Hollins and Phoenix's Alvin Gentry are the other standouts -- but Pop trumps them all. Even when you add up all of Chicago's injuries.
Stein's COY Ballot
1. Popovich
2. Thibodeau
3. Rivers
December prediction: Rivers
ROOKIE OF THE YEAR:
Kyrie Irving, Cleveland Cavaliers
Irving
Anyone else get the feeling that this race, widely regarded as an absolute runaway, would have been very, very interesting if Ricky Rubio could have stayed healthy for the stretch run?
Turns out that Irving had only played in six more games than the Spaniard entering Friday's schedule, so I'd argue that the huge gap we're going to see when the vote totals are ultimately released reflects poorly on the sort of impact that Rubio actually had. MVP aspirant Kevin Love had to weather other injuries, too, but the fact remains that the Wolves were 18-13 when Rubio was a starter ... and they were pretty much lost in fourth quarters without him. You learn to live with Rubio's eyesore shooting percentage (.357) when he helps you win everywhere else on the floor.
None of that, though, is meant to denigrate what Kyrie did. He didn't turn 20 until March 23 and sports a PER of 21.1, which is efficiency territory rookie point guards rarely visit. Shooting the ball from distance better than anyone projected after just 11 games at Duke and getting to all the dangerous spots on the floor with savvy and polish beyond his years, Irving seized the early ROY lead from Rubio and never gave the rest of the rooks chasing them a chance, even with Denver's Kenneth Faried, New York's Iman Shumpert and San Antonio's Leonard all emerging as trusted contributors on teams bound for the playoffs.
Irving's own health issues (first a concussion, then a bad shoulder) couldn't stop him from quickly pumping some legit basketball hope back into the Cleveland air sooner than beaten-down Cavs fans dared to believe post-LeBron. Way sooner.
Stein's ROY Ballot
1. Irving
2. Rubio
3. Kenneth Faried (Denver Nuggets)
December prediction: Rubio
Dimes past: April 1 | 2 | 3 | 4 | 5 | 6-7 | 8 | 9 | 10 | 11 | 12 | 13-14 | 15 | 16 | 17 | 18 | 19


ESPN.com senior writer Marc Stein
• On Twitter @ESPNSteinLine | On TrueHoop | On ESPN.com | On email
• Follow ESPN's NBA coverage on Twitter | On Facebook | On Google+
2. More Awards
MOST IMPROVED PLAYER:
Jeremy Lin, New York Knicks

Lin
Don't care that he only played in just over half the games. Nor do I care that this selection will subject me to those ceaseless, tiresome taunts I hate from Hollinger, Arnovitz and Haberstroh about how I got "sucked into narrative."
With zero apologies, Lin is my near-automatic MIP choice.
Because no one deserves this award more.
Ryan Anderson stepped up his rebounding (especially offensively) to complement his 3-point bombing and become an even better sidekick to Dwight Howard in Orlando than we thought. Goran Dragic made himself some significant free-agent dollars this summer (and entrenched himself on future All-Lefty Team squads here at Stein Line HQ) as soon as he got the chance to start in Houston. And few players make more of their court time than Milwaukee's Ersan Ilyasova. Or Minnesota's Nikola Pekovic, who became a dependable NBA center without warning this season.
(Bearing in mind that I don't typically consider second-year studs like DeMarcus Cousins, Greg Monroe and Paul George who are supposed to develop this way, other names on my MIP list include: Atlanta's Jeff Teague, New Jersey's resurrected Gerald Green and the aforementioned Danny Green in San Antonio.)
All that said ...
Only Lin went from near oblivion, on the verge of being released by the Knicks, to overnight world sensation. He's not on Time Magazine's 100 Most Influential People by accident, folks. Lin couldn't have gotten there without averaging 18.2 points, 7.6 assists and 2.0 steals in his 25 starts.
The same Lin, covered extensively here, who never earned much more than garbage time as a rookie in Golden State.
Stein's MIP Ballot:

1. Lin
2. Anderson
3. Dragic


December Prediction: DeAndre Jordan
DEFENSIVE PLAYER OF THE YEAR:
Tyson Chandler, New York Knicks

Chandler
No NBA player has ever won DPOY honors in four straight seasons. Dwight Howard won't be the first, either.
The back operation Friday that brought a sudden end to Howard's tumultuous season figures to crack the door open even wider than it was for a new defensive specialist to take the trophy Howard has won for the past three seasons. The options are plentiful, too, with Boston's Kevin Garnett, Oklahoma City's Serge Ibaka and Chicago's Joakim Noah standing out among big men and a slew of top wing defenders headlined by Philadelphia's Andre Iguodala, Memphis' Tony Allen, Dallas' Shawn Marion, Chicago's Luol Deng and a guy in Miami named James. LeBron James.
But Chandler's reputation as a culture-changer on D has gone to a new level this season, which is saying something after the role he played in the Mavericks' title run last spring. The Knicks, mired at No. 21 in defensive efficiency last season, ranked fifth in that category as of Friday morning, with Chandler's length, mobility, athleticism, smarts, vocal leadership and unbridled enthusiasm adding up to give New York its ideal anchor. Especially if you're lining him up next to Carmelo Anthony.
Stein's DPOY Ballot:
1. Chandler
2. Garnett
3. Iguodala

December prediction: Chandler
SIXTH MAN AWARD:
James Harden, Oklahoma City Thunder

Harden
Can we call it a deep field when there's an overwhelming favorite?
Dallas' Jason Terry, Denver's Al Harrington, Memphis' O.J. Mayo and the Clippers' Mo Williams are all top-flight sixth men. The Sixers, meanwhile, have two worthy candidates (if that's even possible) in Lou Williams and Thaddeus Young.
Yet as one Eastern Conference team official told me this week: "Harden's going to win anyway so what's the point of debating it?"
The fact that Harden logs nearly 32 minutes per game -- more than any Spur, remember, apart from Parker -- definitely rankles those around the league who cling to the belief that this award shouldn't go to someone who plays starter's minutes.
The problem for Harden's rivals is that the bearded lefty's playmaking, high efficiency and ability to erupt for 40 points like an All-Star (as we just saw Wednesday night in Phoenix) attracts far more attention from the media folks casting votes than how much playing time Harden gets.
This is actually the first season since 1979-80 in which two players have averaged more than 31.0 minutes per game while starting two or fewer of games: Harden and Terry. Which may (or may not) make you feel better about the PT issue.
Stein's Sixth Man Ballot:
1. Harden
2. Terry
3. Williams

December prediction: Odom
3. TrueHoop TV: Weekend Dime Edition
Marc Stein joins Henry Abbott for a special Weekend Dime edition of TrueHoop TV to discuss LeBron James' lead in the MVP race and all the ins and outs of voting, which closes for ballot holders (Stein among them) at 3 p.m. on April 27.
4. Western Conference

As mentioned in this space recently, Houston's
Marcus Camby
was kind enough to visit with us for about 10 minutes in late March for a nice Q&A chat, only for the official Stein Line HQ smartphone to die before the interview could be transcribed.
The good news? We got another crack at Camby this week, as you can see in Box 5, which gave us a second chance to ask him about his former UMass coach John Calipari, who continues to be mentioned as a potential candidate for the Knicks' job -- largely because of his ties to the same agency (CAA) that represents Carmelo Anthony -- despite Calipari's repeated insistence that he's staying at Kentucky.
Camby concedes that he does "see Coach Cal taking another shot" at the NBA someday after his 1990s flameout in New Jersey, but not necessarily in time for next season or any time soon.
"Each year I think he may make that jump," Camby said, "and each year he comes back with the No. 1 recruiting class in the nation. He just always keeps reloading."
---
Some numbers of note in the West this week:
4: The Lakers, according to the Elias Sports Bureau, are just the fourth team in NBA history to sweep a season series after being swept by the same team in the previous postseason. L.A. is 4-0 against the defending champs from Dallas in 2011-12, joining New Jersey (2-0 against the Lakers in 2002-03 after being swept by L.A. in the 2002 NBA Finals), Orlando (2-0 in 1995-96 against Houston after being swept by the Rockets in the 1995 Finals) and San Antonio (3-0 against Boston after the Celtics swept the Spurs -- an Eastern Conference team back then -- in a best-of-three series in 1977's first round).
2: Portland interim coach Kaleb Canales is one of two active coaches in the league who did not play basketball at the college or pro level, along with Detroit's Lawrence Frank.
6: There are six active players who played on teams with first-year Warriors coach Mark Jackson. They are Marcus Camby, Vince Carter, Erick Dampier, Al Harrington, DeShawn Stevenson and Kurt Thomas.
9.3: Warriors rookie Klay Thompson is averaging 16.5 points per game since the All-Star break after averaging only 7.2 points per game in games before the break. That 9.3 ppg increase from before to after the break is the largest jump for any player in the league (minimum: 20 games in each half) just ahead of Houston's Goran Dragic (plus-8.2).
1,572: Despite a shin injury that has caused him to miss L.A.'s past seven games, Lakers star Kobe Bryant has scored 1,572 points this season. It's Kobe's 12th straight season with at least 1,500 points, tying Bryant with Elvin Hayes (1968-69 to 1979-80), Moses Malone (1978-79 to 1989-90) and Karl Malone (1986-87 to 1997-98) for the second-longest streak in league history. Kareem Abdul-Jabbar holds the record with 17 consecutive seasons with at least 1,500 points.
5.

One On One ... To Five
Camby
Five questions with Rockets center Marcus Camby:
Q: You guys won four straight on the road and haven't won since. What's changed? What's stopped this team from building on that?
A: It's something that we've been questioning ourselves, too. Normally teams play better at home, but we just haven't been able to carry that momentum from the road ... so we definitely need a whole lot of help from a lot of teams right now.
Q: If you can separate the playoff chase from this question, just tell me about the move to Houston. How do you grade it so far?
A: It's been great being back home. Portland was eliminated last night (Tuesday) and they're getting hammered tonight (Wednesday), so being traded here, just being in a situation to actually compete for the playoffs is great. With me being a free agent [in the summer] and the Rockets looking for a big man in the middle, I hope we can get something done in the summer.
I want to stay. I actually built a house from scratch in Houston like five years ago with the intentions of finishing my career down there. So it's crazy how things play out.
From the coaches and from management and my meetings I've had with them, I think they enjoy what I've been doing with my play and my leadership. I know from talking to my representative that there's going to be a lot of suitors at the end of the season, but this is where I want to be. It's something we'll definitely address at the end of the season.
Q: Do you have it in your head how much longer you want to play?
A: I want to play 20 [seasons]. That's the goal. That's the magic number. I'm at 16 now, so we'll see.
Now I'm more able to think the ballgame through and see different spots out there on the court where I can make plays for my teammates. [Smarts] definitely helps balance what you lose physically. It definitely does. Coming in, I don't want to say I was a Vince Carter high flier, but I definitely had more spring than I do now. But I still think I can do all the little intangible things out there.
Q: It sounds like you're still following the Blazers pretty closely, so I've got to ask you now that it's LaMarcus Aldridge facing hip surgery: How much more can these guys take?
A: The franchise has been going through a lot ever since training camp. First, Brandon Roy announced his retirement, then a month later Greg Oden is out again for the year. Then the trades. ... [Aldridge's] situation was kind of sad, because it was the end of the season and they weren't going to make the playoffs. It's something he should be able to bounce back from, but it sucks for him because he was going to play on the USA team this summer.
Q: You know those of us in the media throw around words like "curse." But what about the players on that team? In the Blazers' locker room, are guys asking: What next?
A: They might not want to admit it, but when I was there, my goodness, people were saying, "Are we really snake-bit? Are we really cursed?" Doubts and talks like that came about. Everybody just tried to brush it to one side and remain positive, but it was hard to escape because everybody was talking about it. It's hard to argue when it keeps happening year after year after year.

Thanks to persistent back trouble,
Mehmet Okur
played in a mere 17 games for New Jersey this season. The Nets acquired Okur and his $11 million expiring contract from Utah for a 2015 second-round pick as a one-season stopgap to bolster their frontcourt while maintaining maximum salary-cap flexibility for the summer of 2012, but the 6-foot-11, 260-pounder was only healthy enough to average 7.6 points and 4.8 rebounds in 26.7 minutes per game (while shooting 37.4 percent from the floor) before being dealt to Portland on deadline day in March.
On March 15, Okur was packaged with Shawne Williams with a 2012 first-round pick (only top-three protected) to the Blazers for Gerald Wallace. Portland then released Okur on March 21, knowing he was likely out until June because of the back condition and needing Okur in the deal only for salary-cap reasons.
The bad back, though, hasn't stopped various playoff teams from calling Okur during the past month. Word reached us this week that both Chicago and Boston, according to sources close to the process, are among the teams that have been holding out hope that the 2007 All-Star could be signed in time to play in the playoffs, only to finally concede that Okur needs more time to heal.
The 32-year-old from Turkey will be a free agent in July and intends to come back next season.
---
Some numbers of note in the East this week:
5.5: The Celtics are on the verge of winning the Atlantic Division despite trailing Philadelphia by 5.5 games on Jan. 21. According to the Elias Sports Bureau, it's Boston's biggest rally to win a division crown since Larry Bird's second season in 1980-81, when the Celts (at 24-8) trailed Philly (then 32-4) by six games.
4: Boston is also one of just four teams in NBA history, according to Elias, to win a division after entering the All-Star break with a record below .500. The others are the 1975-76 Milwaukee Bucks, 1971-72 Washington Bullets and 1956-57 St. Louis Hawks. The Celtics' run of five consecutive Atlantic Division titles is the NBA's third-longest such streak since the NBA/ABA merger in 1976-77, behind the Lakers' nine straight division titles from 1981-90 and Milwaukee's seven in a row from 1979-86.
3: Charlotte is one of three teams in NBA history to lose at least nine games in a season by 30 points or more. Elias says Denver suffered 10 such losses in 1990-91; Philly absorbed nine of them in 1993-94.
17: When he scored Miami's final 17 points Monday night in a come-from-behind win at New Jersey, LeBron James became the fourth player this season to score 17 straight points for his team at any point in a game, joining the Nets' Deron Williams (18 straight on March 4) and the Clippers' duo of Chris Paul (17 on Feb. 22) and Mo Williams (17 on Jan. 22). The last player before James to score his team's final 17 points of a game was J.R. Smith, then with Denver, on April 13, 2009.
12: Orlando's Dwight Howard will miss a total of 12 games this season because of injury. He missed just seven games in his first seven seasons in the league, none in his first four seasons.
---
Lester Hudson left the Cavaliers this week after the expiration of his second 10-day contract because, according to sources close to the situation, Hudson didn't want to sign a deal with a team option for next season, as Cleveland preferred, unless he was receiving more guaranteed money in 2012-13.
Such contracts are commonplace around the league on late-season signings. Among the recent players to sign such two-year deals -- which are offered to give teams an extra trade chip as much as anything because the second year of the contract is not fully guaranteed -- are Boston's Sean Williams; Charlotte's Jamario Moon; Houston's Courtney Fortson and Diamon Simpson; and the Cavaliers' Manny Harris and Donald Sloan.
Hudson, though, put up some big numbers in China this season and averaged 23.3 points with the Cavs over a four-game stretch earlier this month playing in place of the injured Kyrie Irving, which apparently convinced him to resist Cleveland's offer for the right to choose his next team and maintain some flexibility.
For the rest of the season that team is the Grizzlies for Hudson, who's a Memphis native. O.J. Mayo has unquestionably improved this season as an off-the-bench playmaker, but the Grizz want an extra guard to play behind Mike Conley after Gilbert Arenas suffered a hand injury just as he was getting settled in with his new team.

Colangelo
"People can speculate all they want, but there's no reason to speculate."
Team USA chairman Jerry Colangelo, attempting to shoot down media suggestions that whatever role Carmelo Anthony played in Mike D'Antoni's departure in New York could cost Melo his spot on the Olympic team this summer.
Now there might be some tension when Anthony and D'Antoni are thrown together again for the first time once members of the USA Basketball family gather in Las Vegas for training camp on July 5.
There will certainly be no shortage of media scrutiny any time Melo and D'Antoni, an assistant to Team USA coach Mike Krzyzewski, interact in public.
You can rest assured, though, that Melo will be on that squad.
Perhaps it might have been something for Colangelo, Coach K and the rest of the staff to debate in their meetings in early May had Melo continued to average barely 20 points and shoot around 40 percent from the field after D'Antoni's departure on March 14. But he hasn't. If you don't remember how reliable he was in Beijing, presumably you were paying attention this week when Melo looked as good as he ever has for the Knicks, uncorking a monster triple-double against the Celtics (35 points, 12 rebounds and 10 assists for just his second career triple-double) and following that up by scoring 21 first-quarter points against the Nets before settling for 33.
Tyson Chandler is even more of a stone-cold lock among Knicks candidates because of the growing need for size in the wake of the surgeries suddenly required by Dwight Howard (back) and LaMarcus Aldridge (hip), but Melo's not far off. Not with the way he can score all over the floor and play as a 4-man internationally just like he's been doing in New York with Amare Stoudemire out.
"He will be on that team," one USAB insider said.
If there's a question mark, it's what happens to the overall roster, which is already down from the original 20 candidates named in January to just 16, thanks to the injuries suffered by Howard, Aldridge and Chauncey Billups (Achilles) and Lamar Odom's season of woe. Sources with knowledge of Team USA's thinking told ESPN.com last week after the Aldridge injury that there were no plans to add replacements to the preliminary roster -- given that the original squad was increased from 18 to 20 players specifically to guard against injuries in the lockout-shortened season -- but that policy will surely be revised at this rate.
Howard
At least one aspect of Dwight Howard's season has played out in better-than-forecasted fashion:
Dwight racked up only nine technical fouls in the 54 games he played before a herniated disk in his back -- not helped, presumably, by all the prodding and nagging from Stan Van Gundy -- ended his season.
Last season? Howard got hit with 18 technicals after amassing 17 in 2009-10.
This season, though, D12 never came close to earning a suspension triggered by technical overload, despite all that coach- and contract-related tension that presumably could have pushed him over the edge. And he's not alone in dodging tech-related trouble.
Oklahoma City's Kendrick Perkins has been hit with 17 T's this season, which should have earned him three one-game suspensions based on the prorated scale implemented for the 66-game schedule, which calls for players to be suspended for one game when they reach 13 T's and an additional game for every odd-numbered tech after that. But Perkins has gratefully seen five of his 17 techs rescinded by the league office, putting his total at 11 and ensuring that he won't lose a single game to suspension if he can get through Oklahoma City's next three on the schedule (road dates against the Kings and Lakers and a home encounter with Sacramento) without a T.
The league has been reviewing technical fouls after the fact since 2006-07, when suspensions for tech accumulation were introduced. This season's leaderboard looks like this:
TECH LEADERS
| Name | T's | Rescind |
| --- | --- | --- |
| DeMarcus Cousins, SAC | 12 | 0 |
| Kendrick Perkins, OKC | 12 | 5 |
| Tyson Chandler, NYK | 11 | 1 |
| Blake Griffin, LAC | 11 | 1 |
| Carmelo Anthony, NYK | 10 | 0 |
| Josh Smith, ATL | 10 | 0 |
| Deron Williams, NJN | 10 | 0 |
| Kobe Bryant, LAL | 9 | 1 |
| Dwight Howard, ORL | 9 | 2 |
| Amare Stoudemire, NYK | 9 | 0 |
THE SCALE
The following progressive technical foul scale applies to players and coaches during the 2011-12 regular season
• Technical Fouls 1-4: $2,000 fine each
• Technical Fouls 5-8: $3,000 fine each
• Technical Fouls 9-12: $4,000 fine each (with warning letter sent when violator reaches his 10th tech)
• Technical Foul 13: $5,000 fine plus one-game suspension without pay
• Each Additional Technical Foul: $5,000 fine
• Each Two Additional Technical Fouls (15, 17, 19, etc.): One-game suspension without pay

TECHNICAL FOULS IN THE PLAYOFFS:
The following progressive technical foul scale applies during the 2012 playoffs ... with player slates wiped clean when the postseason begins:
• Technical Fouls 1-2: $2,000 fine each
• Technical Fouls 3-4: $3,000 fine each
• Technical Fouls 5-6: $4,000 fine each (with warning letter sent when violator reaches his 5th tech)
• Technical Foul 7: $5,000 fine plus one-game suspension
• Each Additional Technical Foul: $5,000 fine
• Each Two Additional Technical Fouls (9, 11, 13, etc.): One-game suspension in addition to the fine
Griffin
The lockout didn't just slice the regular-season schedule from 82 games to 66. The 2011-12 campaign will also be remembered as a season in which appreciation for the art of dunking got truncated, too.
The annual dunk contest, or what's left of it, was such an unwatchable, depressing turnoff that calls for the immediate cancelation of the event immediately overran Twitter ... on what happened to be the first All-Star Saturday night ever that courtside judges were abolished and fans had been given complete voting power.
And as noted in last week's Weekend Dime, Blake Griffin's majestic assaults on the rim -- my '11-12 favorites can be seen here, here and here -- have actually managed to bring him almost as much scorn as praise, thanks to the public's growing impatience with Griffin's free throw woes. (Can't say it with more sting than Charles Barkley said it in a televised version of an open letter to Griffin on TNT early Friday morning: "You've got to get better as a basketball player because they can't go to you with the game on the line.")
I'm trying, though. Trying to keep at least a little balance in the discussion.
Admittedly bummed as I was about what happened in Orlando on the 20th anniversary of Cal State Fullerton's own blindfolded Cedric Ceballos winning the dunk title, I'm still 15 when it comes to throwdowns. When I see a good dunk-related item in one of the regular research packets circulated around the office by ESPN Stats & Info, my brain (or what's left of it) can't help but rewind to about 1985 and start imagining what it would have been like to have this kind of data available to wow and taunt the rest of the budding NBA rotisserie leaguers who gathered daily in front of the S block of lockers at El Toro High School.
This kind of data specifically:
2011-12 Season, Most Total Dunks (Entering Friday's Play)
PS -- I'm obviously well aware that Griffin's dunk over Kendrick Perkins isn't one of the three I linked to. This is just personal preference that you're under no obligation to agree with: I simply liked the posterizations of Serge Ibaka and Pau Gasol better ... and selfishly included the seemingly more mundane rebound jam in Dallas because I was fortunate enough to be sitting courtside for that one. Which always makes a difference.
Marc Stein joins the Kamenetzky Brothers and Mark Willard on the "Mason and Ireland Show" on ESPN Los Angeles (710 AM) radio to talk about the Portland Trail Blazers' interest in interviewing Mitch Kupchak for their GM vacancy.
• Click here to listen to the podcast