If Harden's Out Long, World Peace Out Longer
By J.A. Adande
ESPN.com
LOS ANGELES -- The issue isn't how many games Metta World Peace will be suspended for elbowing James Harden, it's how many games Harden will miss because of the concussion he received in the process.
That's what matters most after Sunday's game took the one thing that seemed a certainty among the NBA upper class (the Oklahoma City Thunder's superiority over the Los Angeles Lakers), turned it upside down and shook a pocketful of questions loose.
Since we're fixated on visuals, the question that jumped into everyone's mind was how long will World Peace be suspended after his vicious elbow drew a flagrant-2 foul? According to this unofficial compilation of NBA fines and suspensions dating back to the 1994-95 season, elbow violations have been repeatedly subject to one- and two-game suspensions. Suspensions that last 10 games or more have generally been for punches thrown at players or fans. Or choking a coach. Or bringing guns into the locker room.
If World Peace gets anything more than two games it's because of prior reputation (even if he's worked so hard to scrub it clean during his time with the Lakers) or the current sports climate that includes calls for the NHL to curtail the excessive roughness in its playoffs and the continued fallout of the bounty scandal in the NFL.
The NBA should suspend World Peace indefinitely, see how many games (if any) Harden will miss, then tack on two to that number. Especially since we just witnessed a case study in Harden's value to the Thunder.
Oklahoma City's second-half offense without Harden devolved into Kevin Durant chucking jumpers and Russell Westbrook careening into the lane, both with minimal ball movement. Harden is the heart of the Thunder's second unit and provides a nice balance to Westbrook and Durant when he plays alongside them. Harden scored 14 points in little more than 13 minutes in the first half -- before World Peace clocked him. The seven guys besides Durant and Westbrook who played in the second half and both overtimes scored a total of 23 points in a combined 106 minutes. Durant wound up with 35 points, but he required 34 shots to get there. Westbrook shot 3-for-22.
Harden didn't play in the second half and will be re-evaluated under the league's new concussion guidelines to gauge his availability for the Thunder's final two regular-season games, against Sacramento and Denver. If Harden can't play in one or both of those games it could cost Oklahoma City a chance at the No. 1 seed and home-court advantage throughout the Western Conference playoffs.
So, yeah, it's kind of a big deal. You think the Lakers would have a 15-4 advantage in fourth-quarter free-throw attempts if this game had been played in Oklahoma City?
There isn't enough time for the Lakers to grab home court from Oklahoma City. But after beating the Thunder for the first time in three tries this season the Lakers can carry a glimmer of hope into a potential second-round playoff series with OKC that became a more likely to happen after L.A.'s victory kept the Lakers ahead of the Clippers in the third spot and the Thunder in the second spot (1 ½ games behind the Spurs). The Lakers did just fine with Devin Ebanks taking over World Peace's duties of guarding Kevin Durant. They even thrived with Jordan Hill replacing an ineffective Andrew Bynum.
After falling behind by 18 points, they got the game to their closer, brought the score to the point Kobe Bryant could make a pair of ridiculous 3-pointers, including a 1-foot-leaner as the shot clock expired. Their offensive execution, even with midseason acquisition Hill suddenly playing his most minutes as a Laker, was much better than Oklahoma City's. Bryant moved the ball enough to get eight assists in addition to scoring 26 points on 26 shots.
"I think the thing that helps is not so much that we beat Oklahoma, it's how we did when facing a deficit," Bryant said. "In the playoffs, particularly when you don't have home-court advantage, you're going to have games like this, and you're going to have to have the poise and confidence to just keep chipping away and get back in it."
I still think their playoff journey ends in Oklahoma City. And it's safe to guess it will begin without World Peace. He'll be gone for at least the regular-season finale in Sacramento and likely the first playoff game.
One neutral NBA team member called World Peace's shot the worst thing he's seen on a court since Kermit Washington punched Rudy Tomjanovich.
It just so happened that Tomjanovich, who provides statistical analysis for the Lakers, walked into the media room shortly afterward. When a replay of World Peace's play was about to come on a TV monitor just above our heads, he turned away right before World Peace flung the elbow. Later, another replay came on. This time Tomjanovich caught it, then looked down. Tomjanovich said the reason his play still stands out four decades later is so many punches thrown since then have missed. Fortunately.
For World Peace it's a setback in what had been a remarkable transformation from the instigator of the Malice in the Palace in 2004 to the recipient of the NBA's J. Walter Kennedy Citizenship Award last season.
"He was just so excited by the play that he just made, he saw somebody in his way, kinda, and reacted," Pau Gasol said, having had a chance to watch the replay. "I don't think he tried to elbow or hurt him in anyway. He was just so hyped up after the play, so emotional, he just let it go."
World Peace called the elbow unintentional and said, "I hope that he's OK and I apologize to the Thunder and to James Harden."
At the very least World Peace brought the focus back where it should be: on James Harden's well-being.


ESPN senior writer J.A. Adande
• On Twitter @jadande | On ESPN.com | On TrueHoop | On e-mail
• Follow ESPN's NBA coverage on Twitter | On Facebook | On Google+
Dimes past: April 5 | 6-7 | 8 | 9 | 10 | 11 | 12 | 13-14 | 15 | 16 | 17 | 18 | 19 | 20-21
2. Around The Association
3. Sunday's Best
Paul
Chris Paul, Clippers: With home-court advantage in danger of slipping away, Paul took control in the fourth quarter. He finished with 33 points, 13 assists and 8 steals in a 107-98 comeback win over the Hornets.
4. Sunday's Worst
World Peace
Metta World Peace, Lakers: His elbow to James Harden will likely be remembered as the low-water mark of the season. Wishing a speedy recovery to James Harden. Here's hoping Harden is healthy and ready for playoff action next weekend.
6. Tweet Of The Night
When league hands down punishment, it should demand World Peace drop the name that no longer fits.

— Shaun Powell @Powell2daPeopleApril 22, 2012
7. Quote Of The Night
"Him getting ejected could have really hurt us. In that sense, he's really going to have to control himself and pay attention in those moments where he doesn't erupt too much."
-- Kobe Bryant, on Metta World Peace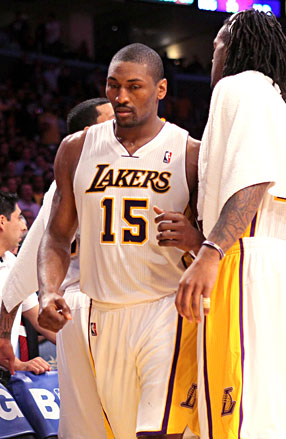 Stephen Dunn/Getty Images
Ron Artest leaves the Staples Center floor after his ejection for elbowing James Harden in the head.