As Suns Set, Young Jazz Take Next Step
By Spencer Ryan Hall
TrueHoop Network
The Kevin O'Connor Rebuilding Master Class gave a free seminar to the entire NBA on Tuesday night. "How to Rebuild and Stay Relevant" is the working title and the Phoenix Suns provided a telling contrast to prove his thesis.
It was all on display: The results of fleecing trade partners, keeping salaries manageable, mixing affordable veterans with promising young players, maintaining a winning culture and building for the future.
On the vet side, Al Jefferson (18 points, 16 rebounds) returns to the playoffs for the first time since his rookie year in Boston. It was fitting that he scored eight straight points down the stretch to put the game away and couldn't keep the smile off his face when he was finally taken out of the game to a standing ovation.
Paul Millsap moved over to the small forward spot and abused the Suns with 26 points, 15 rebounds, four assists, three steals and a block. In his vacated power forward spot was the other side of the O'Connor rebuilding equation: Derrick Favors, with five blocks in the first half to go along with his totals of 13 points and 11 rebounds. Gordon Hayward quietly had a career-high eight assists to go along with 11 points.
[+] Enlarge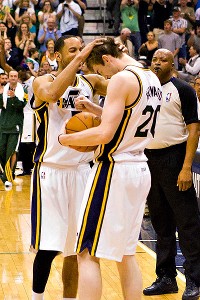 Russ Isabella/US Presswire
The genius of O'Connor is the fuzzy math surrounding the rest of the roster. I'm confident no one could have guessed that castaways Josh Howard and Jamaal Tinsley would be playing crucial minutes for a playoff-contending Utah Jazz team. No one even knew starter DeMarre Carroll. Those in the Jazz front office deserve a lot of credit for creating a winning environment when many in the fan base were loudly aboard Team Tank.
When asked when the Jazz players first thought they would make the playoffs, Favors responded quickly: "Game 1."
Said Jazz coach Ty Corbin, "We need everybody that we have. The guys have been great all year supporting each other, making the right plays. I've changed the lineups and rotations at different times, the guys just come out and play and make the most of the minutes on the floor. We're going to need that to continue to get better."
The future is much murkier on the other end of the court. Steve Nash is a free agent this summer and has spoken openly about evaluating all of his options, while the rest of the roster is mired in big contracts without the talent to back it up.
"Phoenix feels like my team," Nash said. "It has the feel -- and you don't always get it in professional sports -- but it feels like a high school or college team. I spent so many years here and had so much success here. It's a special place for me, no question.
"I'd like to play three years. I feel great and I don't feel like there's any reason why I can't continue to play at a high level and contribute the way I've been. I want to keep going.
"The feeling is to have a great game tomorrow night and finish with a winning record. Then I'll try and put together a picture of what opportunities are out there and what situations will fit me well. Phoenix will be one of those for sure, but I'll take my time to evaluate what opportunities are out there for me."
It will be a shame if this is the way the Nash era in Phoenix ends -- not with a bang, but a wimper.
Thanks to O'Connor's plan, the Jazz are in full throat.
Spencer Ryan Hall covers the Jazz for Salt City Hoops, part of the TrueHoop Network.
Dimes past: 9 | 10 | 11 | 12 | 13-14 | 15 | 16 | 17 | 18 | 19 | 20-21 | 22 | 23
2. Around The Association
3. Tuesday's Best

Playoff-clinching Jazz: Utah shut down any last hope for a Suns playoff run, using a supersized frontcourt of Al Jefferson, Derrick Favors and Paul Millsap (a combined 57 points), to pound Phoenix into submission and clinch the final playoff spot in the West.
4. Tuesday's Worst


Anyone who watched Heat-Celtics: The starting lineups: Shane Battier, Udonis Haslem, Dexter Pittman, Mike Miller and Mario Chalmers (Miami); Paul Pierce, Brandon Bass, Ryan Hollins (!), Sasha Pavlovic (!!!) and Avery Bradley. Let us never speak of this game again.
6. Tweet Of The Night
Im solid. Feeling good. Appreciate y'all for checking on me!!

— James Harden (@JHarden13) April 24, 2012
7. Quote Of The Night
"Paul's playing right now. Maybe when he finds out who is not playing, he won't."
-- Doc Rivers, in pregame of the Celtics' victory over the Heat, after announcing that Ray Allen, Kevin Garnett and Rajon Rondo would be sitting.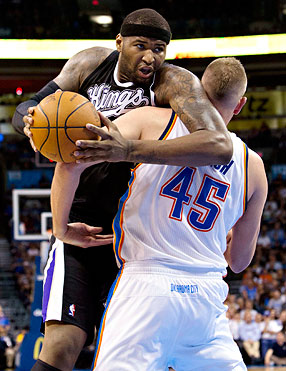 Richard Rowe/US Presswire
DeMarcus Cousins (32 points, seven boards) nearly matched Kevin Durant (32 points, nine rebounds), but the Sacramento Kings couldn't get past the Oklahoma City Thunder, falling 118-110 for their 15th loss in their past 20 games.
By Elias Sports Bureau

Blake Griffin had 36 points and eight rebounds and Chris Paul chipped in with 34 points and five rebounds, but it wasn't enough as the Los Angeles Clippers dropped a 109-102 decision to the Hawks in Atlanta on Tuesday night. Since the 1990-91 season, only four other teams have lost a game in regulation despite having multiple players record at least 34 points and five rebounds: Cleveland vs. Denver on Jan. 12, 1991 (Larry Nance and Brad Daugherty), Atlanta vs. Charlotte on April 17, 1993 (Dominique Wilkins and Kevin Willis), the Lakers vs. Portland on April 13, 2003 (Shaquille O'Neal and Kobe Bryant) and Miami vs. Chicago on March 14, 2012 (LeBron James and Dwyane Wade).
It was only the third time in the Clippers' franchise history that two players each recorded at least 34 points and five rebounds in the same game. Dominique Wilkins and Ron Harper did it on March 8, 1994 and Michael Brooks and Tom Chambers did it while the team was located in San Diego on April 15, 1982.