Playoff Challenges Clear For Knicks, Clippers
By John Hollinger
ESPN.com
NEW YORK -- So let's discuss what was proved, and what wasn't, Wednesday in New York's 99-93 win over the Clippers.
What was? That the Clippers need a healthy Chris Paul to do anything of consequence in the playoffs, just in case there was any doubt of that. L.A. mustered only 74 points in the first 42 minutes of the game, with Paul's replacement, Eric Bledsoe, accounting for a mere two in 27 minutes.
Alas, the Knicks' subs nearly let the Clippers steal it by putting Steve Novak on Blake Griffin and Dan Gadzuric on the basketball court. New York didn't restore order until Tyson Chandler returned with three minutes left after a 14-0 Clippers run made things interesting.
What wasn't proved? That the Carmelo Anthony-Amare Stoudemire dynamic can work. The Bockers again played their best ball with small lineups, which makes one wonder why they're so stubbornly insistent on not using them. Nothing screams this more succinctly than "Novak: +14." The Knicks were at their best with either Anthony or Novak as the 4 and not more than one big man (either Chandler or Stoudemire, but goodness gracious, not Gadzuric) on the court.
Again, it didn't take Wednesday's game to make this known. Anthony's numbers this season as a power forward are amazing: a player efficiency rating of 28.9, according to 82games.com, compared to just 16.5 as a small forward. He's a matchup nightmare at the 4; as a 3, well, he's just a 3 who shoots a lot of long jumpers.
And the fact is, Stoudemire is no longer good enough for the Knicks to build their lineup around him. The best move for this edition of the Knicks is to bring Stoudemire off the bench, start Anthony at the 4, and ensure that of Chandler, Stoudemire and Anthony, no more than two are on the court at most times.
This has the added benefit of covering the Knicks' biggest weakness, the lack of centers beyond Chandler. With Jared Jeffries -- already a bit of a stretch as a 5 -- toughing it out on a bum knee and no other quality big men on hand (reference, again, Gadzuric's eight-minute stint), the only impediment to this approach is New York's stubbornness in trying to make the Melo-Amare-Chandler lineup work.
It doesn't.
In the meantime, this win put New York in position to claim the No. 7 seed and a renewal of its rivalry with the Heat in the first round of the playoffs; the Knicks will clinch with either a win over the hapless Bobcats on Thursday or a Philadelphia loss.
For the Clippers, it gets tougher. Memphis can wrest home-court advantage from them in the first round with a win over Orlando on Thursday, and the Magic have nothing to play for since their win over the Bobcats on Wednesday locked them into the sixth seed. The Clips will take that setback, however, if it means Paul's strained groin is healed for the start of the playoffs.
And in one sense, the Clippers finished Wednesday ahead of New York. L.A. already knows it can't win without Paul and is taking appropriate measures. New York still thinks it can thrive with the Melo-Amare forward combo and is avoiding a clear solution.


ESPN Insider John Hollinger
• Twitter @johnhollinger | ESPN.com | TrueHoop | Email | Stats
• Follow ESPN's NBA coverage on Twitter | On Facebook | On Google+
Dimes past: 9 | 10 | 11 | 12 | 13-14 | 15 | 16 | 17 | 18 | 19 | 20-21 | 22 | 23 | 24
3. Wednesday's Best
Turner
Evan Turner, Sixers:
With the Sixers resting their top players, Turner took charge, dropping in 29 points on the Bucks in a 90-85 playoff tuneup win. Turner had 13 rebounds and six assists. And he wants to face the Bulls.
He's already waved a red cape in front of them.
4. Wednesday's Worst

The LOL Cats: With its 22nd straight loss, Charlotte (7-58) heads into its season finale Thursday needing to beat New York to avoid the worst winning percentage in NBA history. Should the Bobcats lose, their 7-59 record and .106 winning percentage would eclipse the 1972-73 Philadelphia 76ers and their mark at .110, when they went 9-73.
6. Tweet Of The Night
And bulls fans: please stop tweeting me about the playoffs. I didn't say anything negative. All I said is we match up better with them smh

— evan turner @thekidet April 24, 2012
7. Quote Of The Night
"I think the seven was larger than some people might have thought just from an elbow, and I think that in many cases people who thought that this was so horrible that it should result in a lifetime ban. But at the end of the day, I have to close the door and say, 'OK, what is justice here and what's fairness here,' and I came up with seven."

-- David Stern, on issuing a penalty to Metta World Peace.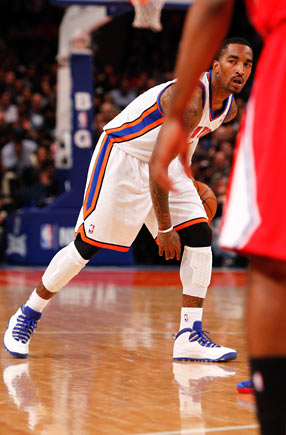 Debby Wong/US Presswire
J.R. Smith scored 21 points, including a rally-stopping jumper with 31 seconds left, as the Knicks moved within one victory of wrapping up seventh place in the East and a first-round matchup with Miami.
By Elias Sports Bureau

The Clippers lost their regular-season finale at New York to drop their record to 16-17 on the road. The Clippers franchise, which entered the NBA in 1970 and has existed as the Buffalo Braves, San Diego Clippers and Los Angeles Clippers, has never finished a season with a .500 or better record in road games. The closest they came before this season was in 2005-06 (20-21). Their streak of 42 consecutive seasons with a losing road record is the longest such streak in NBA history.