Clippers Exult In Improbable Comeback
By Kevin Arnovitz
ESPN.com
MEMPHIS -- Basketball is a game of probabilities.
This guy is an 85 percent free-throw shooter, so we feel pretty good when he steps up to the line.
That team is 2-21 when trailing after three quarters, which explains the gloom that overtakes you when the fourth quarter begins.
We look at numbers to set our expectations, to help us figure out what we can reasonably expect from the players and teams we follow.
There's a reason we say, "The house always wins," it's because those numbers generally hold true.
Then there are nights when the house burns down.
The Los Angeles Clippers' 99-98 win over the Memphis Grizzlies in Game 1 of the Western Conference first round on Sunday night defied all logic. It was the kind of game that prompts you to reassess how you watch basketball in the first place.
Down 95-71 points with 8:00 remaining in the fourth quarter, the Clippers' responded with a 26-1 rally to take a 97-96 lead, then held off the Grizzlies down the stretch with a pair of Chris Paul free throws and a defensive stop of Rudy Gay at the buzzer.
"I didn't know what to do, really," Blake Griffin said. "I just walked around and hugged like three different people."
You'll have to excuse Griffin's imitation of the late Jim Valvano because, in the shot clock era, only one other team has entered the fourth quarter with a 21-point deficit and come back to win a playoff game -- that was the 2001-02 Boston Celtics over the New Jersey Nets. The man who made that defensive stand for the Clippers in the final possession, Kenyon Martin, was on the losing side of that outcome.
The catalog of improbables on Sunday night begins with this quote from Paul:
"Reggie Evans was a game-changer."
Reggie Evans? You mean the Clippers' rugged rebounding specialist who couldn't score in an open gym?
Somehow, Evans made the bookend buckets during that 26-1 run -- a layup that started it, then another after he caught a pass on the move from Paul on a pick-and-roll. If Evans has ever finished a play so artfully before -- much less one at such a crucial juncture -- please send over the tape.
"We just chipped away, chipped away," Evans said. "Then all of a sudden you could just feel it. You could see it in [the Grizzlies'] eyes. You could feel that heartbeat. It started changing, and we took advantage."
Then there's the case of Nick Young, whom the Clippers acquired at the trade deadline. Young didn't shoot 50 percent in a game until his 17th game as a Clipper. But in a span of one minute on Sunday night, Young drained three 3-pointers to shave a 12-point Memphis lead down to only three.
When asked to comment on the explosion, the kid they call Swaggy P credited his performance to his silk-backed denim shirt, a sartorial monstrosity that his teammates allowed him to show off only because of his heroics. After a full 360-degree turn at his locker for full effect, Young spoke about the trio of shots, all assisted by crafty feeds from Paul.
"I'm learning how to play with each guy and pick my spots and I'm starting get my groove," Young said. "Chris is dangerous. If somebody is going to step up to help on him, he's going to drive. And I was wide open."
The toughest math for the Clippers to endure this season has been Griffin's foul-shooting woes. Griffin shot only 52 percent from the line this season, but the Clippers desperately needed him to drain a pair with 1:30 remaining and still trailing by three.
" I remember standing right behind [Griffin] and saying, 'Give us these two,'" Paul said.
Again, the Clippers beat the odds. Although Griffin isn't much better than a 50-50 proposition at the line, he sank both.
"We were down one and [Griffin] has given us a chance," Paul said.
Paul, who has been nursing a strained left groin, might not have been on the floor for some coaches. With the Clippers trailing by 27 points with less than two minutes to go in the third quarter, there's a sound argument to be made that calling off the dogs and resting Paul was the prudent choice. But Clippers coach Vinny Del Negro wanted to make one final stand.
"We got [Paul] out [at the end of the third quarter] to give him a little bit of a rest," Del Negro said. "Then we wanted to get him back in to make a little bit of a push -- but really to try to let him get his rhythm back because he hadn't been playing for a few days. Then we made a run and just rode with it and we were able to steal the first game."
In that 26-1 rally, the "1" was as unlikely as the 26 given the defensive issues the Clippers experienced in the first three quarters. Before halftime, the Grizzlies got the ball to center Marc Gasol whenever, wherever and however they wanted to -- whether it was a simple post-up on the left side, a pick-and-roll or Gasol floating to open space along the baseline.
In the third quarter, Grizzlies point guard went off, hitting all five 3-pointers he attempted in the period, a development that drove Paul crazy.
"We were just going under [Conley] and letting him shoot," Paul said. "It was like he was in a rocking chair, like he was in a gym by himself shooting wide-open shots. But we adjusted."
The Clippers promptly began to plug those holes on those high screens for Conley and to push Gasol and Randolph off their preferred spots -- largely by being more physical and also with the help of Eric Bledsoe, who provided his usual flurry of ball pressure.
After the game, Martin reminisced about how awful the loss to the Celtics was back in 2002 after his Nets blew their big lead. You could see a similar expression on the faces of Mike Conley and Gay as they try to process what has happened.
"We got too comfortable, I think," Gay said. "We were up 27, but they are the type of team that can always be in the game."
The numbers might beg to differ with Gay's statement -- most teams that trail by 27 fall with a whimper -- but sometimes improbability knocks reason into oblivion.


NBA Writer Kevin Arnovitz
• On Twitter @kevinarnovitz | On ESPN.com
• Follow ESPN's NBA coverage on Twitter | On Facebook | On Google+
Dimes past: April 13-14 | 15 | 16 | 17 | 18 | 19 | 20-21 | 22 | 23 | 24 | 25 | 26 | 28
2. Around The Association
3. Sunday's Best
Bynum
Andrew Bynum, Lakers:
He got his first triple-double the hard way, recording 10 points, 13 rebounds and 10 blocks in the 103-88 win over the Nuggets. The future Mozgovs of the world might soon want to avoid Bynum blocks the way they eschew stepping into the frame of Blake Griffin dunks.
4. Sunday's Worst
Rondo
Rajon Rondo, Celtics: One bump of Marc Davis might have just cost Boston its shot at a deep playoff drive. If Rondo gets suspended for Game 2 for his unhappy contact with the official, it's hard to see Boston knocking off the Hawks if Josh Smith keeps this up.
7. Quote Of The Night
"[Andrew Bynum] was playing a nice illegal defense. He was zoned up good. I think we got one illegal defense [call against Los Angeles]. I saw about 30 of them. … The shot-blocker probably beat us."

-- Nuggets coach George Karl.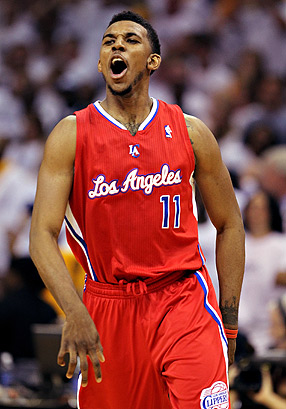 Andy Lyons/Getty Images
Clippers forward Nick Young celebrates one of his three 3-pointers in the Clippers' stunning comeback over the Grizzlies.
By Elias Sports Bureau
Duncan
Tim Duncan scored 17 points for the San Antonio Spurs on Sunday. In doing so, Duncan became the seventh player in NBA history with at least 4,000 career points in the postseason. Duncan joined Kareem Abdul-Jabbar, Shaquille O'Neal and Karl Malone as the only players with both 4,000 points and 2,000 rebounds in NBA playoff competition.