1. Are Knicks' Hopes Extinguished Now?
By Brian Windhorst
ESPN.com
MIAMI -- Even with his New York Knicks down double digits, Amare Stoudemire kept playing until the final horn Monday night, scoring a basket and pulling down a rebound in the final 30 seconds.
After the Miami Heat's 104-94 first-round win was finalized in Game 2 of their Eastern Conference playoff, Stoudemire walked off the floor, through a tunnel and down a hallway where he punched a case that holds a fire extinguisher. He did enough damage to his left hand to require paramedics to come sprinting down the hallway declaring an emergency.
Stoudemire's reasoning for such an emotional display was hard to explain. He left the arena surrounded by a cadre of security personnel, his left arm in a sling and his hand heavily wrapped. His only comments were on his Twitter account.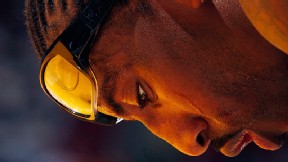 Issac Baldizon/Getty Images
"I am so mad at myself right now, I want to apologize to the fans and my team, not proud of my actions, headed home for a new start," Stoudemire tweeted.
It's understandable Stoudemire was angry at himself for a self-inflicted injury. But it leaves room to wonder, just what sent Stoudemire into such a rage that he'd smash a panel with glass in it? Was it just frustration from being down 2-0 in a series? Was it anger that on a night when he had his offensive game going -- he'd scored 18 on just nine shots -- that he didn't get more touches while Carmelo Anthony took 26 shots?
After the Knicks' 33-point loss on Saturday afternoon, a calm Stoudemire spent the postgame with his children and surrounded by other family and friends. This, clearly, was quite different.
Whatever triggered such costly fury, the morning reality isn't going to be very soothing. His teammates believe he's going to be out for Thursday's Game 3 or longer, which would make him the third Knicks starter to be shelved, joining Jeremy Lin and Iman Shumpert. The remaining players can't be too happy with it.
"He's probably going to be out," said center Tyson Chandler, who battled through the flu and IV treatments to play in the first two games. "It makes it tougher. Your emotions run high and in a split second a decision can alter things. You can't fault anybody. We've got to deal with the repercussions."
But there's another piece of misery Stoudemire and the Knicks must face. The Heat have stormed into the postseason in the same manner they started the regular season, playing with a passion, togetherness and aggression that made them the early title favorite. That should probably be the Knicks' biggest concern of all.
New York isn't out of the series, technically. The Heat held serve on their home floor and if the Knicks, who were great at Madison Square Garden over the past two months, could do the same they still would have a few more chances in Miami to steal it. But seeing the way the Heat have come out after what could only be described as an uninspiring final month, that possibility seems more than remote.
Even at full strength, the Knicks would be hard-pressed to win a series against the Heat the way they're playing now.
In Game 2, the Heat got 65 points from Dwyane Wade, LeBron James and Chris Bosh on a mere 48 shots. The Miami bench, which was one of the five worst-producing reserve outfits in the league, shot a collective 8-of-13 from the field. The Heat had 28 assists against just eight turnovers.
The Heat averaged just 92 points over their last 32 regular-season games. The Knicks gave up just an average of 91 points in the 24 games after Mike Woodson took over the team. But the Heat have topped 100 points in both games so far; they'd done that in back-to-back games just once since the end of February.
"That's one of the most efficient games we've had all year," said James, who had 19 points, 7 rebounds and 9 assists. "When we play as a team like that we're going to be hard to beat."
That was the thing, the Knicks didn't play poorly. Anthony had 30 points, Stoudemire had 18 points and seven rebounds, Chandler looked human again with the flu gone but had 13 points and seven rebounds. They shot 49 percent from the field, won the rebound battle, the second-chance points, and controlled the Heat on the fast break.
And they were still never in the game in the fourth quarter. Stoudemire's case for temporary insanity, perhaps, is building.
Beyond that, the Heat have started to just flat-out mess with the Knicks. During the second quarter, Wade stepped on Knicks guard Mike Bibby's foot and dislodged his shoe. Then Wade picked up the shoe and threw it out of bounds. It took Bibby out of the play and he glared at Wade for the bit of gamesmanship.
"I've never done that before but it was fun. I like messing with Mike," Wade said. "He was surprised, huh?"
Surprised, upset, irritated. Sort of like the entire Knicks locker room as they watched Stoudemire bleed on the carpet knowing they are facing a dire playoff situation. Nothing fun about it.


NBA Writer Brian Windhorst
• On Twitter @WindhorstESPN | On ESPN.com
• Follow ESPN's NBA coverage on Twitter | On Facebook | On Google+
Dimes past: April 15 | 16 | 17 | 18 | 19 | 20-21 | 22 | 23 | 24 | 25 | 26 | 28 | 29
2. Around The Association
MVP: Dwyane Wade, perhaps taking advantage of the Knicks losing top wing defender Iman Shumpert, went on the attack early and never let up much. He scored 25 points on 11-of-18 shooting.
LVP: Landry Fields drew the start in place of the down Shumpert and was unable to fill the gap. He mostly struggled defensive and continued with his shooting woes, making just 1-of-5 shoots. Knicks coach Mike Woodson played him only 18 minutes.
X factor: Mario Chalmers had his second consecutive solid game in the series, this time scoring 13 points with six assists. He scored nine points in the early stages of the fourth quarter that helped the Heat finish the game off without much stress.
MVP: George Hill scored 12 of his 18 points in the third quarter, serving as the catalyst of the Pacers' game-changing quarter that helped them win Game 2 (outscoring the Magic 30-13 in the period) after trailing 44-42 at halftime.
Defining moment: Orlando outscored Indiana 65-63 in three of the four quarters. The problem is that the Magic got beat badly in the third quarter. The Pacers upped their energy level in that period and completely outplayed Orlando at both ends.
That was … important: Game 2 technically wasn't a must-win for Indiana since they weren't trying to stave off elimination. However, in NBA history, teams that go up 2-0 in a playoff series win 94.2 percent of the time. The Pacers avoid that scenario.
MVP: On a rare off night from Kevin Durant -- and yes, it's possible to put up 26 points and 10 rebounds on an off night -- Russell Westbrook stepped up from start to finish, leading the team with a game-high 29 points and playing stellar defense against multiple Dallas players. Without Westbrook's contributions throughout all four quarters, this series is knotted up.
X factor: James Harden had the type of game that defies box scores. Harden shot just 2-for-7 from the field, but hit four key free throws down the stretch, ran the offense in spells to relieve Westbrook, and controlled the tempo for Oklahoma City. Harden ended the game with a game-high plus-minus of +15, and it was no coincidence.
That was … intense: Dirk Nowitzki tangled with Serge Ibaka and Kendrick Perkins in the first half, the latter ending in double-technicals. The game was chippy from the start, and the teams combined to commit 54 fouls in 48 minutes. The arena rocked for all 48 minutes, and Dallas won't be any different.
3. Monday's Best
Westbrook
Russell Westbrook, Thunder:
With Kevin Durant (5-for-17) not feeling his shot, the Thunder got a crucial 29 points from Westbrook in the 101-98 win over the Mavs in Game 2. This one easily could be headed back to Dallas with OKC down 0-2 instead of up 2-0.
4. Monday's Worst
Stoudemire
Amare Stoudemire, Knicks The Knicks' $100 million man punched the glass of a fire extinguisher case, causing a bad cut on his left hand that will likely keep him out of Game 3 at least. Down 2-0, the Knicks come home with nothing to show for their Florida trip but a nasty self-inflicted wound.
6. Tweet Of The Night
I am so mad at myself right now, I want to apologize to the fans and my team, not proud of my actions, headed home for a new start

— Amar'e Stoudemire @Amareisreal April 30, 2012
7. Quote Of The Night
"Hopefully he gets better. We want all their guns on the court."

-- Dwyane Wade, commenting on Amare Stoudemire.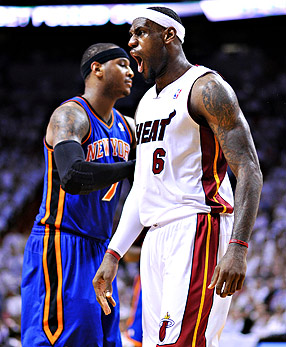 Steve Mitchell-US PRESSWIRE
LeBron James and the Heat are feeling good now, heading to New York up 2-0 on Carmelo Anthony and the Knicks.
By Elias Sports Bureau

Dwyane Wade scored 25 points and made 11 of 18 shots on Monday (61 percent) as the Miami Heat took a 2-0 lead in their best-of-seven series against the New York Knicks. It's the 15th time in his career that Wade has scored at least 25 points and made at least 60 percent of his shots in a postseason game. The only active players to do that as often are Tim Duncan (25), Dirk Nowitzki (15) and Dwight Howard (15). Wade's total is the highest for any NBA guard since Reggie Miller retired with 15 such playoff games.