1. How Game 4 Can Change Everything
By Brian Windhorst
ESPN.com
MIAMI -- With 10 minutes left in Game 4 of the 2011 NBA Finals the Miami Heat walked to their bench up nine points in the game and 2-1 in the series with the Dallas Mavericks. In that moment, even though they were on the road playing against a veteran team and the series was technically far from over, it did appear as though the Heat were within sight of pulling it off and actually delivering a championship.
Going into that timeout, which Mavs coach Rick Carlisle called after the Heat completed a 10-1 run, turned out to be the last bit of euphoria the Heat would feel on the season. Frankly, they haven't felt a lot of it since, with the epic meltdown that followed casting a shadow over much of what they have accomplished this season.


So back in the same position, up 2-1 going into Game 4 against the Oklahoma City Thunder and this time playing at home, do the Heat have a different perspective on the fragility of the position and the gravity of the opportunity that faces them? There's no chance they won't start Game 4 knowing that the last 30 teams to go up 3-1 in the Finals have won the whole thing, because, well, they heard that same statistic last year. And there's no chance they won't think about what happened last year all the way up until Tuesday's tip off.
"We've put last year behind us," Heat coach Erik Spolestra said at the start of the series, which couldn't possibly be true but was smart public relations. "We went through the pain, we went through the evaluation, we went through the recommitment at the beginning of the year."
And they're still going through it.
The Heat blew a 15-point lead in the fourth quarter of Game 2 to Dallas last year but they truly lost the Finals when they let Game 4 slip because they were able to steal Game 3. Same situation this year, they eked out Game 3 on a night when they failed to shoot 40 percent and committed nine turnovers in the fourth quarter. Nonetheless, 2-1 is 2-1 just as it was last season. And there's no dodging the memories that being in the same position drags to the surface.
"Of course it stuck with us, all the way to this day," said LeBron James, who played one of the worst games of his career in Game 4 last year when he infamously didn't score in the fourth quarter and finished with just eight points. "But we're a totally different team than we were last year. We understand what it takes to win and we've used that motivation and we'll continue to use that motivation."
That sounds reasonable. The Heat have had a much different playoff experience this year and there's no mistaking the difference in their resolve. They didn't fall behind in a series last season until Dallas took a 3-2 lead after the Mavs backed up the Game 4 comeback with a great Game 5 performance. The Heat have already been behind three times in these playoffs and have rallied back all three times.
They've gone through six starting lineup changes in the playoffs, an injury to Chris Bosh and two elimination games. Coming back from 10 points down in the second half to beat the Thunder on Sunday night was a feat they might not have been mentally strong enough to pull off last season. But this year it did have an another-night-at-the-office feel.
Does that collection of scars mean the Heat will be different this time? If they have a late lead will they be able to protect it against a Thunder team that is expected to be playing desperate and already has proven that it can also come from behind in a series this postseason? It's not easy to predict. Especially with the series having been played so close for the first three games. Only one point separates the teams after 154 minutes of competition.
"There's no substitute for experience," Dwyane Wade said. "But experience doesn't guarantee you anything. It just lets you know I've been here before. That doesn't mean it's going to be successful for you."
The Heat may have entered this series as underdogs but they have played well enough to change that perception. With the lead and the next two games at home, the Larry O'Brien Trophy is once again peeking over the horizon. Last year that moment served as a bait-and-switch, setting them up for a greater fall and triggering an avalanche of schadenfreude for how it and they went down.
Getting another lead and being put back in the same position has only heightened the stakes. Game 4 was where it all went wrong for the Heat last year. This time, it could be where it all goes right. Or it could reprise its role as catalyst for another summer of unyielding regret. Such is life when living with the baggage of the recent past, a past the Heat remain in uncomfortable touch with.
"We're going into Game 4 with a lot of experience in this type of situation," James said. "We'll be ready. We love the challenge."


NBA Writer Brian Windhorst
• On Twitter @WindhorstESPN | On ESPN.com
• Follow ESPN's NBA coverage on Twitter | On Facebook | On Google+
Dimes past: June 1 | 2 | 3 | 4 | 5 | 6 | 7 | 8 | 10 | 12 | 13 | 14 | 15 | 16 | 17
2. Um, Who You Calling Small?
By Israel Gutierrez
ESPN.com
Wade
MIAMI -- It was a simple defensive switch -- the kind of strategy that would have been considered a concession and a mistake in old-school Miami Heat thinking -- and it left Dwyane Wade defending Kevin Durant during the second quarter of Sunday's Game 3.
It wasn't the first time this apparent mismatch happened in this series, and it won't be the last. On this particular occasion, Durant nailed a pull-up jumper over the extended reach of Wade, then decided to explain to Wade exactly why it was possible.
"You're too small," the cameras caught Durant telling Wade with a smile.
Wade's natural reaction was the same as any competitor's would have been.
"KD told me I was small, so my whole thought was, 'I got to make a play on him,'" Wade said. "It didn't happen tonight, but eventually it'll happen, where I show them that I'm not that small."
Short of actually growing before Game 4, there's not a whole lot Wade can do about the size difference between him, who Pat Riley used to joke wasn't 6-foot-4 but more in the 6-2 range, and Durant, who is listed at 6-9 but is closer to being a 7-footer. But Wade shouldn't really take offense, because that's exactly what the Heat are.
They're small.
And they've actually been shrinking as the playoffs have progressed. The playing rotation that once regularly featured centers Joel Anthony and Ronny Turiaf now has power forward Chris Bosh as the starting center and 6-8 Udonis Haslem as the only true big man coming off the bench. At 6-8, LeBron James may as well call himself a power forward for the remainder of this season, while 6-8 Shane Battier has been playing the power role for the better part of the playoffs.
3. Bosh Big On Little Things
By Sebastian Pruiti
Grantland.com
Bosh
If you only look at Chris Bosh's line from Sunday night -- scoring just 10 points on 3-of-12 shooting and posting a -7 -- you would think that he had a bad game. But Bosh actually made a big impact on both ends of the court. He played great help defense in the fourth quarter, and he was instrumental in pick-and-rolls.
Bosh got the ball nine times in pick-and-rolls -- well more than his average of 2.4 times per game. Of those nine possessions, he rolled to the rim five times to score eight points. The Oklahoma City Thunder effectively stopped Bosh in pick-and-pops, which is how he predominantly functioned during the regular season. But they weren't prepared for his pick-and-roll play, since he has rolled to the rim just 39 percent this postseason.
4.

Harden Looks For Winning Ways
By Neil Paine
Basketball-Reference.com
Harden
James Harden is the NBA's reigning Sixth Man of the Year and probably the most efficient medium-usage player in the league. History says players like Harden frequently tip the scales of the championship in their teams' favor; since the NBA started handing out the Sixth Man award in 1985, the finalist whose reserve ace finished higher in the voting has won 14 times in 20 tries, good for a 70 percent rate of winning the title.
So why isn't any of that translating thus far in the NBA Finals?
Through three games, Harden is averaging just 14.2 points per 36 minutes on a 52.8 true shooting percentage, down quite a bit from his respective regular-season marks of 19.0 and 66.0. Not only that, but OKC is scoring just 107.9 points for every 100 possessions he has a hand in, a number that was well north of 120 during the regular season and the playoffs heading into the NBA Finals.
See the full Paine post
5. Quote Of The Night
"Of course it stuck with us, all the way to this day."

-- Heat forward LeBron James, on how the team remembers the meltdown in last year's NBA Finals.
By Henry Abbott
ESPN.com

A quick spin through the media reaction to the Miami Heat's Game 3 win reveals a theme: The Oklahoma City Thunder need to care more, embrace the moment, play for today, fire all of their guns, be more rageful, raise the adrenaline level, go harder …
It's a juiced-up collection of sports clichés that all suggest the Thunder ought to spend Game 4 running around like Mel Gibson in "Braveheart," screaming "AAAARRRRRRGGGHHHHH!"
To me, there is certainly value, in sports, in very high energy levels. Many of the games' best moments, and almost all of the highlights, are about very high adrenaline moments. Michael Jordan proved there is value in hatred as motivation, if you're built that way.
But more caring, raging or anger … it is overblown as a solution for the Thunder, and more could even be damaging, because research suggests the best results come not from the strongest emotion, but from the best balance. Caring a ton is one thing, but also important is being calm enough to master the game's more finicky chores, such as the precision tasks of recognizing the defense, making sound decisions and, most importantly, shooting.
Kendrick Perkins on Thunder's inability to get him the ball when Shane Battier defends him. "It's disturbing."

— Tom Haberstroh @tomhaberstrohJune 18, 2012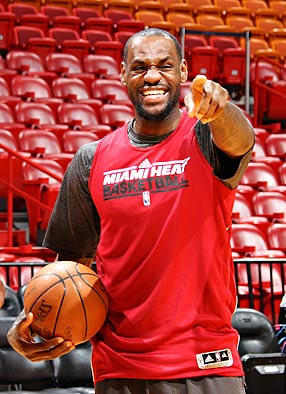 Nathaniel S. Butler/Getty Images
Remember that somber guy in Game 6 of the Eastern Conference finals? He was on the shelf Monday. But LeBron James will likely be all business again when Game 4 of the NBA Finals tips shortly after 9 p.m. ET on Tuesday on ABC and WatchESPN.