1. Ray Allen Adjusts To Role Of Torching C's
By Brian Windhorst
ESPN.com
MIAMI -- Ray Allen walked away from the Boston Celtics' bench and 24 seconds later executed a perfect catch-and-shoot 3-pointer from the left corner, where one of the greatest shooters in NBA history has made more shots than anywhere else.
It's no wonder Allen found himself a little lost in his own head Tuesday night. A man who spends an enormous amount of time trying to develop muscle memory had trouble adjusting to his new reality as a member of the Heat and an enemy of the Celtics. He wasn't the only one.
"First play on the floor and we leave Ray open on the baseline corner," Celtics coach Doc Rivers said. "You'd think we'd know better."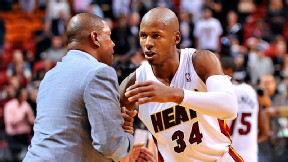 Steve Mitchell/US PresswireDoc Rivers had a civil greeting for Ray Allen.
Allen's Miami debut probably couldn't have gone any better. He scored 19 points off the bench, the blueprint of the role the Heat want him to fill. Not only was his jumper working, but so was his floor game as he successfully showed that his bounce had returned after offseason ankle surgery. And his new team beat his old team 120-107, which is more than a footnote.
But still, Allen found himself in a bit of a fog trying to comprehend just exactly what was happening. If it still looks a little odd to fans to see Allen running around screens and quick-releasing jumpers in a Heat uniform, know that he's still struggling with that reality, too.
"A couple times I would see somebody running down the floor and I had to ask myself, which team was I guarding?" Allen said. "I'm looking at both jerseys and my natural inclination is to guard the Miami jersey. My brain right now has to be switched over."
Once, after Celtics forward Brandon Bass made a play, Allen almost reached out to offer congratulations before catching himself. This, clearly, is going to take some getting used to.
The moments on the floor, though, did not compare to the awkwardness Allen faced in his first interactions with the Celtics. Obviously, this had been in the back of his mind since the schedule came out in July, and it was something both he and the Heat were conscious of trying to manage.
Allen was sitting at the scorer's table ready to check in for the first time late in the first quarter when Dwyane Wade drew a shooting foul. The whistle triggered a TV timeout and Allen was supposed to go in for Wade. During the break, Allen went to Heat coach Erik Spoelstra and asked if he could go in for another player, instead of replacing Wade later, so he could stop by the Celtics' bench coming out of the timeout to get the expectedly difficult greetings over with. Spolestra made the adjustment so Allen could enter the game and get the discomfort out of the way.
This was how much of the night was for Allen, having to consider how to handle unusual circumstances. Such as during the pregame ring ceremony, which Allen spent in the Heat locker room in an uneasy kinship with his ex-teammates, who were down the hall in the visitor's locker room avoiding it as well.
When Allen approached the Celtics bench, he got cursory handshakes from Rivers and the coaching staff. He didn't even try to bump fists with Kevin Garnett, who stared the other way when Allen tapped him on the shoulder.
"Did you expect him to react?" Allen said. "I don't take anything from it. Kevin is an intense competitor. You just have to respect that. It was my peace offering."
Allen had brief on-court exchanges with Rajon Rondo and Paul Pierce and, eventually, Garnett did acknowledge him ... and set a few solid screens into his chest.
"I'm an intense person," Garnett said. "I'm just trying to play the game."
By the time Allen sees the Celtics' again, in late January, he should be well past this stage. Then it won't be about how his ex-teammates size him up and instead will be all about how the Boston fans will treat him in his return. It might be tiresome already, but this was the baggage that came with his decision to switch sides over the summer, and he knew it.
Because of the nature of the game and the nature of the rivalry, there was no choice but for the ancillary stuff to take center stage in the opener. But it will pass, and probably because Allen will remind why he was so coveted when he made it known he was willing to relocate.
Beyond all the trash talk and handshake sagas, the Heat likely wouldn't have won Tuesday without such a strong performance from their key free-agent addition. What Allen wants more than anything after these past few stressful days is that to be the case throughout the season.
"He let his game to all the talking," said LeBron James. "It's a gift for us to have a Hall of Famer coming off the bench."


NBA Writer Brian Windhorst
• On Twitter @WindhorstESPN | On ESPN.com
• Follow ESPN's NBA coverage on Twitter | On Facebook | On Google+
2. Around The Association
MVP: Kyrie Irving (29 points) hit superstar shots, as he is wont to do, but Andy Varejao was the MVP. The Brazilian took it to Emeka Okafor (and other Wizards) early, late and during all times in between. He set a new career high with 23 rebounds (12 offensive) and almost notched an opening night triple-double with nine assists and nine points to boot.
X factor: Earl Barron didn't play at all in the first half. Heck, he barely made the Wizards roster and likely only did so over 2011 draft pick Shelvin Mack because big Nene and Kevin Seraphin are injured. But Barron was key in helping the Wizards scrap back from a 50-39 halftime deficit, with eight points and eight rebounds in 16 second-half minutes.
That was ... an NBA opener between two hopeful, rebuilding teams: Don't hate, embrace professional basketball. Cleveland set the tone by outscoring Washington 16-2 in the paint early, but Randy Wittman's Wizards scrapped back to make the game interesting (this year's version of the Wiz has significantly less quit in them). But the fully healthy Cavaliers eventually prevailed, thanks to a back-breaking play featuring an Irving dribble-spin move, a bounce pass to Varejao and a flip pass to Tristan Thompson for the dunk that put Cleveland up six with 90 seconds left.
MVP: The MVP. LeBron was the best point guard, power forward and swingman on the floor in this game. Those hoping he'd maybe stop trying after his first ring were disappointed.
LVP: Jeff Green. In his first real game in 16 months after undergoing major heart surgery, Boston's most expensive offseason signing scored three points with zero field goals and zero answers for LeBron.
That was ... awkward: Ray Allen approached the Celtics bench for pregame handshakes, but Kevin Garnett didn't even look his way. Ray responded by putting up 19 points, more than he scored in any game of Boston's entire playoff run.
MVP: Rick Carlisle. Armed with a roster many expected was scant removed from cannon fodder, Carlisle prepared his soldiers well. He rolled out a positively masterful rotation of ever-changing pieces that disoriented and disturbed the L.A. defense. Once Howard tired in the third, the floodgates opened.
Defining Moment: With 7:11 left in the third, Dwight swung his arms into Elton Brand's neck and picked up a frustration flagrant foul. No present motive, no real point. Didn't really matter. The foul invigorated the upstart Mavericks, who went on a run immediately thereafter and maintained a 7- to 15-point lead against a tired Laker squad for the rest of the night.
X factor: Hard to win a game with free throws like that. Howard's Magic have been last in the league for two straight seasons, so this isn't an unknown problem. But it usually isn't bad enough to swing a game. Howard made only 3 of 14 free throws, wasting Pau Gasol's excellent night and making "Hack-A-Howard" a viable endgame strategy to quell a Lakers run.
3. Tuesday's Best
Varejao
Anderson Varejao, Cavaliers: Welcome back, Andy. Varejao had a career-high 23 rebounds, along with nine points and nine dimes in a 94-84 win over the Wizards. He missed the final 41 games of last season with a broken wrist. Cleveland is undefeated.
4. Tuesday's Worst

New-look Lakers: Might want to hold off on the parade. While much credit is due to the Mavs, the Lakers did not show they have earned West favorite titles with this 99-91 loss to Dallas. Getting Steve Nash (4 assists) involved in a Steve Nash way might be a first step to improvement.
6. Tweet Of The Night
KG did not like Ray Allen touching him just Now. #heatvsceltics #NBAISBACK #nbatnt

— Al Harrington (@cheddahcheese7) October 30, 2012
7. Quote Of The Night
"It was a punk play by him. He clotheslined me."
-- Dwyane Wade, on a flagrant foul delivered by the Celtics' Rajon Rondo.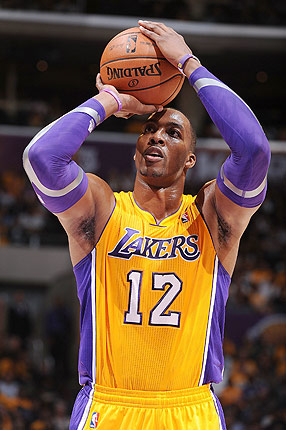 Nathaniel S. Butler/Getty Images
Dwight Howard made 3 of 14 free throws in the 99-91 season-opening loss to Dallas.
By ESPN Stats & Information
James
LeBron James extended his streak of scoring at least 20 points against the Celtics to 24 straight regular-season games, which he was able to do prior to leaving with leg cramps. Some of Ray Allen's long-distance effectiveness (he was 4-for-6 from 15-plus feet in his Heat debut) might have rubbed off on James.
James was 6-for-9 on shots from 15 feet and beyond, his second-highest shooting percentage from that distance in any game since the start of last season.
James attempted nine of his 16 shots from beyond that distance, which is unusual for him. He attempted a higher percentage from the outside only once in last season's playoffs.