1. Rockets' New Man Soars Like Never Before
By Dan Feldman
ESPN.com TrueHoop Network
James Harden used a high screen, split a pair of Pistons defenders and drove for an and-1 layup -- the Rockets' final basket in a 105-96 win Wednesday. Omer Asik, the wide-bodied center who set the quality screen, and Chandler Parsons hugged Harden below the hoop. Houston's bench gave a standing ovation.
And Harden's trademark beard parted just enough to reveal a smile.
"It was a whirlwind," Harden told Houston reporters after the Oklahoma City Thunder shook up the NBA season by trading him to the Rockets.
It's still a whirlwind, and on Wednesday, it caught the Pistons. Now, other NBA teams must worry they're next.
Harden came to Houston ready to move quickly, especially when it came to getting the max contract extension the Thunder never offered.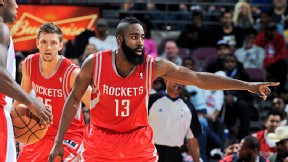 Allen Einstein/NBAE/Getty ImagesJames Harden points Houston in a new direction.
"It's very important, but I'll let my agent and the front office deal with that," Harden said earlier in the week.
They delivered -- to the tune of five years and $80 million.
"My focus is on, how can I make this team better?" Harden continued. "Hopefully, we can get it done soon."
Then he delivered -- to the tune of 37 points, 12 assists, six rebounds, four steals and a block.
Only three other players in the past 25 years have hit those numbers in a single game: Michael Jordan, Larry Bird and Dwyane Wade. And here was Harden doing it just four days after being traded to Houston.
"I thought it was a challenge for James to kind of figure out what we were doing," Rockets coach Kevin McHale said. "We put some plays in that he was comfortable with that they ran at Oklahoma City."
If this is how Harden plays while he doesn't know what he's doing, it's incomprehensible how he'll play once he does.
Harden excelled inside (8-of-10 in the restricted area) and outside (4-of-10 beyond the arc). Nearly all his assists led to a dunk, layup or 3-pointer. And the running Rockets had an offensive rating of 175 after his steals, meaning almost two points per possession.
It was a bit absurd Harden faced concerns about whether he could succeed as a starter -- you don't play 31.4 minutes per game against only reserves -- but he answered that question Wednesday.
However, a big question remains: Is Harden a star?
One game against a team that was 22nd in defensive rating last season cannot sufficiently answer that, but Harden took a step in the right direction.
He finished 26th in #NBARank, 30th in Player Efficiency Rating, 20th in estimated wins added, sixth in win shares and 15th in wins above replacement player after last season. By any reasonable measure, he was already at least very good and maybe even a star.
As the Rockets give him more minutes and more shots, we'll get a much clearer answer, and that's great for the NBA, based on the league's agenda during the lockout.
Among many other issues, the lockout was about preventing super teams and giving more markets a chance to build a good team. In that regard, the new collective bargaining agreement worked, as the Thunder -- leery of the more punitive luxury tax -- sent Harden to Houston, where he's pumping new life into a franchise that had swung and missed in its previous attempts to land a top player (Pau Gasol, Marc Gasol, Dwight Howard). Wednesday's performance, at least temporarily, justified everything Rockets general manager Daryl Morey has been trying to do.
This must be great for Jeremy Lin, too. He escaped New York, where questions about how the Knicks players fit together dominated -- and still dominate -- the discussion.
On Wednesday, there was no issue with the Rockets' backcourt. Harden and Lin meshed beautifully. With their strong outside shooting, quick slashing and keen court awareness, they spread the floor wonderfully for each other and their teammates.
The Rockets are still one or two quality forwards from contending. Heck, they might be one or two quality forwards from even making the playoffs. But with Harden and Lin -- and the bruising Asik to set screens for them -- they're off to a good start.
When the Thunder, one of the league's elite teams, traded him to a franchise that has missed the past three playoffs, it could have been crushing to Harden.
But he said he embraced all of it -- being the focal point of an offense, serving as a team leader, starting regularly for the first time in his career -- and as Asik and Parsons embraced him under the hoop, Harden had good reason to smile.
The Houston Rockets, his new team -- his team -- won their first of game of their new era.
Meaningful? Maybe.
A whirlwind? Absolutely.
Dan Feldman's work appears regularly at the TrueHoop blog Piston Powered.
2. Around The Association
3. Wednesday's Best
Harden
James Harden, Rockets: The beard? Feared, as perhaps never before. Stepping into the Rockets' starting lineup, Harden had 37 points and 12 assists in a 105-96 victory over the Pistons. In case you were wondering, Harden first returns to OKC on Nov. 28.
4. Wednesday's Worst

New-look Lakers: This is looking a bit like the start LeBron had with the Heat in 2010. The Lakers never have much luck in Portland anyway, but the Lakers fell 116-106 and fell to 0-2. To add injury to insult, Steve Nash hobbled off with a knee injury.
6. Tweet Of The Night
I'm putting it out there now. I love the Houston Rockets backcourt. Good luck guys. Great game Lin and Harden.

— Cuttino Mobley (@CuttinosLife) October 31, 2012
7. Quote Of The Night
"I think I just wanted to get out there and play."
-- James Harden, after his journey to the Rockets followed a trade Saturday night from Oklahoma City. Then he agreed Wednesday on a five-year, $80 million contract extension.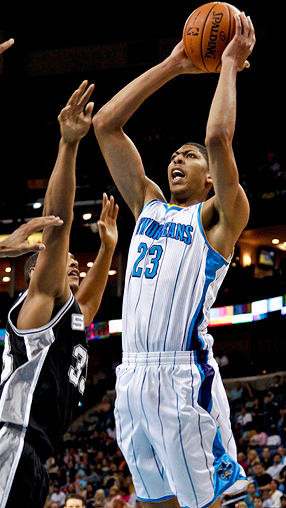 Derick E. Hingle-US PRESSWIRE
Hornets power forward Anthony Davis dropped in 21 points but Tim Duncan and the Spurs spoiled the No. 1 pick's debut with a 99-95 win.
By Elias Sports Bureau
Lillard
Damian Lillard made a great first impression by scoring 23 points and adding 11 assists for the Trail Blazers as they topped the Lakers. Lillard joined Oscar Robertson (21 points, 10 assists for the Cincinnati Royals in 1960) and Isiah Thomas (31 points, 11 assists for the Pistons in 1981) as the only players in NBA history with 20 or more points and at least 10 assists in their NBA debuts.
Hawes Rules Middle
MVP: Spencer Hawes, despite the dual indignities of a mullet and a preseason relegation to a bench role, was tremendous. After hitting all of three 3-pointers last season, Spencer hit a pair in the first half and finished with a fat 16-point/12-rebound/five-block (!) line.
LVP: Andre Iguodala will doubtless spend the postgame telling everyone with a notebook that he wasn't pressing in his inglorious return to the Wells Fargo Center. Not the way it looked from the cheap seats. The most recent Philly AI to decamp to Denver spent the first quarter forcing shots, then disappeared, finishing with 11 points on 13 shots and a plus/minus of negative-19.
X Factor: Defense. Minus the perennially stingy Iguodala and the sneakily stout Elton Brand, it was unclear whether the Sixers would be able to maintain the high level of defensive play that's been their hallmark in recent seasons. Looks like they will be. The revamped 76ers held an explosive Denver offense to 37.5 percent shooting and forced it into 22 turnovers. Newcomer Dorell Wright was especially active.
How West Won
MVP: Look at the stat sheet, the highlights, the locker room. It's the same guy it was all last season for Indiana: David West. He scored 21 of Indiana's 42 second-half points, including 14 in the fourth quarter. He also made two excellent passes to an open George Hill in the corner on possessions that netted the Pacers five points.
X Factor: George Hill. The newly uber-rich point guard who missed the entire preseason due to injury hit a big 3 to cut Toronto's lead to three with just more than three minutes left. Then, he won the first game he has played in since May by choosing to keep the ball on a pick-and-roll and hitting a floater in the lane with just 2.1 seconds left.
That Was ... The National Basketball Association: On a Wednesday night that was better known for people dressing up as monsters, 30 men donned jerseys to play professional basketball and give the league its first #LeaguePassAlert of the season. Except David West. He did go as something scary enough to petrify a dinosaur for Halloween.