5.

One-On-One ... To Five
Calderon
Five questions with Raptors guard Jose Calderon:
Q: Your name has been in the news a lot since the summer because of possible trades. How much is that on your mind these days?
A: I think I'm going to be in the news a lot during the whole year [because of his expiring contract]. ... I've just got to be professional. That's what I've been doing for these [past] eight years. [By] now you're going to like my game or not, but that [trade] stuff I cannot control. I don't need to worry about what's going to happen. I don't know what's going on [in the] next few days or months or February [leading up to the Feb. 21 trade deadline]. I'm just trying to do my job. Whatever minutes the coach [gives] me, that's what I'm going to take and play my best.
Q: What's your thought about the NBA in general? You want to play over here as long as you can?
A: I love to play here. I'd love to sign [for] another two or three years for sure and be around. I love the NBA. I'm pretty comfortable here.
Q: So it's important to you to get, say, 10 years in as an NBA player?
A: At least. If I can do more, I'll do more. But I think 10 is a pretty nice number. And I never expected that when I arrived eight years ago. I was a free agent from Spain, undrafted, couldn't speak English at all. I didn't know how long I was going to be here. Everything worked out well.
Q: How much different will the Spanish roster look at the World Cup of Basketball in 2014 compared to your team at the Olympics last summer?
A: In two years, I think we're going to be the kind of same ... with Ricky Rubio back. I think everyone [else from the squad] will be back. [The tournament is] in Spain. It's a special thing for everybody. If you want to stop playing for the national team, I think the right moment is after you play [a tournament] in Spain.
Q: How hard is it to live with coming so close to beating the United States at two straight Olympics but falling short both times?
A: I think we had a great game plan twice: 2008 and 2012. [But] when you lose against a good team and you gave everything, what are you gonna do? You just shake [the opponent's] hand and say congrats. There's nothing else you can do. If you lose against a team that's worse than you or you don't give everything out there on the court, now that's another story.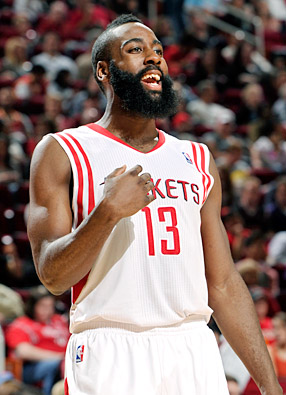 Bill Baptist/NBAE/Getty Images
The grizzled James Harden has surged since being traded from OKC to Houston. (See Box 4.)
As we settle into our annual November routine, there are eight teams are projected to pay luxury tax at season's end.
This is where we always insert a reminder that final tax bills are tallied based on where a team's payroll falls at the end of the season, but these are the eight clubs currently projected to be above the $70.3 million luxury-tax threshold:
| Team | Tax Owed |
| --- | --- |
| Lakers | $29,859,250 |
| Heat | $14,055,029 |
| Nets | $13,204,726 |
| Knicks | $9,744,354 |
| Grizzlies | $4,046,577 |
| Bulls | $3,241,398 |
| Warriors | $1,229,681 |
| Celtics | $1,156,383 |
There also are six teams with leftover cap space from the summer that can be used for the pursuit of unsigned free agents:
| Team | Cap Room |
| --- | --- |
| Cavaliers | $10,377,420 |
| Rockets | $7,463,557 |
| Suns | $6,446,958 |
| Trail Blazers | $1,507,030 |
| Bobcats | $592,364 |
| Kings* | $119,369 |
*For the record: Sacramento actually can't do anything with its cap space because the amount is less than even the league's rookie minimum salary.
8.

Mike Brown Facts And Figures
With an assist from ESPN Stats & Info, we've got some numerical/historical context to add to the Lakers' firing Friday of coach Mike Brown:
Fewest Games Coached Before Coaching Change
In NBA History
| Year | Coach | Games | Team |
| --- | --- | --- | --- |
| 1971-72 | Dolph Schayes | 1 | Buffalo Braves |
| 1952-53 | Chick Reiser | 3 | Baltimore Bullets |
| 2012-13 | Mike Brown | 5 | Los Angeles Lakers |
Source: Elias Sports Bureau
Lakers' In-Season Coaching Changes
Since Moving To L.A.
| Season | From | To | Season Result |
| --- | --- | --- | --- |
| 2004-05 | Rudy Tomjanovich | Frank Hamblen | Missed playoffs |
| 1998-99 | Del Harris | Kurt Rambis | Lost second round |
| 1993-94 | Randy Pfund | Magic Johnson | Missed playoffs |
| 1981-82 | Paul Westhead | Pat Riley | Won NBA title |
| 1979-80 | Jack McKinney | Paul Westhead | Won NBA title |
Lakers Without Phil Jackson Since 1999-2000
| Season | Winning Pct. | Season Result |
| --- | --- | --- |
| 2012-13 | .200 | ? |
| 2011-12 | .621 | Lost second round |
| 2004-05 | .415 | Missed playoffs |
Jackson: Five titles in 11 seasons with Lakers
Getting fired five games into an 82-game schedule equates to 6 percent of the season. That is the equivalent in other sports of:
• NFL coach getting fired before the end of the first game (with 1 minute, 28 seconds left, to be precise).
• Major League Baseball manager getting fired in the eighth inning of the season's 10th game.
• college football coach getting fired before the end of the third quarter in the first game (assuming a 12-game season).
• college basketball coach getting fired before the second game ends (assuming a 30-game schedule).
• Premier League soccer manager getting fired in the first half of the third game (38-game schedule).
Highest Career Winning Percentage
Active NBA Coaches
| Coach | Team | W-L | Pct. |
| --- | --- | --- | --- |
| Tom Thibodeau | Bulls | 115-38 | .752 |
| Gregg Popovich | Spurs | 851-400 | .680 |
| Mike Brown | Lakers* | 314-167 | .653 |
| Erik Spoelstra | Heat | 198-119 | .625 |
| Rick Adelman | Wolves | 974-657 | .597 |
* Fired on Friday
Marc Stein visits "The Gary Parrish Show" on ESPN Radio (92.9 FM) in Memphis to talk about the Grizzlies' new ownership group and O.J. Mayo's hot start in Dallas.
• Click here to listen to the podcast.

Three quick slams and dunks from the deepest recesses of Weekend Dimedom:

1. Twitter imposed itself as a phenomenon in England and soccer's Premier League well after it became a daily staple of NBA life, but the Brits don't mess around when it comes to countering one of the ugliest aspects of the Twitterverse. Twitter louts over there who racially abuse players or casually throw out sickening, indefensible death threats -- like those the son of ousted Lakers coach Mike Brown was shamefully subjected to before his dad's dismissal Friday -- can be and frequently are prosecuted. Although there's been much discussion in the U.K. about authorities going too far in these matters, I'd say it's long overdue for us to start asking: Are we doing enough? Why do tweets that go so far beyond the line of common decency -- threatening personal safety in this case -- go unpunished?
2. What you don't understand, Knicks Fans Convinced I Hate Your Team, is that you're wrong on two fronts: (A) I've said or written zillions of times that Madison Square Garden will always be one of my favorite sporting venues to visit on Earth and thus I couldn't hate the team that plays there even if I really tried; (B) I'm actually hoping my preseason assessment undersold your Knicks and that they can stay as good as they look right now to increase the odds of my getting to make multiple trips to MSG before the season is out. The fact remains, however, that the Knicks have four of the six oldest players in the league and will have to keep Carmelo Anthony plugged in defensively as a power forward to keep rolling him out there as a 4-man at the other end. A lot can happen in the next 79 games.
3. I really hope this doesn't sound as selfish as it feels in some ways to put it like this, but I feel so, so grateful that I ducked into the car for some of the Boston-Miami game on opening night to get one last listen to the incomparable Jim Durham alongside Dr. Jack Ramsay on ESPN Radio. Hopefully you've already read these recollections. Just permit me one more because there can't be too many tributes to JD as far as I'm concerned. He was that good. On and off press row.