1. Jason Kidd Returns To Dallas
By Tim MacMahon
ESPNDallas.com
DALLAS -- The Dallas Mavericks sure could have used a calm, cool, savvy, clutch leader as the New York Knicks cut their lead from a dozen points down to one during the final six minutes.
"I try not to think about those things," coach Rick Carlisle said with a wry smile after the Mavs managed to pull out a heart-pounding 114-111 win Wednesday night. "Which one are you talking about?"
Well, there was a familiar face wearing a funny, crooked headband and a blue No. 5 jersey who fit the bill.
Jason Kidd can call it just another game all he wants, but there's no doubt he came to play in his return to the American Airlines Center, where his name hangs on a championship banner and the No. 2 he wore during his second stint in Dallas will too one day, if Mark Cuban can get past the hurt feelings from the future Hall of Famer's change-of-heart departure this summer.
Kidd mustered remarkable energy for a 39-year-old playing the second game of a back-to-back, stuffing the box score with 17 points, six rebounds, five assists and five steals in 36 minutes. He willed the Knicks (now 8-2) to have a chance to win, if Carmelo Anthony's jumper with Shawn Marion in his face had fallen with seconds remaining.
"Tonight's more proof of it: He's one of the all-time greats," Carlisle said. "Never underestimate greatness at any age."
Yep, the remodeled Mavs sure could use a leader like that as their young guns try to learn to win, especially while Dirk Nowitzki rehabs from a knee scope that is expected to sideline him until mid-December. Having said that, Kidd's exit was in the best interests of himself and both franchises affected by his double-clutch free-agency decision.
Kidd added a critical element to a team that appears to be a legitimate contender. The Mavs got one heck of a consolation prize, one that could be a major part of the franchise's future: O.J. Mayo.
The Mavs used their last bit of cap space -- room that wouldn't have been available if Kidd had returned, as Cuban says the Mavs still would have traded for point guard Darren Collison -- to sign Mayo to a one-year, $4 million deal with a player option for next season.
That contract has been one of the NBA's best bargains so far this season, with Mayo the main reason the 7-6 Mavs are above water despite the absence of their lone proven superstar. Mayo is performing like an All-Star, ranking sixth in the league in scoring at 22.9 points per game after his efficient 27-point performance helped key the Mavs' victory over New York.
The five players scoring at a higher clip than Mayo -- Kobe Bryant, Kevin Durant, LeBron James, Anthony and James Harden -- all have long-term deals that pay them well into eight figures per season.
"I don't want to talk him up too much because I don't want him to opt out next year," Cuban kidded before the game, a comment that made Mayo laugh heartily when it was relayed to him later.
At the moment, the only reason for Mavs fans not to fall in love with Mayo is the fear that he'll be another one-and-done heartbreaker in Dallas, much like big man Tyson Chandler, who put up 21 points and 13 rebounds for the Knicks on Wednesday night.
The difference is that Cuban feared locking into an aging core after the Mavs made their miraculous 2011 title run and the new, more restrictive collective bargaining agreement was written, while he's hoping 25-year-olds Mayo and Collison prove themselves worthy of being paid this summer to stay in Dallas. But that's a discussion for several months from now.
All Mayo, a former No. 3 overall pick who arrived in Dallas humbled and hungry after a disappointing tenure in Memphis, is focused on at the moment is maximizing the chance the Mavs have given him to ignite his career.
"Even when I was on the bench, I was still grinding, hoping for an opportunity one day," said Mayo, who was demoted by the Grizzlies to sixth man the previous two seasons. "Hey, it's here."
The buzz before the game was all about Kidd being here.
The Mavs didn't do anything special such as a tribute video to acknowledge Kidd's return. But maybe -- just maybe -- the pregame song playlist that featured Gotye's "Somebody That I Used to Know," Taylor Swift's "We Are Never, Ever Getting Back Together" and Fun's "We Are Young" was intended for his ears.
The sellout crowd did give Kidd a nice ovation when his name was announced with the Knicks' starting lineup, although he already had made his way to middle of the team huddle and didn't acknowledge the applause until after the game.
"I love Dallas," Kidd said. "What we accomplished as a team will always be special to me, but now I'm in New York trying to accomplish that again. That's to win another championship."
Realistically, Kidd's return wouldn't have made the Mavs a title contender. They're a long shot with Mayo, too, but at least there's hope the new kid can be part of the franchise's foundation for years to come.
Dimes past: Nov. 1 | 2-3 | 4 | 5 | 6 | 7 | 8 | 9-10 | 11 | 12 | 13 | 14 | 15 | 16-17 | 18 | 19 | 20
2. Around The Association
3. Wednesday's Best
Love
Kevin Love, Timberwolves: Surprise! Minnesota's loss aside, what an unexpected comeback it was for Love. The Wolves' big man had 34 points and 14 rebounds in 35 minutes of work in his first game back after breaking his right hand in October.
4. Wednesday's Worst
Howard
Dwight Howard, Lakers: In the first loss of the Mike D'Antoni era, Howard looked like an afterthought on the offensive end, managing only seven points on 2-of-4 shooting in a team-high 41 minutes.
6. Tweet Of The Night
Kevin Love is officially back. Took 120 seconds to grab his first three rebounds.

—Chris Palmer (ESPNChrisPalmer) November 21, 2012
7. Quote Of The Night
"We're going to live and die on that shot."
-- Clippers center DeAndre Jordan, on Chris Paul's potential game-winning shot missed at the end of regulation in an overtime loss to the Thunder.
8. Everybody Beats The Wiz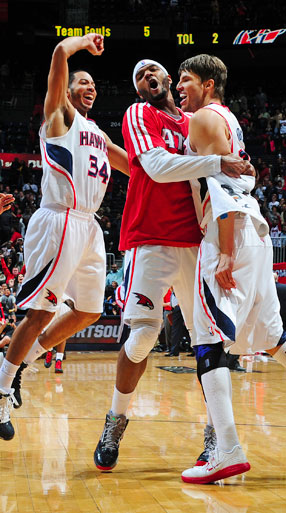 Scott Cunningham/NBAE/Getty Images
Not tonight, Washington fans. Kyle Korver and the Hawks made sure your team goes into Thanksgiving with a franchise-worst 0-10 record.
By Elias Sports Bureau

The Big Three lived up to their billing Wednesday night, as LeBron James and Dwyane Wade scored 28 points each and Chris Bosh added 24 in the Heat's 113-106 overtime victory against the Bucks. It was the 15th time all three players topped the 20-point mark for Miami, with predictable results: The Heat have a 13-2 record in those games, with 10 straight wins.
Bring Back Bernie?
MVP: The Kings' bench came in and absolutely lit up the Lakers with 49 points. Marcus Thornton led the bench unit with 23 points on 13 shots while shooting 3-for-5 from 3-point range.
X factor: Jason Thompson really stepped up with DeMarcus Cousins in foul trouble. He recorded his third double-double in the Kings' past five games and helped keep Dwight Howard at bay.
That was ... strange: After Cousins took a seat with foul trouble early, the Lakers failed to establish Howard in the post. He finished the first half with only two points, and the game with seven points and nine rebounds.
Warriors Rally At Home
MVP: Stephen Curry might weigh 150 pounds soaking wet and be renowned solely for his beautiful jumper, but he was drawing contact Wednesday night (9-for-10 on free throws) like an elite scorer would en route to a game-high 25 points.
X factor: Klay Thompson hadn't topped 50 percent shooting from the field once this season, but he finally found his stroke and went 8-for-11 from the field in the second half to lead the Warriors'' late surge.
Defining moment: Curry's twisting, absurd, no-look shot in the lane that somehow dropped. It was the nail in the coffin for a Nets team that just couldn't catch fire quite like the Warriors.
Hammering It Home
MVP: Marcin Gortat made some controversial comments earlier this week, and backed them up by dominating to the tune of 22 points on 11-for-14 shooting and seven rebounds without even playing in the fourth quarter.
LVP: Aside from Damian Lillard, nobody played too well for Portland, but the Blazers won't win many games when LaMarcus Aldridge misses 10 of 15 shots and scores just 12 points.
X factor: The Suns started Shannon Brown and Markieff Morris instead of Jared Dudley and Luis Scola. The move worked, as the team shot better than 50 percent (59.7) for the first time all season in their biggest blowout win so far.
Bobcats Hold On
MVP: Honorable mention to Kemba Walker and his 19 points (including a huge and-1 in the final minute) and seven assists, but Bismack Biyombo played his best game of the season, if not his young career. In 26 minutes, Biyombo scored 11 points (on six shots), grabbed eight rebounds (four offensive), blocked two shots and anchored a defensive stand in the final 30 seconds that sealed the win.
That was ... the epitome of a team win for the Bobcats: Seven guys in double figures, eight with between three and eight rebounds, a combined 17 assists from their top three guards, six players with a steal (three with a pair of them), three with multiple blocks and a great collective effort on the final defensive stand.
That was also ... such an Andrea Bargnani game: At his best, Bargs combines size and perimeter prowess like few NBAers. Unfortunately, his best manifests itself neither consistently nor multidimensionally. Thus, on a night when he hit nine of 17 shots and scored 25 points, we're still left to lament a measly two rebounds and goose eggs across the rest of the stat sheet. Unless three fouls and a turnover count.