Eric Gordon got a max offer in free agency last season despite being limited to nine games in New Orleans thanks to knee issues. Ditto for Brook Lopez even after a broken foot and subsequent ankle sprain limited the Brooklyn center to five games in 2011-12.
It thus seems reasonable to infer that Sixers center Andrew Bynum, whether he returns in January or if ongoing knee woes wipe out his entire 2012-13 season, still should do just fine in free agency in July, given that big men with his ability are so rare.
I'm less sure than I was, though, after consulting with a few executives around the league. A quick Thanksgiving survey of five teams conveyed undeniable concern about Bynum's long-term health after ESPN.com's story last weekend regarding the setback he suffered while bowling.
One exec, as I did initially, noted last summer's deals for Gordon and Lopez and predicted that Bynum likely could count on a max offer, whether it's from Philly or another team.
"We," said the GM in question, "are a desperate league."
A couple of others, however, cautioned that Bynum's healthy history is too worrisome -- too Greg Oden-like -- to apply the same Gordon-and-Lopez logic. Especially because he's had trouble with both knees.
"Maybe a one- or two-year (max offer)," one of the dissenting execs said. "Don't forget that you won't be able to get insurance coverage on his knees."
Really, really tough spot for the Sixers. They struck me in August as the unsung winners of the four-team Dwight Howard blockbuster -- having not only acquired an All-Star center but also because they helped to get Howard out of the East -- but could be just months away now from a make-or-break financial decision with little-to-no evidence that Bynum will ever be durable enough to make use of his franchise player gifts.
Although Bynum appeared in 60 of the Lakers' 66 games last season, that was only the second time in an eight-season career that he made it to the 60-game mark. The Sixers have to hope that outside interest in Bynum is modest. Or that Bynum, with his New Jersey roots, wants to stay and might be willing to reward Philly's faith in trading for him by taking some sort of discount. Either way, it's hard to see this being anything other than an agonizing July for them.
---
Some numbers of note in the East this week:
11: Paul George sank a club-record nine 3-pointers in Indiana's OT win Wednesday over New Orleans, surpassing Reggie Miller's single-game club record, but the struggling Roy Hibbert arguably trumped George with 11 blocked shots, to go with 10 points and 11 rebounds, in recording a triple-double. Hibbert is the first Pacer with a points/rebounds/blocks triple-double since Jermaine O'Neal in January 2003.
774: Hibbert's effort halted a run of 774 consecutive games for the Pacers without a triple-double, which, according to Elias, ranks as the third-longest such drought in league history.
3: Three of Wednesday night's four overtime games were contested in the East: Indiana outlasting New Orleans, Miami edging Milwaukee and Atlanta breaking winless Washington's hearts when Martell Webster's apparent game-winning bucket at the buzzer was waved off. The Elias Sports Bureau reports that it was only the fifth day in league history to feature four OT games. We've yet to be treated to a day with five.
3: Charlotte's Ramon Sessions has three 20-point games this season after totaling four for the whole 2011-12 season.
4: Carmelo Anthony is just the fifth Knick -- and the first since Patrick Ewing in 1990-91 -- to be averaging at least 24.0 points and 7.0 rebounds through the season's first 10 games. Willis Reed and Willie Naulls are the only other Knicks to achieve that.
---
The Bulls, as of Monday, became eligible to sign a 14th player at last. They've been restricted to a roster of 13 until now after the offseason decision to use the non-taxpayer midlevel exception to sign Kirk Hinrich and the bi-annual exception to sign Marco Belinelli, leaving Chicago with a hard salary cap of $74,307,000. The Bulls' payroll sits just $758,602 below that hard cap, but the pro-rated minimum on a one-year deal for players with two or more years of service time has finally dropped below that figure, enabling Chicago to add another player if it wishes. ... With Danny Granger sidelined by knee trouble, Indiana looked into the possibility of signing shooting guard Rashad McCants before the 28-year-old went to China. (See Box 2.) . . . The Wizards had to absorb a bit of a cash hit when they waived Jannero Pargo to make roster room for Shaun Livingston, with Pargo's contract guaranteed for $300,000 this season.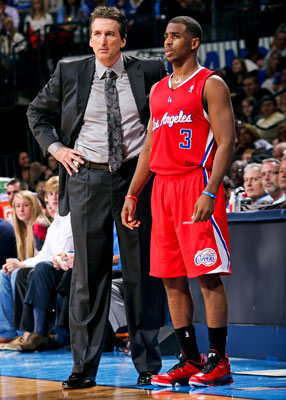 Bill Baptist/NBAE/Getty Images
The Clippers' fine start has kept speculation about the futures of coach Vinny Del Negro and star guard Chris Paul to a minimum. (See Box 2.)
"I was extremely aware of it. I was watching it when Brandon Roy and Greg Oden had those injuries. I felt bad for 'em when it all happened. I was excited to try to bring some change. I knew about their team and I was excited about what I could bring to the table."
Lillard
Blazers rookie Damian Lillard, when asked how much he knew about all of the curse talk in Portland when it comes to top draftees in Rip City, which started long before the fates suffered by Oden and 2006 Rookie of the Year Roy thanks to the misfortunes endured by Sam Bowie and Bill Walton.
By now, though, Lillard is surprising no one with his awareness, maturity and quiet but unmistakable confidence. Expectations ramped up after his spectacular play in summer league -- rising higher than what is typically forecast for a No. 6 pick who happened to play at Weber State -- but Lillard enters Friday night's highly anticipated Roy reunion game against Minnesota averaging 19.5 points and a team-best 5.8 assists through 11 games.
Lillard is slightly behind LaMarcus Aldridge (20.3 ppg) and Nicolas Batum (20.1) when it comes to offensive output, but he has a shot to be the first rookie to lead the Blazers in scoring since Sidney Wicks averaged 24.5 points in 1971-72. No rookie has led them in assists since Kelvin Ransey averaged 6.9 dimes in 1980-81. And no rookie has led Portland in both categories since Geoff Petrie did it in the Blazers' inaugural season in 1970-71. (The same Petrie, incidentally, whose light-on-playmaking Sacramento Kings decided to pass on Lillard in June and use the No. 5 pick on a forward: Thomas Robinson.)
For more on Roy, who will have to miss his first scheduled date as a Rose Garden visitor after he was forced Monday to undergo his seventh knee surgery, read this fine piece from longtime Roy expert Jason Quick of The Oregonian newspaper.
Q: If not Miami, the NBA parade will be in ______________.
A: Los Angeles. The legit rise of the Clippers doubles the odds that the NBA Finals rep from the increasingly hard-to-handicap West will be coming out of Staples Center in June, because I do think that the Lakers will now spend the rest of the season playing their way into contention like we all expected. But who really knows? OKC, San Antonio, Memphis and the two L.A. teams ... they're all going to look worthy of a Finals berth in the next few months, depending on the day.
To read the whole 5-on-5 roundtable, click here.
Marc Stein, NBA
The L.A. Lakers, Memphis, New York, Miami ... Marc Stein touches on all those teams and how they've started the season in this ESPN Radio visit with Chuck Wilson.
Three quick slams and dunks from the deepest recesses of Weekend Dimedom:
Irving
1. Hate to say it, but I'm officially worried about Kyrie Irving. The Cavs and their fans have to be freaked out, too, even though his latest setback is only a fractured index finger. Although some of Irving's injuries clearly have been of the freak-nature variety, reaching for the panic button is an inescapable instinct when you stack up everything that's happened to the 20-year-old since he was limited to 11 games as a freshman at Duke because of a foot problem. Cleveland seemed so blessed to be able to draft a hope-generating franchise player like Irving so soon after LeBron James' defection to Miami, but as a pro he's already had to deal with a concussion, shoulder issues and a broken hand suffered when he slammed it in frustration against a padded wall after a summertime Cavs practice in Las Vegas. Can't help it: Officially worried.
2. Following up on last week's discussion about the big changes FIBA is making to the international basketball calendar, there are some undeniable positives here. The name change of the quadrennial world championship -- which will henceforth be known as basketball's World Cup -- and delaying the tournament cycle one year (starting in 2019) to get the tournament off the same four-year track as soccer's World Cup make infinite sense. But the benefits of returning to a soccer-style qualifying process for FIBA's World Cup are pretty much limited to the notion that every basketball country in the world will soon be hosting home games that matter with greater regularity. The big problem with soccer-style scheduling, again, is that NBA players and coaches essentially have been ruled out of the qualifying process for a tournament that FIBA hopes someday will be looked at with the reverence the Olympics hold. As a result, for Team USA and numerous other nations, there almost certainly will have to be two separate national teams starting in 2017: One that gets you into the World Cup and the one with NBA stars that actually plays for the trophy. That's a dynamic soccer doesn't have to deal with, not only because soccer world's governing body (FIFA) builds numerous international breaks into every calendar year but also because Planet Futbol -- unlike the basketball universe -- doesn't have one league that is worlds better than every other and hogs most of the true world-beaters.
3. I know this makes little sense coming from a soccer-lover as devout as I am, but I'm glad there continues to be resistance at the NBA level to advertising on game jerseys. I fully concede that I'm contradicting myself all over the place here, but I'm just being honest. Soccer jerseys, like those worn by Sporting KC in MLS or West Brom's blank shirts in the Premiership from a few seasons back, look completely wrong to me without a shirt sponsor. And I'm strangely fine with the billboard-y jerseys seen in basketball leagues all over the world as well the handful of D-League teams (as covered in Box 4) that have been cleared to try out jersey ads this season. Yet I remain a serial purist who can't help clinging to the notion that the historically unsullied fabric of NBA jerseys should remain as pristine as possible. 'Cause it just feels right.
PS -- Among the many things I'm thankful for this week is your clearance to allow me to weave soccer into two of the three items in our latest Corner 3. Very thankful.