1. Will 'Restgate' Affect Pop's Shot At Team USA?

By Marc Stein
ESPN.com
Archive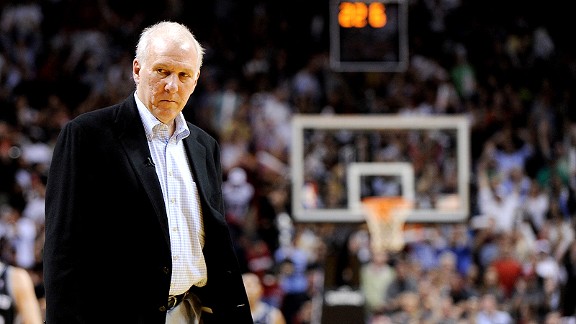 Steve Mitchell/US PresswireCould Gregg Popovich's $250,000 dust-up with David Stern also cost him his bid to replace Coach K?
Rest assured that Gregg Popovich and his San Antonio Spurs were always going to cope well with whatever punishments were doled out by David Stern in the wake of Restgate 2012. You can make that forecast even when so many questions raised by Stern's "substantial sanctions" remain unanswered, when no one in this league is quite sure what might be fine-worthy going forward, because we all know there isn't a better deal-with-it team in pro sports than the NBA's silver and black.
So ...
While waiting for that $250,000 fine that the Spurs ultimately incurred Friday night, wondering like everyone else about what sort of precedents will be set leaguewide now that San Antonio's bill has been sent, I found myself fixated just as much on the other big Pop story that will play out before the playoffs.
Popovich's chances, namely, of being named Team USA's next coach.
Or as conspiracy theorists would surely put it: Will the most public wedge ever driven between the commissioner and the most famously stubborn coach in his league emerge as a factor that hurts Pop's chances of succeeding Mike Krzyzewski?
I so want to believe the rival GM who insisted to me Friday: "Absolutely, positively not. The league doesn't get in USA Basketball's way like it used to."
The final call on who coaches the national team, of course, belongs to USAB chairman Jerry Colangelo. As it has since 2005.
The league, though, does get to register its input, which means Stern will have some semblance of a voice in this until his Feb. 1, 2014 retirement. It's thus not much of a stretch to imagine the league (re: Stern) lobbying USA Basketball to view this whole chaotic episode, no matter how far Stern overreached, as a prime example of Pop's long-perceived reluctance to be more of a partner with the league office than he's historically been.
Let's be clear here: If Krzyzewski is really leaving the Team USA bench as he's vowed for months -- and Coach K is rightfully getting the latitude to take his time making the decision after winning his last three major competitions and his last 50 national-team games in a row -- Popovich is the clear-cut best candidate to take over. With four NBA championships over a span of 16 seasons with the same franchise, bottomless patriotism dating to his days in the Air Force Academy, copious knowledge of the international game after all the overseas stars San Antonio has imported and his unquestioned status as the most respected bench leader in the modern pro game, Pop makes infinite sense no matter what Stern thinks.
There are other unquestionably worthy names already under consideration, according to sources close to the program, starting with Boston's Doc Rivers and another college coach who knows how to deal with the one-and-done nature of tournament basketball like Coach K: Michigan State's Tom Izzo. Rivers, meanwhile, has been pushing the candidacy of Philadelphia's Doug Collins, insisting that the best redemption for the injustices of the '72 Olympics would be setting up Collins to coach the Americans to the gold that eluded him and alternatively vowing to make Collins an assistant if he gets the gig.
Yet you really have to strain to suggest that Popovich -- who confidantes say does want the job -- isn't the ideal choice. There's no doubt Rivers has a deft touch when it comes to managing stars, like any Team USA coach must, but the sheer giddiness you see from Kobe Bryant and other Western Conference All-Stars when they get the chance to spend a weekend in February playing for Pop suggests that hiring San Antonio's hoops patriarch would hold great appeal to a certain Finals MVP down in Miami who, after three straight Olympics, isn't sure he wants to commit to a fourth.
My suspicion is that LeBron James, Kevin Durant and any other Team USA mainstay that Colangelo wants to survey for input would nominate Pop as their top candidate to take over. Such is the reverence around the league for how he has always put his players first, which has never been more evident than it is now through this very public fight with Stern in the name of keeping his stars fresh. And while it's undeniably true Colangelo and Popovich clashed in 2005, when he and Krzyzewski took over the program after the failures of 2002 in Indianapolis and 2004 in Athens and Popovich took great exception to Colangelo's suggestion that he "wasn't as enthusiastic as Mike" in their respective job interviews, Colangelo has insisted for months that Popovich is a leading candidate now and that what happened seven years ago is a misunderstanding he's eager to bury.
"Jerry," insists one longtime Colangelo colleague, "is going to do what's best for USA Basketball."
The assumption after what we've witnessed this week will nonetheless persist that Stern, no matter how tight he seems to be with Spurs chairman Peter Holt, will be backing Rivers, Izzo or anyone else he sees as a more collaborative coach with the league when the NBA is asked to weigh in. The Commish could apparently stomach Pop's mischief when it stopped at scratching Tim Duncan from the lineup without warning and listing that coach's decision as DNP-Old. But sending four starters home hours before a nationally televised showdown with Miami to undercut what TNT billed as a potential Finals preview -- in the season's first month as opposed to its sixth -- triggered Hurricane Commish.
So the mind inevitably wanders. There's a lot to ponder over the weekend, starting with this outstanding array of spinoff questions and issues outlined by my former fellow beat-writing colleague Scott Howard-Cooper at NBA.com.
Some of us, though, can't stop ourselves from fast-forwarding to February or March.
When I spoke to Colangelo this week, before Restgate erupted, all he'd disclose about his presumed coaching vacancy is that (A) he still hasn't abandoned hope of convincing Krzyzewski to come back for one more ride and that (B) he hasn't yet spoken to Popovich or Rivers but says both deserve "great consideration."
After initially targeting the end of 2012 to have all this resolved, Colangelo also revealed that he plans to have Coach K's replacement "set this spring for sure" if his pleas go unanswered.
"I've had preliminary conversations with Coach K about the future," Colangelo said. "He has a really good team at Duke and that's where his mind should be right now. I think he went through a very tiring experience in London and he made statements to that effect, but I think he was having early withdrawals a few weeks after he was home, which is typical when you're on such a high. He's such a big part of USA Basketball. We're so close, as close as can be, so I only want what's best for him. I really want to have some discussions with him that brings some finality to it. And we have haven't had those yet.
"So I'm waiting before speaking to other candidates. ... (Popovich and Rivers) are great coaches, both of them in their own right, and I think they would do an outstanding job, either one of them."
Asked specifically if the ship has sailed in terms of trying to woo Krzyzewski back with the usual doses of pizza and wine, Colangelo stressed: "No ship has sailed anywhere."
Understandable. If Coach K wants to come back, he should. He's coached Team USA to a 62-1 record under unbearable pressure and, as such, has earned the privilege of taking his time to think about things.
If Coach K stays away, though, please consider this strongest, loudest, most substantial vote we can muster for Pop to navigate the national team on the road to the 2014 FIBA World Cup in Spain. No matter where the slippery slope of Restgate has left us back here on the day-to-day NBA grind.
Dimes past: 12 | 13 | 14 | 15 | 16-17 | 19 | 20 | 21 | 22 | 23-24 | 25 | 26 | 27 | 28 | 29


ESPN.com senior writer Marc Stein
• On Twitter @ESPNSteinLine | On TrueHoop | On ESPN.com | On email
• Follow ESPN's NBA coverage on Twitter | On Facebook | On Google+
2. Eastern Conference

There were eight qualified players entering Friday night's games averaging a double-double this season … and only one of them resides in the East.
Alongside Western Conference muscle men Omer Asik, Kenneth Faried, J.J. Hickson, Dwight Howard, Al Jefferson, David Lee and Zach Randolph stands the Cavs' lonely Anderson Varejao. As one admiring official from a rival Eastern Conference team put it, Varejao is averaging 14.5 points and 14.9 rebounds on his "'get me out of Cleveland' tour."
Good line, but is it true? Varejao certainly hasn't been campaigning for a trade and has established an undeniable on-court connection with franchise Cavs guard Kyrie Irving. Considering that Varejao also earns a very reasonable $8.4 million this season at age 30, with one full season at $9.1 million and a $9.8 million team option in 2014-15 left on his contract, it's worth asking: Why would Cleveland ever want to trade him?
The latest word on the personnel grapevine is that the Cavs won't discourage offers for the Brazilian, knowing it probably wouldn't matter anyway after receiving a steady stream of calls from interested teams for the past few years, but it's worth noting that discussions have rarely progressed because Cleveland has always asked for a lot in return. You can safely presume, with the way Varejao's been playing, that Cleveland's price hasn't gone down.
Said one rival exec: "They've been expecting a ton for a while."
Varejao has racked up at least 10 points and 15 boards -- with at least five offensive rebounds -- in each of Cleveland's last six games. It's the first such streak that long, according to the Elias Sports Bureau, since Charles Barkley had one in January 1990.
---
Some numbers of note in the East this week:
71.8: The Knicks' Tyson Chandler is shooting 71.8 percent from the field entering the weekend's games, which is a ridiculous figure no matter how close to the basket Chandler always is when he registers a field goal attempt and even after his past two seasons in the high 60s.
14: When the Nets beat the Knicks on Monday night at the Barclays Center in the season's first New York City derby, it also marked the first time in more than 14 years, according to the Elias Sports Bureau, that both teams entered the game with a winning record. It last happened April 4, 1998, when the 37-36 Nets beat the 41-33 Knicks.
12: Detroit's home win Monday night over Portland brought a halt to the Pistons' 12-game losing streak against Western Conference foes.
3: Milwaukee's huge fourth-quarter comeback in Chicago at the start of the week marked just the third win in franchise history in which the Bucks trailed by 17 or more points after three periods. The first of the those was a record-setting comeback from 28 points down entering the final period against Atlanta in 1977, which represents the largest end-of-third-quarter deficit erased by an NBA team in the shot-clock era. The other was a 20-point rally at Miami in 2000.
3: Ray Allen's go-ahead triple with 22 seconds to go in Miami's fourth-quarter rally Thursday night past San Antonio's B team was Allen's league-leading third go-ahead bucket this season in the final 24 seconds of regulation or overtime. Allen is shooting 3-for-3 in that situation after making zero such baskets as a Celtic last season. Indiana's George Hill is tied for the league lead with Allen … but is up there on 3-for-9 shooting in those circumstances.
---
The consistent word in coaching circles is that the Wizards' Randy Wittman will be next in this merciless business to lose his job, amid ongoing whispers that he has been saved to this point only because Wizards owner Ted Leonsis is keeping cost-effective Wittman in place.
Even without injured John Wall and with Nene frequently sidelined, no one in Washington expected to start 0-12. But the stand-pat approach from upstairs, along with the lack of an obvious interim option on the Wizards' bench, appears to have provided more insulation for Wittman than Washington's breakthrough win Wednesday night over Portland is bound to supply.
The Wizards have to win one of their next four games -- visits to New York and Atlanta and home dates with Miami and Golden State -- just to match the 2-15 start last season that led to Flip Saunders' dismissal and Wittman's hiring. Wittman posted an 18-31 mark for the rest of the lockout-shortened season, which accounted for a boost in his career winning percentage from to .326 to .331 after a record of 100-207 in his previous stops as a head coach in Cleveland and Minnesota.
3. One-On-One … To Five
Curry
Five questions with Warriors guard Stephen Curry:
Q: Do you get the feeling that the fans back in Oakland are buying into what you guys are building?
A: We hope so. Obviously winning helps the cause tremendously, so as long as we're staying competitive like we've done in the beginning of the season ... I think you can tell the way we're winning games early [that] it's a different team. As long as we keep that effort throughout the rest of the season, we'll be in good shape and they'll appreciate our effort.
Q: You look to me like you're playing with as much confidence as you've had since you've been in the NBA, so ...
A: Close to it.
Q: So, once Andrew Bogut comes back to team up with you, can we call this a playoff team?
A: I think so. I think we've underachieved if we're not in that conversation at the end of the season, just the way we've started out the year without him.
I know a lot about [Bogut's] game, how he plays and how much effect he has on the court when he's out there. We're excited about the fact that we're playing pretty well right now without him. Then, when you add him to the mix, defensively we're a lot better and offensively he's consistently up there with Pau [Gasol] as far as big men that can pass and make plays.
Q: How big a relief was it to get your contract extension done before the Halloween deadline?
A: Unbelievable. It really didn't wear on me as much during the preseason, when that was kind of my last audition, but once it gets down to that decision time and that deadline approaching, I was a little nervous and just anxious to see what was gonna happen.
So for me to be able to go through the season and knowing it's all taken care of, I can just play. ... That's your future that you're thinking about for you and your family. I think it'll help me be a better player throughout the course of this season and beyond.
Q: People have questioned you and Bogut as a tandem because of injuries or raise questions about the Warriors' choosing you over Monta Ellis ... is it better for you to try to tune that stuff out or try to use it as fuel?
A: You hear the noise ... but you're confident in what you can do and the time you're putting in. So it doesn't bother us at all. My job is to play. So, I mean, if you want to talk about what it would be like if Monta was still here versus me, I can't control that. I'd tire myself out if I tried to do that.

I know it's not going to stop the speculation. I think Pau Gasol knows it by now, too.
However ...
Sources close to the situation stressed again this week that the Lakers don't want to even think about trading Gasol and making another huge on-the-fly change until after Steve Nash returns, based on the premise that it's impossible to make a judgment on whether the Gasol-Dwight Howard tag team is forever ill-meshing until Nash is playing 30-something minutes a night. I know Pau trade scenarios will continue to surface, but that's where things really stand as we speak.
---
8: Kobe Bryant's 40 points in Tuesday's 79-77 home loss to Indiana marked the eighth time in his career than Bryant scored more than half of the Lakers' points in a regular-season game. Only four players in history have done that more than Kobe: Wilt Chamberlain (17), George Mikan (17), Allen Iverson (9) and Michael Jordan (9). No other active player has more than two such games.
3: With three offensive rebounds Friday night in L.A. against the Lakers, Kenneth Faried tied a franchise record for most offensive rebounds in a month. Danny Fortson snagged 76 offensive boards for Denver in April 1999. The current Nuggets lead the league in offensive rebounding at 15.1 per game, led by Faried's 4.9.
25.6: Even after shooting 3-for-5 from deep in Thursday night's nationally televised loss at Golden State, Denver's Danilo Gallinari is shooting 25.6 percent this season on 3-pointers at 21-for-82. The last NBA player to attempt at least 80 3s in a month and make less than 26 percent, according to the Elias Sports Bureau, was Gilbert Arenas (17-for-95) in February 2007.
11: Zach Randolph has posted 11 games already this season with at least 15 points and 10 rebounds, most recently when he went for 17 and 13 in Wednesday night's win over Toronto. No other player in the league has more than seven such games.
2: According to the Elias Sports Bureau, which supplies many of the tasty nuggets in this section every week, Kevin Durant's recent triple-double against Golden State made him just the second active player -- along with Dallas' Dirk Nowitzki -- to record his first career triple-double after first scoring at least 10,000 points.
---
With 140 days left in the season when he signed Thursday, Derek Fisher will be playing for $1,113,561 in Dallas, although just $703,614 of that will count against the Mavericks' salary cap.
Fisher was a natural addition in Oklahoma City late last season to play as a spot-up shooter off the likes of Russell Westbrook and James Harden and, more importantly, inject the young Thunder's locker room with a much-needed dose of championship know-how. It remains to be seen what sort of impact he can have, at 38, on a Mavs team that needs a lot more from its point guards than it has been getting, especially with Dirk Nowitzki still sidelined.
The waived Troy Murphy, meanwhile, cost $198,536 for his time in Dallas.
TrueHoop founding father Henry Abbott has always been mesmerized by the widespread affection for The Cheesecake Factory among NBA players. In the latest Weekend Stein Edition of TrueHoop TV, Abbott grills Marc Stein for some further insight on the matter after hearing the story about James Harden finding out about his trade from Oklahoma City to Houston while eating at (you guessed it) The Cheesecake Factory.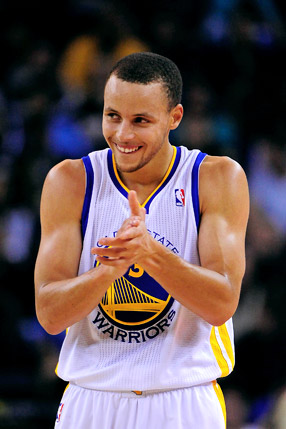 Kyle Terada/US Presswire
The newly extended Stephen Curry is excited about Golden State's future. (See Box 3.)
"It's not just you guys. I ask him every 15 minutes."

D'Antoni
Lakers coach Mike D'Antoni, sharing a sentiment that needs little elaboration about Steve Nash and the mystery surrounding how soon the coach's beloved quarterback can return to L.A.'s lineup.
D'Antoni is as hung up on Nash's timetable as the media circus following his new team. He'd be the first to concede that his tenure as Lakers coach doesn't really start until Nash, missing since the third quarter of the Lakers' second game of the season, returns from the fractured fibula that inflicted a spot of unfortunate nerve damage.
Is it fair and/or reasonable to expect that Nash, at nearly 39, can completely change the outlook for a team with title aspirations after a month of lost rhythm? Doesn't really matter. Whether it's fair or reasonable or neither, these Lakers don't have much choice but to hope Nash can be their cure-all.
I still see it as D'Antoni does and expect that, to use the coach's words, many of L.A.'s offensive flow issues "will go away" when Nash is at the controls. There's still no one better in the whole league, even at his advanced age, when it comes to making sure everyone on the floor is (A) moving at optimum speed and (B) feeling good about his particular share of the offense. Chances are, though, that the effect won't be immediate. Not after all the time Nash has missed.
L.A.'s dreadful free throw shooting and suspect 3-point shooting will improve instantaneously with Nash back, sure, but there are no 15-minute fixes here with a job and expectations as big as these.
Rondo
Rajon Rondo's two-game suspension: Too much, too little or just right?
Marc Stein, ESPN.com: Too little. I will continue to argue that location, location, location always matters ... no matter how mild the actual wrestling match was. My sense is that Rondo was let off at two games because the actual pushing and shoving was fairly tame by NBA brawl standards and because no fans were injured. But Rondo is the reason this escalated into any sort of scrap. A scrap that broke the plane of the line separating the court from the stands.. So I'd have given Rondo five games. And if all this happened at midcourt -- or farther away from the fans -- I'd be fine with a game or two. Or maybe even none. Which is to say that, yes, I expect potential brawlers to factor in location in the heat of the moment when they decide to charge at someone, just as we all expect players on the bench to remember that they're on the bench during a brawl and stay there no matter how much instinct compels them to join the fray.
To read the entire 5-on-5 roundtable about this week's Boston-Brooklyn incident, click here.
Do teams that cling to the faint dream of Dwight Howard leaving Los Angeles as a free agent this summer -- such as the Dallas Mavericks -- have any real hope? Marc Stein joins The Ben & Skin Show on ESPN Dallas (103.3 FM) to discuss.
• Listen to the interview

Three quick slams and dunks from the deepest recesses of Weekend Dimedom:

1. Consistency is something we all want from the league office when justice is handed out. It's a lack of consistency in this case -- along with the general David Stern fatigue that's been spreading throughout the NBA public for the past decade -- that has sparked such widespread anti-commish sentiment in the wake of Stern's threat to hit the Spurs with "substantial sanctions" after Gregg Popovich put Tim Duncan, Tony Parker, Manu Ginobili and Danny Green on a plane before Thursday night's game in Miami to send them all home for extra rest. The league hasn't publicly punished teams for choosing when to rest players since the 1989-90 season. So why now with zero warning? Deputy commissioner Adam Silver, when asked about this very issue in April when it was happening all over the league, as it always does near the end of the regular season, conceded that "the strategic resting of particular players on particular nights is within the discretion of the teams." Was that a league stance that applied only in a 66-game season shortened by a lockout? If so, San Antonio and the rest of us all needed to know that in advance. You're otherwise left with the unmistakable sense that Stern's angry reaction to something the Spurs have done before in various non-TNT games in recent years stems purely from the fact that a league broadcast partner's marquee matchup was messed with on this occasion. I can't deny that, even as a longtime Pop Worshipper, hearing that four starters boarded a plane bound for South Texas hours before tipoff made this installment of "veteran maintenance" feel more slap-in-the-face than past instances. To put 25-year-old Green in that traveling party, especially in November as opposed to April, makes it all feel even more brazen on Pop's part. Yet none of that changes the fact that Popovich has done something similar without a word of protest from the league office on multiple previous occasions. Hence the overwhelming sense that Stern's dismay seems completely tied to when and where this happened and whom it affected as opposed to what actually did happen.
2. I can watch Ricky Rubio play all day. I have loved adidas gear since Ivan Lendl's heyday. And I wouldn't exactly call myself the toughest grader when it comes to NBA commercials, given how I've already admitted that I have a fairly frightening fondness for those Blake Griffin Kia spots. But I'm sorry: I can't even begin to imagine a universe in which any of us ever pictured Rubio as a wrestler. Help me out, somebody. Anybody?
3. Wherever you stand on what the Spurs did on South Beach, I think we can all agree that they've pretty much shredded any remaining remnants of their old boring tag with Thursday's drama. Which reminds me: What an opening month this was! (Or, to be more precise, month-plus.) It started with Stern making his retirement timetable public and the James Harden blockbuster before Halloween and continued right through this week's Harden return to OKC and the madness in Miami … with the Lakers' coaching and Andrew Bynum injury soap operas stuffed in there, too. A wild, newsy November. The NBA, mind you, owed us a good one after what it served up last November.