5.

One-On-One ... To Five
Mayo
Five questions with Mavericks guard O.J. Mayo:
Q: Describe this groove you're in right now.
A: It feels good because I've been working hard. Even my years in Memphis on the bench, I understood that one day I'd get the time and moment to be able to show what I can do.
[But] I told Coach [Rick] Carlisle when I came here: "Stay on top of me, please, even when I have a good game, make me a better player." I just want to prove that I can win. Playing good like this, you still have to win games. That's most important.
Q: When I watched you [in Tuesday's home rout of Sacramento], you looked as confident as I've ever seen you letting the ball go. It just looked like you released it with a look on your face like there was no way in the world you could miss. Is that what's going through your mind when you're shooting the ball these days?
A: It comes from knowing where your shots are going to come from on a night-in, night-out basis. I practice those shots at night, before practice, during practice, after practice. So when you get in the game … the game is moving pretty slow to me right now.
Q: How upset were you in the summer that you basically came out of free agency with a one-year deal? (Editor's note: Mayo's contract includes a $4.2 million player option for the 2013-14 season.
A: Yeah, I was pretty disappointed. But at the end of the day, it's a business. People say that's how the market was, whatever that means. It's all good, man. I'm happy that I got the opportunity to talk to Dallas and come to Dallas. I just wanted to come here, give my all and play well here. And hopefully stay here.
Q: What do you say to the people around town who've suggested that you won't be able to score like this when Dirk [Nowitzki] comes back and you're not the No. 1 option?
A: I think it's going to be easier. [Defenses] pay a lot of attention to Dirk. He's a great player. You saw JET [Jason Terry], Mike Finley … off guards [who played] well off of him. The thing about it is, I can shoot, too. So playing off of him, he can make plays for me and I can make plays for him.
It's not like I'm trying to dominate the ball. Working together, man. I've been a starter. I've come off the bench. I understand what it takes to have every guy working together.
Q: The 3-ball is obviously working better than ever for you. How often do you take a peek at the stats to see where you are?
A: I try not to.

The vote of confidence Suns owner Robert Sarver gave his coach this week, through our own Chris Broussard, shouldn't be dismissed as the dreaded variety. This appears to be one you really can bank on.
Although Alvin Gentry is indeed in the final season of his contract in Phoenix, with no assurances beyond that, team insiders maintain that Sarver likes Gentry too much personally to make an in-season change even if the Suns -- who ended a seven-game losing streak with a big win Wednesday night over mighty Memphis -- hit another lengthy skid or two.
Which is how it should be given the realistic state of the Suns' roster. Even with point guard Goran Dragic comfortably living up to his four-year, $30 million contract, Gentry would be a Coach of the Year favorite if he could take this group to the playoffs. Unless you count more front-line players on this page than we do.
---
Some numbers of note in the West this week:
5: Golden State's David Lee has reeled off five straight 20-point, 10-rebound games to coincide with the Warriors' 5-0 start to a seven-game trip. The only other player in the league this season to post five consecutive 20-and-10 games is Miami's LeBron James.
1: With 22 points, 21 boards and six blocked shots in a loss at Utah on Wednesday, Tim Duncan became the first player 35 or older to post a 20-20-5 game since former Spurs teammate David Robinson in 2001.
4: By recording his first career triple-double in his 826th regular-season game in Monday's overtime win over Houston, Tony Parker joined Karl Malone (860th career game), Patrick Ewing (834) and Cedric Maxwell (824) as the only four players in league history to have played more than 800 games before their first career triple-double.
3: Kobe Bryant has three 40-point games this season, but the Lakers are 0-3 in those games. The rest of the NBA has combined for four 40-point games, courtesy of New York's Carmelo Anthony, Houston's James Harden, Miami's Chris Bosh and Dallas' O.J. Mayo. Those teams are 4-0 in those games.
11: Buffalo Braves alert! You know we're always looking for any excuse to bring up the Braves … and this is a great one. The Clippers, riding an eight-game win streak into Saturday's game at Milwaukee, need three more Ws to match the Braves' franchise record of 11 consecutive victories in the 1974-75 season.
---
Smart move by the Clips to hire PR maven Dennis Rogers away from the Hornets. Rogers was one of Chris Paul's closest friends in the organization when CP3 was a Hornet and certainly can't hurt L.A.'s cause when it comes to trying to keep the best point guard in the game. … Sources with knowledge of the Grizzlies' thinking insist that this week's hires of ESPN's John Hollinger and veteran agent Stu Lash don't change the status of Grizz general manager Chris Wallace. All three will report to Grizz CEO/managing partner Jason Levien, who has the final say on basketball matters in Memphis under new controlling owner Robert Pera. Yet sources likewise insist that Hollinger will indeed have a prominent voice in personnel matters beyond merely supplying statistical analysis to support decisions. … Word is that the sponsorship deal landed this week by the Texas Legends (D-League affiliate of the Dallas Mavericks) with the state of Veracruz, Mexico, is worth in the $750,000 range annually. It's believed that the multiyear agreement makes Veracruz the first non-team city to have its name and slogan prominently featured on the jersey of a North American professional sports team. Legends coach Eduardo Najera, Mexico's first-ever player to be drafted into the NBA, was said to be instrumental in brokering the unique arrangement.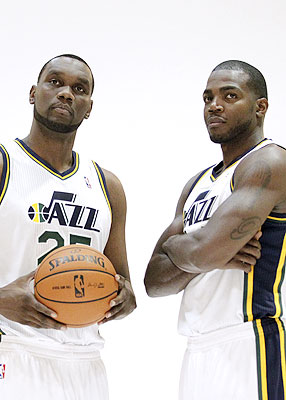 AP Photo/Rick Bowmer
Could Utah's Al Jefferson or Paul Millsap (or both) be dealt before the trade deadline? (See Box 1.)
NBA on ESPN Radio Audio
Mike D'Antoni's rough start, stopgap options for the Lakers at point guard while Steve Nash heals and the quality of the Knicks' supporting cast around Carmelo Anthony are the main topics on the table when Marc Stein makes his weekly visit to the NBA on ESPN Radio show with Marc Kestecher.
9. Film Session
Marc Stein joins Cary Chow to discuss the early NBA All-Star voting results released this week.
Three quick slams and dunks from the deepest recesses of Weekend Dimedom:

1.
Amid all the chaos and losing in Lakerland these days, Kobe Bryant stopped for a long and absorbing
TV sitdown with ESPN's Stephen A. Smith
on Wednesday and said of retirement: "Could be next year. Could be two more years. Could be three." I know he turns 35 in August, but I have to ask: Is anyone reading this
not
right there with me in betting big on Door No. 3? No chance Kobe is ready to walk away before he puts 20 seasons in.
2. I realize I'm not the first one to ask this, but my next question surely bears repeating: Won't Steve Nash have to be a top contender for a third MVP trophy if his return to the Lakers makes them the elite team all of us know-it-alls envisioned? Something tells me this won't surprise you, but, yes, I'm still firmly in the camp contending Nash will have a dramatic impact not only on L.A.'s offense but also in dramatically lifting the spirits and confidence of multiple Lakers, most notably Dwight Howard. Which is going to have a positive impact on L.A.'s defense no matter what Nash's shortcomings are on that side of the ball.
3. Operating on the assumption that you don't want to read three straight takes on the Lakers, nothing else we've seen this week moved us more than Jeremy Lin's 38-point eruption Monday night against San Antonio. Happy for the kid, for starters, because he's had a pretty rough ride in his recent struggles to produce anything resembling Linsanity. Yet I find myself thinking more about how the Rockets, in the big picture, are going to play it from here, since it's so clear that Lin still has lots to offer if he actually has the ball in his hands. Would moving him to a sixth-man role to maximize his playing time away from James Harden be enough? Or are the Rockets, after unexpectedly acquiring Harden, actually better off abandoning the idea of trying to play them together and trying to trade Lin because they don't need two ball dominators? Questions, questions, questions.