1. Cheered And Then Booed, Lin Delivers Big
By Brian Windhorst
ESPN.com
NEW YORK -- In the end, the New York Knicks fans treated Jeremy Lin the same way their team did. Universal cheers at the start, boos when he tried to make a play.
The relationship between Lin, his ex-Knicks teammates, the Knicks' brass and the Knicks' fans is as complex as you're probably going to see. And New York is a town used to complexities with its stars.
"It was the time of my life," Lin said, remembering last season only moments after he walked into Madison Square Garden for the first time since last spring. "It's been talked about enough. It's good for me to be back and I won't be back here for a year after tonight."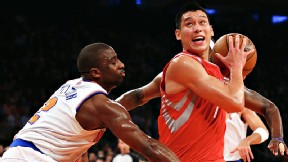 Elsa/Getty ImagesJeremy Lin's return to New York a winner.
In other words: Thanks for the memories, let's get this over with.
Then Lin went out and had his second-best game of the season, scoring 22 points with eight assists in the Houston Rockets' 109-89 win, giving the banged-up Knicks their first home loss. You have to give this to Lin: The man has a flair to deliver unexpected performances.
Sunday afternoon in Toronto -- the place where he made one of the biggest shots witnessed in the NBA last season when he drilled a game winner at the height of his magical midseason run -- Lin found the source of the problem. After he had the kind of lackluster game that has basically defined his first two months with the Rockets, scoring seven points, Lin took aim at himself.
"I'm not doing close to what I'm capable of doing," said Lin, who had a total of 22 points in his previous three games. "I'll be my harshest critic, so I'll go ahead and say it: I'm doing terrible. If I could turn it on like a switch, that easy, I would obviously turn it on."
But Lin did turn it on Monday. Moments after a standing ovation -- well, the crowd was already up for the national anthem, but they were standing and they did cheer when he was introduced -- Lin made the Rockets' first basket on backdoor play that sure seemed to be drawn to get him off to a good start. His teammates clearly were hoping to get him going, and it worked -- Lin ended up with five layups in the first half alone as the Knicks' recent defensive woes continued.
It was just the third time this season Lin cracked 20 points. It was the sort of ultra-aggressive attacking performance Lin used to capture so much attention last season. It surprisingly caught the Knicks on their heels, as they didn't attack him in pick-and-rolls, letting him and teammate James Harden (28 points) control the game.
Pretty soon, the fans were growling whenever Lin touched the ball.
"[The booing] was fine, I had fun out there," Lin said after the rapidly changing treatment. "It was actually a lot better than I thought."
It was these Lin talents that had the Rockets exploiting loopholes in the new collective bargaining agreement to get him last summer. In case you forgot, after Knicks coach Mike Woodson publicly said the team would match a four-year, $28 million offer sheet Houston had prepared, the deal changed. Instead the Rockets made a three-year offer for $25 million with a poison-pilled balloon salary of just less than $15 million in the third year.
"Jeremy decided to take the Houston deal and he has every right to do that," Woodson said on Monday. "He did what we had to do and he made his decision."
En español

Entre ovaciones y abucheos, Jeremy Lin fue una vez más la estrella en el Garden. Brian Windhorst
That's not exactly accurate. It was the Knicks who passed by not matching the offer sheet. But from Woodson's sentiment in that statement, it's rather plain the Knicks viewed it as Lin choosing to leave, even though New York never formally made him a contract offer before he signed the offer sheet with Houston. Just like the fans, there were some boos when the paperwork arrived.
Meanwhile, the Knicks had already reached a verbal agreement with two veteran point guards -- Jason Kidd and Pablo Prigioni -- and were in talks with a third, free agent Raymond Felton, before Lin even made his deal.
The details of all this might be trivial in the long run. But when Carmelo Anthony called Lin's deal "ridiculous" in a rare breach of player-on-player money etiquette and Tyson Chandler said that as far as being "able to run the offense and putting players in the right position, he just wasn't there," the lay of the land in the Knicks' camp became rather transparent.
Chandler put Lin on his back with a flagrant foul during the game, and then hugged Lin afterward. His thoughts during the fans' ovation were kept to himself.
This comparison will generate some eye rolls, but the Knicks' handling of Lin was not unlike how the Denver Broncos dealt with Tim Tebow. It was two hugely popular players who led unexpected and massively popular season turnarounds. Both their teams, however, weren't convinced of the sustainability of their play and suspected they could do better.
Both of them have been right so far.
The Knicks lost Monday with Anthony out with knee and ankle injuries from a fall last week. With an 18-6 record and Anthony and perhaps even Amar'e Stoudemire back this week, it will not dampen their mood. Their two games against Lin are now behind them -- two losses by a combined 41 points, by the way -- and they seem just fine to move on.
As for Lin, he's got his contract, he's got his team to run and, for at least a night, he's off his own back about his play. And he's now recorded at least one more great game at MSG, one more for the Knicks to try to forget him by.
"There are times when you've got to give yourself a break," Rockets coach Kevin McHale said. "He's hard on himself. For him to have a great game here, I'm sure he feels pretty good right now."


NBA Writer Brian Windhorst
• On Twitter @WindhorstESPN | On ESPN.com
• Follow ESPN's NBA coverage on Twitter | On Facebook | On Google+
Dimes past: Dec. 1 | 3 | 4 | 5 | 6 | 7-8 | 9 | 10 | 11 | 12 | 13 | 14-15 | 16
2. Around The Association
3. Monday's Best
Ibaka
Serge Ibaka, Thunder: In a battle of early West leaders, Ibaka was a blocker (three swats). He kept his team atop the NBA standings by tying his career best with 25 points and grabbed a season-high 17 rebounds in a 107-93 win over the Spurs.
4. Monday's Worst

Kings lose again: Sacramento took its fifth straight loss by double digits, this time a 101-90 loss to the Suns. DeMarcus Cousins went 1-for-10 from the floor in the loss, but at least he didn't hurt anybody.
6. Tweet Of The Night
Had a fun time back at MSG tonight ... lots of great memories!! Thx to all the fans who showed out. All glory to God! pic.twitter.com/TxDo8pIY

— Jeremy Lin (@JLin7) December 16, 2012
7. Quote Of The Night
"It was the time of my life. It's been talked about enough. It's good for me to be back, and I won't be back here for a year after tonight."
-- Rockets guard Jeremy Lin, on returning to the scene of his NBA ascension.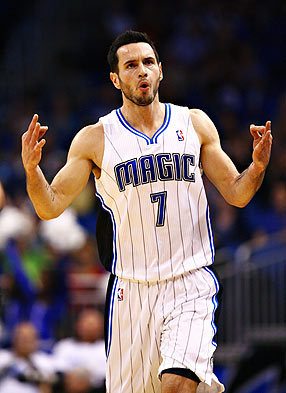 Douglas Jones-USA TODAY
Orlando Magic guard J.J. Redick celebrates after scoring a 3-point basket against the Minnesota Timberwolves. Redick finished with 18 points and 7 assists in a 102-93 win.
9. NBA Lockdown
NBA Lockdown
Bruce Bowen and Israel Gutierrez discuss Andrew Bynum's comments about Kobe Bryant stunting his growth, Ricky Rubio's return and much more.
MVP: J.J. Redick. Early on, the Timberwolves broadcasters talked about how when Redick gets 18 points, the Magic win; when he gets fewer than 10, they lose. Redick finished with 18 on an efficient 8-for-12 shooting night, getting his shots in the flow of the offense and when they counted.
X factor: The Magic's ability to deny the entry pass at the elbow made it hard for the Wolves to get coach Rick Adelman's corner offense going, resulting in copious amounts of pick-and-roll and spot-up jumpers. Once the Magic had them down, they had nothing to fall back on to get them back in it.
Defining moment: The 9-0 run by the Magic down the stretch swung the game from 87-85 to 87-94 and seemed to drain every ounce of fight from the Wolves. Suddenly, nothing was going in and the Magic were hitting everything. J.J. Barea 3-pointers weren't going to save them.
MVP: Shannon Brown dominated the Suns' pivotal third quarter by scoring 14 points, as many as the Kings scored as a team in the period. He shot well all game by draining 10 of 13 shots for 22 points.
LVP: DeMarcus Cousins destroyed the Suns for 27.7 points and 11.7 rebounds last season, but Monday he played through heavy foul trouble and failed to make much of an impact with a mere 9 points on 1-for-10 shooting.
That was ... ugly: Both teams suffered through awful stretches of basketball as the Kings torched the Suns with an early 23-4 run and led by as many as 19. Phoenix fought back with a 34-10 run to win by double digits.