The Nets are well aware of what Phil Jackson told my longtime colleague Chris Sheridan earlier this week in a story on SheridanHoops.com about how he has "no intention of ever coaching again."
NBA coaching sources nonetheless insist that Nets owner Mikhail Prokhorov remains intent on tuning that out and pursuing Jackson at the appropriate time, which might actually be months from now if Nets interim coach P.J. Carlesimo can maintain the offensive improvement seen from Brooklyn in this mostly soft stretch of schedule that has greeted Carlesimo in his first seven games as Avery Johnson's successor.
ESPN.com reported Dec. 27 that Jackson immediately emerged as the Nets' unquestioned top target to replace the ousted Johnson. And it was initially believed that Prokhorov would fairly quickly launch an all-out recruiting offensive to try to lure him to Brooklyn before any other tempting employment opportunities arose.
Yet it has since become apparent that not even Prokhorov's bottomless pockets could persuade Jackson, 67, to take over this so-so roster -- and inherit Prokhorov's ever-lofty expectations -- in the middle of the season. The reality is that the Deron Williams-and-Brook Lopez Nets, without many clear options to upgrade this roster in the near future, might never appeal to the 11-ringed Zen Master, but the Nets' revised 'A' scenario calls for Carlesimo to get them through the next few months ... and for a decent showing in the playoffs behind a rejuvenated D-Will. And then the Nets can let Prokhorov try, with full force, to see if his luck is any better trying to woo Jackson than it was chasing Carmelo Anthony and Dwight Howard.
---
Some numbers of note in the East this week:
8: Having scored at least 20 points in Miami's first 33 games this season, LeBron James is just 70 points shy of becoming the eighth active player with at least 20,000 career points. When he gets there, LeBron will join Ray Allen, Kobe Bryant, Vince Carter, Tim Duncan, Kevin Garnett, Dirk Nowitzki and Paul Pierce.
4: The recent revival of Chicago's Carlos Boozer continues. Boozer enters the weekend having posted four straight games with at least 20 points and 10 rebounds, something no Bull has done since 1980 apart from Scottie Pippen in 1995. Boozer has recorded a double-double in each of his last six games -- averaging 23 and 12 over that span -- for his longest-such streak since he strung together nine consecutive double-doubles with Utah during the 2009-10 season.
3: Carmelo Anthony's 6-for-26 shooting Monday night against the hounding of six different Boston defenders made Melo just the third player this season -- along with Knicks teammate Raymond Felton and Bryant (twice) -- to miss at least 20 shots in a game this season.
3: With a whopping 23 rebounds to go with his two points in Tuesday's win over Philly, Brooklyn's Reggie Evans became just the third player in the last 25 seasons to snag that many boards while managing just a solitary bucket offensively, joining -- you guessed it -- Ben Wallace and Dennis Rodman. Only four other players in NBA history, according to Elias, have posted a 2-and-23 game: Arnie Risen (1954), Bill Bridges (1965), Bill Russell (1968) and Wilt Chamberlain (1973) had one each.
5: When the Wizards stunned Oklahoma City on Monday night, it marked just the fifth time in the past 35 seasons that the team with the league's worst record beat the team with the best record at least 30 games into the season.
---
Because Anderson Varejao lost more than half of his team's games to injury over the previous two seasons, Cleveland is being openly second-guessed for not trading Varejao weeks ago, based on the premise that the Cavs should have known that the Brazilian double-double machine would eventually get hurt again. The Cavs' counter is that Varejao, who was averaging 14.1 points and 14.4 rebounds before his latest leg injury requiring surgery, was not only playing the best ball of his career but had also established a strong on-court chemistry with new face of the franchise Kyrie Irving, giving them cause for pause. Backing up the widespread notion that Cavs officials were asking for a lot in return for Varejao in trade talks with various teams, recent Hall of Fame inductee Peter Vecsey reported this week that Cleveland told the Clippers it would take DeAndre Jordan and prized reserve guard Eric Bledsoe to get him. ... Frank Vogel's two-year extension with the surging Pacers, according to industry sources, will pay him $2 million annually in 2013-14 and 2014-15. Despite the season-long absence of Danny Granger and the ongoing struggles of summer mega-contract recipient Roy Hibbert, Vogel has Indy up to third in the East after a slow start while also setting Paul George up for stardom as Granger's replacement.
Forty-one days to go.
Only 41 days until the Feb. 21 trade deadline.
Which means that the league-wide buzzer for deals is close enough where you need to have handy our annual list of players who aren't allowed to be traded without their consent.
It's a list that numbers 19 in the 2012-13 season.
The league is up to four players with full no-trade clauses after Kevin Garnett and Tim Duncan secured their very own no-trade provisions in the new three-year deals they signed last summer. KG and Timmy thus joined Kobe Bryant and Dirk Nowitzki in that exclusive club, with the NBA making no-trade clauses available only to players who have eight seasons of service time and four with the same team ... and only then when the no-trade clause is negotiated into a new contract because league rules preclude such clauses to be added to an existing contract or through a mere contract extension.
There are also two players who, as restricted free agents last July, signed offer sheets with another team that were subsequently matched by their original employer. New Orleans' Eric Gordon and Portland's Nicolas Batum can't be dealt anywhere for one year from the date their offer sheet was matched without granting permission. (That's July 14, 2013, in Gordon's case and July 18, 2013, in Batum's).
Then there's the small handful of players every season possessing a one-year contract who, since they've re-signed with their previous employer on a one-year basis, can't be traded without consent because their Early Bird or Full Bird free-agent rights at season's end are forfeited if the player is dealt elsewhere.
This season's 13 members of Team Veto with one-year deals providing that unique trade-blocking power:
Ivan Johnson (Atlanta)
Brandon Rush (Golden State)
Chauncey Billups (Los Angeles Clippers)
Devin Ebanks (Los Angeles Lakers)
Darius Morris (Los Angeles Lakers)
Marreese Speights (Memphis)
J.R. Smith (New York)
J.J. Hickson (Portland)
Boris Diaw (San Antonio)
Patty Mills (San Antonio)
Alan Anderson (Toronto)
Aaron Gray (Toronto)
Cartier Martin (Washington)

P.S. -- For those of you wanting a little background refresher on what makes basketball so different from baseball on the very rare no-trade front: Numerous NBA stars who would have the stature and/or leverage to request a no-trade clause often sign their first big-money deals before their eighth season and frequently sign extensions to those big contracts as opposed to going onto the open market. Many of them, as a result, don't become eligible for a no-trade clause, since they are not permissible in extensions.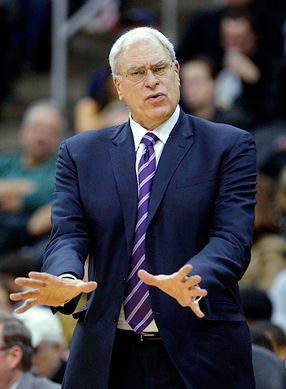 Jim O'Connor/USA TODAY Sports
Phil Jackson, Nets head coach? Brooklyn seems to have its heart set on the Zen Master. (See Box 5.)
8.

Raptors Still After Gay
Gay
RENO, Nev. -- The Memphis Grizzlies have not made an iron-clad decision about trading swingman Rudy Gay before the league's Feb. 21 buzzer for deals, according to NBA front-office sources.
The Grizzlies might trade him. But they might not.
The Toronto Raptors, by contrast, have definitively decided to make a real run at Gay.
The Raptors might not be able to swing a deal for him. But they'd love to.
Sources told ESPN.com this week that the Raptors -- who tried to make a play for Gay before the 2012 NBA draft -- remain seriously "interested" in the Grizzlies' leading scorer and are trying to assemble trade packages to bring the 26-year-old to Toronto after preliminary talks with Memphis.
Among the trade chips that the Raptors are believed to be dangling, in addition to draft considerations, are veteran point guard Jose Calderon (who has an expiring contract worth $10.6 million) and young big man Ed Davis.
To read the rest of the TrueHoop entry, click here
Marc Stein
The Kings' possible sale and relocation to Seattle, Mikhail Prokhorov's reaction to Phil Jackson's "intention" to leave coaching behind forever and Derrick Rose's comeback timetable in Chicago are the prime topics of discussion in Marc Stein's weekly visit with host Marc Kestecher on the NBA Radio on ESPN studio show.
Three slams and dunks from the deepest recesses of Weekend Dimedom:
1. If it wasn't already clear, it should be now: The quality of an NBA city's fan base doesn't guarantee anything when it comes to whether a team stays or relocates. The basketball lovers of Seattle should know as well as anyone that it's the wherewithal and whims of ownership that matter. Kings fans were routinely regarded as the league's most frenzied for a good half-decade until their resolve was gradually worn down by a decline that began with Rick Adelman's exit in the summer of 2006 and the subsequent decay of the organization that hasn't let up since. But sadly none of that matters much if the Maloof family can no longer afford to own an NBA team and doesn't have a local buyer to turn to. The reported $500 million that the Maloofs can get for this mess of a franchise from Seattle's Chris Ballmer-led group and the patience they've exhausted inside and outside the league office in this interminable stay-or-go saga is why sources close to the situation describe the sale of the Kings as "inevitable" this time ... even as they insist that the Maloofs continue to "think things through." Various Maloof brothers have vowed for years that they'll never sell, desperate as they were to get back into the NBA after being forced into the sale of the Houston Rockets after taking over that franchise in the 1980s when their father passed away, but the money involved now will ultimately prove too rich for them to walk away from. No matter how many deals they've backed out of in the past.
2. File this away for the next lockout years from now, but the HALF BILLION DOLLARS that the Maloofs can apparently get for their team from Ballmer's group -- trumping the $450 million that the Golden State Warriors were sold for after missing the playoffs year after year after year -- is why you must loudly scoff during the next NBA work stoppage when someone on the league side of the fence threatens the players with contraction. If the economy is working then like it is today, why would the NBA even think of streamlining its 30-team league when prices are only going up?
3. Can't tell you how irrationally excited I was to see a copy of "Baseball Digest" in the magazine aisle of my new local Wal-Mart Neighborhood Market ... except for the fact that A) it only made me pine for "Basketball Digest" even more after about a decade without seeing the go-to NBA mag of my youth and B) it's a full-size publication now with a new masthead as opposed to the unmistakable little booklet size with that magical, mystical lettering in the top left corner. Progress ain't always good.