1. Reserve Judgment: Stein's All-Star Benches

By Marc Stein
ESPN.com
Archive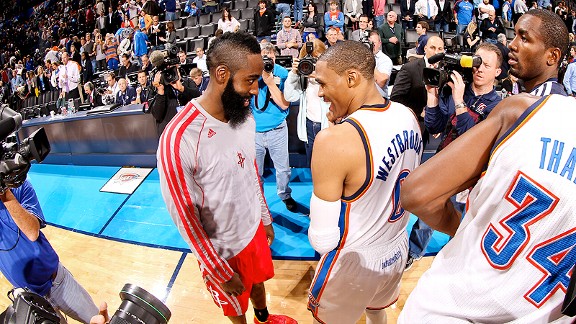 Layne Murdoch/Getty ImagesWill Russell Westbrook and James Harden be teammates again for the Western Conference?
NBA coaches received their All-Star voting instructions Friday afternoon.
And we've got the only cheat sheet they'll need before turning their votes in before Wednesday's noon deadline.
West and East coaches, as always, are being asked to vote for seven players in their respective conferences -- albeit none of their own -- and observe the following guidelines:
• Each ballot must include two guards, three frontcourt players and two wild cards.
• Players must be ranked in order of preference in all three categories.
• If a coach feels that a player can play more than one position, he is encouraged to vote for that player at the position "most advantageous for the All-Star team," without regard to where the player is listed on the All-Star ballot or how he's listed in box scores.
The starters in the West, as announced Thursday night, are Chris Paul and Kobe Bryant at guard, with Kevin Durant, Blake Griffin and Dwight Howard in the frontcourt.
The East's starters are Dwyane Wade and Rajon Rondo at guard, with LeBron James, Carmelo Anthony and Kevin Garnett in the frontcourt.
The reserves will be announced Thursday night on TNT. Using the guidelines laid out above, here's how ESPN.com's benches would look:
---
Eastern Conference Reserves
Backcourt: 1. Kyrie Irving (Cleveland), 2. Jrue Holiday (Philadelphia)
Holiday
Irving
Surely by now you've heard that this is a (very) down year for guards in the Derrick Rose-less East. If folks are questioning the merits of Dwyane Wade and Rajon Rondo as starters, you can sympathize with the coaches who are required by All-Star law to choose two backcourt backups.
Deron Williams could have made this a lot easier, but he's barely shooting 40 percent from the floor. So we have to scroll farther down the standings than usual, pitch our standard speech about how much we value team success when making these picks and reward Irving and Holiday even though neither is on course to be wowing us in the playoffs.
Irving, though not yet 21, is in the top five in PER (21.94) among point guards and will almost certainly snag several of the coach votes he might have split with a healthy Anderson Varejao thanks to the Cavs' lowly 10-31 record. Holiday, meanwhile, joins Russell Westbrook as the NBA's only player averaging at least 18 points and eight assists -- with 10 double-doubles after one last season -- and is widely regarded as the key cog in Philly's attempts to hang on in the race for the East's No. 8 spot while the Sixers continue to await Andrew Bynum's season debut. So he's got a real shot unless the coaches, out of respect for D-Will's lifelong body of work, go veteran.
---
Frontcourt: 1. Tyson Chandler (New York), 2. Joakim Noah (Chicago), 3. Paul Pierce (Boston)
Pierce
Noah
Chandler
Chandler is admittedly one of my favorite players, but I don't think it's a biased stretch to suggest he'll get the most support from the East coaches, given the widespread belief out there that Chandler deserves to start over Kevin Garnett, as well as the fact that he's overdue for his first All-Star nod. The Olympian has long been considered one of the most impactful defenders in the game, which is key for the Knicks given their increasing struggles at that end, but he's also averaging an uberefficient 12.4 points and 11.0 rebounds on 67 percent shooting from the floor in addition to his role as New York's emotional compass.
And Noah isn't far off that standard, averaging 12.4 points, 10.7 rebounds, 4.1 assists and 2.0 blocks to A) thrust himself into the heart of the defensive player of the year race and, more importantly, B) relentlessly and hyperactively lead the Bulls through life without Rose along with coach Tom Thibodeau.
It only figures, furthermore, that there are several more centers to consider in this category now that, according to the ballot, we're supposed to be de-emphasizing positions like we're all Erik Spoelstra. Brooklyn's Brook Lopez, Atlanta's Al Horford and Miami's Chris Bosh -- who, yes, counts as a center on the smallish Heat no matter how Spoelstra is labeling him these days -- all have a strong case, as Varejao would have if he hadn't gotten hurt.
The choice here, though, is Pierce. The Celts' captain simply has to be in Houston, even though that would give Boston one more All-Star than it realistically deserves, because he's been the most productive, reliable and most versatile Celt yet again.
The more I think about it, actually, I can really see East coaches invoking the whole do-what's-most-advantageous edict mentioned at the top to sneak Pierce in as one of their two guards, thus making up for the slim pickings at that position and, rather ironically in the Year of the Centerless Ballot, opening up a slot for another big man.
---
Wild cards: 1. Paul George (Indiana), 2. Brook Lopez (Brooklyn)
Lopez
George
Although David Westis right up there in this race as the Pacers' seen-it-all leader, George is the Pacers' direct replacement for the injured-all-season Danny Granger. And as a legit two-way player with a steady stream of double-doubles recently, George thus wins this vote as the MVP of the Pacers' gradual surge up the East standings without Granger, even though he hasn't quite proven yet that he can stay at this level all season.
Lopez, meantime, has supplied the offensive efficiency and night-to-night reliability that the Nets haven't gotten from Williams, good for a gaudy PER (25.68) that distracts you from the fact that he's still not quite rebounding the ball (7.4 rpg) at the desired level.
In spite of the flaws, we're going with George and Lopez regardless, making Bosh our odd man out. And maybe he deserves that sort of wrist slap with Bosh's rebounding down to a career-low 7.1 boards per game. Maybe he's the one who gets singled out as an offshoot of the Heat getting nightly flack for their intensity levels. Yet I repeat: There will be no quarrels here if the East coaches drop Irving or Holiday, youngsters with years of All-Star chances ahead of them, to work in Bosh instead when he's shooting the ball better than ever.
Other East snubees include the Atlanta duo of Horford and Josh Smith (with Smith's cause unquestionably dinged by his suspension earlier this week), Chicago's Luol Deng and the onrushing Carlos Boozer, Detroit's Greg Monroe, Indy's West and Milwaukee's Brandon Jennings.
---
Western Conference Reserves
Backcourt: 1. James Harden (Houston), 2. Russell Westbrook (Oklahoma City)
Westbrook
Harden
Something tells me this isn't the first time you've seen these guys together in the same sentence. Something also tells me that you can't wait to watch them interact, along with West starter Kevin Durant, now that they're not all full-time teammates.
Don't think they'll get to the actual game together, since Harden will be representing the host Rockets and thus has to be intro'd separately, according to the All-Star coaching handbook, so he can fully milk the hometown crowd's applause. But the former Thunder sixth man and the OKC point guard he used to share the playmaking with are just about the two easiest selections for West coaches.
The bearded lefty ranks fourth in the league in scoring (26.3 ppg) to quickly prove his franchise-player chops in Houston for one of the league's surprise teams of the first half. Westbrook, meanwhile, has recovered from a shaky December (39.4 percent from the floor) to rediscover his shot this month while continuing to rank in the league's top five in both assists and steals.
---
Frontcourt: 1. Tim Duncan (San Antonio), 2. David Lee (Golden State), 3. Marc Gasol (Memphis)
Gasol
Lee
Duncan
Correction: Duncan is an even easier choice for West coaches. Especially after he was excluded from last February's All-Star extravaganza for the first time in his peerless career.
The turn-back-the-clock season he's submitting, at 36, should have Timmy starting over Dwight Howard. So he's an automatic reserve pick even in this new, centerless world of All-Star ballots … which is actually rather fitting given Duncan's longtime insistence on being labeled a power forward despite everyone outside of his own consciousness looking at him as a center.
The competition to join Duncan, meanwhile, is as fierce as ever, even with injuries canceling the candidacies of three go-to nominees: Pau Gasol, Kevin Love and Dirk Nowitzki. Even without those three, you've still got Marc Gasol, Lee, Zach Randolph, Serge Ibaka and LaMarcus Aldridge all in the discussion. But we (and the coaches) can only pick two more.
Lee legitimately has the best numbers of any power forward in the West, averaging nearly 20 points, 11 rebounds and four assists for a team in Golden State that has wildly exceeded expectations not only in the standings but also on the defensive end, flourishing on D and on the boards even with lead rim protector Andrew Bogut playing in only four games so far.
And Gasol narrowly edges out Randolph here for opening No. 3, given how much he contributes at both ends as the down-low anchor for the West's best defense. I know, I know: Why bring D into an All-Star debate? The reality: Coaches (and media know-it-alls like myself) like to reward play-the-right-way guys whenever we can. So I'm expecting Gasol to eke past Z-Bo if it comes down to an either/or vote for the two Griz big men.
---
Wild cards: 1. Tony Parker (San Antonio), 2. Zach Randolph (Memphis)
Randolph
Parker
Parker versus Stephen Curry for one wild card. Randolph versus LaMarcus Aldridge for the other remaining vacancy.
That's how it broke down on this scorecard after Ibaka, Blazers rookie Damian Lillard, Utah's Al Jefferson, Denver's Kenneth Faried and the West's ultimate wild card -- Sacramento's DeMarcus Cousins (yeah, I said it) -- were grudgingly scratched from consideration.
There are two Clippers and two Lakers in the starting lineup, plus two OKCers on the West squad when you add Westbrook to Durant. Did I choose Tony and Z-Bo for symmetry? Can't deny it was a factor. Can't deny that I'm more comfortable picking two Spurs and two Grizzlies before I go with two Warriors, even accounting for Golden State's unforeseen success and with Curry finding a new level this season as a QB and tone-setter along with consistent health.
Doesn't hurt that Parker has taken his game up a notch even from last season and continues to be a Duncan-like rock for the Spurs with Manu Ginobili in and out of the lineup. Also doesn't hurt that Randolph, on a team that doesn't have nearly the bench that the Warriors do, is right up there with Lee on the double-double front.
Dimes past: Jan. 1 | 2 | 3 | 4-5 | 6 | 7 | 8 | 9 | 10 | 11-12 | 13 | 14 | 15 | 16 | 17


ESPN.com senior writer Marc Stein
• On Twitter @ESPNSteinLine | On TrueHoop | On ESPN.com | On email
• Follow ESPN's NBA coverage on Twitter | On Facebook | On Google+
2. Eastern Conference

Even as so many of us continue to question whether anyone in the East can really capitalize on the defending champs' frailties, TNT's Charles Barkley continues to trumpet the need for an in-season trade in Miami similar to the deal Houston struck way back in 1994-95, when the Rockets concluded that they didn't have enough to repeat and unexpectedly brought in Clyde Drexler at the deadline.
Those Rockets, with Phi Slama Jama college teammates Drexler and Hakeem Olajuwon reunited, indeed took off after the trade and won it all as a No. 6 seed out West. But that remains one of the few instances, along with Detroit's acquisition of Rasheed Wallace in 2004, in which a prominent addition as late as February was followed by a championship in June.
The Heat, by all accounts, don't even want to hear about that sort of shake-up. No matter how much chatter there is about its lack of size, rebounding woes and defensive slippage, from The Chuckster or otherwise, sources plugged into the league's personnel grapevine say that Miami isn't prepared to part with Chris Bosh, not only bowing to that daunting history but because it's not exactly comfortable from a player-relations perspective to break up a championship-winning trio that famously plotted its move to South Beach in unison in the summer of 2010.
Said one rival exec with some interest in Bosh: "I think they are committed to him."
---
Some numbers of note in the East this week:
58: The 58 points Chicago held Atlanta to Monday night marked the second-lowest total for an opponent in Bulls history … regular season or playoffs. The Bulls' famed rout of the Jazz in the 1998 NBA Finals, in which Utah managed just 54 points, is the only other game they were stingier.
49,000: Atlanta scored just 20 points in the first half of that 97-58 defeat. The Elias Sports Bureau reports that in more than 49,000 regular-season games in the NBA's shot-clock era, dating to 1954-55, Monday night's game in Chicago was just the third in which one team scored 20 points or fewer in a half.
4: Boston's Doc Rivers and son Austin became just the fourth father/son duo in NBA history to square off in a game when New Orleans beat the Celtics, 90-78, on Wednesday night. They join Butch Van Breda Kolff and son Jan (once), George Karl and son Coby (once) and Mike Dunleavy Sr. versus son Mike (18 times).
2: Rivers and son Austin are one of only two active father/son duos in the four major North American pro sports leagues, along with Los Angeles Kings coach Darryl Sutter and Carolina's Brett Sutter in the NHL.
4: The Knicks' Carmelo Anthony has scored at least 20 points in 25 consecutive games, which represents the fourth-longest such streak in franchise history, one game longer than Bernard King's. Richie Guerin had a 29-gamer in 1961-62, followed by Patrick Ewing (28 in 1989-90) and Amar'e Stoudemire (26 in 2010-11).
---
Anderson Varejao's latest leg injury requiring surgery was especially painful. Sources told ESPN.com that the All-Star berth Cleveland's rebounding machine likely would have snagged came with a $1 million bonus to his $8.4 million salary. The suspicion is that Varejao would have made the East roster for the first time in spite of the Cavs' 10-31 record, which presumably wouldn't be that lowly if the Brazilian hadn't missed the past 15 games … I look at Atlanta much like I see Dallas (see Box 4). The Hawks certainly could trade Josh Smith if they wanted to, just like Dallas could absorb a big contract via trade during the course of the next month if it so chooses. But do the Hawks (or the Mavs) really want to give up this summer's cap space by making a major move now? I'm skeptical … Interesting comments recently from Indy's Paul George about how past Pacers teams all "had an ego to them" but how this one is "putting the team first." Hard to imagine that the Pacers could find a trade taker for Danny Granger in the next 24 days before the deadline, given that Granger (knee) has missed the entire season so far, but it seems safe to suggest the end of the Granger era in Indy is drawing closer and closer.
3. Marc's Quote
"Trade rumors have been in this league since they've allowed trades."

Hollins
Grizzlies coach Lionel Hollins,
quickly shooting down the suggestion that his players can expect understanding from the bench in terms of using the unending swirl of speculation surrounding swingman
Rudy Gay
as an alibi for their recent lopsided losses to the Mavericks and
Chris Paul
-less Clippers.
It nonetheless has to be said that Hollins, predictably unyielding as he is about expecting his guys to just play through the noise, hasn't been able to ignore it as well as he should have himself, resulting in a flurry of quotes challenging the new Memphis management team last Friday that he presumably wishes he could take back.
Hollins is one of the absolute best coaches to talk to from a media man's persective. And I most certainly have him on that very short list of NBA coaches who know how to get buy-in from their best players, which regular readers also know that I rate as the most important skill that the modern coach possesses ... apart from getting the right players.
But Hollins' recent broadsides openly questioning the rising emphasis on numbers and analytics in the Grizzlies' front office, as decreed by new owner Robert Pera and CEO Jason Levien, come across as a curious (some would say ill-advised) strategy for securing the contract extension he's been lobbying for since Michael Heisley still owned the team.
Hollins' players are in an undeniably tough spot, because no other team that regularly appears in the top 10 of ESPN.com's weekly NBA Power Rankings has to deal with the daily distraction of trade questions like the Grizz do this winter. The reality, though, is that they all have little choice but to cope, because this is how Memphis' season was always going to be, probably even if Heisley was still around.
Back in October, before the Grizz uncorked that glorious 14-3 start, Gay was routinely nominated by know-it-alls like the Sports Guy and me as the most likely "name" player to be dealt this season. The great start only delayed the speculation that's so prevalent now, because that start didn't change the fact that Memphis still has a clear need for more depth and improved perimeter shooting if it wants to consistently play on the Thunder/Clippers/Spurs level.
Something tells me Heisley ultimately would have realized at that, too. He'd have eventually deduced, just like Oklahoma City did in October when the Thunder traded away James Harden against their will, that a team in a market as small as Memphis can't afford the luxury-tax bills and corresponding restrictions that come with three max contracts: Gay, Zach Randolph and Marc Gasol. Not if said team wants to have the flexibility to make changes/upgrades when required.
The Grizz might not move Gay before the Feb. 21 trade deadline, but rest assured he'll be dealt before next season. (Or maybe it'll ultimately have to be Randolph if it's not Gay). If the new regime opts to give this core one last shot at a long playoff run, it'll be because it couldn't swing a palatable deal before the deadline, not nostalgia.
The bottom line is that the Grizz, like OKC before them, know they have to make the necessary payroll adjustments before the new labor agreement's more stringent tax penalties are implemented after Year 3 of the deal introduced last December. Which approach would you take? All in for this one season … or Thunder-style planning for the long term?
Right.
You can totally understand why Hollins, in the last year of his deal, wouldn't particularly care for the OKC way, but these are the financial realities of the team he wants to keep coaching. So he's going to have to subscribe if he wants to stick around.
And Hollins likes the job so much that he swears he's fine with all the competition out West, rejecting my suggestion that the deal Memphis needs more than anything is a franchise swap to the easier East.
"I'd rather be here and have a challenge every night," Hollins said. "Competition is what it's all about … We went to Golden State [recently] and it was like a playoff game. You want to play in that environment. I prefer a higher level of competition."

Even before he expounded on a recent Weekend Dime conversation by declaring this week that the "Bank of Cuban is open," Mark Cuban and his Mavericks were already known to be aggressively exploring their trade options in the wake of the team's worst start since Dirk Nowitzki's second season.
The problem?
No matter how eager the boss is to do a deal, payroll relief is the only significant asset Dallas can offer teams between now and the Feb. 21 trade deadline, since Cuban has made it clear that Nowitzki is off limits … and with Dallas' 2013 first-round pick either required to stay in Big D if it falls in the top 20 or otherwise already owed to Oklahoma City through a previous trade with the Lakers (Lamar Odom) that ultimately put the pick in the Thunder's hands as part of subsequent trades headlined by Derek Fisher and James Harden.
So …
Cuban is serious when he says he intends to make some sort of swap before the trade buzzer sounds, but my sense is that the most likely scenario has Dallas taking the bulk of its financial flexibility into the summer as long planned. If the Mavs have waited this long for a shot at Dwight Howard, after Cuban's controversial decision to let several free agents from his 2011 title team scatter, what's another six months to wait and see if they've got any sort of shot at the famously fickle big man?
Dwight definitely wants things (and needs them) to work out in L.A., for his image and also because he loves the Hollywood scene, but let's be honest: Who knows how he'll feel about Lakerland come July?
And that's why, in the short term, Dallas is more apt to try to trade Vince Carter to a contender that could use an extra shooter, or pitch the likes of Brandan Wright to a team in search of one more big man, in hopes of securing an extra draft pick or shedding a little extra salary.
The "Bank of Cuban" reference was a typically colorful reminder from the Shark Tank patriarch that the Mavs are in position to make a splashy acquisition by taking on a big contract as opposed to merely counting on a free-agent savior after missing out Deron Williams last summer. But that option will be there for them in July with their cap space, too, so holding off on taking in a big contract now -- even if their Dwight odds are microscopic -- only makes sense.
Which helps explain why sources close to the situation tell ESPN.com that the Mavs are not among the teams that have expressed interest in Grizzlies' highly available Rudy Gay.
---
Some numbers of note in the West this week:
48: The last five teams to make the postseason as an eighth seed in the Western Conference, at a combined 230-164, had a composite winning percentage of .584, which translates to 48 wins in an 82-game season.
43: The West's current No. 7 and No. 8 teams (Utah and Houston) began the weekend with identical 21-19 records that puts those teams on a 43-win pace … to the relief of the 17-22 Lakers and the 17-23 Mavericks.
15: The Mavs have used a league-high 15 starting lineups this season. Coach Rick Carlisle only needed 13 last season during a 66-game schedule.
34: Looking as healthy as he has since joining the Lakers, Dwight Howard recorded his 34th 30-and-15 game with 31 points and 16 rebounds in Tuesday night's win over Milwaukee. Since Howard's rookie season in 2004-05, Kevin Love and Zach Randolph are next in line with 18 and 17, respectively.
1: OKC's Kevin Durant is trying to become the first player to average at least 25 points -- while shooting 50 percent from the field and 40 percent from 3-point range -- since Seattle's Dale Ellis in 1988-89. Of course, LeBron James is making the same bid in the East.
---
Alvin Gentry is one of the most respected names in the coaching game, revered by both players and fellow coaches, so rest assured that his time in Phoenix will be remembered around the league for the Suns' Cinderella run to the brink of the NBA Finals in 2010, not this season's no-hope crew that has made Year 1 of the post-Steve Nash era even more painful than anticipated.
Gentry's departure, meanwhile, means that the league is down to three coaches working in the final year of their respective contracts after training camps opened back in October with eight in that predicament.
Avery Johnson was fired in Brooklyn just after Christmas. Milwaukee's Scott Skiles and Gentry left their posts this month "by mutual consent" if you care to buy into the latest in press-release phrasing. With Frank Vogel getting a two-year extension in Indy and Utah's Ty Corbin seeing his 2013-14 team option picked up in late October, that leaves three coaches coping with lame-duck status.
The Clippers' Vinny Del Negro. Atlanta's Larry Drew. And Memphis' Lionel Hollins.
5.

One-On-One ... To Five
Five questions with Grizzlies forward Zach Randolph:
Randolph
Q: What's the difference between this team and the one that beat San Antonio in the playoffs two years ago?
A: That group was good, but we're deeper. We got Rudy (Gay) back. We've got one of our best players back and we've been together longer. More experience.
Q: And how 'bout you? We're about a year removed from your knee injury. Are you back to being the full Z-Bo and how much does making the All-Star team matter to you?
A: I think so. I think I'm there … All-Star does (matter) and it don't. If it happens, it'd be great. I'd be lying if I said it (doesn't matter). But I'd rather get a championship and make (All-NBA) again.
Q: All this trade talk we're hearing ... How much is that messing with this team right now?
A: I really don't think it is. (Our) young guys, I just tell 'em focus on what we're doing, because this is a business. Nature of the business, man.
Q: But how hard is that to really do when you've got people like me coming into the locker room every day asking questions about trades?
A: It's hard. But honestly, for me, I've been through it. I'm a vet in this league. Nature of the beast.
Q: You think this group will get the chance to finish the season before (new management) decides to make changes?
A: I hope so. I hope we get that chance. But if we don't, you know you gotta roll with the punches.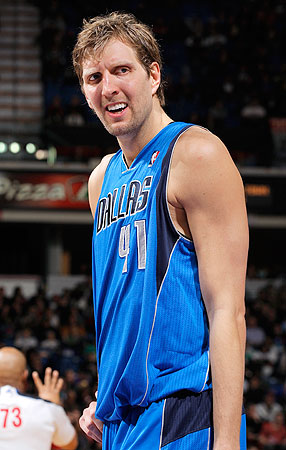 Rocky Widner/NBAE via Getty Images
The Mavs are off to a slow start. Will they really be busy before the trade deadline? (See Box 4.)
James
Ten things you need to know about LeBron James passing the 20,000-point threshold this week, with help from ESPN Stats & Info and the Elias Sports Bureau:
1. LeBron is the 38th player in league history and eighth active player to reach the milestone, joining Kobe Bryant, Kevin Garnett, Dirk Nowitzki, Ray Allen, Paul Pierce, Tim Duncan and Vince Carter.
2. James also recorded his 5,000th career assist on the night he crossed the 20,000-point plateau. Only one player in NBA history reached those two milestones in fewer games than James' 726 in the regular season: Oscar Robertson got there in 671 games.
3. At 28 years and 17 days old, James was the youngest player ever to reach 20,000 career points, more than a full year younger than Bryant (29 years and 122 days on Dec. 23, 2007). But LBJ was only the eighth-fastest in terms of games played, well beyond the mere 499 games needed by record-holder Wilt Chamberlain.
4. James is the third player to score his 20,000th point against Golden State, preceded by Reggie Miller (Nov. 17, 2000) and David Robinson (March 5, 2002).
5. Only two active players -- Jason Terry and Andre Miller -- have played in more regular-season games starting with LeBron's rookie season in 2003-04. Given that sort of durability, LeBron would need to play 10 more seasons after this one -- averaging 25 points per game and playing in at least 75 games per season -- to pass Kareem Abdul-Jabbar's all-time NBA scoring record of 38,387 points.
6. If he can maintain that pace, James would pass Kareem for the all-time scoring lead early in the 2022-23 season -- at age 38 -- assuming Kobe hasn't already raised the bar and passed Kareem first.
7. When Michael Jordan reached 20,000 points midway through his ninth season in 1992-93, at age 29, MJ had won three MVP awards and two championships. Now in his 10th NBA season, James has likewise won three MVPs but only one title in three trips to the NBA Finals.
8. LeBron's first career point was scored Oct. 29, 2003, in Sacramento. His 10,000th career point was also on the road: Feb. 27, 2008, at Boston.
9. LeBron's career high is still 56 points, yet again recorded on the road: March 20, 2005, at Toronto.
10. James became the Cavaliers' all-time leading scorer in March 2008 en route to winning his one and only scoring title.
Marc Stein joins host Michele Steele on the ESPN.com headlines desk to discuss the midseason exit of Suns coach Alvin Gentry.
Marc Stein, NBA
In his weekly visit with the NBA on ESPN Radio studio crew, Marc Stein and host John Brickley discuss the latest on Memphis' desire to trade Rudy Gay, Brooklyn's revival under P.J. Carlesimo and David Lee's All-Star chances in the West.
Three slams and dunks from the deepest recesses of Weekend Dimedom:
1. It was shocking, at the beginning, because the initial presumption was so salacious: Knicks owner spying on Melo! But that never really made any sense, because James Dolan loves Carmelo Anthony. James Dolan installing boom mics to catch every ounce of trash talk directed at Carmelo Anthony after the Kevin Garnett encounter, by contrast, makes total sense, because Melo has no bigger defender on Earth than Dolan … and because no one in the NBA does paranoia better than the MSG honcho. A few days removed from the initial hoopla, which came courtesy of the consistently outstanding Dave D'Alessandro of the Newark Star-Ledger, this whole affair thus feels now like a B-list or even C-list Knicks scandal. Yet it also feels like Dolan, in his ill-conceived attempt to protect his superstar, actually damaged Melo's Stop Snitchin' street cred by intruding at all. Dolan did anything but help his franchise player, who, in turn, simply can't afford to let himself get baited into losing his composure if Melo wants us all to keep seeing him as MVP material. No matter what KG really said.
2. It's not just the fact that the sports world at large has been lasered in this week on the irresistibly mesmerizing Manti Te'o and Lance Armstrong dramas. The long-awaited damaging report into the business practices of NBA Players Association chief Billy Hunter isn't going to rouse much outrage beyond the NBA's own player/agent/gossiping borders because of the timing. The public at-large just doesn't pay attention to player unions unless there's a work stoppage in progress. The biggest problem of all here, though, is that there are way too many players who don't pay enough attention between lockouts, either. If NBA vets want to install a worthy leader now that Hunter is surely on his way out -- and if they want, say, more than the whopping TWO active players currently on the union board -- they've got to start investing a lot more time and interest, as a group, into their own union. Starting with next month's annual meeting at All-Star Weekend in Houston.
3. Hard as it for me to admit this out loud, I reluctantly have to concede that the prospect of NBA basketball coming back to Buffalo is an extreme long shot. Can't say anyone beyond a few hopeless Braves romantics like me and Buffalo Sports Museum curator John Boutet are pushing for it, especially when the only Facebook campaign I could find makes the modest plea for the Clippers to return to town for a solitary exhibition game. So today I'm launching a new crusade: I want a D-League franchise somewhere near the Anchor Bar! Our Braves can never be replaced, but it's an absolute natural for the Raptors -- if we're really heading for a world in which all 30 NBA teams have their own D-League affiliate like so many folks in hoop circles seem to believe -- to ultimately put theirs in my favorite East Coast city. Let's do this! (It surely makes a heck of a lot more sense than the Raps' current affiliate arrangement … with the Bakersfield Jam.)