1. What NBA Scouts Are Saying Now

By Marc Stein
ESPN.com
NBA advance scouts are just like you and me.
They can't resist daily dissections of the ongoing hoop dramas in Hollywood, either.
Our annual midseason consultation with the guys who travel more than anyone in the league, lining press row for three to four games weekly to chart every play rival teams run, could only start in one place.
Lakerland.
Observations from six scouts -- three in each conference who were granted anonymity to speak as candidly as possible -- predictably tips off with two views on the star-studded Lakers' ongoing unraveling for the ages and continues with first-hand insights into some of the league's most pertinent topics.
---
Western Conference scout on the deepening Lakers crisis:

"Where do you want to start? I see a team having trouble guarding at every position. [Steve] Nash can't keep guys in front of him, but it's not just him. They're having trouble guarding all over the floor.
"They don't get back in transition. They don't force turnovers, so they don't get anything easy. I know it's asking a coach to change his stripes, but I think they've got to look at slowing the tempo way down.
"In the past, they always tried to keep the [number of] possessions [in a game] down because they thought, 'We're gonna get more out of our possessions than you.' I know [Mike] D'Antoni's teams have always tried to score a number that their opponent can't reach, but they need less possessions [per game] with an older team. The more possessions there are means they have to play more defense.
"Injuries have obviously not helped. I really don't want to pile on, because people are forgetting how many injuries they've had. How much have [Dwight] Howard and Nash really played together? And let's face it: All of us -- all of us -- thought they were going to be good.
"But I underestimated how much the Lakers [lack] shooting and how lifeless Dwight would look. He's either still hurting [after back surgery] or he's letting the frustration affect him, because he's floating through some of these games. I don't see him jumping for rebounds and blocked shots like he did in Orlando.
"In Phoenix, D'Antoni had all those shooters and he had Nash drawing more defenders to him [than he does as a Laker]. Right now you can guard [Nash] with one man or maybe a man and a half on pick-and-rolls ... and he doesn't have the ball in his hands as much because he has to share it with Kobe [Bryant]. Neither one of them [Howard or Nash] is playing like the guys we think of when we hear their names.
"My question is: Can the Lakers find a way, like Chicago did when they were losing games, not to give up on each other? Remember early in the season when [the Lakers] were losing games at the free throw line? The games haven't even been close enough lately for the [Lakers'] free throws to matter."
---
Eastern Conference scout on the Lakers' free fall:
"They've got chemistry issues. You can see it in the way they talk to each other, their body language on the floor. Just the way they look at each other when somebody gets beat. There's a disconnect there.
"But most of their problems are on the defensive end. They don't get back in transition and they don't know how to cover the pick-and-roll. It's just a bad mix, because we all know that D'Antoni isn't going to emphasize defense and he's not going to change the way he coaches.
"I don't see how they pull it all together unless they trade Pau [Gasol] or change their style of play. If D'Antoni is your coach, you don't need two centers, so they have to look at trading Pau to get the shooters and the speed you need in D'Antoni's system. Or you've got to convince him to slow the ball down and use Pau in the post more and get Kobe and [Metta World Peace] to be more selective with their shots.
"Dwight was a good pick-and-roll player in Orlando, but they had Ryan Anderson, [and] a bunch of shooters spreading the floor. [Stan] Van Gundy had good defensive schemes, too. This is a different dynamic. Once again, you've got to find a place for Gasol on the floor [next to Howard] and they've got no shooters."
---
Eastern Conference scout on the Celtics' own mess:

"I thought they were starting to feel good about themselves, but I think I've decided they're just not quite good enough. Their bench has to be playing at the top of their abilities for them to win. And they don't have enough guys big-guy-wise that Doc [Rivers] is comfortable with.
"For them to win games, [Jared] Sullinger pretty much has to have a double-double. And we're talking about a 6-[foot-]7 center. The other big issue is that they've got no one making any 3s. The Jet [Jason Terry] hasn't been on the runway very often. And Avery Bradley, for all his defensive prowess, isn't shooting the ball well, either.
"Paul Pierce is still great in big games, but I think he's getting to that age -- like a lot of guys do -- where he paces himself. He gets up for the challenges of the Chicagos or the Miamis, but in some of these other games, he's not quite The Truth.
"[Rajon] Rondo can change the game when he's engaged, but ... let's just say he's always very aware of his stats. And it's very evident from where I sit that he's playing for steals and assists sometimes instead of making the winning play or the easier play or defending his guy like he should.
"Other people tried to talk me out of it, but I said [before the season] that they'd finish third in [the Atlantic] Division. They're depending too much on their young guys and their bench playing great. They don't have a knock-down shooter and, after six years, they still don't have a reliable backup for Rondo. But I think their 'mess' is what's gonna happen when Pierce is gone and Kevin Garnett is gone. Because there's nobody in the wings."
---
Western Conference scout on LeBron James versus Kevin Durant in the MVP race:
James
Durant
"I know this probably isn't the answer you want, but it's a push. How do you expect me to choose between those two?
"If this is a pick-up game, I'm taking LeBron, because he can bring the ball up the floor, pass the ball, score the ball, post up, you name it. But this isn't a pick-up game.
"And Durant is just a quiet assassin. If I'm going to [make the decision based on] value to his team, I can take Durant with a clear conscience. I don't like that he's suddenly got a lot of bad boy in him -- it's not who he is, in my opinion -- but he is a nightmare to guard. Quiet assassin who lets his game do the talking ... that's how I've always seen him."
---
Eastern Conference scout on the biggest threat to Miami in the East:

"The Knicks will win the second-most games in the regular season. Chicago and Brooklyn will give [Miami] the tougher series.
"Brooklyn is better suited for the playoffs than New York ... I said that early on and I'm sticking with it. They obviously feel better about themselves with P.J. [Carlesimo] coaching and, most of all, Brook Lopez is healthy again.
"Chicago is beating a bunch of teams without [Derrick Rose] right now, so once Rose gets back, they'll be right there. And I should have mentioned Indiana. They get overlooked for a number of reasons, but they have the length and size. They're really underrated.
"[The Pacers] have length and size at every position and they seem to have bought in. When [Danny] Granger was there, they would shoot quick shots [as a team]. They're more of a grinding team now and they don't mind winning ugly. I put 'em up there with Chicago."
---
Eastern Conference scout on the state of the Heat:

"Miami's fine.
"Everybody talks about how they don't rebound the ball, but the biggest issue why is I just don't think it's that important to them. LeBron is playing the 4 and [Chris] Bosh is playing the 5, so they know they're going to going to be undersized. LeBron is gonna try to get out on the break instead of boxing out a guy. D-Wade is looking to get blocks or steals. They have no box-out guys except [Udonis] Haslem and Joel Anthony.
"I think they should be playing Anthony more, personally, to get back to a defensive mindset, but they're going to win the Eastern Conference. Period. So Erik Spoelstra can still pick and choose during the [regular] season when to emphasize defense."
---
Western Conference scout on if San Antonio is still a legit title contender:

"I thought they could win it all last [season]. I was sold on 'em then and I think they're a better team now. OKC and San Antonio, that's going to be the battle. I still think they're the two best teams in the West.
"The Spurs ... they're just so poised. I don't think they're too old, because they run their stuff so stinkin' well. Their guards know their roles so well and they're so deep. And [Tiago] Splittler has gotten a lot better. He's playing really big around the rim.
"I really think they can beat OKC in the playoffs this time and I've got 'em ahead of the Clippers, too. It's a playoff mentality thing. If [the Clippers] play them in a series, San Antonio is too disciplined in the playoffs.
"They're going to have to be fresh when the time comes [late in the season]. They traded baskets too much last year and it caught up to them. But Pop has them back among the top teams [defensively].
"For me, they're the most fun team to watch. You know what they're going to do. It's like clockwork. [Sitting with scouts on press row] we'll call out the plays before they do, because we know what they're going to run. But if you stop one thing, they always know how to counter. And they're all on the same page."
---
Eastern Conference scout on Sacramento's DeMarcus Cousins:
Cousins
"When he wants to impose his will down there, he can be really, really tough to stop. He's just so much physically bigger and stronger than everyone else. But it's too easy to force him into making decisions on the perimeter. Too often he takes the path of least resistance.
"In some ways, with the ups and downs, he's the Russell Westbrook of centers. But does he have the work ethic and the relentlessness of a Russell Westbrook to become a franchise player? That's going to be the big thing. Because, right now, it just takes a lot of energy and maintenance to keep that guy on track, or close to being on track. And you have to wonder how much it detracts from the other [Kings'] development.
"I'm just flying in a helicopter, looking down on the situation [as an outsider], but I still see a guy that reacts to everything. It's an emotional roller coaster every night. Whatever the impulse of the moment is -- euphoria or anger -- he's gonna express it.
"You need a unified front to get the best out of a player like that ... ownership, management and coach. And Sacramento doesn't have that. So the sale of the franchise, no matter how it [turns out], will hopefully be a good thing for him.
"You hope that this is all just part of [Cousins'] natural progression, but the reality is he makes a ton of mistakes when he's pressured or [taken] out of his comfort zone. He's not a good decision-maker against pressure and he's sloppy with his fundamentals. But he has so many gifts. He can post on the left block and turn both ways. When he really attacks the rim, he becomes extremely hard to stop. He just doesn't do it enough."
---
Western Conference scout on the return of Washington's John Wall:
Wall
"I saw him pretty early on [in his comeback] and he was just OK. But it takes time. It's too soon for me to make a comprehensive evaluation. Be patient and let him work through it, which is a lot harder to do than it sounds.
"But I have to give it up for the Wizards. When you start 0-14 or whatever it was and you get through that desert and you're still fighting, that's a great sign. That tells you they're still a team. The troops are still fighting and we're not talking about the most talented team. They've come a long way from when I saw them in the preseason."
---

Western Conference scout on the "most interesting story no one is talking about":
"You're asking a tough question there. I read ESPN.com every day. There's not a lot of things you guys don't talk about.
"This isn't really a secret or anything, but I'm fascinated by Golden State. I haven't had the chance to see them a lot, so I can't really tell you why they've improved so much defensively and rebounding the ball without [Andrew] Bogut even playing.
"What's the deal with that? That's something they've been trying to get over the hump with for several years and there were no hints at all that things were going to turn around [with Bogut injured all season]. I'd like to see more of them, so I can figure that out. Hopefully I'll have some answers next time."
Dimes past: Jan. 10 | 11-12 | 13 | 14 | 15 | 16 | 17 | 18-19 | 20 | 21 | 22 | 23 | 24


ESPN.com senior writer Marc Stein
• On Twitter @ESPNSteinLine | On TrueHoop | On ESPN.com | On email
• Follow ESPN's NBA coverage on Twitter | On Facebook | On Google+
2. Eastern Conference

The safe assumption remains that the Boston Celtics will focus their trade-deadline efforts on acquiring another big man before the Feb. 21 buzzer to fortify their too-small front line.
As noted Friday morning via Twitter, Boston has also ramped up its interest in Orlando sharpshooter J.J. Redick this week to address an unexpected need for trusted shooters on the perimeter.
Although there are still live rumbles on the league's personnel grapevine that this will actually be the February that Celtics front-office chief Danny Ainge finally parts with Paul Pierce or Rajon Rondo, I'm still pretty skeptical. As one team monitoring the Celtics said this week: "[Boston] has floated the idea of moving Pierce or Rondo out there for the last three years ... but has never pulled the trigger."
So it's premature, to me, to throw Pierce's name up there with Rudy Gay and Pau Gasol on the list of high-profile names we need to monitor this trade season, even though we've heard more than one rival team speculate that a three-way deal where Pierce lands in Memphis, Gasol goes to Boston and Gay joins the Lakers makes "some sense." Sources say that the Celtics and Grizzlies have indeed held some exploratory trade talks since Gay hit the market.
Pierce's $15.3 million salary next season is guaranteed for only $5 million, so his contract is highly tradable, but instinct tells me that Ainge's fondness for him and Pierce's stature within the franchise and in the city make it a serious long shot that we'll see him dealt during the next 27 days. Rondo is a harder read because this season hasn't been nearly as smooth for him as his numbers look, but the suspicion here remains that Ainge will give his vets one more shot in the playoffs in an East where, approaching the 50-game marker, there's still no clear-cut No. 2 behind Miami.
---
Some numbers of note in the East this week:
4: Indiana's Paul George, selected to his first All-Star Game on Thursday, has increased his scoring average by more than four points in each of the past two seasons, jumping from 7.8 ppg in 2010-11 to 12.1 ppg in 2011-12 ... and now to 17.3 ppg this season. The only other players whose scoring averages have spiked by at least four points in each of the past two seasons are Houston's James Harden (from 12.2 ppg in 2010-11 to 16.8 ppg to 2011-12 and 25.8 ppg this season) and New Orleans' Greivis Vasquez (3.6 ppg in 2010-11 to 8.9 ppg in 2011-12 to 14.3 ppg this season).
20: Cleveland's Kyrie Irving, another first-timer in the All-Star Game, became the youngest player ever to score 40 points in a game against the Celtics with his 40 in Tuesday night's home win over Boston. Irving was 20 years and 305 days old when he did it, supplanting LeBron James after the former Cav's 43 points against the Celts on Feb. 15, 2006, at 21 years and 47 days old.
1,557: It's small consolation for Paul Pierce after he was snubbed by East coaches for an All-Star spot, but the Celts' captain passed Larry Bird for the franchise record for steals at 1,557 with two swipes Sunday in Boston's loss at Detroit. The NBA has been officially tracking steals since 1973. Pierce is one of four active players (along with Kobe Bryant, Dwyane Wade and Rudy Gay) who ranks as his franchise's all-time leader in steals.
5: The Knicks had a season-low five turnovers in their Martin Luther King Day loss at home to Brooklyn, marking just the second time in franchise history since turnovers became an official NBA statistic in 1970-71 that New York lost a game in which it committed five or fewer turnovers.
5: Wednesday's triple-double in an OT win at home over Toronto might have been the most unlikely of LeBron James' 34 career triple-doubles. James had only five rebounds at the end of regulation before snagging five boards in the extra period. Three other players actually finished a game with a double-digit rebounding total in 2012 despite grabbing five or fewer boards in regulation, according to Elias: Indy's David West (March 10, 2012), Dallas' Vince Carter (April 16, 2012) and Atlanta's Al Horford (Dec. 26, 2012). Before 2012, though, no player had done so in any of the five previous calendar years.
---
Cavaliers general manager Chris Grant has been tracking Marreese Speights since the big man was playing at Florida. And Cleveland could certainly use a boost on the front line after announcing this week that Anderson Varejao would be lost for the season after his recent leg surgery left the Brazilian with a blood clot in his right lung.
All that said ...
Don't be shocked if the Cavaliers decide to move Speights on again before the Feb. 21 deadline.
The Cavs obviously aren't in the playoff hunt and word is they're already receiving interest in Speights, who possesses a $4.5 million player option for next season. The Cavs are also armed with $12 million in expiring contracts and roughly $4 million in leftover cap space for the summer, which means they've got the tools to continue to be active before this deadline.
Daniel Gibson and Omri Casspi, according to NBA front-office sources, are the most likely Cavs to be dealt along with Speights, who had to give his consent to be sent to Cleveland as one of the 13 players in the league this season (see Box No. 6 here for the detailed explanation) possessing the sort of unique one-year contract that creates trade-blocking power.
3. One-On-One ... To Five

McCants
Five questions with 2005 lottery pick Rashad McCants, who's trying to make it back to the NBA after an absence of nearly four years via the D-League's Texas Legends:
Q: This will be your second stint with the Legends. What made you want to come back after a couple years away?
A:I'm pretty much embracing the opportunity to get back in the swing of things and get another shot at the NBA. A lot has happened. A lot has changed for me personally. I think I'm more ready now than I ever was, physically and mentally, to make the necessary adjustments no matter where I play. ... Just growing up, going through life, being a man. Every person goes through growth.
Q: You last played in the NBA in 2009. How hard has that been to accept after you came out of North Carolina with so much fanfare?
A: The first couple years it was very difficult, especially not being able to understand why. As I found more of a spiritual peace, I stopped worrying about the whys and the what-ifs and making excuses for myself. I've accepted where I am. To get over these hurdles, I've just got to be persistent and play my game and then the doors and the windows will open.
Q: You had the rep early in your [NBA] career that you were hard to play with. What's your response to that sort of talk now?
A: I honestly don't know what to say to that, because [there's] never been a clear understanding where it was coming from. There was this stigma on me, but I don't know who is saying it or where it comes from. The only thing I can do is be the player I've always been and the teammate I've always been. ... For me, I really can't address the things I can't control. The only thing I can do is go out there and be me.
Q: What happens if [at age 28] you don't get one more shot at the NBA? Can you live with that?
A: I'm a human being. I'm a grown man. But it's out of my control, so I'm not going to jump off a bridge [depending on] whether teams decide they need me or don't need me. This is my passion. This is what I've done for most of my life. I know there's a spot in the NBA for me. I'm confident in my ability, but I really can't speak for the [NBA] decision-makers. I don't know who's going to take the chance. I do know that I'll be ready.
Q: I saw on Twitter that you were back at UNC this week. What was the reaction like? Were people just excited to see you after so long or were they asking you a lot of questions about your NBA struggles so far?
A: It was amazing. It was very special to go back and feel that love. Carolina basketball and the fans that they have, they've got so much love for their players. To feel that again made me feel like I'm important, like they appreciated my ability and what I brought to a championship team [in 2005], like they still see me as a legendary player. I have to take that confidence and plug it into the situations I'm in now -- whether it's the D-League, NBA, China -- and recognize that I'm still the player I always was. And even better.

The Grizzlies' tax-slicing trade with Cleveland earlier this week, as you've surely heard by now, means that they don't have to trade Rudy Gay during the season.
Yet there's no shortage of folks plugged into the league's personnel grapevine who remain convinced that the Grizz might still opt to deal Gay before the trade deadline -- or maybe even Zach Randolph -- to add quality perimeter shooting and more depth while also spreading the team's payroll out more evenly beyond the core four of Marc Gasol, Mike Conley, Randolph and Gay.
You could even make the case that the Cleveland deal, which removed more than $6 million from this season's payroll and thus took the Grizzlies under the luxury-tax threshold, was done on the early side to enable them to give teams interested in Gay nearly a month to improve their offers.
"If a good deal presents itself [for Gay]," one source close to the situation said of the buildup to the Feb. 21 deadline, "Memphis will take it. But they were never going to just dump [Gay's salary]."
The suspicion here, though, remains that the Grizz will wait until after the season to make the first major move of the Robert Pera/Jason Levien era. Levien said as much to local reporters Thursday, insisting that "we really like our team" and that it's "more likely than not that we do nothing" in terms of breaking up Memphis' marquee foursome.
But if you insist on coming away from your latest visit to Weekend Dimedom with some sort of guarantee about what Memphis will do between now and the end of July, here goes: Sources say you can expect the Grizzlies to hold out for at least one quality first-round pick -- and preferably more than one -- when Gay (or Z-Bo) is finally dispatched in the name of not only bringing some balance to the roster but also making it possible to retain unrestricted free agent-to-be Tony Allen.
To convince Cleveland to take in Grizz reserves Marreese Speights, Wayne Ellington and Josh Selby, Memphis was forced to surrender a protected future first-round pick. The Cavs won't see that pick until 2015 at the earliest, but the Grizzlies were already concerned about the lack of first-rounders in their cupboard over the next few years before this trade. They want and need picks out of future trades.
---
Some numbers of note in the West this week:
2: It's not just the Lakers. The Celtics also reached the mathematical midpoint of the regular season below .500 at 20-21, meaning that the NBA's most bitter old rivals are on course to make this only the second season in league history where both teams post a losing record. The only time that happened previously was 1993-94 -- my first season covering the NBA! -- when the Lakers were 33-49 and the Celts went 32-50.
7: San Antonio's signing of Aron Baynes gives the Spurs seven players who played in last summer's London Olympics, as tallied up by Jeff McDonald of the Express-News, albeit none of them from Team USA. Tony Parker, Boris Diaw and Nando de Colo teamed up with France; Manu Ginobili helped lead Argentina; Tiago Splitter repped Brazil; and Patty Mills and Baynes played for Australia under Spurs assistant coach Brett Brown.
.463: Entering Thursday's play, San Antonio's Matt Bonner had the league's top 3-point percentage at .463, which has led to a blossoming social-media campaign (#LetMattShoot) aimed at getting Bonner into the NBA's annual 3-point contest at All-Star Weekend for the first time. Neither Bonner nor New York sharpshooter Steve Novak (No. 4 this season at 44.4 percent) has ever been invited into the contest.
1: Entering Thursday's games, Bonner had the fifth-highest career success rate from 3-point range among all active players behind Steph Curry, Novak, Steve Nash and Anthony Morrow at .417 ... and likewise ranks as the only NBA player who wears New Balance shoes (which were slightly more popular in my teenage years when James Worthy was sporting 'em).
476: In Wednesday's rout of the Lakers, Rudy Gay played in his 476th regular-season game for the Grizzlies, tying Pau Gasol's franchise record and only thickening the bond that connects Pau to Gay on the list of the most polarizing players in Grizz history. More than a few Grizzlies fans had long since proclaimed themselves done with the elder Gasol when Memphis finally dealt him to the Lakers in 2008, just as many of them are quick to single out Gay as the fall guy whenever things go wrong for these Grizzlies.
---
Because the Cleveland trade took the Grizzlies' roster down to 11 players, they have 14 days, according to league rules, to get up to the NBA-mandated minimum of 13. D-League swingman Chris Johnson was called up to fill one of the two open spots, but Memphis decided to pass on Delonte West after considering the well-traveled point guard for a 10-day contract. West is now headed to the D-League himself to play for the Texas Legends, who are co-owned by Mavericks president of basketball operations Donnie Nelson. West was released by Nelson's Mavs in November after multiple locker-room flare-ups and is undoubtedly hoping his willingness to drop into the NBA's developmental league to make amends will convince someone to give him a 10-day shot. ... The Grizzlies generated three separate trade exceptions through their swap with the Cavs, worth $4.2 million (created by the shedding of Marreese Speights' salary), $2,083,042 (Wayne Ellington) and $762,195 (Josh Selby).
"Piece of work. Work in progress. It's all the same."

Nowitzki
Dallas forward Dirk Nowitzki, adding some welcome context to his recent penchant for delivering state of the unions in Mavsland that describe his team or his game as a "piece of work."
Which actually sounds a lot scarier/harsher than "work in progress."
More than once since his return from the first knee surgery of his career, Nowitzki has responded to questions about the Mavs' struggles to keep alive their streak of 12 consecutive playoff appearances or his own slow return to form after missing the season's first 27 games with that "piece of work" phrasing.
Nowitzki-esque as that sounds in terms of brutal honestly, Dirk made it clear -- after a couple reporters stopped at his locker recently to double-check -- that "work in progress" is what he's been going for.
His intentions are far clearer when it comes to trying to scramble into the playoffs. Neither Nowitzki nor Mavs owner Mark Cuban is prepared to punt on the idea of clawing back to the No. 8 spot in the West and extending the league's second-longest run of trips to the postseason behind San Antonio's 15 in a row from 12 straight to 13. So don't expect them to start advocating increased minutes for the Mavs' youngsters and jockeying for more pingpong balls.
As much as know-it-alls like me are pushing the idea that the Mavs would be far better off with their first trip to the lottery since Cuban's first year in charge -- even with the NBA's top draftniks projecting a very weak talent pool come June -- Dallas' view is that there realistically won't be much difference between the low lottery pick it would likely come away with in the 10-to-14 range and where the Mavs would be drafting in the teens if they can sneak into the West's last playoff spot. Given the choice, then, they'd naturally rather finish eighth and take a first-round swing at one of the West's heavyweights.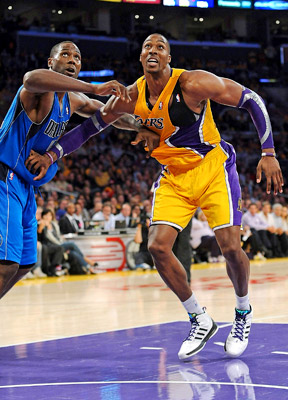 Noah Graham/NBAE/Getty Images
Dwight Howard playing in Dallas? Sounds crazy, right? Well ... (See Box No. 9)

Now that they've passed the regular-season midpoint still scuffling well below .500, there's no avoiding this discussion about the 17-25 Lakers.
Missing the playoffs, even with all those big names they've stockpiled, is looking far more likely than unlikely. According to the Elias Sports Bureau, 107 teams in the Western Conference were 17-24 or worse at the 41-game mark over the past 25 seasons ... and only four of them managed to make the playoffs. (The last team in the West to start 17-24 or worse and win a playoff series, furthermore, was the 1980-81 Kansas City Kings.)
Be advised that even the 2002-03 Lakers, who infamously started the season 13-20 after three successive championships for Shaquille O'Neal and Kobe Bryant, had rallied to a record of 19-23 by this point ... and promptly launched a seven-game winning streak from there. Those of you who regularly dial in to our old friend John Hollinger's Playoff Odds, meanwhile, won't be surprised to hear that L.A.'s chances there of rising into the eighth spot in the West had dipped to a mere 18.2 percent as of Friday morning.
So ...
Elias, not surprisingly, has been digging into the unwanted history this cast of future Hall of Famers is threatening to make and found that the Lakers are on course to become just the fourth team since the NBA/ABA merger in 1976-77 to miss the playoffs in the same season it featured two starters in the All-Star Game.
At Least Two All-Star Starters In Same Season As Missing Playoffs
| Season | Team | All-Star Starters |
| --- | --- | --- |
| 2005-06 | Rockets | Tracy McGrady and Yao Ming |
| 2002-03 | Rockets | Steve Francis and Yao Ming |
| 1977-78 | Celtics | Dave Cowens and John Havlicek |
| 1973-74 | Hawks | Lou Hudson and Pete Maravich |
| 1968-69 | Royals | Jerry Lucas and Oscar Robertson |
| 1967-68 | Royals | Jerry Lucas and Oscar Robertson |
| 1965-66 | Warriors | Rick Barry, Guy Rodgers and Nate Thurmond |
And it gets way worse than that for Los Angeles.
The Lakers are also at risk for going down in NBA annals as just the fifth team to miss the playoffs despite the presence of two former MVPs on the roster. (Lakers guard Steve Nash is regrettably already on that list thanks to Phoenix's ninth-place finish in the West in 2009, despite a record of 46-36, when Nash and Shaquille O'Neal were both Suns.)
NBA Teams To Miss Playoffs With At Least Two MVPs On Roster
| Season | Team | Players |
| --- | --- | --- |
| 2008-09 | Suns | Steve Nash, Shaquille O'Neal |
| 1999-2000 | Rockets | Charles Barkley, Hakeem Olajuwon |
| 1978-79 | Celtics | Dave Cowens, Bob McAdoo |
| 1969-70 | Royals | Oscar Robertson, Bob Cousy |
Want more?
The Lakers began the season with a combined 32 All-Star appearances. The fans' selection of Bryant and Dwight Howard for the 2013 All-Star Game next month in Houston makes it 34. According to Elias, only five times in league history has a team boasted at least 30 combined All-Star appearances by its players and still fallen short of the postseason.
30 Or More All-Star Appearances Among Players On Teams That Missed Playoffs
| Season | Team | ASG appearances |
| --- | --- | --- |
| 2008-09 | Phoenix Suns | 32 |
| 2007-08 | Miami Heat | 33 |
| 1992-93 | Detroit Pistons | 30 |
| 1977-78 | Boston Celtics | 42 |
| 1969-70 | Cincinnati Royals | 35 |
Was this the week to finally lose faith in the Lakers? Is there a bigger All-Star snub -- or a better center in the game -- than Memphis' Marc Gasol? And what about the Celtics and their mess? Henry Abbott seeks the answers to those questions and more in TrueHoop TV's latest Weekend Stein Edition.
Ben & Skin: Marc Stein
The boys from the Ben & Skin Show on ESPN Dallas 103.3 FM won't abandon their admittedly ambitious dream of seeing Dwight Howard playing next to Dirk Nowitzki on the Mavs' front line. So they brought Marc Stein on this week to discuss whether the prospect of Howard leaving Los Angeles, either at the trade deadline or in the summer, is becoming any less of a long shot as the Lakers continue to unravel.
Three slams and dunks from the deepest recesses of Weekend Dimedom:
1. I gotta challenge my old friend Ric Bucher on his Twitter suggestion earlier this week that LeBron James has to have the lead on Kevin Durant in the MVP race at the season's midpoint because LeBron's D is so much better. Buch is certainly entitled to cast his vote any way he wants, like the other 125-ish folks who are handed ballots at season's end, but here's my counter: If that's standard, LeBron might as well be named MVP before the season starts, because he's going to be the best two-way player in the league for years to come. MVP, to me, is the prize that goes to the guy who had the best season. And halfway through, if only fractionally, it's Durant. KD's 50/40/90 offensive efficiency is ridiculous to the point of unfair ... and his blossoming leadership to point the way for a team that had to say goodbye to a certifiable stud less than a week before the season opener cancels out any of his supposed defensive deficiencies for me. LeBron, again, is going to rank as the best all-around player in basketball virtually every season he ends up playing this game. But that doesn't mean he should snag the MVP trophy automatically, just as Michael Jordan didn't win it every season. Unfair as it might seem to punish LBJ for Miami's mediocre road record and motivational struggles, especially when LeBron's own stats are off the charts, I can't help but reward Durant for how he and OKC are holding it down in the wake of James Harden's exit. The MVP race is incredibly tight, but anyone who has Durant leading it after 41 games (and change) has ample justification. Ample!
2. If only there were a podcast in cyberspace where Buch and I could meet up, engage a knowledgeable third party and hash this out. Maybe someday.
3. My will to rage against New Orleans' new Pelicans nickname is gradually wearing down. Three-syllable team names always sound funky until we get used to them, but I can't deny that (A) it's a much cooler logo than I was expecting, and (B) it's undeniable that pelicans hold great significance in the region as a symbol of the city's resolve in the wake of too many unspeakable natural disasters. So, yes, I'm warming to Pelicans.
P.S. -- I'm likewise struggling to muster much of the usual outrage about the coaches' reserve selections that were just announced for next month's All-Star Game in Houston. Golden State's Steph Curry and Brooklyn's Brook Lopez were by far the two most egregious snubbees, but my instinctive reaction to Thursday night's proceedings isn't so much about seeking justice for them but making sure we all chalk it up as another victory in January for Nets interim coach P.J. Carlesimo. He'll be the main beneficiary of the snubbed Lopez and Deron Williams resuming their seasons while feeling so slighted.