1. Eight Trade Deadline Truths

By Marc Stein
ESPN.com
Archive
February is here. The first blockbuster deal of trade season has been swung.
And the countdown to the NBA's annual trade buzzer is on.
Teams awoke Friday with a mere 20 days left to try to follow up the Rudy Gay-to-Toronto extravaganza with deals of their own.
So let's lead off this edition of Weekend Dime with eight Trade Truths to get you ready for the deadline stretch run.
---
1. The truth about Pau
Gasol
Friday marked a full five years since the Lakers gave Kobe Bryant and Phil Jackson new championship life by acquiring Pau Gasol from Memphis.
The Lakers wouldn't dare commemorate the anniversary by turning around and trading Gasol before this deadline, would they?
I still say no.
As poorly as Pau fits with this current mix, I still say that the Lakers have to keep Gasol beyond Feb. 21 because they have no assurances that Dwight Howard is going to re-sign with them. It's just too risky for them to trade Gasol now, just to replace him with a player or two who might ensure they don't miss out on their puncher's chance in the playoffs, when Howard could bolt in free agency and leave them center-less in July.
That said ...
Raptors president Bryan Colangelo, in the wake of the Gay trade, is now openly acknowledging that he's shopping former No. 1 overall pick Andrea Bargnani. The Lakers' interest in Bargnani remains a matter of debate in the midst of the Italian's worst-ever season by far, but he can certainly spread the floor better than Gasol does. The not-for-public-consumption message that continues to emanate from Canada, meanwhile, is that Toronto remains intent on pursuing Gasol even after trading for Gay.
At a news conference Friday, Colangelo acknowledged that the Raptors are prepared to stray into luxury-tax territory in the "right transaction." One source close to the situation says Gasol is a guy who fits those parameters ... depending on the rest of potential trade principals besides Bargnani.
So we'll see, over the next 20 days, if the Lakers change their stance on Gasol's availability ... and if Toronto can even assemble a package to tempt them without Jose Calderon's expiring contract to attach to Bargnani.
---
2. The truth about The Truth
Pierce
I know Kevin Garnett has a no-trade clause and Paul Pierce doesn't. And I know Danny Ainge is widely regarded as a cold-blooded gambler who'll trade anyone or anything to ensure that the Celtics don't free fall into the basketball wilderness when KG and P-Squared are gone, like Boston did post-Larry Bird and Kevin McHale.
But it's not that simple in real life. Ainge isn't just going to trade Pierce anywhere he wants no matter how many times he tells the story about Red Auerbach openly lamenting that he held onto the Celtics' 1980s glory days too long. If Ainge ends up trying to move The Truth, it's my belief -- out of respect for the way Pierce stuck with the Celts through years of futility and ultimately helped haul the franchise, alongside KG, back up where it belongs -- that he'd try to work with No. 34 to send Pierce somewhere he could get somewhat excited about.
And that leaves only one realistic option: Pierce going back home to Los Angeles with the Clippers for a package headlined by young point guard Eric Bledsoe. Which is the sort of move that would theoretically enable Boston to turn around and shop Rajon Rondo for more fresh-blood pieces.
Yet everything you hear out there to date, heading into these final three weeks before the trade buzzer, suggests that (A) Ainge realistically knows he can't get enough back at this point in Pierce's career to send a Celtics living legend packing and (B) Bledsoe remains untouchable because the Clips, like the Lakers with Dwight and Pau, can't afford to part with their prized QB prospect until they know Chris Paul is signed for the long term.
So the chances of a Pierce deal, at this juncture, are highly remote. Bringing Pierce to Clipperland would have to be classified as a major change to the team dynamic for a team that's always touting its chemistry as is. Yet the only reason you can't rule it out completely is that the Clips -- for all the whispers in circulation that they don't plan to do anything at this deadline unless it's a slam-dunk boost to their title hopes -- might end up needing a deep playoff run to ensure that CP3 re-signs even more than they need Bledsoe as CP3 insurance.
And Pierce would instantly bring them the sort of championship experience and big-game shot-making this team lacks outside of Chauncey Billups, who's been out for ages. The Clips, as tight as they are, could certainly use a shooter/scorer of Pierce's pedigree to help loosen things up around Blake Griffin.
---
3. The truth about The Truth's team

Deep down, Ainge surely realizes that he probably wouldn't be able to get as much as he'd want back for Pierce or Garnett at this stage of their careers, even if KG ripped up that no-trade clause.
So ...
There's a rising expectation among some of Ainge's peers that Boston will instead try to move out at least one member of the Brandon Bass/Jason Terry/Courtney Lee trio before the deadline to make getting under the luxury-tax threshold his February focus.
The Celtics are nearly $1.5 million over the tax line for this season and on course to exceed it again by more than $1 million next season as well.
---
4. The truth about J-Smoove
Smith
The Hawks, according to NBA front-office sources, are indeed making calls, gauging the trade value of their players and assessing their options.
However ...
Unless there's a bona fide star player to be had in exchange, indications persist that the Hawks don't want to do anything that cuts into the considerable cap-space haul they're headed for in July. Because they're going to be right alongside the Dallas Mavericks, sources say, in trying to steal Howard from the Lakers.
Atlanta general manager Danny Ferry, by all accounts, wants to avoid any salary that strays beyond this season unless the talent coming back is irresistible. Another factor: Josh Smith's recent declarations that he sees himself as a max player don't make it any easier to find a trade partner ready to take on the enigmatic swingman in fear of not being able to meet Smith's demands in free agency come July.
I've likewise heard from a couple of teams that have pursued Smith in recent weeks that they've cooled on the idea because the 27-year-old is likewise reluctant to commit to a Carmelo Anthony-style extension as part of the trade. J-Smoove clearly wants to make it all the way to free agency on July 1 after nine seasons with the Hawks.
Chances are he's going to have that opportunity.
---
5. The truth about Utah

It's reassuring to hear other teams complain about how hard the Jazz are to read as much as media gnats like me are in knots trying to figure out whether they plan to trade Al Jefferson or Paul Millsap -- or neither -- this month.
I will say, though, that there's been more chatter recently to back the notion that Jefferson is staying put for the rest of the season. Which is another way of saying that the Jazz, based on the latest forecasts on the personnel grapevine, intend to either trade Millsap in coming days or stand pat until the offseason.
---
6. The truth about the Sacramento (for now) Kings

More clarity on where they'll actually be playing next season is expected two weekends from now when the league's power brokers all migrate to Houston for the All-Star Game and the meetings and madness that surround it. But this isn't the place for Seattle-or-Sacramento stuff anyway.
This is the place to talk about Tyreke Evans, since DeMarcus Cousins remains firmly off-limits while the Kings are in sale limbo, according to NBA front-office sources.
As for Evans? Word is that the Grizzlies would have loved to acquire him as part of the big trade that sent Gay away, but the Kings really aren't in a position to take on salary as they await clarification on who'll be buying the team from the Maloof brothers.
A couple of teams consulted have volunteered the notion that Kings GM Geoff Petrie is ready to move Evans, but you have to wonder how much shot-calling Petrie can do at the minute. The greater likelihood is that the Kings don't do anything at this deadline unless it saves money or comes in cash neutral.
---
7. The truth about the Trail Blazers

Don't look for them to make a trade to try to add a piece that helps out with any sort of second-half playoff run, no matter how well they've done (with virtually no bench) to keep themselves on the fringes of making the playoffs out West so far. New Blazers GM Neil Olshey has made that pretty clear.
Indications are that finding another quality guard to join Rookie of the Year favorite Damian Lillard in the Blazers' backcourt is a big-picture priority ... but it's not a necessity. Not now.
---
8. The truth about J.J. Redick
Redick
The Orlando sharpshooter is the player, with Gay off the board, most teams cite when asked to name a player who will definitely be dealt between now and the deadline.
Our old friend Ric Bucher recently reported that the Magic want draft considerations or a quality young player still on his rookie contract if they're going to part with Redick, which sure sounds like the sort of wish list Magic GM Rob Hennigan would have been schooled to scribble out at San Antonio Spurs U. and the graduate program in OKC.
Dimes past: Jan. 18-19 | 20 | 21 | 22 | 23 | 24 | 25-26 | 27 | 25-26 | 27 | 28 | 29 | 30 | 31


ESPN.com senior writer Marc Stein
• On Twitter @ESPNSteinLine | On TrueHoop | On ESPN.com | On email
• Follow ESPN's NBA coverage on Twitter | On Facebook | On Google+
2. Western Conference

Lakers coach Mike D'Antoni expressed surprise when he was informed by a gaggle of media members earlier this week that Pau Gasol didn't take kindly to his fourth-quarter benching in Tuesday's narrow win over New Orleans.
"'All for one' didn't last [very] long, did it?" D'Antoni said, referencing last week's team meeting in Memphis during which various high-profile Lakers pledged to be more selfless to help haul L.A. out of crisis mode.
Some of us in that scrum, though, were not as surprised.
Not after seeing legendary former Barcelona manager Pep Guardiola in a courtside seat at Staples Center when the Hornets were in town. Unlike during previous benchings Gasol was forced to endure when D'Antoni decided that the Lakers could handle only one traditional center on the floor, this one happened with one of the biggest names in Spanish sport -- someone Gasol undoubtedly wanted to impress -- watching the Lakers play live for the first time.
Which had to make it doubly hard for Pau to stomach spectator duty while the Hornets were turning a blowout into a real scare for the home team.
D'Antoni explained that the decision to keep Gasol and Metta World Peace on the bench for the entire fourth quarter of L.A.'s 111-106 victory was purely tied to the fact that the Hornets were playing a lineup so small that there wasn't even "a medium-sized guy" for Pau to match up with.
"I'm a competitor, I'm a guy that thinks I bring a lot to the table, and not being on the floor is something that I don't like, I don't appreciate," Gasol said after finishing with seven points, seven rebounds and seven assists in 21 minutes.
Before Friday's game in Minnesota, D'Antoni expounded on the issue, telling reporters: "It's not a personality conflict. It's not a dance contest. I like [Gasol]. My dance card's open."
Dwight Howard's ailing shoulder, furthermore, gives Gasol an immediate opportunity to pirouette back into favor.
---
Some numbers of note in the West this week:
5,661: With his sixth of nine assists Wednesday night in Phoenix, Kobe Bryant surpassed Kareem Abdul-Jabbar's career total of 5,660 assists, making him the most prolific assist man of the five 30,000-point scorers in NBA history. Michael Jordan finished his career with 5,633 career assists, with Karl Malone ringing up 5,248 assists and Wilt Chamberlain amassing 4,643.
4: Kobe Bryant, at 38.7 minutes per game, is on pace to join Lenny Wilkens (1972-73), Michael Jordan (1997-98), Reggie Miller (2000-01) and Gary Payton (2002-03) on the short list of guards to average 38 minutes or more at the age of 34.
11: Portland's LaMarcus Aldridge had a career-high 11 double-doubles in January, which certainly couldn't have hurt his campaign to snag an All-Star spot in the West.
25: Portland's J.J. Hickson has 25 double-doubles of his own this season. The only two players with more -- Golden State's David Lee and Memphis' Zach Randolph -- were chosen as All-Stars by West coaches.
497: Before being traded Wednesday to Toronto, Rudy Gay became the Grizzlies' all-time leader in regular-season games played with 479. His departure from Memphis leaves five active players who hold their respective franchise's record for games played: Kobe Bryant (Lakers), Tim Duncan (Spurs), Dirk Nowitzki (Mavericks) and Dwyane Wade and Udonis Haslem (who share top spot with the Heat).
---
I saw both sides of the Michael Beasley enigma up close over the past few days.
There was Beasley, last Sunday, warming up for his new reserve role before a game in Dallas -- having lost his spot in the lottery-bound Suns' starting lineup -- with a basket of concession-stand fare less than two hours before tipoff. He wasn't the only Sun who had one, to be fair, but seeing a player eating right off the NBA writers' menu so close to game time is always an eyebrow-raiser.
Yet there was Beasley again Wednesday night, back home in Phoenix this time, upstaging Steve Nash's homecoming game by shredding the Lakers' defense for a season-high 27 points while also collecting five steals. For of all L.A.'s undeniable frailties on D, Beasley was impressive nonetheless, slicing through every coverage in his path.
Talent, of course, has never been Beasley's issue. "No more nonchalant Beas" is the new mantra he keeps repeating over and over, acknowledging that he hasn't taken the game seriously enough to this point in his career and has to grow up.
3. Corner 3
Three slams and dunks from the deepest recesses of Weekend Dimedom:
1. Exactly one team seeded outside the top three in either conference has won an NBA championship since the NBA/ABA merger in 1976-77. That would be the Houston Rockets in 1994-95 ... and only after they acquired Clyde Drexler at midseason. Consider that my way of saying that I didn't see the Memphis Grizzlies, as they were constructed before Wednesday's blockbuster deal, as championship material. They were a distinct No. 4 in the West and, sorry to say, weren't going to get out of the West if they kept Gay. The best deal Memphis could have made at the deadline was trading itself (as in the whole operation) to the Eastern Conference. But since that trade wasn't available, I totally get why they did what they did in shipping Gay to Toronto. Expanded views from me on the subject can be found in Box No. 5 and Box No. 8, but I'll simply say here that I continue to be bemused by the widespread outrage that has greeted the Grizzlies' decision to trade a player who makes max money and yet has never been to an All-Star Game. The same player who was also out injured when Memphis upset San Antonio in the only playoff series the franchise has ever won. I understand Gay is the brand name in this trade -- and I know it's now assumed that Gay's former teammates, his ex-coach and the city at large have all been deeply offended by new management's unwillingness to let them play out the season as is -- but that doesn't mean Memphis was wrong. The Grizz didn't exactly just break up the '27 Yankees or the ''96 Bulls. They traded Gay from a position of strength rather than waiting their way into something closer to desperation and, by dealing proactively, got back three players who can prevent them from slipping too far in the short term to go while securing the sort of long-term flexibility needed to make the necessary roster upgrades to legitimately compete for titles. My prediction is this is a trade Memphians will come to embrace. Except for maybe Lionel Hollins, whose repeated critiques of his new bosses' policies surely can't be the route to a contract extension.
2. I'd love to see Allen Iverson in the NBA again. I'd love to see it, frankly, just because he ranks as one of my all-time favorite interview subjects and I've missed the back-and-forth at his locker after a game, even though he obviously had nothing close to the sort of team-first approach we traditionally demand from our lead guards here at Stein Line HQ. Yet it seems clear now that the Texas Legends' dogged attempts to convince The Answer to launch his comeback in the D-League were realistically doomed from the start. No NBA team is going to sign Iverson to so much as a 10-day contract without seeing him audition in a reasonably competitive environment first, but Iverson is predictably too proud to see the need to audition for anyone, even at the age of 37. He couldn't accept a role-player gig when we last saw him in the NBA in humbling stints with Memphis and Philly in 2009-10 and doesn't seem any more open to the concept nearly three years later. It's probably best, then, that he stays retired. He's never going to get that last shot he wants at leaving the league on his own terms because his terms are still straight out of 2003.< /p>
3. Was there any single NBA development this week bigger than the news that Starter jackets are coming back? (That, my friends, is what we called a rhetorical question.)
P.S. -- At the opposite end of the spectrum was the news, via this Jeanie Buss tweet, that Hublot is now the Lakers' official timekeeper. The Swiss luxury watchmaker is a prominent sponsor of a certain Manchester United … which means the Lakers will be lucky not to be deleted altogether from Monday's Power Rankings.

In the days leading up to the Rudy Gay deal, which required Toronto to surrender Jose Calderon, there were rumbles emanating from the league's personnel grapevine suggesting that the Raptors were actually willing to trade both of their point guards -- Calderon and Kyle Lowry -- and not just one or the other.
Don't see that happening now, though.
Lowry has indeed clashed at times with Raptors coach Dwane Casey, just as he clashed with Kevin McHale in Houston, but there's also no denying that he's more of an all-around talent than the Spaniard and, in what would appear to be a bonus, ranks as one of Gay's closest friends in the league. If not the closest.
So …
The Raptors can only hope that Gay's arrival brings out more of the good Lowry, especially since Toronto surrendered a quality first-round pick to acquire him from Houston last summer. It wouldn't be hard to trade Lowry when only $1 million of his salary next season is guaranteed, but what sort of value would the Raptors be able to get after Lowry's ups and downs this season? They'd have to get back a point guard good enough to justify the sell-off of that first-rounder to the Rockets.
Calderon's exit, meanwhile, should finally open up more minutes for reserve guard John Lucas, which was one of the Raptors' aims when they signed Lucas away from Chicago last summer. Toronto came into the season convinced that Calderon's expiring contract would help them score a top talent like Gay and targeted Lucas to step into that void when the expected deal finally materialized.
---
Some numbers of note in the East this week:
4: Why is J.J. Redick such a hot trade commodity? One reason: Orlando's sharpshooter had four games with at least 25 points in January after just three such scoring outputs in the first 376 games of his pro career.
.452: Not suggesting that this is what cost him an All-Star spot, but Atlanta's Josh Smith shot 45.2 percent from the line in January by missing 34 of 62 free throws.
18: In our latest obligatory hat tip to the beloved-by-our-editors Andre Drummond, Detroit's rookie big man just became the first Pistons rook with an 18-point, 18-rebound game since Terry Tyler rung up 24 points and 18 boards against the New Orleans Jazz in October 1978.
7: Cleveland's Kyrie Irving had seven 30-point games in January, one shy of Oklahoma City's Kevin Durant for the league lead.
51: Of the 51 players this season with at least 200 field goal attempts inside the restricted area entering Friday's play, Indiana's Roy Hibbert ranks last in the league at 47 percent. Hibbert, who made his All-Star breakthrough last season, also sports the lowest field goal percentage (.416) of the 30 players who have played at least 20 games at center in 2012-13. Hibbert shot 49.7 percent from the field in 2011-12.
---
The aforementioned Jose Calderon had a 10 percent trade kicker in his contract, meaning he earned an extra $484,609 when he was traded to Detroit earlier this week, increasing his salary-cap number to $11,046,591. Calderon becomes an unrestricted free agent in July and, sources say, is certain to attract interest from Dallas among others, as well as interest from the Pistons in hanging on to him. They've been trying to acquire Calderon since the fall -- offering Corey Maggette in a straight-up exchange months ago that the Raptors resisted in hopes of making the more high-profile trade they ultimately swung -- but like him as much for his expiring contract as his floor leadership. Shipping out Tayshaun Prince to Memphis will help set up Detroit with more than $20 million in salary-cap space this summer.
In the latest Weekend Stein Edition of TrueHoop TV, Henry Abbott and Marc Stein dig into all sides of the Rudy Gay trade.
"We r on track. Gave one away tonight ... but I like how we are playing as a team. It will all come together this way."
Lakers star Kobe Bryant, tweeting after L.A. blew a 13-point lead Wednesday night in the fourth quarter of Steve Nash's ballyhooed return to bottom-feeding Phoenix.
It was a revealing tweet, too, with two main takeaways here.
1. Worrisome as it must be that the Lakers lost the first game of a crucial seven-game road trip against such beatable opposition, it has to be somewhat reassuring to the panicky residents of Lakerland that Bryant reacted so calmly to such a letdown of a performance after those three straight wins at home. The Lakers, to me, absolutely had to start this trip with wins at Phoenix, Minnesota and Detroit to make sure they took some real momentum in the guts of the trip. But Kobe wisely refused to feed the panic.
2. If Kobe's read is right -- and something tells me he has an inkling -- we're going to continue to see No. 24 as the Lakers' chief facilitator, with Steve Nash playing off the ball and Pau Gasol coming off the bench when Dwight Howard is actually healthy enough to play.
It's the way Kobe insists he wants the Lakers to line up, no matter how many naysayers assume he can't possibly stay committed to this new pass-first gig. It's Bryant's belief that, with all of the Lakers' thirtysomethings and their lack of dependable shooters to space the floor, slowing the game down and redefining roles thusly were Mike D'Antoni's only options to ensure that this $100 million roster doesn't prove to be the most expensive flop in NBA history and miss the playoffs entirely.
Yet that means Nash will have to keep playing without the ball in his hands, strange as that looked in the fourth quarter Wednesday night in a building he electrified for eight seasons.
There's no doubt Nash can do the job. He's one of only two players in the league shooting 50 percent from the floor, 40 percent from 3-point range and 90 percent from the line this season … along with a certain Kevin Durant. "If he wasn't such a great point guard, he could have been the greatest spot-up shooter in history," says TNT's Steve Kerr, who knows a little something about the art.
But as my man Tom Haberstroh sagely noted in his Friday column, Nash's improvisational abilities -- what made his desert union with D'Antoni so devastating -- are going to be marginalized most nights if he has to play this way. Nash spoke diplomatically after the loss in Phoenix about how the Lakers are still working through things to figure out how to properly balance all the jobs in this new alignment, but it's certainly a shock to the system for the Hall of Fame-bound point guard, his coach and anyone who's watched them work together over the years.
Maybe the Lakers' current personnel legitimately leaves D'Antoni with no other options. Maybe this really is L.A.'s best approach as Nash continues to recover from the leg fracture that cost him 24 games. All we can say for sure at this point: It's yet another reminder that pretty much nothing is going according to script for the Fantastic Four in Hollywood.
Nada.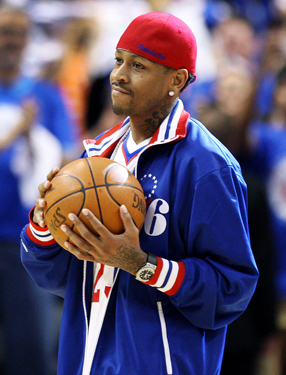 Jim Davis/Getty Images
It doesn't look as if Allen Iverson's NBA comeback will become a reality. (See Box No. 3)
Marc Stein joins The Chris Vernon Show on ESPN Radio in Memphis (92.9 FM) for further dissection of the big Rudy Gay trade.
Audio

This is a list that, if you play this game, you don't want to be on.
It's a partial list of notable names who are known to have suffered a torn ACL in their careers, which had to be updated last weekend after Boston's Rajon Rondo regrettably joined the group with a season-ending tear in his right knee.
NOTABLE BACKCOURT PLAYERS
Memphis' Tony Allen
Denver's Corey Brewer
L.A. Clippers' Jamal Crawford
Baron Davis
L.A. Clippers' Willie Green
Cleveland's Shaun Livingston
Toronto's Kyle Lowry (in college)
Oklahoma City's Eric Maynor
Boston's Rajon Rondo
Chicago's Derrick Rose
Minnesota's Ricky Rubio
New York's Iman Shumpert
Atlanta's Lou Williams
NOTABLE FRONTCOURT PLAYERS
San Antonio's DeJuan Blair (in H.S.)
Memphis' Austin Daye (in H.S.)
Minnesota's Mickael Gelabale
Orlando's Al Harrington
Utah's Al Jefferson
Portland's Jared Jeffries
Washington's Nene
Indiana's Jeff Pendergraph
Oklahoma City's Kendrick Perkins
New Orleans' Jason Smith
Indiana's David West
Derrick Rose will be returning soon from his ACL heartbreak in the first round of last season's playoffs, but the hope Adrian Peterson's ACL recovery in the NFL has given to Rose and others listed here doesn't change the fact those three little letters are still plenty scary.
(We repeat: This is a partial list compiled with the help of ESPN Stats & Information. So let's make this exercise interactive. If you've got other names that should have been added, tweet 'em to me at @ESPNSteinLine and we'll work them in as the weekend unfolds.)
10.

One On One ... To Five

Gortat
Five questions with Suns center Marcin Gortat:
Q: How much do you miss Steve Nash?
A: Oh, man. I miss him just like [a] human needs water, or air to breathe. He makes it happen. We all know he just makes everything happen. And there's probably nobody on this team who misses him more than me. Everybody wants to play with him.
Q: When last season ended, what were your expectations? Did you know then that you had probably played your last game with him?
A: I really thought he was going to stay. I started my [own] little campaign. I was texting him all the time, [telling him] this is home and [he's] always gonna look better in orange than yellow and I'm gonna bring him to the promised land. Obviously, my words are not really doing much. [But] I didn't take this really personally to my heart. We all miss him, but at the end of the day he decided to go to L.A. So we move on.
Q: What's life like for you right now with the trade deadline approaching and your name being out there quite a bit?
A: I really thought that our season was going to be looking a little bit different than it is right now. I really thought that I was going to be in a different position than I am right now. I was just wrong.
But if my name is out there, I think it's an honor that someone wants to get me. That just motivates me to play better. Quite honestly, I don't worry [about] if I'm going to get traded.
Q: It's really not on your mind?
A: I don't think I'm going to go to the worst teams. I think I'm just actually gonna go to the contender teams [if a trade happens].
Q: Explain what you mean when you say you thought the season would look different.
A: I actually crashed with the reality that I didn't have the role on the team that I wanted to have. Obviously, I wanted to be in a different position than I am right now. A lot of things [are] looking different than I thought [they] would. But I'm trying just to come back to being me, just trying to play better. That's it. The whole season has just been a huge, huge experience. I've never been through situations like that my entire life and I've learned from it. Our chances to make the playoffs are really small right now, but I'm just going to try use the chances I'm getting and that's it.