1. Kobe Bryant Feels Gasol's Pain. Dwight's? No
NEW YORK -- Kobe Bryant faced two crises Tuesday night, one short-term and one long-term. He dealt with both the same way, in the only way you would expect of the five-time champion and ruthless competitor -- with unfettered aggression.
Dwight Howard was in a suit, Metta World Peace was suspended and Pau Gasol had limped to the locker room. The Los Angeles Lakers were down two points late in the fourth quarter against the Brooklyn Nets and were playing Earl Clark way out of position at center against Brook Lopez, who was crushing them on the way to 30 points.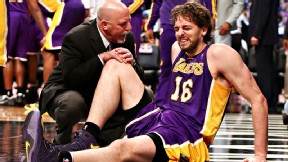 Debby Wong/USA TODAY SportsPau Gasol's injury means "reality sets in."
Bryant took the ball with the shot clock running out and seemed to peel back a year off his legs with every step, as he split three Net defenders and exploded to the rim for a dunk. Kris Humphries and Gerald Wallace literally high-fived mid-air, both whiffing on the block attempt as Bryant whipped it through, his lower jaw jutting outward in his classic display of adrenaline overdrive.
"I think everyone has been drinking the Kobe pass Kool-Aid so they kind of stayed on the perimeter like the Red Sea," Bryant said. "I felt a little like Moses."
That play energized the Lakers at a time when they were absorbing the reality that they'd probably just sustained another significant injury. Clark made a few plays down the stretch but it was Bryant's move that established the tide as the Lakers took it 92-83, their sixth win in seven games.
Considering the circumstances, it was one of their biggest victories of the season. It was the kind of game they're going to have to get if they hope to climb out of the doldrums to make the playoffs.
But within a few minutes, it faded away.
"I'm very, very concerned, to say the least," Bryant said, the glow of the win swallowed quickly by the news the team got on Gasol. "It feels good to be able to pull out a win like this but now reality sets in."
Gasol had been battling plantar fasciitis in his right foot for much of the season, just as he has managed tendinitis in his knees. It was especially bothering him Tuesday and when he pushed off his toes to try for a block in the fourth quarter. "I felt a pop in the bottom of my foot," Gasol said. "I've strained [the plantar fascia] before but this is different."
There will be an MRI but it certainly seemed as if Gasol feared he'd torn the tissue. In the grand scheme, that can be considered a good thing. A torn plantar fascia is better than an inflamed one because a torn one heals much quicker. But you can't play through it and it's a weeks-long recovery process.
It was a night that summed up the Lakers' season. A gutty win, a hot streak in progress, hope that the "new" team-centric mood was putting down roots ... then another injury blow.
Before the team could even grasp it, Bryant was already working on his next move. Just like that monstrous drive and dunk, he was not treading lightly.
More Lakers coverage

Lakers Index
Check out the latest happenings in Hollywood with the all-new Lakers Index. Lakers Index
---
Más sobre los Lakers
Para más noticias, notas y análisis de los Lakers, échale un ojo al blog de los Lakers. Blog
After the game, he challenged Howard to play through the shoulder injury that's caused him to miss the past three games on this Lakers road trip. With Gasol likely on the shelf again, Bryant knows the Lakers need Howard. He made it clear he thinks Howard could be and maybe should be playing through the pain in his shoulder.
The Lakers and Howard didn't seem to be on the same page Tuesday about his status. In the morning, coach Mike D'Antoni hoped Howard would be recovered enough from platelet-rich plasma therapy he got last week to play. But Howard, his shoulder encased in ice after shootaround, said he was most definitely out.
"He's probably worried about the damage in his shoulder," Bryant said. "I don't think he's ever had to play through injuries in his career. I think it's a new experience for him."
Howard tore his right labrum last month. He will probably need surgery to fix it after the season. In the meantime, he has twice aggravated the injury and gone to see doctors to make sure there hasn't been more damage. The doctors can treat it, such as the blooding-spinning procedure he had, but they can't make it pain-free.
But Howard can play, even though he'll have to deal with setbacks, as long as he's up to it. For the last few games, he hasn't been.
Bryant, who has an extensive résumé of putting off surgeries until offseasons and playing through daily discomfort, is putting the public pressure squarely on Howard to do the same. Gasol limped out of the Barclays Center on crutches Tuesday night. Bryant, talking about reality, gave Howard his preferred dose of it.
"When I was growing up, going through high school and middle school, unfortunately but fortunately I dealt with injuries," Bryant said. "Not injuries that were debilitating but injuries you have to play through where you have to manage the pain. When you go through those things you learn your body and what you can push through.
"But Dwight has never been hurt. The [back injury last season] was debilitating and he couldn't play. When you have an injury that hurts you but you can play through it that's something you have to balance out and manage and he's never really had to do that."
The message was blunt: suck it up.
Evaluating other people's injuries is a delicate process. No one really knows what another player is going through. Bryant only knows what he's gone through and, famously, his tolerance for everything from pain to losing to simple idle conversation is on a different plane than his teammates' through the years.
Right now, Bryant is dealing with a sore right elbow. He got electric stim treatment on it before the game. When he threw down the dunk, he said pain shot up his arm.
"After a play like that you can't grab your arm, it messes up the swag of the moment," Bryant said. "You've got to suck it up."
The swag of this Laker team has been devastated by injuries. They will probably never be as healthy as they envisioned themselves when they were assembled as a super team last summer. But there is only so much Bryant can do.
While it would be good for Clark or Antawn Jamison or Steve Blake to continue to step up to make up for the injuries, Bryant knows it is vital for Howard to push it. So he's pushing himself.
"How much more assertive do you want me to be?" Bryant said. "We have to figure it out."
Dimes past: Jan. 23 | 24 | 25-26 | 27 | 25-26 | 27 | 28 | 29 | 30 | 31 | Feb. 1-2 | 3 | 4


NBA Writer Brian Windhorst
• On Twitter @WindhorstESPN | On ESPN.com
• Follow ESPN's NBA coverage on Twitter | On Facebook | On Google+
2. Around the Association
3. Tuesday's Best
Rockets' red glare:
Houston tied an NBA record with 23 3-pointers in a 140-109 win over Golden State. Jeremy Lin sank five 3-pointers, a career high, and Chandler Parsons and James Harden hit four apiece. Nine different Rockets made 3-pointers. Big men Omer Asik and Greg Smith were the only ones who didn't hoist a trey.
4. Tuesday's Worst
Warriors' party poopers:
With Rockets reserve Patrick Beverley taking aim at the all-time team 3-point record for a single game, he got a hard foul from Draymond Green. Soon both were ejected. With one more chance at the mark, Golden State intentionally fouled Houston rather than let them try for the mark. Clearly, Warriors coach Mark Jackson would never have pitched to Barry Bonds.
6. Tweet Of The Night
Samuel Dalembert Love. #MILvDEN RT @TrendsPhilly: Milwaukee Bucks, @bucks is now trending in #Philadelphia http://trendsmap.com/us/philadelphia

— Milwaukee Bucks (@Bucks) February 5, 2013
7. Quote Of The Night
"I think everyone has been drinking the Kobe pass Kool-Aid so they kind of stayed on the perimeter like the Red Sea. I felt a little like Moses."
-- Kobe Bryant, on his drive for a thunderous dunk on the Nets.
8. Haitian Sensation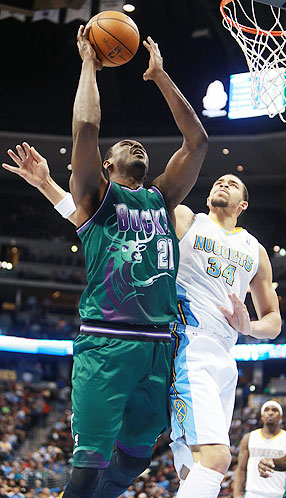 Chris Humphreys/USA TODAY SportsBucks center Samuel Dalembert had the game of his decade-long NBA career, finishing 17-for-21 from the floor en route to 35 points in 27 minutes of action. His Bucks still lost to Denver 112-104.
9. Stat Check
Dalembert
Samuel Dalembert scored 35 points on 17 for 21 shooting, plus a free throw, in Milwaukee's loss in Denver on Tuesday. That was Dalembert's most points in any of his 754 regular-season games in the NBA; his previous best was 27, for Sacramento in 2010. No other player in NBA history has even gone 600 regular-season games into his career before his first 30-point game. The next-highest total is 584 games, by Fred Roberts, on Apr. 2, 1991, also for the Bucks. (Roberts did have a 30-point game in the 1989 playoffs.)
Only three other active players have scored a regular-season career-high in points at least 750 games into their career: Chauncey Billups, Andre Miller and Ray Allen.
See more from Elias