Billups Gives Clippers Added Dimension
LOS ANGELES -- We've seen the Los Angeles Clippers fly so high, winning 17 consecutive games earlier in the season, that we fail to view them as we should: as a work in progress.
This is a team that has played only six games with its true starting shooting guard, Chauncey Billups, who has played only 26 games at that position.
What will the Clippers look like when Billups feels comfortable, up to speed and completely healthy?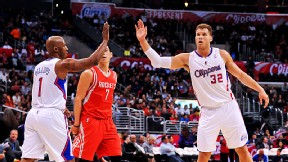 Noah Graham/NBAE/Getty ImagesChauncey Billups is 5-1 when he plays this season.
Well, if their 106-96 victory over the Houston Rockets is any indication ... hold on a minute; this one wasn't an indication of anything. James Harden didn't play for the Rockets because of an ankle injury he had suffered against the Golden State Warriors the night before. The Clippers scored an absurd 46 points on 77 percent shooting in the first quarter, a pace they couldn't come close to maintaining the rest of the game, let alone expect to duplicate this season.
That's why the takeaway from this game has to be Billups. He won't always be this accurate -- 6-of-9 on field goals, including 4-of-7 on 3-pointers -- either. What he can be is a steadying influence, a trusted wing for Chris Paul and, most of all, the provider of a little more potent starting lineup, tilting the balance toward the right mix for the playoffs.
The Clippers' bench has been the story for much of the season and especially was the first month. But benches don't carry the day in the playoffs, in which they're more likely to face the opposing team's starters. That's where the Clippers can take encouragement from this game. This victory came on a night Vinny Del Negro called his second unit's performance "poor," adding, "I don't think they played with a lot of urgency."
He sure had plenty of praise for Billups, who scored 10 of his 19 points in the first quarter.
"[He] takes pressure off everybody," Del Negro said. "He can get Chris off the ball a little bit. He makes great decisions. He spaces the court. He knows time and score. When he's shooting like he was tonight, it gives us another weapon."
Finally, Del Negro reduced it to this: "He knows how to play."
Basic terms are the best way to describe a player who chooses to break the game down to its simplest components. That's the way Chris Paul wants to discuss playing with his backcourt mate.
"It's not that hard," Paul said. "If you watch and play enough, we're both point guards and we're used to running the show, and I think we've both seen everything that you can possibly see."
Only the view from the shooting guard spot looks a little different to Billups. He made the switch last season, after 14 years of running the 1, following the Clippers' acquisition of Paul. He had only 20 games of training at his new spot before he went down with a torn Achilles tendon, from which he finally returned Nov. 28.
"It's very difficult," Billups said. "You look at my situation, I've been a point guard my whole career. I had a lot of advantage at that spot. I'm bigger and stronger than most guys. I can create. I can out-think most teams."
At shooting guard, "I'm smaller than pretty much everybody I guard," Billups said. "I don't really have the ball in my hands to create and make plays.
"As long as I'm on the court, I'm going to find a way to be effective. That's just been my mindset."
The other question is, how long can he be on the court? He went down again with peroneal tendinitis in his left foot and has been hampered by a bad back. He just returned to action in the midst of the Clippers' Grammy road trip, although he was held out of the second game of a back-to-back set. He says he's ready to take that next step now and vowed to play in Thursday's game against the Lakers.
Billups compared the aches and pains he's experiencing now to the typical soreness most players have during training camp.
"I'm waking muscles up that haven't worked in a long time," Billups said.
He thinks he'll be back at full speed in a month.
Can the Clippers count on that? Billups is 36 years old and has played 1,008 regular-season games. He also has played in 140 playoff games. It's that playoff experience that the Clippers truly value (it's noteworthy that his playoff average of 17.8 points per game is 2.3 points better than his regular-season average).
When the persistent Rockets wouldn't go away, Del Negro sent Billups and Paul back in during the fourth quarter "to get those last few minutes under control."
Billups hit one last jumper to put a bow on this game with 3:54 remaining. Of course, they don't call him "Mr. Big Shot" for making buckets with a double-digit lead in February. You won't find much statistical evidence of his impact (in Wednesday's game, for instance, he had a plus/minus of plus-8, the only Clippers starter in single digits).
There's one key figure when it comes to Billups: The Clippers are 5-1 when he plays this season. The question is which will prove to be more telling, the winning percentage or the total number of games.


ESPN senior writer J.A. Adande
• On Twitter @jadande | On ESPN.com | On TrueHoop | On email
• Follow ESPN's NBA coverage on Twitter | On Facebook | On Google+
Dimes past: Jan. 27 | 28 | 29 | 30 | 31 | Feb. 1-2 | 3 | 4 | 5 | 6 | 7 | 8-9 | 10 | 11 | 12
ESPN Senior Writer
ESPN.com senior writer since 2007
Around The Horn panelist
Formerly at Los Angeles Times
2. Around the Association
3. Wednesday's Best
George
Paul George, Pacers:
The Indiana Pacers topped the Charlotte Bobcats as George recorded a triple-double that included 23 points, 12 rebounds and 12 assists. According to Elias, George's "triple-dozen" was the fourth in the NBA this season (Rajon Rondo, Tony Parker and Paul Pierce have the others).
4. Wednesday's Worst
Anthony
Carmelo Anthony, Knicks:
In an apparent duel to see who could miss more shots, Melo edged Toronto's Rudy Gay 19-17. Despite taking an elbow to his biceps that hindered his stroke, Melo kept hoisting to the tune of 5-for-24 in a 92-88 home loss to the Raptors.
6. Tweet Of The Night
Boston U leads Chicago State 69-66 with 19 seconds left. What a barnburner! Oh wait, that's Boston and Chicago- never mind.

—Steve Kerr (@SteveKerrTNT) February 13, 2013
7. Quote Of The Night
"I really don't know. I'm feeling good, but like I said, if it's where it's taking me a long time and I'm still not feeling right, I don't mind missing this year."
-- Derrick Rose, on whether his knee will recover enough for him to play this season
8. Like Mike, Ahead Of Larry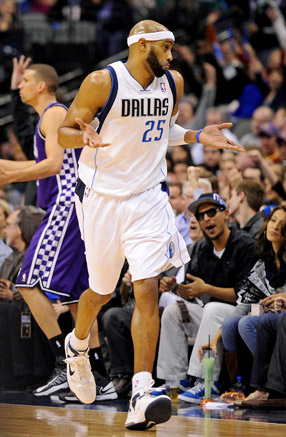 Jerome Miron/USA TODAY Sports Vince Carter scored 26 points to pass Larry Bird on the NBA's career scoring list in a 123-100 win over the Kings. He struck an MJ-like pose during a third-quarter run that saw him sink five 3-pointers. He ended the night with 21,796 career points.
9. Stat Check
Johnson
Joe Johnson and C.J. Watson each made five 3-point field goals in Brooklyn's victory over the Nuggets. It was only the second game in the Nets' NBA history in which both their starting guards sank at least five shots from beyond the arc. The other backcourt starters to do that were Jason Kidd (six) and Kerry Kittles (five) on Nov. 28, 2002, against the Clippers.